Elections 2021
News
Students' Union
SU Elections 2021: Augustana Campus Forum Recap
Candidates answered questions about improving the SU's relationship with Augustana, the usefulness of CAUS, and how to address apathy in students governance at the Augustana forum.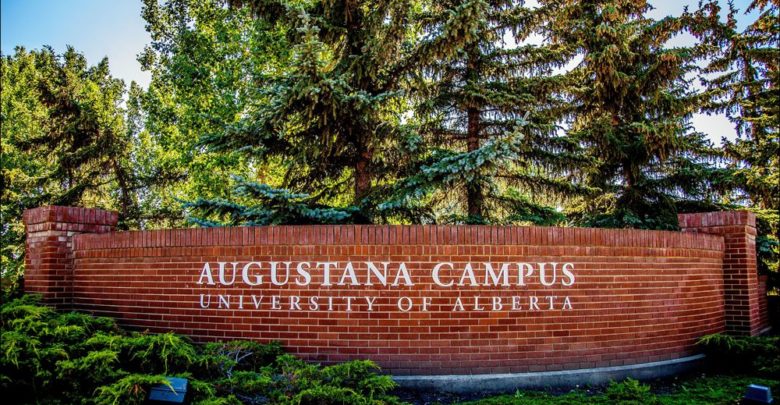 The fifth forum of the University of Alberta's Students' Union 2021 elections were focused on issues related to the Augustana campus.
At the Augustana forum on February 23, most audience questions were directed to all candidates, focusing on how they would improve the relationship between Augustana and the Students' Union, as well as advocate on behalf of the campus.
Here is the TL;DR version of the Augustana forum recap:
President: the balancing act of unifying all campuses while also acknowledging differences.
Vice-president (student life): if Augustana should have a separate platform from North Campus.
Board of Governors representative: questioning the effectiveness of last year's advocacy.
Vice-president (external): If the Council of Alberta University students is worth the price.
Vice-president (operations and finance): How to get the Augustana Students' Association (ASA) to be more financially independent.
Vice-president (academic): the importance of acknowledging Augustana's uniqueness.
U-Pass, Golden Bears and Panda Legacy Fund: Augustana students do NOT pay these fees, but the CAN vote on these referendums.
Public good over profit: presidential candidate emphasizes Augustana's importance
Rowan Ley, a fifth-year history student and current Students' Union vice-president (external), responded to a question during the forum that asked if the candidates think it's justifiable to keep Augustana open if it is a "loss making campus."
Ley said that he thinks there is a "distinct public good" that Augustana contributes to Alberta and to the city of Camrose.
"Every campus that is operated by the university loses money," he said. "The idea that we should close down a campus because it doesn't make money or somehow pull its financial weight I think doesn't recognize the role of universities as a public good that is supported by taxpayers and society for a reason."
When asked if candidates think that it is important to "rephrase the way we talk about campuses" and "start talking about the students in these campuses as a whole body," Ley said it's important to consider two aspects.
"We need to find language that is unifying that focuses on the things that bring us together, but we also have to find ways to acknowledge differences and to work effectively with the diversity that those differences create," he said.
Ley said there should, however, be more time spent on focusing on the issues that bring students together.
"The issues that make our campuses different and push us apart … unfortunately often become the focus of conversations that we have between North Campus and all other campuses," he said.
— Rachel Narvey
VPSL candidates address whether a separate Augustana platform is necessary
Vice-president (student life) candidates diverged on whether meeting regularly suffices when building a better relationship with Augustana Campus.
Talia Dixon, a fourth-year political science and women's and gender studies double major and current Students' Council arts councillor, voiced her plan to meet more regularly with Augustana campus, stating "meeting once a semester is not enough."
Dixon also said she plans to make sure Students' Union executive goals go through a consultation process with Augustana to receive feedback.
Daniela Carbajal, a third-year psychology student and current Students' Council Augustana councillor, highlighted that she is the only student from Augustana Campus to be running in this election. She said this question is always asked at this forum and the answer is always the same: more meetings.
Carbajal claimed meetings don't address "the systemic issue that Augustana students are still not involved in the higher decision making."
The candidates also spoke differently on whether making a separate platform for Augustana Campus is necessary. Carbajal said she did not create a separate platform because all points on her primary platform also apply to Augustana Campus.
"Everything I'm fighting for applies to all students, rather than just North Campus students," Carbajal said
Dixon, who has a separate platform for Augustana Campus, explained why she chose to do so.
"As I mentioned in my speech, as well as in my Augustana platform, my main promises do apply to Augustana students. The reason I chose to make a separate platform was to allow Augustana students to see what my priorities are for specifically their campus," they said.
— Areeha Mahal
VP External makes the case for CAUS
Christian Fotang, a third-year biological sciences student and current Students' Council science councillor, was pressed on whether or not he maintain the Students' Union membership within the Council of Alberta University Students (CAUS) if elected vice-president (external).
Amlan Bose, a Students' Council engineering councillor, described CAUS as "an incompetent and useless organization" which "just feeds [Students' Union] money."
"For the past few years, it has failed to represent and stand up for students properly and no one takes it seriously," he said.
Fotang responded by enumerating "wins" CAUS has achieved, including tuition freezes, implementing a bill to cap tuition and non-instructional fees, fighting against tuition deregulation and the delayed implementation of performance-based funding.
"I disagree with the idea that CAUS has been incompetent or useless at all," he said. "Its history shows it's actually gotten a lot of wins for students throughout the province."
Fotang said that even when successes from CAUS are less frequent, having an organization dedicated to providing a "direction" for the student movement in Alberta is still worthwhile.
"I will absolutely be working with CAUS and keeping our membership with them because I believe it is better to have a seat at the table than not to have one at all," Fotang added.
— Paige Miller
"Grow a spine": BoG rep's advocacy is questioned
Dave Konrad, a third-year environmental and conservation sciences student, is the current Board of Governors (BoG) representative. He was asked by Bose about his advocacy at the board, saying it seemed like Konrad ran for BoG representative because he "wanted to collect references."
"Can the students expect you to grow a spine next year so that you can stand up for the students who elect you?"
Konrad posited that the question was targeting his "academic restructuring vote," when the BoG went against a key restructuring decision made by the General Faculties Council (GFC), the highest academic governing body at the university.
GFC had ultimately decided to revise the administrative model originally proposed by the U of A to remove a new level of high paid administrators, executive deans. BoG voted against GFC to keep the positions.
"I did side with the U of A in the GFC conversation because I felt that the [executive] deans were probably a benefit to students and staff because they would help spread a workload," Konrad said. "But when it got to the board, I did stay faithful to represent students' needs."
Konrad believes that he did make a difference in his role as BoG rep.
"Ultimately, I believe that my advocacy in that space had an impact on the compromise that was made between the GFC model and the initial board model."
In promises to create a stronger relationship with Augustana, Konrad plans to visit the Augustana Students' Association (ASA) more and be involved in their community.
"Last term, I talked with you about academic restructuring, I visited your council and sent you bi-weekly reports," he said. "That's not good enough, and I'm sorry."
— Amanda Dang
Independence and co-dependence: VP OpsFi Candidates discuss financial dependence on the SU
During the Augustana forum, the vice-president (operation and finance) candidates were faced with numerous questions regarding funding for the campus and how services at North Campus will benefit Augustana.
Emily Kimani, a fourth-year immunology and infection student and a current Students' Council science councillor, spoke about how delayed funding currently affects Augustana campus, describing how currently only one counsellor is available for students.
"[Mental health] is something that I definitely want to focus on in making Augustana funding a priority and releasing that funding with urgency as soon as possible" Kimani said.
Similarly, Julia Villoso, a second-year psychology and anthropology student and current Students' Council arts councillor, also emphasized the importance of making sure the Augustana Students Association (ASA) and their vice-president (finance) receives the funds they need to better provide their students.
"I want to communicate and work with the vice-president finance of ASA to make sure that they are being supported fully," Villoso said.
Philip Miheso asked the candidates how they planned to support the ASA to become more financially independent especially with "the government policy [looming] over [them]."
Villoso expressed her belief that effective communication is extremely important when it comes to helping the Students' Union know what areas the ASA needs assistance in. However, she also emphasized the need for Augustana to become financially independent amidst COVID-19.
"Although I do believe that making sure our funding gets to ASA on time is one of the key issues, I also don't want ASA to be reliant on the Students Union for their financial independence," she said. "I want to empower ASA."
Kimani mentioned working with the vice-president (finance) of the ASA as one of her goals.
"The problem is not getting the funding itself, the problem is releasing it," Kimani said. "That's something that I am going to make a priority if elected."
— Remi Hou and Christian Sanchez
VPA candidate tackles balancing the unique identity of Augustana campus and unifying the student body
An audience question posed to all candidates asked how they would improve the Studnets' Union's relationship with Augustana students.
Abner Monteiro, a fifth-year kinesiology student and current Students' Union kinesiology, sport, and recreation councillor, said that while he hopes to work towards unification by building interpersonal relationships with Augustana Students Association (ASA), he also acknowledges their unique identity.
"We want to create an environment where all students are being heard and listened to and [make sure] we use the right language, but we are also preserving what our culture is," Monteiro said. "This is the reason so many students want to come to Augustana, because it's a unique experience for them and we want to highlight that."
In order to achieve adequate representation of Augustana students, Monteiro focused on filling General Faculties Council (GFC), the university's highest governing academic body, student seats with members of "historically ignored faculties."
— Disha Hazra
Addressing apathy: candidates take a stab at low number of running mates
An audience member highlighted how that many races are unopposed this year, and asked candidates how they would increase engagement in future elections.
Rowan Ley, the presidential candidate, said he would offer two solutions, the first being "just asking people to run."
"We know especially that for women candidates, you typically need to ask someone three times before they feel comfortable with running," he said. "I want to make it one of my big priorities to ask people to run, because if they hear from the president that they think that they are ready, and that they would do a good job, that may mean that that person feels a lot more encouraged to run."
He also said that the positive aspects of the Students' Union need to be brought to the fore, saying that in the next year there is "an opportunity to make big positive new wins."
Monteiro stated a lack of general knowledge was a barrier for students running in governance. He said to remedy this, he would create a document outlining tools, resources and readings to fill this gap.
Fotang explained that sometimes culture is a barrier to student governance.
"One of my biggest barriers was convincing my West African parents to delay my degree in the name of change," he said. "For some of us, it could also just be a cultural thing where we view university as just going there and getting a degree and leaving. But there are these issues that you can have a role in and you can have action taken [to create change]."
Konrad cited a combination of having conversations with councillors and students at large about running, creating a transition manual, and growing student engagement over social media as a way to address candidate apathy.
Villoso said this year she wants to focus on "empowering women and non-binary folks who are underrepresented" to run for higher positions.
Kimani said students who don't see themselves in a space like the Students' Union might "feel discouraged to run," saying that she plans to make space for inclusivity and equality.
Daniela Carbajal said she wants to demonstrate to students that someone from Augustana can sit on the Students' Council.
"I want to empower students and show them that even though we're far away, we don't need to stay silent," she said. "I really want to push students to be involved because they too can be there even if they don't personally see themselves there."
Talia Dixon mentioned that furthering the Student Union's transparency and engagement is key.
"The idea that we need to reach out more to individuals and encourage people to run [has been addressed a lot]," she said. "The problem with those approaches … in my experience is it's all about who you know, and so we get locked within our own little governance bubble."
— Rachel Narvey, Disha Hazra, Paige Miller, Christian Sanchez, Remi Hou, Areeha Mahal, Amanda Dang
The Gateway plebiscite
A representative of The Gateway's plebiscite was present at the forum. Due to a conflict of interest, The Gateway will not comment on this further.
Correction: On February 28 at 4:26 p.m. the article was corrected to say GFC is the highest academic governing body at the university. The Gateway regrets the error.