Campus Life
News
Students' Union
Dewey's indefinitely closed due to COVID-19 safety concerns
Facility tried alternatives such as take-out and considered delivery, but ultimately concluded to close.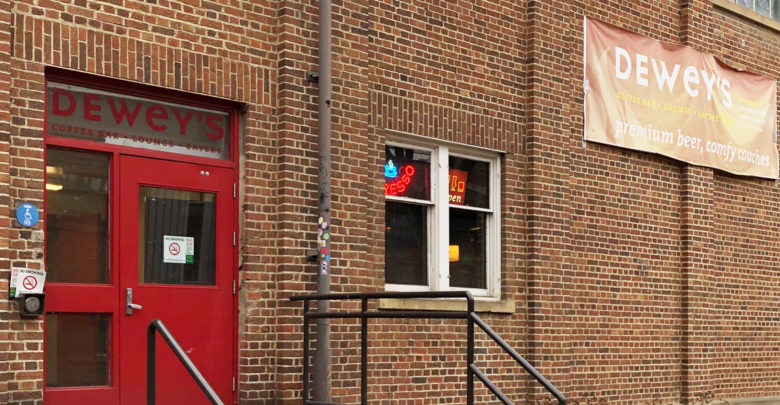 The Student's Union has decided to close campus hangout Dewey's, and expects to reopen once the COVID-19 pandemic is over.
Often described as the campus living room, the well-loved Student's Union run facility remained open during the Fall academic semester. Now, after testing alternative options to provide their services, Dewey's will remain closed until deemed safe by provincial health orders.
Alana Krahn, Students' Union vice-president (operations and finances) described the decision to close as difficult but necessary.
"Dewey's has always served as a central gathering place at North Campus, so it wasn't an easy decision to close it for the winter semester," Krahn explained. "But the decision was also straightforward in the sense that student safety is of course our number one priority.
"Our staff were doing a fantastic job at keeping our spaces clean and sanitary… the problem really is that we don't have the ability to ensure that guests at Dewey's are in the same household or bubble, as per what the provincial government has said."
According to Krahn, other alternatives to closing were attempted, but eventually Dewey's closure was the most reasonable conclusion.
"We were doing some takeout and also looked into the possibility of delivering, but because of the number of people on campus, we weren't seeing enough uptake for that to be something that was viable as a restaurant," Krahn described. "It was when the provincial health orders changed that we decided that we needed to make changes in order to continue to prioritize safety and cleanliness."
The facility is not closed permanently, according to Krahn, who mentioned their plan to eventually re-open.
"We're expecting to re-open at the end of the pandemic, whatever that means," Krahn said. "Really, when it's safe to do so, because student safety is the number one priority."
Krahn described this closure to result in both a loss in money being made and a reduction of money being spent.
"First, the closure is resulting in both a loss of profits, but also a reduction in costs," Krahn said. "It's also important to note that our operations support each other financially as a larger envelope. The government wage subsidy has been helpful, but even so we have also had to make a number of staff layoffs, which is extremely unfortunate."
For the staff of Dewey's, this meant either working on a reduced schedule or being laid off.
"We have really prioritized keeping on student staff whenever possible, but what this means right now is there will not be any staff working at Dewey's," Krahn said. "However, certain core team members are continuing to work on a very reduced schedule, so they are still helping out with other things in the Student's Union. They are still on the payroll receiving their benefits, but again at that very reduced level."
Krahn said the U of A community is looking forward to visiting Dewey's once safe to do so.
"We've heard a few reactions of people being sad that this had to happen, but I think generally people understand," Krahn said. "But people have been very excited to get back, once it opens."