News
Students' Union
Dewey's undergoes renovations based on student feedback
Campus spot Dewey's undergoes multiple changes to better suit students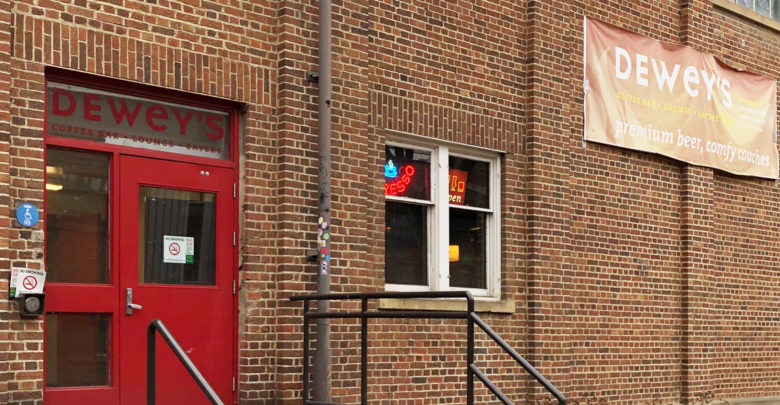 Longtime campus spot Dewey's has revamped both it's space and menu based primarily on student feedback.
Over the summer, Dewey's underwent construction to change both the layout of the space as well as its menu, which Students' Union vice-president (operations and finance) Luke Statt said was the result of student feedback over the years. These changes include moving couches and a pool table up to the loft — now fully open during operational hours — removing the bar in the backroom to create a communal space, moving the stage, and renovating the bathrooms.
Statt said the changes to Dewey's layout were to make the space more conducive to all of its functions: a lounge, a restaurant, and a bar.
"When you went into Dewey's you would sit at the tables and get your food, but people were playing pool around you and it would be easy to get bumped with a pool cue."
To avoid incidents as such, the bar in the backroom was removed and was replaced with a communal space for students to play pool and socialize.
"It opened up the rest of the room, including the front room, quite a bit more for people to eat comfortably and to combine tables for groups," he said. "We've had a lot of positive feedback on that."
Moving the stage to the back room was another decision towards creating a more spacial dining area. It also allowed Statt to expand the size of the stage and increase the sound system equipment, making it a more appealable space for student groups to book.
"Another thing we wanted to do was provide yet another space on campus for students and students group to book that is provided by the Students' Union," Statt said. "The advantage of Deweys is that it's inside of bar and restaurant, so it's really easy to get food without necessarily having to go through catering, which can be a barrier for student's groups."
Renovating the bathrooms was another priority for Statt, who said they were becoming "dark and dingy." Alongside fresh paint, better lighting and a mirror have been added.
"[These renovations were] to make students feel more comfortable in that space and for lack of better phrasing, to improve student safety," Statt said.
Dewey's menu overhauled
Alongside physical renovations, Dewey's menu also underwent changes to move away from pub-like foods and incorporate healthier options.
"We tried to re-envision what the Dewey's menu looks like to really align with the theme of Dewey's, which is supposed to be a more recreational lounge on campus," Statt said.
Statt's favourite new addition? The turkey swiss and pesto press.
"It's quite healthy, tastes delicious, it's filling, and it's quite affordable."
For Statt, the renovations made to Dewey's were simply an embodiment of the platform he ran on.
"One of the key things I initially ran on was student-guided decision making," he said. "During the course of the forums, I never really gave particulars on what some of these changes to the business would be like because I didn't want to be the one to exclusively decide the future of the operations of the SU."
"It's absolutely critical that the SU stays focused on student needs and student voices in our processes… That's why the Dewey's renovations happened."