Institutional
News
Second annual residential school memorial plants 10,028 flags to "encourage critical reflection"
This year's memorial planted over 2,000 more flags than last year.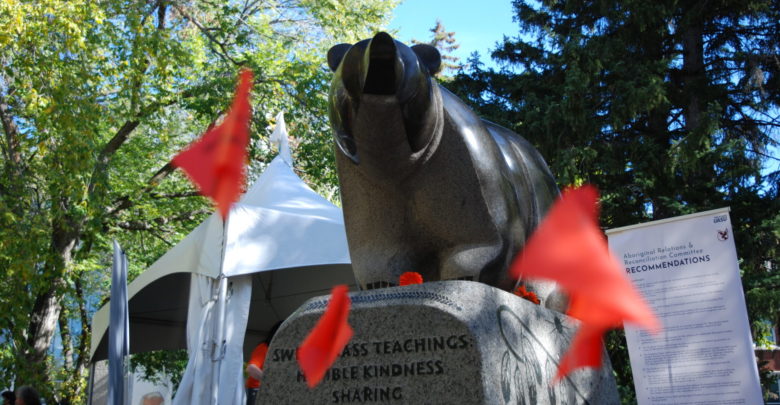 This year's residential school memorial reflected on the history of residential schools and the effects they had on Indigenous communities.
On September 26, the Indigenous Students' Union (ISU) and the Students' Union (UASU) hosted their second residential school memorial on North Campus. Members of the U of A community came together near the Sweetgrass Bear to listen to guest speakers before collectively planting coloured flags on Main Quad.
Memorial attendees placed a total of 10,028 flags around the Sweetgrass Bear and throughout Main Quad to commemorate the children lost to residential schools. The white, yellow, blue and red flags on Main Quad resembled an Indigenous medicine wheel. The 139 orange flags around the Sweetgrass Bear were labelled with the names of the 139 Canadian residential schools formally recognized by the Indian Residential School Settlement Agreement.
This year's number of flags accounted for the total amount of unmarked graves found as of March 2022. In comparison, the November 21, 2021 residential school memorial had 7,509 red and orange flags planted on Main Quad and 139 orange flags planted around the Sweetgrass Bear.
UASU vice-presidents opened the memorial with the strive to further Indigenous voices on campus
Julia Villoso, Students' Union (UASU) vice-president (operations and finance), and Joannie Fogue, UASU vice-president (student life), started the memorial with a land acknowledgement.
Villoso then delivered an introductory speech. She acknowledged that the UASU and the U of A have "benefited from historic and ongoing dispossession of land and resources from Indigenous peoples." She also stated that they will "seek to do better" by working to align learning, research, and governance to First Nations, Metis, and Inuit peoples' experiences.
"We encourage critical reflection by asking the following question: in relation to the territory on which you are situated, what role do you play in strengthening the resistance and resurgence of Indigenous students within your communities?" Villoso asked.
Leeroy Whitstone, a Northern Cree Singers drummer, followed the introductory speech with a Cree prayer. The Northern Cree Singers are a powwow and Round Dance drum and singing group based in Maskwacis, Alberta.
Interim Provost highlighted her role in supporting U of A's Indigenous community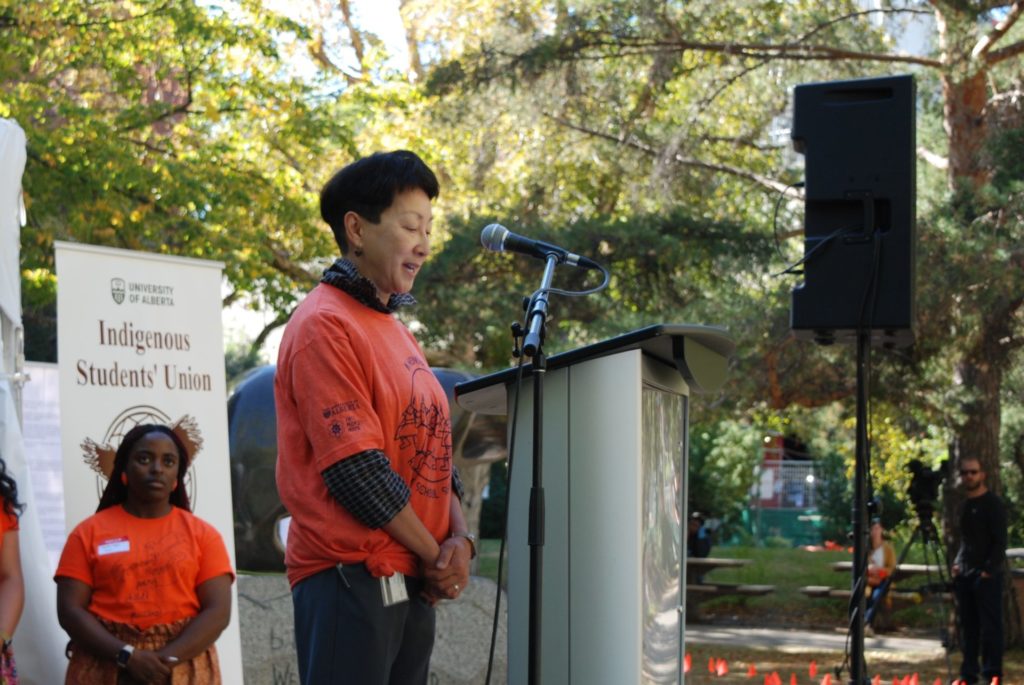 The first speaker Dr. Verna Yiu, U of A interim provost and vice-president (academic), described the 10,028 flags on Main Quad as a "heartbreaking sight."
Dr. Yiu emphasized her role's support of the Truth and Reconciliation Commission's (TRC) Calls to Action. She also acknowledged that the U of A "has played a part in the systems that have created barriers to Indigenous sovereignty and wellness."
Dr. Yiu also highlighted the U of A Indigenous Strategic Plan named Braiding Past, Present and Future. This was made possible through the leadership of the U of A Indigenous faculty, staff, and students.
"These flags that you see before you reveal a truth of Canada's past and recognize the ongoing legacy of residential schools and the many barriers that are still in place in the present. But together, we're gathered here to continue working towards a university of the future, where we all learn and work together in good relations," Dr. Yiu stated.
Memorial showcased healing jingle dance and songs for the "ones that couldn't come home"
Danni Okemaw recounted the healing aspect of the jingle dance from the teachings of Anishinaabe and Ojibwe women in her childhood. Okemaw is an Anishnaabe and Swampy Cree jingle dancer from the Berens River First Nation and God's River First Nation in Manitoba.
Then, Okemaw and Lakeysha Gadwa-Knight, a Saddle Lake Cree Nation jingle dancer born and raised in Kehewin Cree Nation, performed a jingle dance around the Sweetgrass Bear.
The jingle dance, which means "grandma, come dance with us" in Cree, was accompanied by the Northern Cree Singers.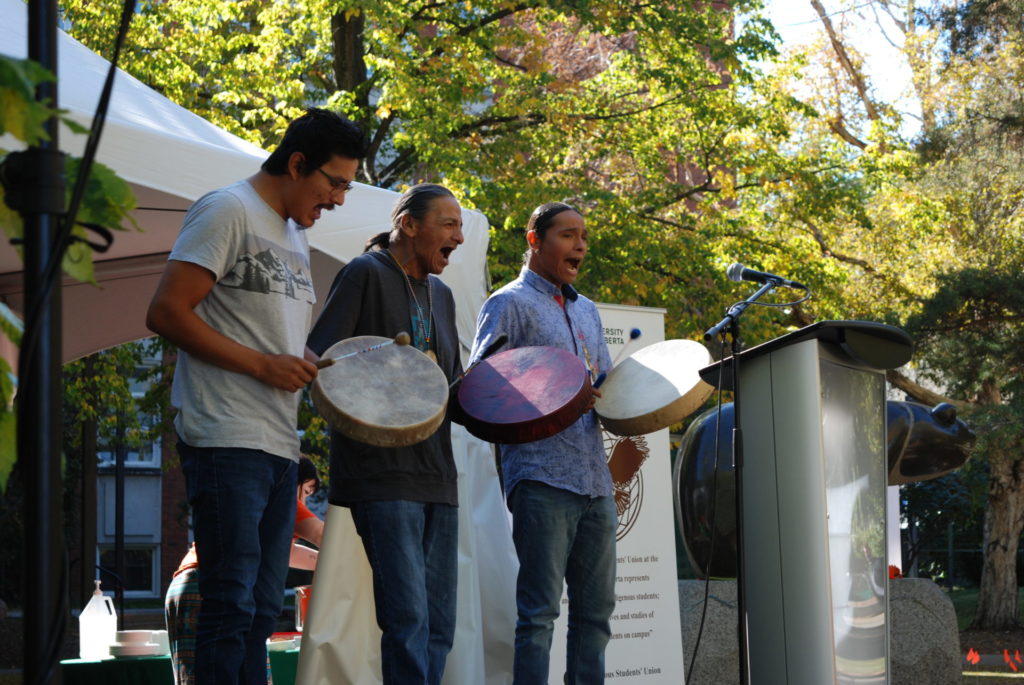 Later on, the Northern Cree Singers performed two songs to remember the "ones that couldn't come home."
The first song was an "old song" dedicated to the children lost to residential schools. The second song, composed by Whitstone, was dedicated to the missing and murdered women, girls, and Two-Spirit people.
Student experience coordinator Victoria Delorme overwhelmed from attendee's support for this year's memorial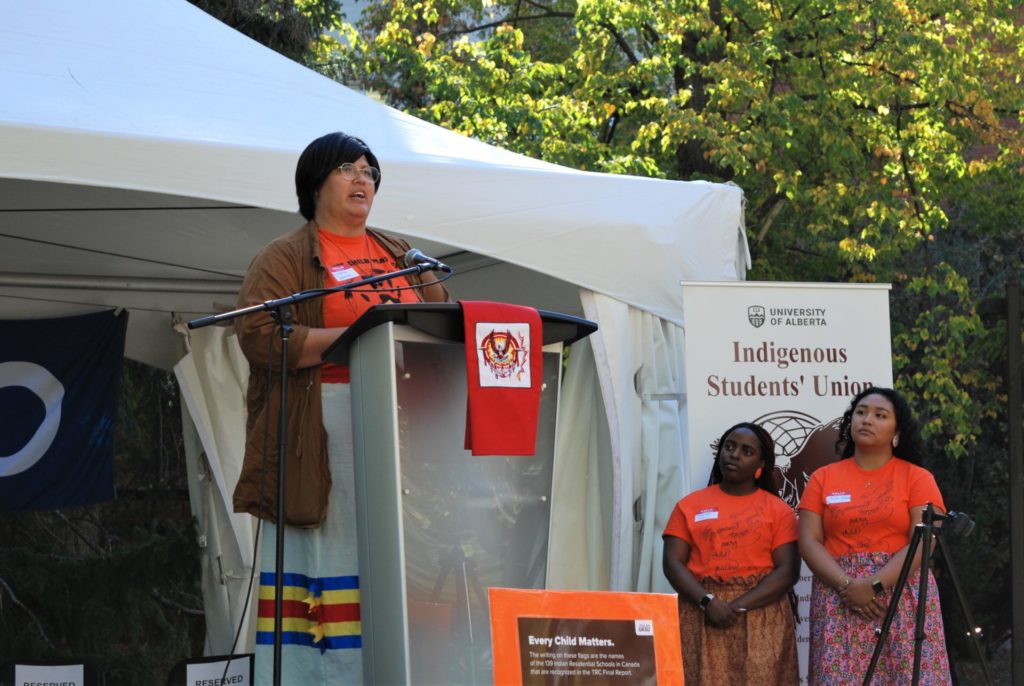 Victoria Delorme expressed their gratitude for the attendees' overwhelming support for this year's memorial. They are a student experience coordinator for Indigenous Student Services on Augustana Campus. They also identify as a nehiyaw iskwew (Cree woman) from the Cowessess First Nations.
"I remember last year as being incredibly lonely, because it felt like Indigenous people were the only ones participating in conversations around Truth and Reconciliation, Indigenization, and decolonization."
Delorme spoke of their healing journey as they placed an insignia of the Cowessess First Nations on the podium. They organized a similar memorial on Augustana Campus the summer before last year's memorial on Main Quad.
Delorme recalled how "hurt" they were when their reservation uncovered 751 unmarked graves on June 24, 2021 and decided that National Truth and Reconciliation Day would not pass without a memorial. They used orange-colored flags, like how Cowessess First Nations marked their gravesites, to represent the somber holiday. Before the start of this year's memorial, they planted the first 4,000 flags on Main Quad.
"This was a very personal project that I did for myself, to try … and find the strength and the culture and the community that I'm so far away from," they said.
"Going forward, this is something that we can do together, something that takes up space, and instigate[s] and invokes conversation. That's kind of what I've always wanted it to be — to reclaim the land for the last ones, and to continue to reclaim it for the lives and for our communities."
Chantel Akinneah shared her experiences navigating the sciences as a Dene Tha' woman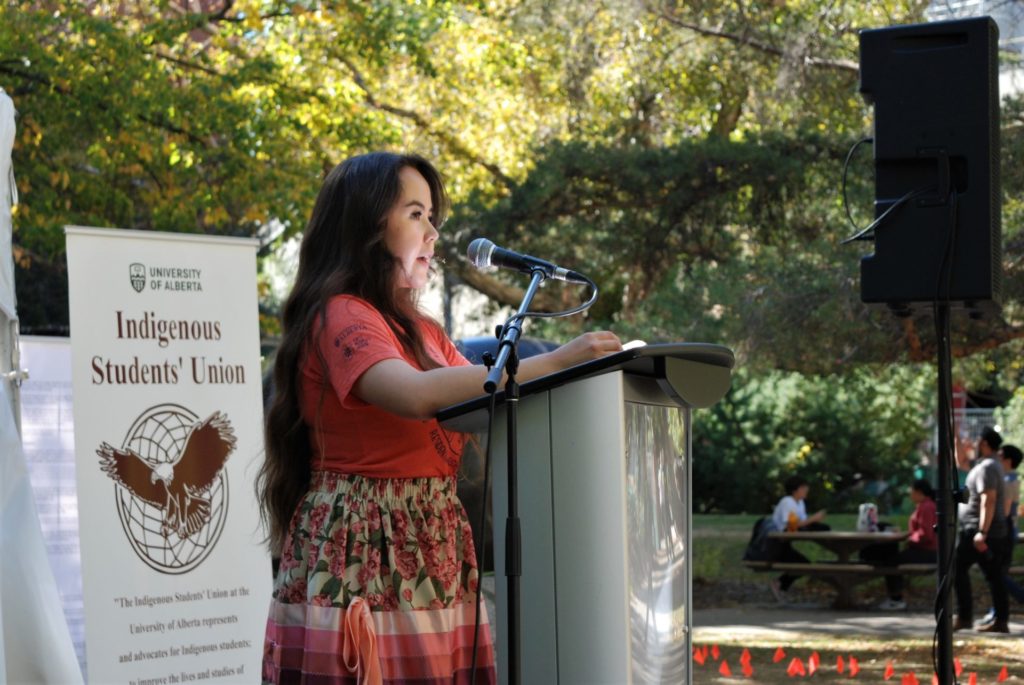 Chantel Akinneah reflected on her intersectionality as a Dene Tha' woman studying neuroscience and physiology at the U of A. Akinneah is an executive for the ISU and chair of the Aboriginal Relations and Reconciliation Committee (ARRC).
Akinneah started her speech by shedding light on an experiment that used malnourished Indigenous children as "human laboratories." Starting in 1942, researchers explored the "bare minimum" nutrition required for the survival of Indigenous children in northern Manitoba and six other residential schools. The experiment was the basis of current nutritional programs in Canadian schools and Canadian nutritional guidelines.
Akinneah touched on the colonial condemnation of the Indigenous way of knowing, "the same way the church condemned science in the 16th century."
"As a STEM major, it is important for me to realize that I am studying under colonial science, and therefore all science is political," Akinneah said.
Despite this, Akinneah stated that realigning the sciences with Indigenous teachings would reconnect members of society with different viewpoints. She reminded the attendees that they are all in relation to one another, whether they were Indigenous, settlers or newcomers.
"Cooperation and mutuality is the organizing principle of life, and you don't need to take a biology class to learn that. You just need to listen when someone speaks," she said. "Moving forward, education is the first step in our healing journey because it brings us all closer together towards an understanding."
Elder Francis Whiskeyjack explored what it means to be a survivor
The final speaker Elder Francis Whiskeyjack started his speech in nêhiyawêwin, or Plains Cree. He is a U of A adjunct professor and member of the Saddle Lake Cree nation.
Elder Whiskeyjack then shared his experience in the Bluecoats Indian Residential School from 1955 to 1966. He described the trauma he endured, from praying in Latin instead of Cree and serving as an altar boy.
"[A survivor] means someone that's been through the experience. But also… the youth that are the children of the parents and grandparents that went through [residential] school. You are surviving, because from my experiences, the past is always in the present."
He also touched on how incarceration, addiction, illnesses, and undisclosed suicides are still prevalent in the Indigenous community due to intergenerational trauma.
"A lot of times, it is difficult to create awareness, because people don't understand us that these incidents that have happened in the past still affect our people today."
Elder Whiskeyjack talked about the "positivity of change" that is happening in the Indigenous community through consistent reconnection to Indigenous culture. He shared that he "honours [his] spirit" by participating in ceremony, practicing the language, and hearing the songs that "move the spirit in a good way."
He concluded his speech with a message for fellow residential school survivors.
"We cannot be victims all our lives," he said. "We can forgive, but we cannot forget."