Campus Life
News
Memorial on U of A's Main Quad honours lives lost in residential schools
Located in the University of Alberta's Main Quad, orange and red flags have been placed to honour lives lost in residential schools.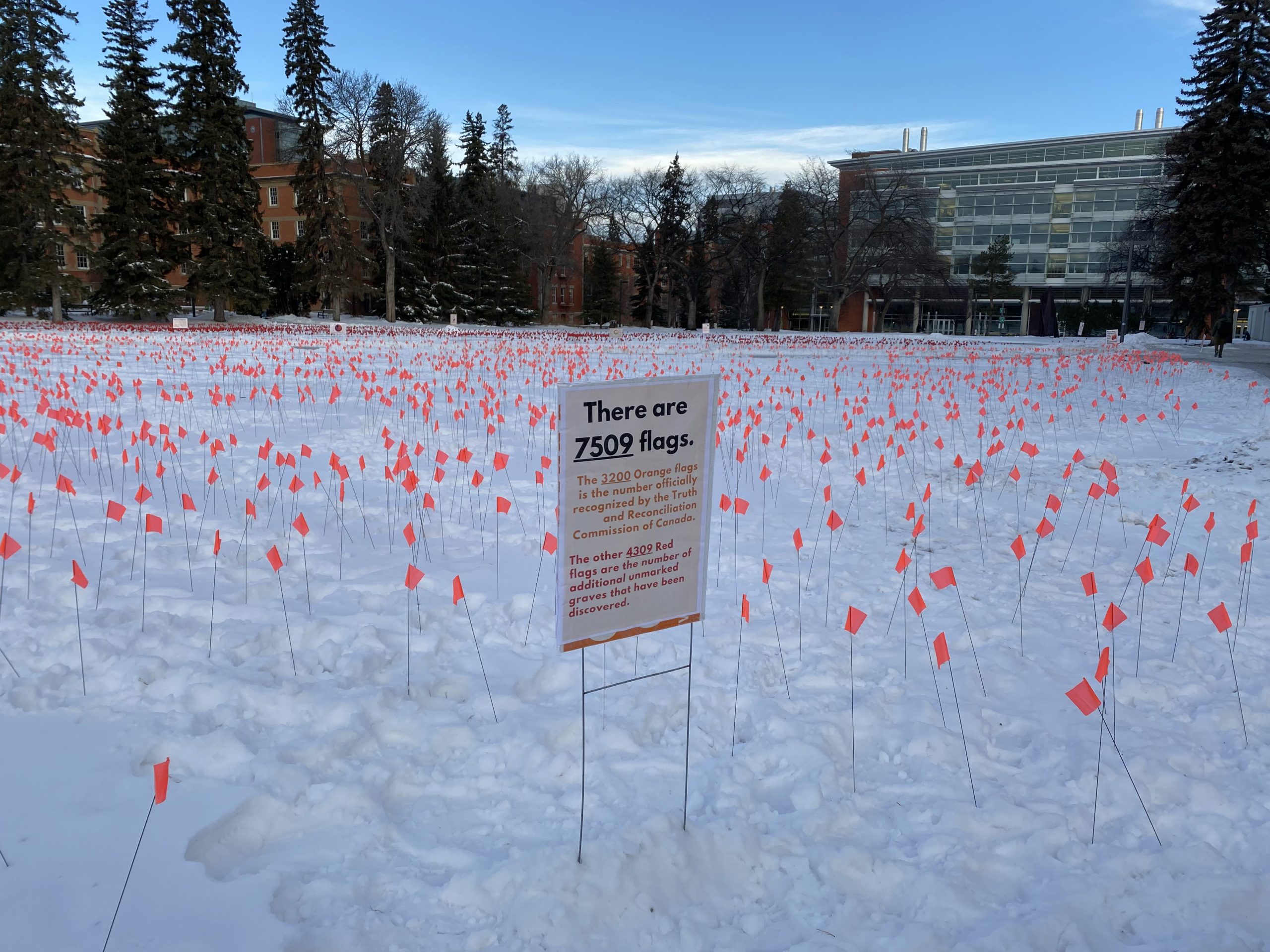 A memorial using 7,509 red and orange flags was made on Main Quad to remember the lives of children lost to residential schools. 
On November 21, students and members of the community gathered to listen to speakers before planting orange and red flags on the University of Alberta's Main Quad to pay tribute to lives lost in residential schools. Additionally, the Sweetgrass Bear is surrounded by 139 orange flags, symbolizing the names of the 139 residential schools that operated in Canada.
The orange flags on Main Quad symbolized deaths recognized in the Truth and Reconciliation Commission's (TRC) final report, and the red ones symbolized those not recognized in the report. In the memorial on Main Quad, the red flags significantly outweighed orange ones.
Along with the planting of flags, the event featured speakers from the U of A community.
Student experience coordinator Victoria Delorme spoke about the memorial's origins
Victoria Delorme, student experience coordinator for Indigenous Student Services on Augustana Campus, was the first to speak. They were also the inspiration for the memorial on North Campus as Delorme organized a similar memorial on Augustana Campus earlier this year.
"I did a similar project over at Augustana Campus to honour Truth and Reconciliation Day and residential school survivors and the ones who actually didn't come home," Delorme said. "…unfortunately, throughout this summer, my reservation discovered 751 unmarked buried bodies… and so when I went there, I remember I stood in a sea of orange flags knowing that that was my family."
"It was really difficult to try and [recognize that] for myself. I didn't really know what to do, so I knew that this past Orange Shirt Day, more and more bodies actually were found. More and more, they were not being acknowledged the way they should have been."
Delorme described the memorial as a way to recognize the losses of life found in residential schools in a visible way. They urged attendees to take up space for important issues like these.
Additionally, Delorme mentioned that the Truth and Reconciliation Commission only recognizes 3,200 deaths caused at residential schools, while Murray Sinclair, the Commission's chair and retired Canadian senator, previously estimated at least 6,000 deaths in 2015, but recently said that the number may be closer to 20,000 this year.
"This display is so important because we want people to see it — to take up space, and to claim it for what we used it for previously," Delorme said.
They also reminded attendees of the lasting effects of residential schools, generations after family members were forced to attend.
"Intergenerational trauma is real — and I feel it," Delorme said.
"I'm the first one in my family to not go to a residential school …it's really, for me, important to start seeing it — to acknowledge that throughout history, we have been unseen."
Assistant Dean Shana Dion gave tribute to father George Dion
Shana Dion, assistant dean (First Nations, Metis, and Inuit students), was next to speak. Dion first sent thoughts and prayers for all children found in mass graves, and those waiting to be found.
Dion next gave tribute to George Dion, their father, who had been forced to attend a residential school.
"[George Dion was] a residential school survivor — I don't say that lightly, as it carries the weight of intergenerational trauma that is hard to put into words," Dion said.
Dion reflected on the effect of historical trauma, recalling slurs and erasure being "a big part of [her] life, and a big part of [George Dion's]."
Dion also spoke to First Nations, Metis, and Inuit (FNMI) students. Dion hoped for these students to find space to grieve, be angry, talk, pray, and share their feelings.
"This may bring up trauma for you," Dion said. "This may trigger you with many mixed emotions that you don't know how to manage or handle. You don't need to unpack it alone."

They listed resources on campus like the First Peoples' House and the Aboriginal Student Council (ASC).
"The historical traumas [caused by the] atrocities of Canada should not only be remembered on September 30, but [should be] an ongoing conversation [to] keep the voices of our loved ones who never made it home, and any residential school survivors — that we keep them an honour," Dion said.
"I want you to know I loved you in advance. I will be the voice to the ones who have become silenced along the way. I will speak out, and up, about racism. I promise you I'll do my best each and every day to break the barriers that hold us back, because I loved you in advance."
ASC President and Councillor Vaughn Beaulieu-Mercredi spoke about ongoing reconciliation
Vaughn Beaulieu-Mercredi, president of the ASC and councillor for the faculty of arts, first condemned on the actions of the RCMP in B.C., who have been occupying Wet'suwet'en territory.
"If this is what reconciliation is supposed to look like, then I'm afraid we will never see the vision of Canada that we are all hopeful of," Beaulieu-Mercredi said about the situation, and the approval of using lethal force against Indigenous people.
"There can be no reconciliation without truth. That is why we are here today. We are here to plant thousands of flags in Main Quad to both remember those children lost to schools and to remind those of whom have wished the conversation of reconciliation out of their minds that the work has just begun. The truth has just begun."
He reiterated the importance of reconciliation and its relevance today.

"It's important for every one of us to start a walk on the long, and never-ending road of reconciliation," he said.
Lastly, Beaulieu-Mercredi brought up ways to support Indigenous people in our everyday lives.
"Outside of the university, this journey might look like reading the TRC final report and the 94 calls to action. Inside the university, this might look like supporting Indigenous student-led organizations, like ASC, or [Aboriginal Relations & Reconciliation Committee], or one of countless others," Beaulieu-Mercredi mentioned. "Education for reconciliation is something we cannot give up on. We need the university to hear that we need more Indigenous spaces, like Maskwa House, as they proposed in 2016."
"Our voices must be louder than the setbacks we continue to face."