News
Sweetgrass Bear sculptor explains statue's role in reconciliation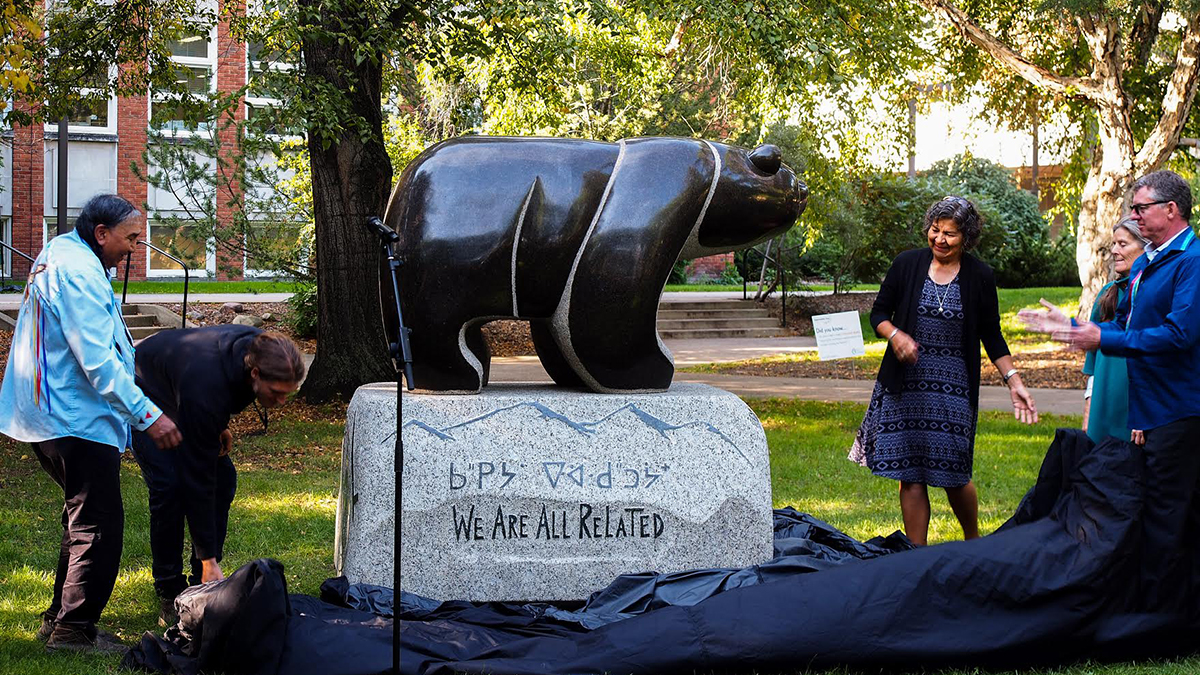 Most students passing through the southwest corner of Quad see a bear statue. But Stewart Steinhauer, the statue's sculptor, sees a spiritual teacher that all students can learn from.
The Sweetgrass Bear symbolizes the spiritual connection between indigenous land and culture that Steinhauer believes to be missing from the reconciliation of indigenous peoples in Canada.
The University of Alberta has recently purchased three Steinhauer pieces to commemorate Treaty 6, which turns 140 years old this year. The other two bears, Treaty Bear and Little Treaty Bear, are at Enterprise Square and Augustana Campus.
"Anyone who sees (the bears) will be struck by the powerful relationships between them," Steinhauer said.
Steinhauer said he is always working on multiple different sculpting projects at a time. To accommodate this, he orders up to 90,000lbs of raw granite from his suppliers. The Sweetgrass Bear itself weighed a total of 14,000lbs of stone.
"My sculpture doesn't exist as discrete single pieces of sculpture, but instead as a collection coming into being over time," Stienhauer said.
The Sweetgrass Bear is intended as a reminder for students to recognize the presence of indigenous culture on and off campus. The first step to reconciliation is recognizing indigenous culture, Steinhauer said.
As a Cree man, Steinhauer is a self-proclaimed atheist. He sees religion as distinct from spirituality, which he practices through his carving of granite, or the "skin of Mother Earth."
"(Carving granite) is healing, it's where I find my own trauma," Steinhauer said.
Steinhauer and 10,000 other residents call Saddle Lake Reserve on Treaty 6 territory home. Many of those living on the reserve are experiencing impoverished conditions, he said. Canadian education systems can worsen the situations of indigenous people who often "lack a sense of identity (in schools)."
Steinhauer added that formal education systems continue to "impose new identities" on aboriginal youth instead of recognizing the spiritual connection many indigenous people have with the natural world. He added the complexities of reserve life continue to go unheard of in classroom settings.
Steinhauer said humans must connect with the land on a spiritual level to ensure that ceremonial acknowledgments of Treaty 6 by lecturers, politicians, and university officials, are meaningful and not just obligatory. The sculptor said the Sweetgrass Bear's teachings were "to help humans connect to the land on a spiritual level."