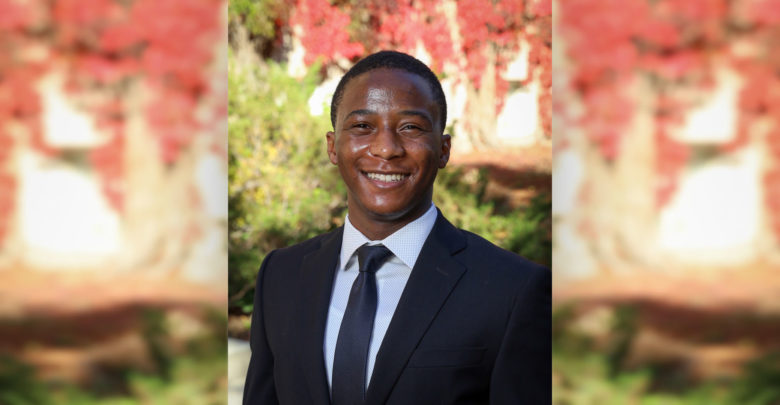 Each year, The Gateway publishes an evaluation of the Students' Union Executive and the Board of Governors representative. It's impossible to discuss every aspect of their tenures, so these reports are largely based on the major components of the platform each executive campaigned on, and the most significant responsibilities of their respective positions. 
And if you're short for time, check out our TLDR for a bite-sized breakdown.
---
Christian Fotang: D+
The role of vice-president (external) is to tackle all things external advocacy. This means they advocate for students to all levels of government and represent the University of Alberta Students' Union (UASU) in bigger provincial and national student advocacy groups.
In addition to this role, Christian Fotang also sat as chair for the Canadian Alliance of Student Associations (CASA).
Successes in delaying exceptional tuition increases
Probably the biggest win for Fotang this year has been working with Rowan Ley, president of the UASU, to delay the approval of exceptional tuition increases. These increases were first rejected by the provincial government due to a lack of consultation with students; the university revised them and conducted a more thorough consultation, yet they have still not passed the final stage of being approved by the minister of advanced education. This large delay has been due to strong student advocacy and has run the clock, preventing them from being implemented by next fall.
Communication and mobilization with the student body lacking
Fotang also had his hands full at the beginning of the semester organizing two Get Out the Vote campaigns. The federal candidates forum was well organized and managed to get each of the major candidates in Edmonton Strathcona to come out. While there was no on-campus voting for the federal election which was a decision made by Elections Canada, there was advanced voting for the municipal election.
Out of all the post-secondary advanced voting stations, which also includes Norquest College and MacEwan University, only 137 votes were cast for mayor. The option for advanced polling definitely should have been advertised more and besides a UASU Instagram post the day-of, I did not see anything. There was a lot going on with two back-to-back elections but this turnout was disappointing to say the least.
Lack of communication with the student body has historically been a problem for the VPX and this was the case this year for Fotang. When asked how he communicated with students about the work he was doing this year, Fotang admitted this was not his strong suit. 
"I'm not gonna lie, am I the best social media influencer out there? No."
That being said, Fotang said that he did have updates on The Flame, Instagram, and met with other student leaders on campus.
However, as someone who is representing the student voice to the government, Fotang should have been more connected to that voice. Updates on the Flame are very limited and not read by the average student. While Fotang had some Instagram updates, they were mostly just selfies of him meeting with prominent politicians. While it is part of the job, meeting with politicians — often not from the ruling party — arguably offers little concrete results for students.
This outreach is not enough and I would have liked to see more outward-facing advocacy from the VPX this year. The average student likely cannot tell you a single thing Fotang did this year, because all of the work he has done has been inward facing.
A great place for external advocacy for the VPX is through protests.
Besides the recent protest in anticipation of the provincial government bringing in more cuts, this school year has seen no other protests organized by our Students' Union. While Fotang helped organize this protest and was the original emcee, he told The Gateway he was unable to attend due to testing positive for COVID-19.
There should have been far more action earlier in the year considering we saw exceptional tuition increases approved by the Board of Governors (BoG), and the Students' Union is anticipating further cuts to post-secondary education from the provincial government.
One of Fotang's platform promises was to continue and expand on the penguin protests and the Stop PSE Cuts protest movement from last year. This did not end up happening and when asked about it, Fotang's answer was not convincing.
"This year I'd say it's been tough. It was an election year and so at the federal level, there weren't as many big campaigns we could do as the biggest one had to be the Get Out the Vote [campaign]," he said.
He also chalked it up to the obstacles brought by the pandemic. "I know that a lot of people are very anxious to be in big crowds and so that's the limitation we've had to deal with."
This point however, makes zero sense as the entire objective of the penguin protests was avoiding big crowds but still getting out the student message to the provincial government.
Additionally a province-wide day of student action against budget cuts was held in the fall and demonstrations took place in-person at many campuses. The Students' Union chose not to participate in this protest as they "felt it would not be as strong of a demonstration given that there was a lack of interest from the other stakeholder groups in Edmonton."
However, if the UASU chose to participate, I think other student associations would have followed. If they didn't feel the event was well organized or were concerned about COVID-19 they could have organized a smaller protest of their own or a sit-in.
Fotang killed any and all momentum that was built up by the successful protest in the past, and while he did help organize one protest, there should have been far more.
At the end of the day, Fotang did not accomplish large sections of his platform — something he admits.
"Looking back as a first time running, the platform was also just very overambitious," he said.
I would have to agree; from continuing last year's protests, to communicating with the student body, many things unfortunately fell by the wayside this year.
TLDR: While there have no doubt been obstacles brought in by the pandemic and the lack of funding from the government, this is all the more reason we needed strong advocacy this year as our university faced unprecedented challenges. While Fotang had some success delaying exceptional tuition increases, he did not achieve many of his platform promises and did not provide the bold and strong action we needed this year.
---
A-range: This person has fulfilled the promises they campaigned on and more, has created tangible change during their tenure, and has shown a commitment to improving the lives of students. Their GPA is top tier.
B-range: This person has done their job consistently well, but has not made any remarkable changes, or has fallen short on important goals they set out in their platforms. They're doing fine, but it's nothing to phone home about.
C-range: This person has done their job sufficiently, but has failed to make significant progress in the areas most relevant to their portfolio, or has essentially abandoned a major part of their platform. They're still passing with a safe buffer though, and Cs get degrees!
D-range: This person has done a very lacklustre job, and has not sufficiently fulfilled their campaign promises or the responsibilities of their position.
F-range: This person has not done their job, has not represented students, and has not fulfilled their campaign promises whatsoever.