Institutional
News
Students' Union
Alberta students and staff protest against cuts to post-secondary education
After gathering on Main Quad, the protesters marched to the Alberta Legislature building.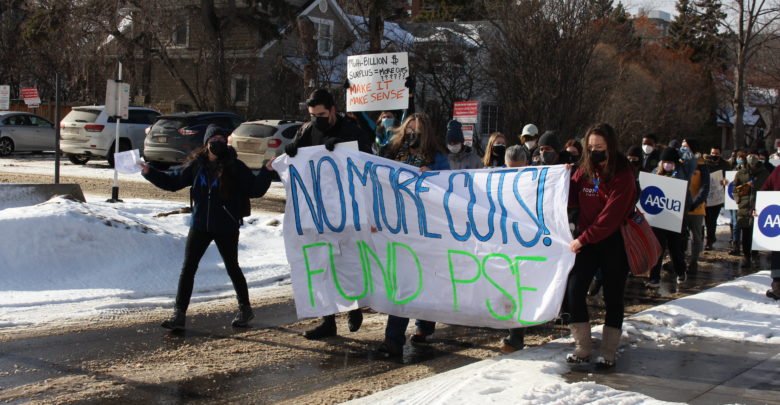 University of Alberta students and staff gathered on February 17 and marched to the Alberta Legislature to protest budget cuts against post-secondary institutions in Alberta.
Over the past three years, the Alberta government has repeatedly cut funding to advanced education. The last provincial budget dealt an 11 per cent funding cut to the U of A, marking a total reduction of $170 million in government funding for the university in the past three years.
After gathering on Main Quad, the protesters marched to the Alberta Legislature building. There were over 175 protestors in attendance at the event.
The protest was primarily organised by the U of A Students' Union (UASU). Marching alongside the UASU was the Graduate Students' Association (GSA), the Association of Academic Staff of the University of Alberta (AASUA) and the Non-Academic Staff Association (NASA).
Rowan Ley, president of the UASU, thanked students, faculty, and community members for their presence at the protest.
"I am honoured to see so many of you joining us at the legislature to send a message to our provincial governments," he said. "We are here because we care about the U of A and we care about our education and it pains us to see what has happened to it in the past three years."
Ley noted that the U of A was dealt a large proportion of the provincial government's cuts to Alberta's post-secondary institutions. Nearly 50 per cent of the reduction in provincial funding for Alberta post-secondary institutions was dealt to the U of A.
"During COVID-19 while most provinces were putting tens of millions of dollars of emergency support [into their post-secondary], our provincial government cut the U of A by more than $170 million [in the past three years]," Ley said. "These were the biggest cuts made to a post-secondary in Alberta."
Students express opposition to provincial budget cuts
Anas Fassih, president of the GSA, put a spotlight on the increased workload for graduate students — something he partially credited to the provincial budget cuts. According to Fassih, these cuts have affected academic graduate students, teaching assistants, and research assistants at the U of A.
"We are already witnessing in the university, with this kind of budget cut, a heavy workload for academically employed graduate students, teaching assistants, and research assistants," Fassih said.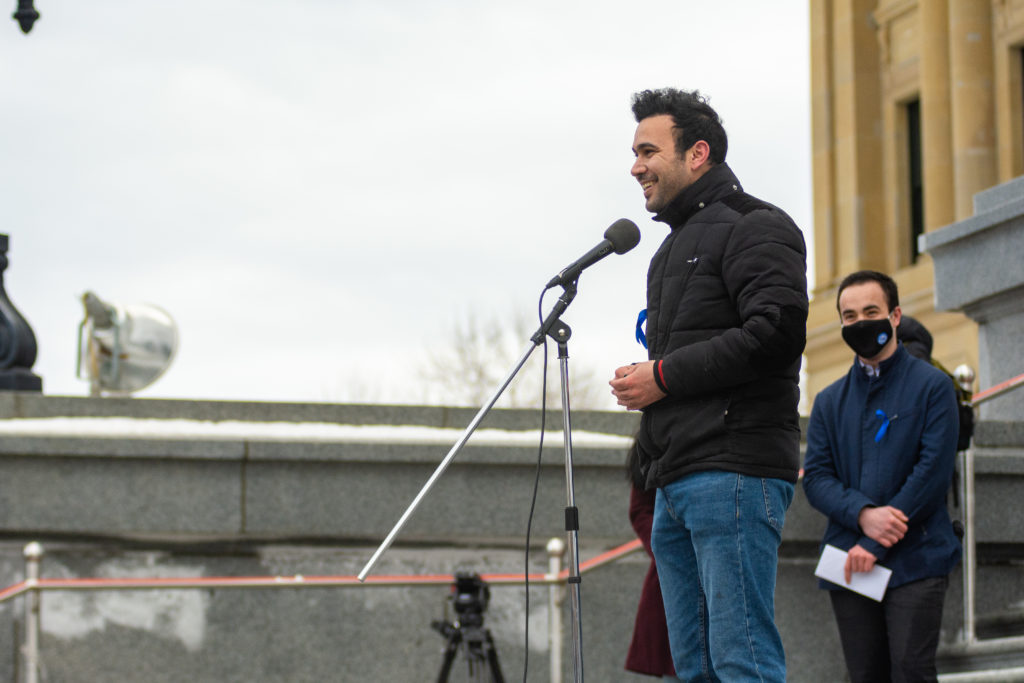 Anas Fassih, president of the GSA.
Indigenous students were highlighted as a group particularly vulnerable to budget cuts by Collette Cullen, a mature student and representative of Aboriginal Student Council (ASC) at the protest.
Cullen explained that students' mental, spiritual, emotional, and physical health are impacted by budget cuts, especially because Indigenous students face unique challenges, including being four times more likely to parent.
"Indigenous peoples need access to high quality education that is affordable," Cullen said. "This improves our representation — [something] that our institutions claim that they value. So prove it. Stop the cuts."
"Walls of oppression already exist for Indigenous students. Further cuts only make the wall higher and more difficult to climb over."
Many Indigenous students also don't receive post-secondary funding from their bands and councils — "despite the ongoing stereotype that [they] get free education. It's simply not true."
Cullen urged the provincial government to reconsider and thoroughly examine the effects of their cuts, as "the damage [the cuts] will create will take many years to comprehend."
Simran Dhillon, a science councillor with the UASU, spoke to the importance of government funding for research at the U of A. Last year, Dhillon won the TELUS Innovation Challenge for her research into preventing fentanyl overdoses. However, she expressed worry that budget cuts will impair the ability of students to continue conducting innovative research.
"As a researcher, we often strive to make the world a better place," Dhillon said. "We take everyday conundrums and life threatening problems, and innovate to create new solutions."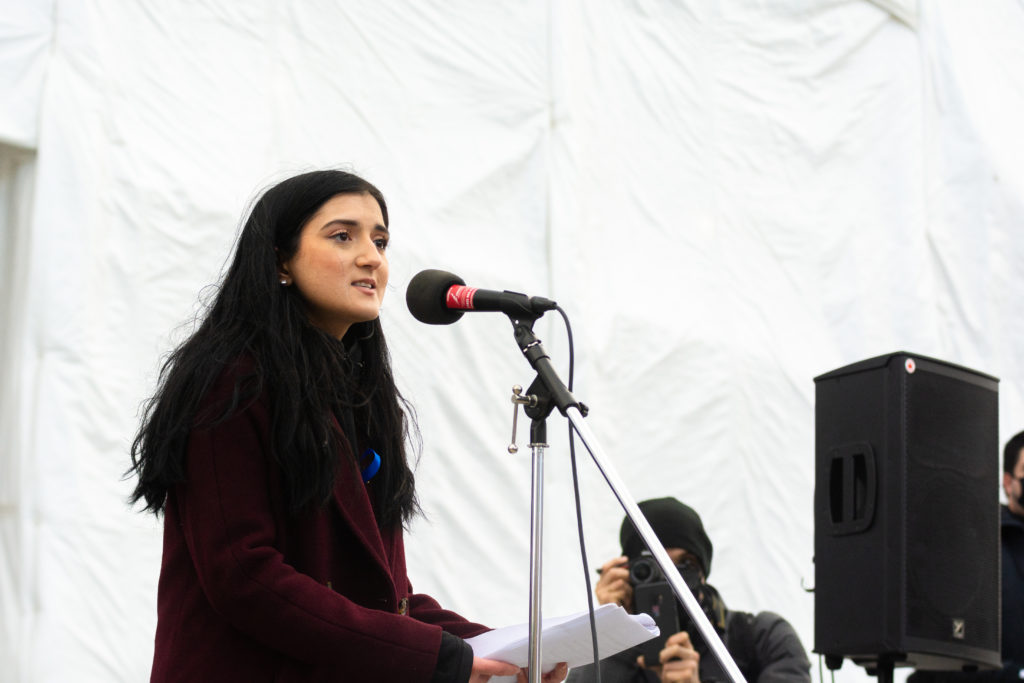 Simran Dhillon, a science councillor with the UASU.
"The university has recently been put at the forefront of creating this better future for all of us through research and catalyzing innovation… and [the provincial government is] taking away our ability to create this province for ourselves, for our future, and for future generations."
Adrian Wattamaniuk, president of the Engineering Students' Society at the U of A, touched on the importance of government funding for engineering university students in the province.
"These [are] repeated and sustained cuts to university services, leading to decreased program quality and a continued drop in international standing…but the plight of students is not one often heard," Wattamaniuk said.
He noted the importance of post-secondary education for the future workforce in the province.
"The government has chosen to turn us back, to squander the opportunity to provide Alberta with a young, diverse workforce to provide us with a real road to recovery," Wattamaniuk said. "An opportunity to send a message to young Albertans that they have a future in this province, that this is the place they should want to live their lives."
Faculty and non-academic staff unions express support for students, share concern over future of the university
Multiple U of A faculty members and non-academic staff marched alongside students to demonstrate their dissatisfaction with the provincial government's policies. Timothy Mills, president of ASSUA, and Alex Long, vice-president of NASA's executive board, spoke at the beginning of the march about their shared commitment with U of A students to stand against budget cuts to post-secondary education.
"I'm emboldened here today by the amount of different interests — students, union members, and staff — that are interested in your learning experience, to ensure that you have the best experience possible," Long said.
Among the faculty members in attendance were Stephanie Archer and Anja Arnhold, who are both assistant professors in the department of linguistics. They choose to attend the protest due to their concerns about how budget cuts trickle down to students in the long term, leaving them with a worsened education.
"I'm really afraid that we won't have a university anymore — if [the provincial government] continues like this — in 10 years," Arnhold said. "The government['s actions right now] are very short sighted."
Beyond the immediate university community, members of other labour unions, such as Alberta Union of Provincial Employees (AUPE) and the Alberta Federation of Labour (AFL), also attended the protest. Gil McGowan, president of the AFL, emphasised the importance of unions standing in solidarity with university staff and students in the face of budget cuts.
According to McGowan, Alberta is at a pivotal crossroad as governments globally begin to divest from fossil fuels. In light of this, McGowan said the provincial government should invest in advanced education to help shape Alberta's future, rather than cutting it.
"What this government is doing is completely wrongheaded," McGowan said. "It's not just going to hurt students, it's going to hurt communities, and our whole provincial economy."
McGowan raised concerns the budget cuts will drive young Albertans to move to other provinces, leaving Alberta ill-equipped to adapt to necessary economic changes.
"If the government continues this irresponsible direction of underfunding our post-secondary education system, we're all going to pay a price. And that price will be a diminished future."
NDP say Albertans are losing the opportunity to get an education, would reverse cuts
Numerous Alberta NDP MLAs attended the protest, including David Eggen, Janis Irwin, and Lori Siguardson. Eggen, the NDP's critic of advanced education, voiced concerns over how funding cuts impact universities, colleges, and polytechnics.
"Quite frankly, I don't think that places like the U of A can sustain more cuts like they have in the last three budgets," Eggen said. "So it's time to stand up and push back, just like so many people have said here today."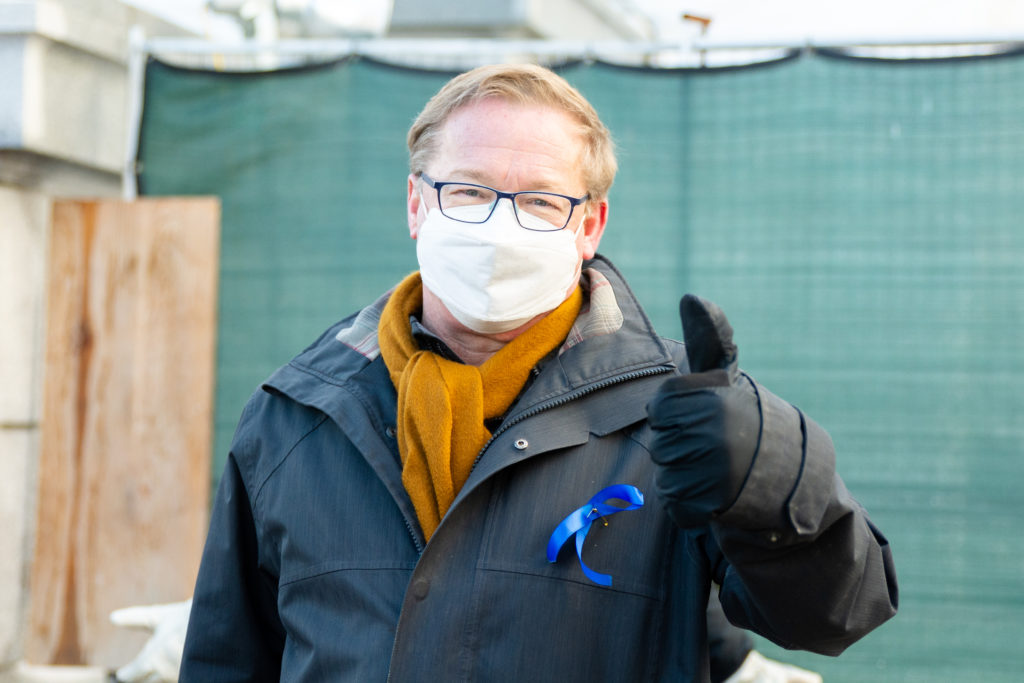 David Eggen, NDP's critic of advanced education.
According to Eggen, the cuts to Alberta universities and the rising cost of tuition are robbing young Albertans of the opportunity to attend post-secondary institutions in the province.
"You're losing a whole population of people who just can't even afford to go to school," he said. "It's a terrible combination of making cuts and compromising students now, and excluding [the future generation of Albertans] from even being able to get an education."
Eggen said a provincial NDP government would support students by reversing the budget cuts and partnering with industry partners to diversify Alberta's economy. He hopes these actions would motivate youth to stay in Alberta.
"We need to make sure that we keep our young people here in this province," Eggen said. "We have to make it so that it's attractive for them to study here and to stay here as well. Students are the best resource we actually have in this province."
The Gateway reached out to for comment from Advanced Education Minister Demetrios Nicolaides, but no statement was available before publication.
UPDATE: This article underwent an update on February 17 at 9:59 PM to include an estimate of the individuals present at the event.
UPDATE: This article underwent an update on February 23 at 12:48 PM to include the speech from Collette Cullen, a representative of ASC after an Open Letter from ASC brought the mistake to our attention. The Gateway sincerely regrets this error, and has released a public statement addressing the Open Letter.