Campus Life
Institutional
News
Edmonton Strathcona federal election candidates tackle post-secondary issues at forum
Student debt, supports for international students, and funding for research were amongst the topics discussed by Edmonton Strathcona candidates at the election forum.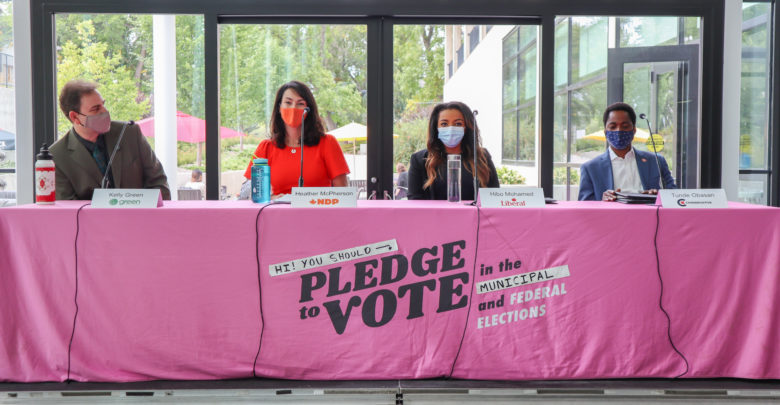 Available for students to attend both in-person and virtually, the forum consisted of two, one hour-long sessions. Moderated by Christian Fotang, vice-president (external) of the Students' Union, the forum consisted of candidates from the Conservative Party, the Green Party, the New Democratic Party (NDP), and the Liberal Party. Members of both the U of A campus community and the public were invited to hear about each candidate's platform.
The candidates were first asked questions by Fotang, who then extended an opportunity for candidates to answer questions from in-person audience members and from those virtually attending the livestream.
Student debt, supports for international students, and funding for research were included in the topics discussed in the forum.
Affordability of post-secondary education
Fotang began the forum's question period by inquiring how the federal candidates would approach the student debt owed by Albertan students and recent graduates.
Kelly Green, the candidate for the Green Party, expressed support for the cancellation of student debt and free tuition for post-secondary institutions.
"How would we approach student debt?" Green asked. "We would simply cancel the student debt. No more student debt, and no more tuition for education. It's nonsense."
Green claimed if the federal government is able to provide up to $750 billion to big businesses, they have the capacity to provide cost-free post-secondary education.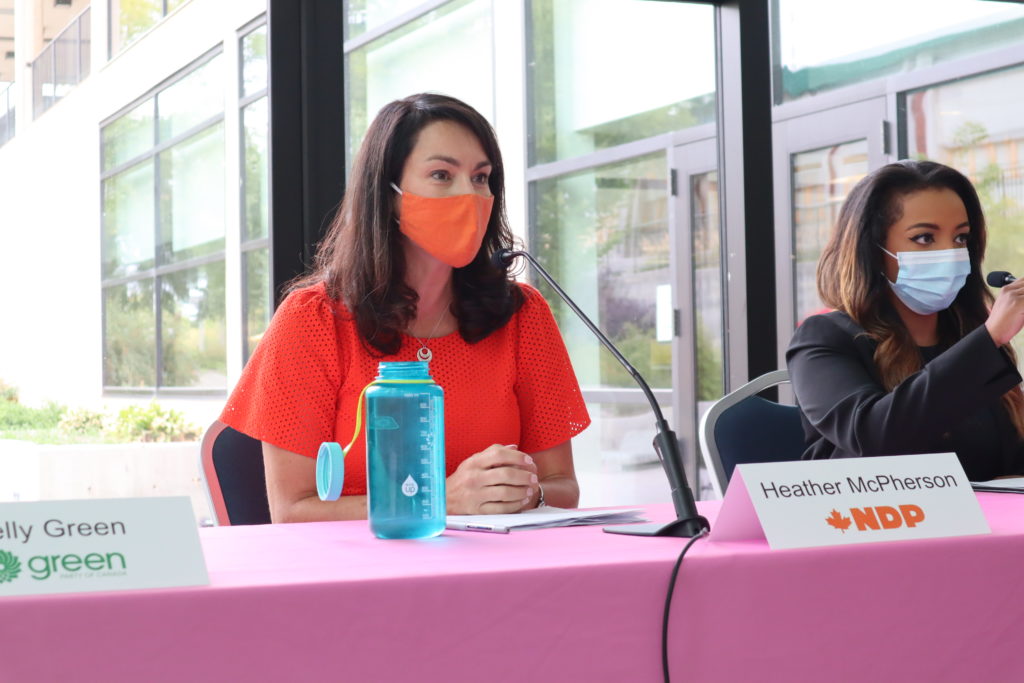 Heather McPherson, the NDP candidate who is running for re-election as the Member of Parliament for Edmonton Strathcona, brought forward her previous efforts towards affordable post-secondary education. She mentioned the tabling of Bill C-312, which works to ensure a certain portion of money sent to provincial governments by the federal government is devoted specifically to post-secondary institutions.
When considering future plans, McPherson expressed support for debt forgiveness and the possibility of free post-secondary tuition.
"We've had a great plan for dealing with student debt, and we know that students are graduating with on average $20,000 of debt which makes it almost impossible for folks to start a business, start a family, buy a home," McPherson said. "… the proposal that we have is forgiving, in the short term, up to $20,000 of student loan debt for each student… [while] moving towards free tuition."
Hibo Mohamed, candidate for the Liberal Party of Canada, criticized Green and McPherson's responses. Specifically, Mohamed asserted the Liberal Party of Canada was the only party to release a costed platform.
"Forgiving all student loans, or loans up to $20,000 sounds really great, but the reality is neither of these platforms was costed, so we don't know how much it will cost," Mohamed said.
Neither the NDP or the Green Party has released their full costed platform. The Conservative Party did release their costed platform the same day as the forum.
On the issue of student loans, Mohamed also commented that she favoured an approach which gives targeted support to lower income students.
"I do not want money in the hands of millionaires and billionaires because there [are] a lot of people who can afford to go to school and take out student loans… I don't want them to have the money; that is not fair," she said. "I am in favour of an approach that helps low-income and middle-income students."
According to Mohamed, this would include grants for low-income and middle-income students, alongside the complete elimination of federal student loan interest.
Tunde Obasan, Edmonton Strathcona federal candidate from the Conservative Party, focused on job security for students.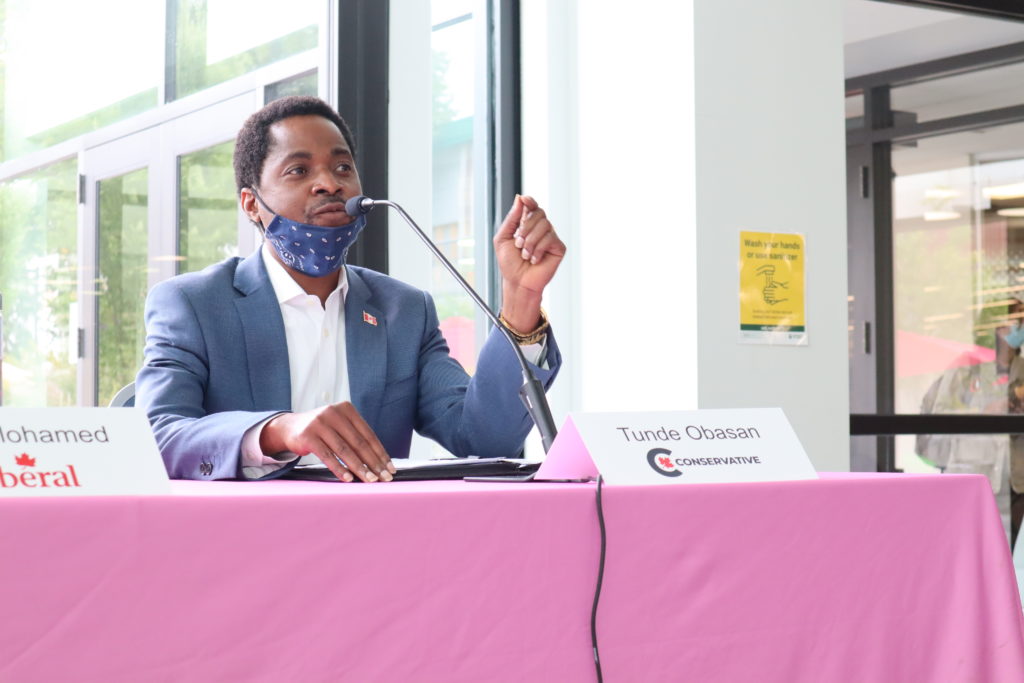 "We are focusing more on how to make sure [you] get a job that fits your status, and a job that you qualify to get so your life can start to move forward," Obasan said. "So you don't have to wait six months to two years after graduation with no job."
"The Conservative government will be focusing on job creation to make sure that students that leave the university can get to work, they can start getting an income, and start to live life."
Supports for international students and immigrants
A member of the audience asked the federal candidates how they plan to support the incoming expansion of international students, specifically considering their "inability to take part in work-integrated learning opportunities due to their work Visas?"
Green disclosed not having in-depth knowledge on the subject but voiced support for international students.
"With apologies, I don't know this policy or this program," Green said. "However, I'm 100 per cent in support of students with free tuition and supporting the institution that we learn in."
McPherson mentioned experience helping students through the immigration process as a Member of Parliament.
"We have been working with students for the last two years because of course, we do have the ability as a Member of Parliament having a constituency office to help students as they go through the immigration process," she said. "… in addition to helping folks one-on-one, we've been writing to the Minister asking for them to consider the restrictions that are in place for international students, and urging them to make some of those changes [to restrictions]."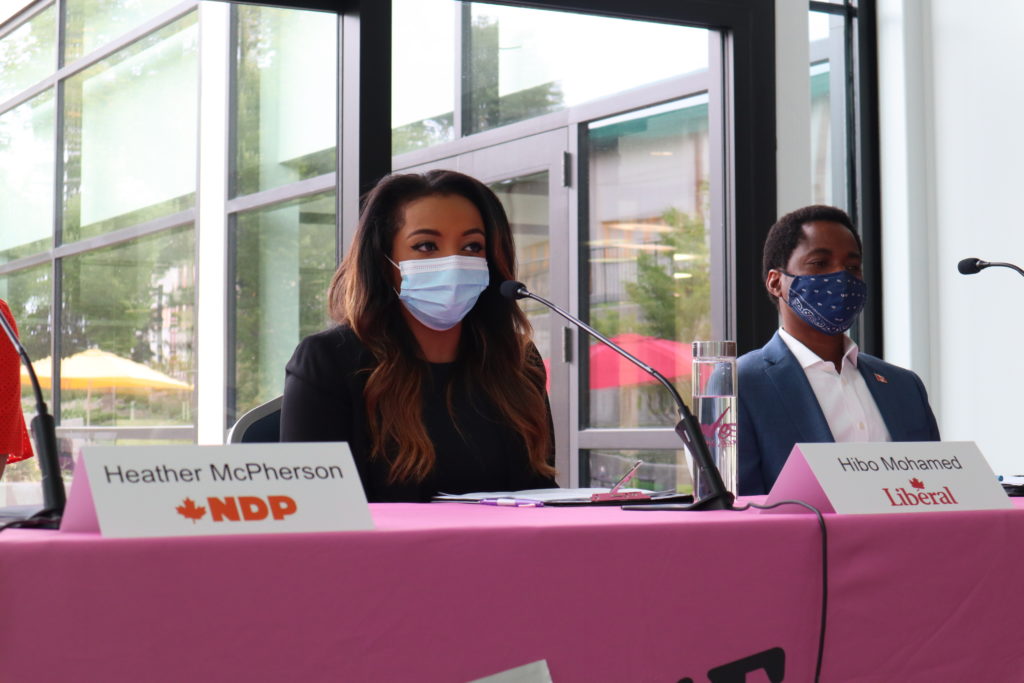 Mohamed brought forward her personal appreciation of and experience with immigration.
"I think immigration is important, as my family and I have been able to make a better life for ourselves," Mohamed explained. "I believe that all immigrants, including international students, bring in culture, and a way of seeing the world that's different, and all of us benefit from that."
"The Liberal Party will make it easier for immigrants including international students, we will expand that program and make it easier for students to work while they are still in school and mainstream the process for them to stay here, become permanent residents, and become new Canadians."
Obasan voiced support for international students, noting their contributions to the Canadian culture and economy.
"We've been able to reach out to the majority of [international students] and solve certain issues, such as how to get Members of Parliament in office to solve problems," Obasan said. "[International students] are part of the Canadian community, they contribute largely to the economy, and they need the support of everyone."
Funding for academic research
An audience member, after witnessing financial cuts to research within the faculty of agricultural, life & environmental sciences, questioned what federal policies for funding academic research are in place.
All candidates expressed disapproval towards the financial cuts being faced by the U of A
Obasan mentioned being "in support for anything research-based" because that is "where solutions [to problems] come from."
Mohamed spoke from her experience as a U of A graduate, claiming financial cuts have negatively progressed since she was a university student.
"I definitely agree that there's been a lot of cuts, that is something that I experienced when I was here [as a University of Alberta student]," Mohamed explained. "It's gotten even worse, and it's absolutely unacceptable."
McPherson mentioned the university's fall in rankings and restated her work tabling Bill C-312 in support of post-secondary institutions.
"This university used to be a top 100 university," McPherson said "It has been completely gutted by the cuts and I know a lot of that is provincial in nature. What I've done to push back on that is tabled a bill that would pull out the transfer payments and make sure funds that are devoted to post-secondary education are in place."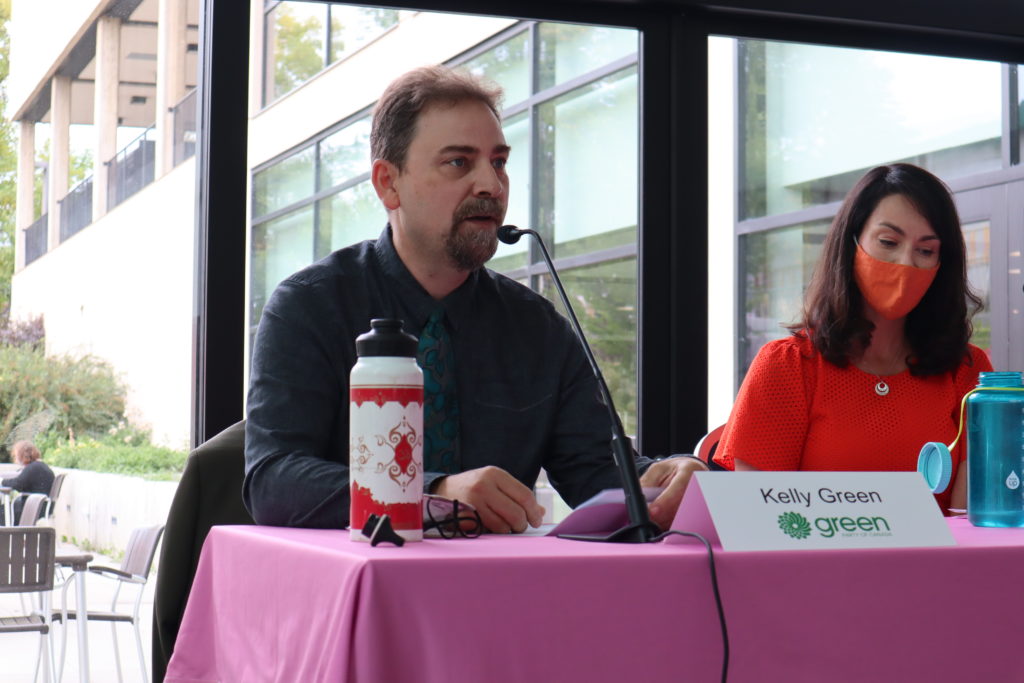 Green described himself as "100 per cent in support" of "students, researchers, teachers, support staff, institutions that we all work at and learn in." As an environmentalist, Green also expressed appreciation to researchers that "are able to give us concrete data on the problems" and provide us with "the solutions to deal with those problems."