Campus Life
Institutional
News
U of A 2021-22 budget unveiled with tuition increases; UASU and GSA make effort to get more student aid
Tuition for international students and domestic students is set to increase alongside meal plan and residence rates.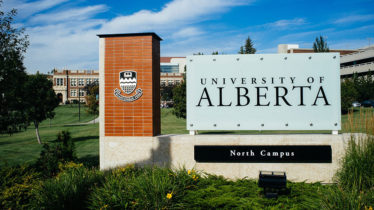 Late attempts by the Graduate Students' Association and Students' Union to soften the blow of tuition increases were fiercely debated at a General Faculties Council subcommittee meeting unveiling the University of Alberta's 2021-22 budget.
The February 24 meeting of the General Faculties Council (GFC) academic planning committee (APC) — the body in charge of academic and student affairs  — was held in the shadow of the provincial budget set to be tabled on February 25, and as a result was shrouded in uncertainty. 
Overall projections were grim, with the conversation largely focusing on rising tuition, and how to best mitigate the effects of provincial funding cuts and the COVID-19 pandemic.
The budget will have tuition increases of seven per cent for domestic students and a four per cent increase for international students admitted prior to Fall 2020.
Eleventh hour amendments to the budget brought forward by the Graduate Students' Association were met with opposition from university administration with the formal motions failing, although the principles of the recommendations will be brought forward to the Board of Governors.
APC also discussed increases to Mandatory Non-Instructional Fees (MNIF) and general line items in the proposed budget.
The budget will be presented to the Board Finance and Property Committee who will determine whether to recommend that the Board of Governors — the highest decision-making body at the U of A — approve the budget on February 25.
Uncertainty around the impacts of the provincial budget
The imminent provincial budget dominated the conversation, with administrators and student representatives unsure about what to expect from the UCP government. Budget planning was made with an expected 9.7 per cent decrease in provincial funding in mind — translating to approximately $53 million — but contingency plans were in place for cuts as large as 20 per cent, or an approximately $110 million cut.
Provost and vice-president (academic) Steven Dew mentioned a lack of communication between the university and the United Conservative Party government in advance of the upcoming provincial budget contributing to uncertainty.
"We have received very little guidance as to what to expect," Dew said. "We got very clear guidance last March which [said] plan for a 9.7 per cent cut in the upcoming year. So that's what all of our planning has been based on."
Although Dew warned that funding cuts may be larger than previously expected, he was confident that they would not undermine the university's projections.
"To the extent that we have received some hints, it's likely to be worse than [a 9.7 per cent cut], but perhaps not significantly worse than that," Dew added.
Vice-president (finance and administration) Todd Gilchrist highlighted the compounding effects of a potential $53 million cut in provincial funding, especially in light of a $66 million cut in 2020-21 and an additional $53 million cut in 2022-23.
"The impacts of the cuts that are contemplated in this budget will result in about a three percent reduction to faculties and about a seven per cent reduction to support units," Gilchrist said. "Those might not seem that big, but we need to realize that those come after an 8.3 per cent cut to faculties and a 12.8 per cent cut to support units in the prior year."
Gilchrist contextualized the cuts by noting that provincial funding in 2022-2023 is projected to be only $7 million more than what it was in 2008.
"Put another way, our grant would have only increased by only 1.5 percent in a 15 year period, which is significant when you consider that at the same time our enrollment would have increased by approximately 14 per cent."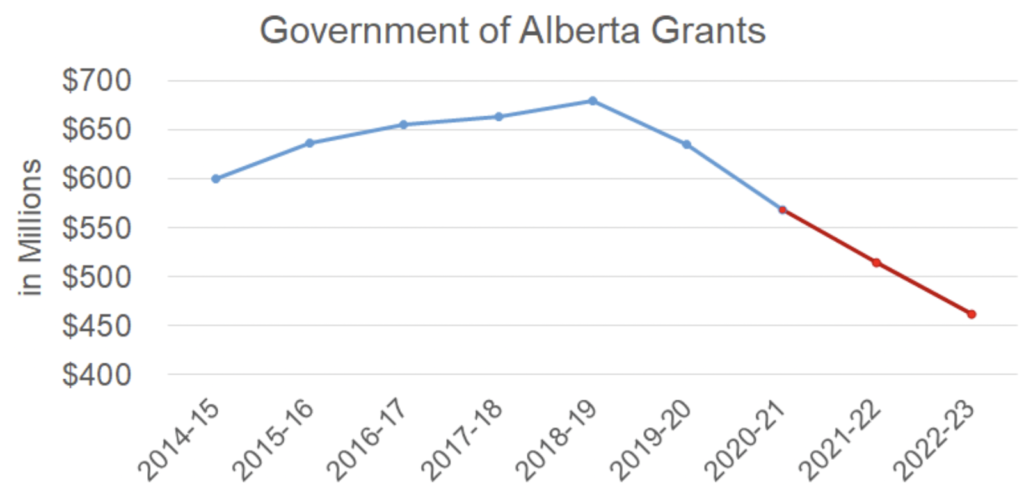 Budget sees tuition increases for undergraduates and graduates alike
Rising tuition was another major line item from the university's proposed 2021-2022 budget.
Following a seven per cent increase to tuition in 2020-2021, the university projected additional seven per cent increases in 2021-2022 and 2022-2023. The increases were proposed to offset the reduction in provincial funding, which is the university's largest source of revenue.
The university has pledged to have 15 per cent of the net increases to domestic student tuition to providing dedicated student financial support.
Domestic students are expected to shoulder the majority of the tuition increase due to the lifting of a five-year tuition freeze in 2020. Unlike domestic students, international students were not covered by the tuition freeze and saw rising tuition throughout that time period. As a result, international students admitted prior to Fall 2020 will only see a four per cent tuition increase.
Dew also presented a program-based tuition model for international students admitted in Fall 2020 and onwards. The model will set guaranteed tuition costs over four years for international students depending on the program they are admitted into.
"Incoming international students need a high degree of price certainty at the time of admission," Dew said.
Meal plan rates are budgeted to increase by two per cent in 2021-22 and every year after until 2023-24. Residence rates will increase by five per cent in 2021-22 and then by two per cent from 2022-23 on.
Proposed amendments from the UASU met with opposition from administration
Students' Union President Joel Agarwal brought forward a proposed amendment to the budget that would redirect at least 20 per cent excess tuition revenue not budgeted by the university towards additional student financial aid.
The amendment was ultimately rejected on the grounds that it was brought forward after the approval of the meeting agenda. It was also deemed to be outside of the scope of the tuition debate by APC.
Agarwal expressed concerns that rising tuition costs could drive students away from the University of Alberta and towards provinces like British Columbia and Ontario, especially in light of financial hardships brought on by the pandemic.
"The student cost-burden carries a risk for the university," Agarwal said. "Adjustments to the university's affordability risks that students would choose to attend other schools in other places."
University administration responded by emphasizing the importance of keeping excess funds flexible, rather than dedicating them specifically towards student financial aid.
"The motion as proposed by [Agarwal] would remove our ability to look at where is the greatest need across the whole budget if we were to receive any additional revenues," provost and vice-president (academic) Steven Dew said. "There may be many places where there is an urgent call, whether it be related to mental health supports or the need for us to introduce more individuals so that we can offer exams at different times of the day."
Amendment by GSA met with debate, and ultimately, compromise
Graduate Students' Association President Marc Waddingham spurred a lively debate with a proposed amendment to extend a rebate currently being offered only to thesis-based graduate students to domestic thesis-based graduate students admitted in the Fall 2020 semester.
The four-year rebate currently being proposed in the budget reduces the tuition increase to 2.67 per cent for thesis-based graduate students enrolled prior to the Fall 2020 semester. The purpose of the rebate is to bring tuition increases for thesis-based graduate students down to the academic price-index increase for the given year so as to not punish students enrolled in long-term thesis programs.
Provost and vice-president (academic) Steven Dew countered with the observation that while graduate students admitted prior to the Fall 2020 semester did not enroll with the expectation of seven per cent tuition increases, those admitted in the Fall 2020 semester did.
"Those who started in Fall 2020 made the decision to come here knowing what the three-year tuition plan would be and making their arrangements for financial support accordingly," Dew said. "They came here having made reasonably informed decisions on what the tuition policy would look like."
Integrated finance services and resource planning director Chad Schulz also criticized the potential administrative burden of such an amendment.
"One of my biggest issues with this is that this university suffers from too much bureaucracy," Schulz said. "One of my concerns with this is that this will be a significant administrative effort to track these students separately."
"All these little fidgety movements with our tuition are very hard to track and very hard to keep straight."
Although Waddingham's proposed amendment garnered sympathy from committee members, it was ultimately decided that it would not be adopted as a motion. It will instead be brought forward as a recommendation to the Board Finance and Property Committee along with the rest of the budget.
Increases in Mandatory Non-Instructional Fees to go towards the hiring of a sexual violence prevention coordinator
The proposed 2021-2022 budget also includes a 1.6 per cent increase in Mandatory Non-Instructional Fees (MNIFs), which is equivalent to $12.96 per student if enrolled full time in Fall and Winter semesters.
Included in the increase to MNIFs is a $1.50 increase per semester to the Health and Wellness Fund going towards the creation of a sexual violence prevention coordinator position.
Concerns were raised about students having to bear part of the cost of the new position.
"It kind of shows that sexual violence is not a priority of the university," said Amlan Bose, the vice president (academics and services) of the Engineering Students' Society.
The APC voted to approve the 1.6 per cent increase in MNIFs, with Agarwal and Bose voting against.
The motion to include a $1.50 increase towards funding initiatives related to sexual violence prevention passed unanimously.
U of A budget shows small surpluses for the next three years
With Budget 2021-22, the University of Alberta will post a $4.2 million surplus for its consolidated budget.
The consolidated budget includes the budgets for operating, ancillary, research, capital, and special-purpose funds. Ancillary operations include residence, dinning services, the bookstore, the ONECard office, and parking operations. The capital budget includes materials, IT equipment, maintenance, repairs, utilities, and buildings.
The consolidated budget will be balanced for the next three years with increases year-over-year.
| | |
| --- | --- |
| U of A Consolidated Budget Year | Amount |
| 2019-20 (Actual) | $40.2 million deficit |
| 2020-21 (Projection) | $4 million surplus |
| 2021-22 (Budget) | $4.2 million surplus |
| 2022-23 (Projection) | $6.7 million surplus |
| 2023-24 (Projection) | $12.9 million surplus |
Source: U of A 2021-22 Budget
The consolidated budget projections are better than past projections presented in March 2020 which predicted deficits in 2021-22 and 2022-23.
The U of A is anticipating over $424.3 million in revenue from tuition in 2021-22, a $27.1 million million over 2020-21 forecasted amounts. Future tuition revenue projections for 2021-22 and 2022-23 will be $449.7 million and $467.1 million, respectively.
Salaries of U of A employees are projected to decline by $9.4 million from Budget 2021-22 to 2022-23.
Ancillary services is budgeted to run an $8.9 million deficit in 2021-22. In the next year, ancillary services is projected to have a $971,000 surplus — the first surplus since 2019-20.
— With files from Adam Lachacz