Campus Life
News
Research
U of A students win $100,000 for fentanyl overdose prevention research
Three University of Alberta students have won first prize in the TELUS Innovation Challenge with their idea for a syringe that could potentially detect lethal doses of fentanyl.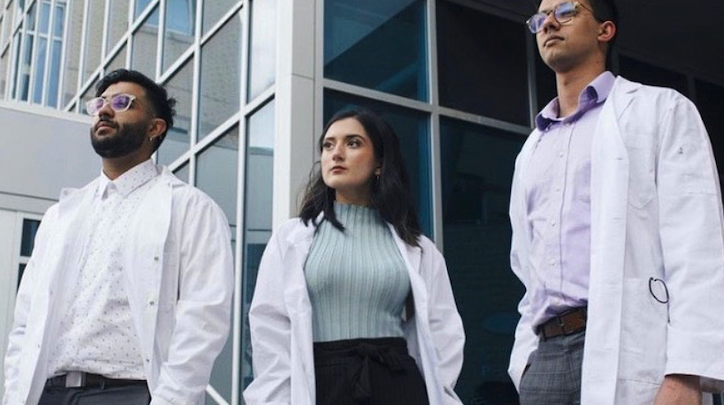 As the opioid crisis continues to spike amid physical and social isolation during COVID-19, three University of Alberta students have won $100,000 in funding for research that could help prevent a fentanyl overdose.  
Simran Dhillion, Ajaypartap Gill, and Adarsh Badesha's idea for a product called FentaGone, a syringe with a built-in sensor detecting an amount of fentanyl that could potentially lead to an overdose, won first prize in the TELUS Innovation Challenge hosted by the University of Calgary from February to March.
Dhillon, a third-year psychology major and Student's Union science councillor, shared that the research of her and her collaborators is spurred on by experiences within their own communities.
"We have witnessed addiction and the detriment it can cause within our own families and our own friends circles," she said. "We're all advocates of the message that one preventable loss of life is too many."
According to Dhillon, despite the "exponential growth" of the opioid epidemic, there has been little innovation for harm reduction.
"Nothing's really being done," she said. "Even within our own communities, we're seeing obstacles being put up in efforts to support vulnerable populations, like safe consumption sites being shut down, for example."
Gill, a fifth-year psychology major minoring in computer science, noted that Alberta is the second hardest-hit province with overdoses.
"That's a big factor of why we're doing this, but hopefully, also a factor of why the judges [of the TELUS Innovation Challenge] chose us as well," he said.
Before their project had garnered the top TELUS Innovation Challenge prize, the group received $10,000 last spring from the U of A's World's Challenge Challenge (WCC). This funding allowed the trio to partner with researchers at the U of A such as pharmacologist Anna Taylor and biochemist Joanne Lemieux to do work on a prototype.
This summer, Dhillon said her, Badesha, and Gill will be working with mechanical engineers to optimize the design of the syringe, and running clinical research trials to ensure that their syringe is "actually successful" in the field.
"We're also continuing community consultations with the demographics most affected by the crisis to ensure that we're keeping the user in mind," Dhillon said.
When asked what advice they would give to students that might be interested in collaborating and innovating with their peers, Dhillon said it's key to come up with something "that you really care about."
"We've definitely hit our hindrances, and we've had our fair share of setbacks, especially even COVID-19 times trying to work on a startup," she said. "But if it's something you care about, you'll continue going forward even with things going against you."
Gill said that students should "just go for it."
"You have to give it a shot," he said. "Whatever idea you have, no matter how crazy. There's so many resources on campus … and you know, you never know where things will take you."