Campus Life
Institutional
News
Staff associations picket in solidarity with teams negotiating U of A worker contracts
The group marched in support of negotiations with the university for worker contracts.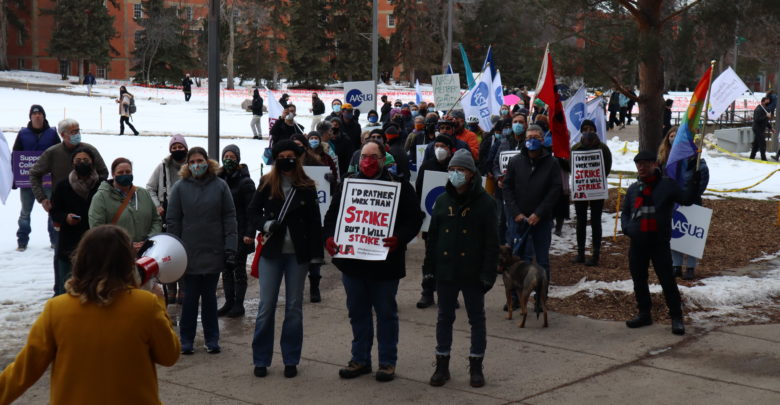 Staff associations at the University of Alberta were joined by community members to express their solidarity with bargaining teams currently in negotiation with university administration over worker contracts.
The Non-Academic Staff Association (NASA) and the Association of Academic Staff (AASUA) held an information picket to express support and solidarity with the associations' bargaining teams, which are currently negotiating worker contracts with the U of A. Both the U of A and staff associations exchanged initial worker contract proposals May 2021. Since then, the university and staff associations have been bargaining and negotiating the contracts.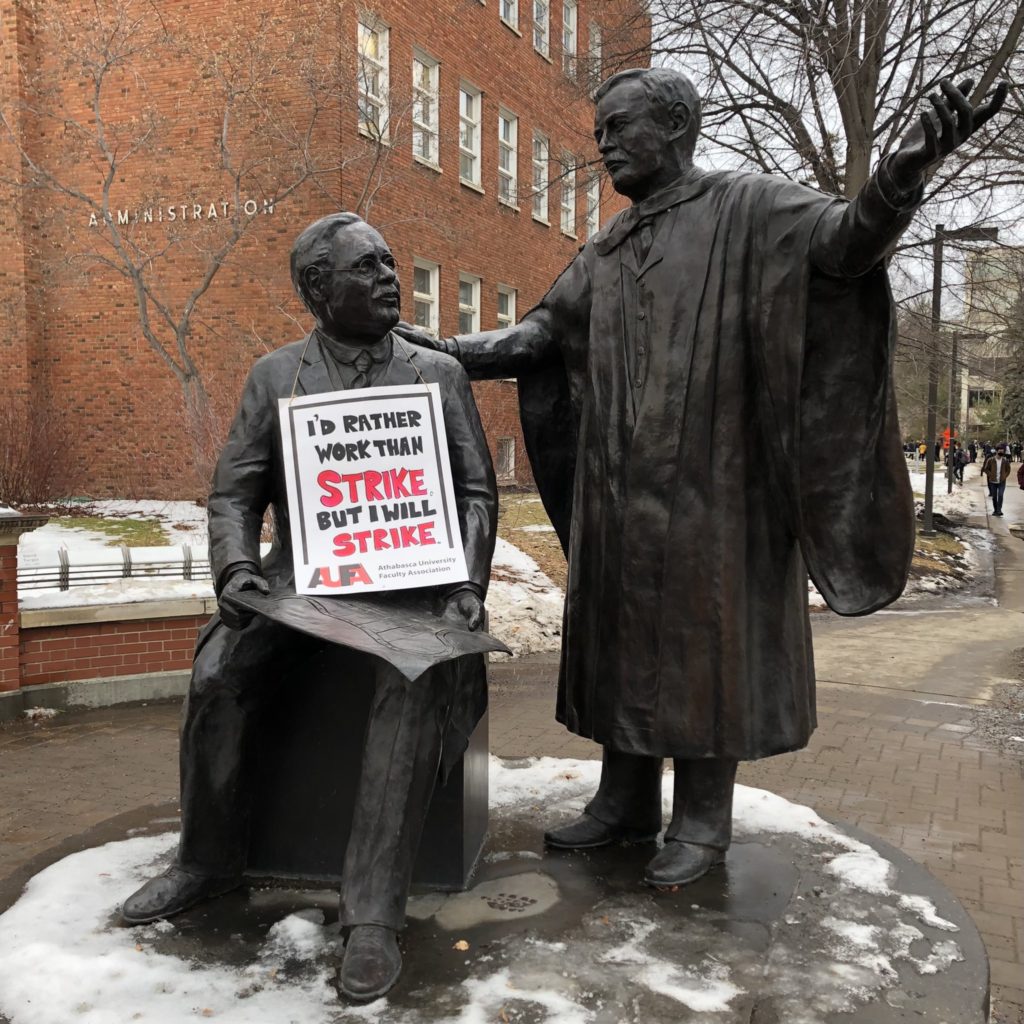 The Athabasca University Faculty Association was among associations present at the picket.
Photo by Bob Barnetson
NASA and AASUA were joined by the Alberta Federation of Labour, Athabasca University Faculty Association, and the Grant MacEwan University Faculty Association at the picket.
Rachel Notley, former premier of Alberta, and David Eggen, MLA and NDP Critic for Advanced Education, were also present.
The picket began with a statement from Brian Fleck, representative of AASUA and professor in the faculty of engineering. He described the picket as evidence of the ongoing existence of Alberta's labour movement.
"This [picket] really exciting because the labour movement in Alberta is alive today — and we are part of it," Fleck said. "This is new for us professors at University of Alberta — [especially considering] we have never been on strike before in the over-a-century that this university has been operating."
In a statement provided by the university in response to the picket, the institution described a wish to achieve "labour stability" and avoid "unneccesary" job losses.
"The university is currently in the midst of collective bargaining, and seeking collective agreements that reflect the importance of the work carried out by our academic staff and non-academic staff, while recognizing the realities of our financial constraints," the statement said. "It is the university's wish to achieve labour stability through negotiated agreements and to avoid additional and unnecessary job losses."
Jillian Pratt, president of NASA, described the U of A's proposal brought forth in May 2021 as increasing hierarchies within the institution by expanding senior leadership positions.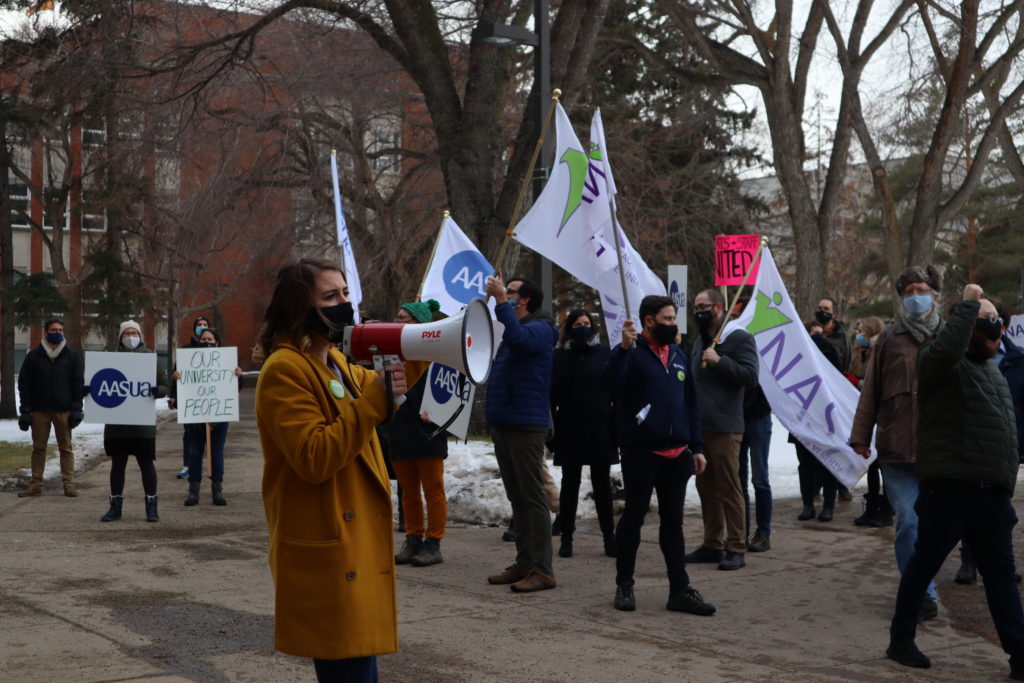 Jillian Pratt, president of NASA.
Photo by Emily Williams
"Most organizations are flattening their hierarchies — this one is choosing to increase theirs," Pratt said. "[U of A President Bill] Flanagan and [his] team in senior administration is increasing our senior leadership at rates we've never seen before."
"For the support staff out there, you've been asked to take a three per cent [pay] cut. You've been asked for a 20 per cent copay on your benefits, and for some of you it's a minus 25 per cent special reduction. How does that make you feel?"
The University of Lethbridge, which has been undergoing a similar bargaining process, has met a stalemate.
Cole Rockarts, organizer with NASA, said stalemates are always a concern, but expressed belief there is opportunity for U of A workers to make it out of bargaining with benefits.
"I think it's always a concern that bargaining will stall, and we're watching a lot of the other bargaining tables right now… We think that especially as major corporations have made out like bandits in this pandemic, there are lots of opportunities for workers across public institutions like universities to get raises, fair wages, and benefits," they said.
When considering the University of Manitoba, where the faculty association has been on strike since November 2 in demand for higher wages, they said a strike is not out of the picture for U of A if bargaining breaks down.
"Workers never want to go on strike," Rockarts said. "If bargaining breaks down, NASA is prepared to call a strike vote, and at that point, the members will decide if they want to go on strike."
Notley expresses support for teams negotiating worker contracts
Rachel Notley, leader of the New Democrat provincial opposition, spoke out against the current budget cuts being faced by post-secondary institutions from the provincial government.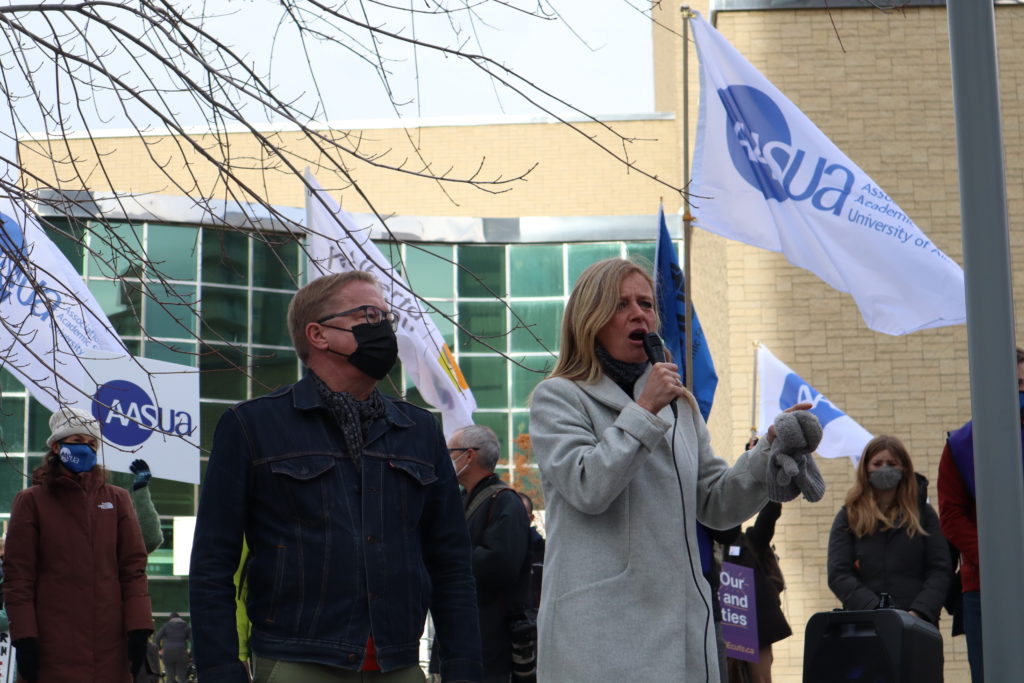 Rachel Notley and David Eggen in attendance at the picket.
Photo by Emily Williams
"We are in the midst of so much change on so many different levels," Notley said. "The last thing this government should be doing is attacking this institution… [that] is the exact opposite of how we built this institution, how we built the economy, and how we built community."
"[The provincial government] needs to reverse all of those things, beginning with the funding cuts which are driving the bargaining you people are being subjected to right now."
Notley expressed her support for the staff associations' bargaining against the university for fair worker contracts.
"So we will stand with you as you fight for a fair contract, fight for job security, and fight for reasonable pay," she said. "Good luck to you getting to mediation, I think some fair people will give you a fair deal when you get there. Fight to get there. If you don't get there — just fight."
Though on-campus picketing is not permitted, picketers march through to Main Quad
The picket initially began off-campus. A statement from AASUA claimed the university did not grant the associations permission to conduct the picket on university property. A statement provided Hallie Brodie, issues and strategic communications officer for the U of A, said picketing on-campus as not permitted.
"The AASUA/NASA request to picket on North Campus was declined as picketing on university campuses and grounds is not permitted," the provided comment said. "The university respects the right of AASUA and NASA to communicate with and provide information to its members, and suggested a move to a location on public property."
However, when returning to their workplaces, picketers decided to do so through Main Quad.
"I don't know if you heard, but we were thinking of gathering on [Main] Quad today," Pratt said. "The powers that be here said they didn't want that. Well why don't we return to our workplaces but do it by way of quad? Who's with me on marching to quad?"
Picketers walking through U of A campus.
Photo by Emily Williams
Cole Rockarts, organizer with NASA, described the staff associations as not highly concerned with potential consequences that could accompany their choice to march on-campus.
"NASA and AASUA are not too concerned about consequences to staff [for gathering on campus]," Rockarts said. "We believe that it is workers' right to be in their workplaces — and on the university campus. We showed today that the employer may state that we have to gather on public sidewalks."
"The workers are the ones that have carried this institution through the COVID-19 pandemic, and are going to be the ones that continue to give support to students. We've heard from many students that we have a lot of support for our bargaining mandate, and we've showed that today by gathering on-campus."
Students "should care" about contract bargaining, NASA organizer says
Rockarts expressed the need for students to care about worker contracts, claiming they directly affect students.
"Students should care because this is directly affecting them," they said. "You've seen lots of cuts to academic advisors and students' supports. At the end of the day, NASA members are the folks that keep this campus running."
"We really want students to know that all of the work that we're doing, both at the bargaining table and here today, is directly in support of them."