Elections 2021
News
Students' Union
SU Elections 2021 Candidates Forum Recap
From whether the U-Pass will be charged to students if Fall semester remains online in 2021 to how provincial cuts to post-secondary will be fought against, read the recap of the first Students' Union elections forum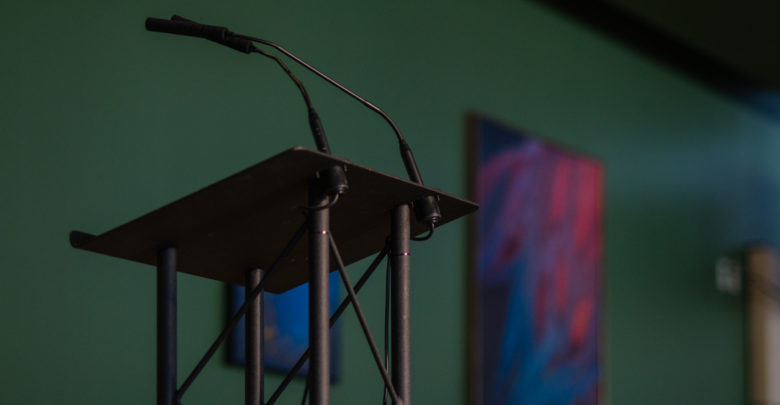 The first forum of the University of Alberta Students' Union Elections 2021 took place virtually on Zoom.
It consisted of debate portions for contested races vice-president (operations and finance) and (student life), questions from the audience, and prepared questions from the Deputy Returning Officer.
Here are some of the key highlights from the forum:
President: How the SU can hire a protest planner, especially during budget cuts.
Vice-president (operations and finance): Looking for external funding to fund new projects and BIPOC students on campus.
Vice-president (student life): Plans for sustainability on campus and representing Indigenous students.
Vice-president (external): Advocacy during the pandemic, especially around sexual assault, tuition, and open education resources.
Vice-president (academic): What Student Representative Associations (SRAs) can do for students.
Board of Governors Representative: Advocating against tuition cuts.
Golden Bears and Pandas Legacy Fund: How does this fee actually benefit students who aren't athletes, particularly international students and students on co-op semesters.
U-Pass: How it will adapt if classes continue to be remote.
Presidential candidate wants accessible childcare, compassionate grading, shares plans to hire protest coordinator
Rowan Ley, a fifth-year history student and current Students' Union vice-president (external), detailed how the issues he and his friends experience while attending university inspired him to run in his final year at the University of Alberta.
"I've seen a lot of my friends and myself struggle with problems our campus has had for years," he said. "[For example], access to accessible childcare, and a grading system that discourages exploration and damages people's mental health."
In a question from the audience, Chris Beasely, the president of Organization for Arts Students and Interdisciplinary Studies (OASIS), noted that COVID-19 "blew a hole in the Students' Union budget," preventing the hiring of a protest planner.
"When is the Students' Union likely to be financially able to hire a full or part time protest planner or coordinator and will you commit to doing that as soon as the SU is able?" he asked.
Ley described uncertainty surrounding the Students' Union budget due to the unpredictability of the pandemic, in addition to the "long-term damage" that COVID-19 has done to arms of Students' Union businesses like catering.
"[Business] isn't going to recover as soon as COVID-19 stops," he said. "As vice-president (external), one of the ways I've tried to get around this was to move forward with the process of hiring someone to do organizing through the Council of Alberta University Students (CAUS)."
Ley hopes the members of CAUS can get together to pool their resources to pay for a position that would provide protest planning for all CAUS schools sharing "financial struggles."
"If that position is successful, it may not be necessary for us to hire someone through the Students' Union at all," he said. "If we could it would probably be some time until it was financially feasible."
— Rachel Narvey
VP operations and finance candidates discuss plans for external non-student fee revenue generation
Both vice-president (operations and finance) candidates expressed their desire to expand student services like the Peer Support Center (PSC) so that students from Augustana and Campus Saint-Jean will benefit from them. As well, the two candidates want to make sure Black and Indigenous and People of Colour (BIPOC) will have equal access to these services.
Julia Villoso, a second-year psychology student and current Students' Council arts councillor, described creating a student groups handbook to provide resources to student groups. Villoso emphasized that the money for the handbook would come from Students' Union business ventures like SU TV.
"Although post-secondary is taking a lot of financial hits this year, it is still important that we aren't turning to students to fill those gaps in funding," Villoso said.
Emily Kimani, a fourth-year immunology and infections student and current Students' Council science councillor, spoke about her goal of advocating for initiatives that pertain to mental health and wellness, as well as other services such as free menstrual products on campus.
She also made it clear that the funds from these endeavors would not come from student fees, but from optimizing pre-existing servicing while also developing new ones.
"I think it is especially important this year that we optimize our business and services so that profits are going to fund student services and so we are not losing money to fund these student services," Kimani said.
Ibukun Ojo asked a question about how both candidates highlighted BIPOC individuals as a major consideration in their platforms.
"You also say you don't want to sell the student experience," they said. "How do you ensure these two things are maintained?"
Villoso reiterated she will focus on generating funding through Students' Union business and external funding through donations and fundraising.
"In terms of BIPOC individuals being a large part of my platform I specifically focus on services," she said. "Though there are services on campus, it's really hard to access them, especially if the services weren't made for you in the first place."
Kimani highlighted her focus on recognizing Aboriginal Awareness Week, and recognizing Black History Month.
"[I'm also focusing on] getting a space for International students… to make sure that their voices are being heard, and that the Students' Union represents its full diversity and its membership."
— Remi Hou
VP student life candidates debate accessible sustainability, over sustainability and climate justice approaches.
During the debate portion of the forum, Talia Dixon, a fourth-year political science and women's and gender studies double major student and current Students' Council arts councillor, spoke on her plan to make events led by the vice-president (student life) more sustainable.
"My work within council — both this year and last year — has made climate justice an area of concern for many candidates," Dixon said. "I'll strengthen our commitments to sustainability by making our events zero waste."
She then asked fellow candidate Daniela Carbajal, third-year psychology student and current Students' Council Augustana councillor, why students should trust her to make progress on climate justice.
In response, Carbajal, argued that zero waste events can be inaccessible.
"Zero waste, even though it can be a goal, is very difficult to achieve," Carbajal responded. "Certain groups on campus need supplies that are going to cause waste … Saying zero waste excludes populations like that, and sustainability is a more complex topic than simply being a bullet point on my platform."
Dixon responded by bringing forward her experience in high school making large scale events zero waste.
"In high school, my job was to make large scale events like the Banff marathon zero waste, while also accounting for people who needed different things," Dixon described. "For example, straws, if they have a disability."
Carbajal questioned Dixon's campaign's action plan to work towards reconciliation.
"Every single year, people hear [reconciliation] over and over again, and it has become a buzzword because every year there has been little work to achieve reconciliation," Carbajal said. "What are your plans to actually achieve this?"
Dixon drew on her experience working with organizations on campus such as the Aboriginal Relations and Reconciliation Committee (AARC) and the Aboriginal Student Council (ASC).
"By striving to achieve the AARC recommendations, but to go beyond them and looking at ways where we can truly work to decolonize our Students' Union," Dixon said. "I sit as a representative on AARC, which I know is not all that you can do. I work very hard to build personal relationships with the Aboriginal Student Council."
Carbajal responded by saying reconciliation should go further than having a person sitting on a committee.
"Someone sitting on a committee is very popular for people saying … therefore we've ticked off the box," Carbajal said, "There's the issue where Indigenous voices are still not being amplified, they're still not being supported, despite the fact they are sitting on these committees, because there's not a lot of work being done beyond that."
— Areeha Mahal
BoG rep candidate questioned about commitment to fighting against tuition increases
Dave Konrad, a third-year environmental and conservation sciences student and current Board of Governors (BoG) representative, is running uncontested for re-election.
One question asked Konrad for clarification on his platform, which includes advocacy for the distribution of tuition increases over a larger number of students as a way to soften the blow of the steep rise in tuition.
"Are you abandoning a core commitment of the Board of Governors representative, which is to fight against increases in tuition?" the question asked.
"My goal here is to lessen the blow on everyone in the case that the government of Alberta is unwavering in the decision," Konrad responded. "It's not that I'm ceasing that advocacy. It's [about] looking at if we really can't get that, where's the compromise? How are we making the best-case scenario out of a very difficult situation."
Konrad elaborated, saying that he is, "very committed to upholding the quality of educational experience."
— Amanda Dang
VP external candidate discusses advocating for sexual assault, pandemic financial support, and open education policies
Christian Fotang, third-year biological sciences student and current Students' Council science councillor, was asked how he would advocate for government to make campus safer and address sexual assault.
He said he would follow the example and model set by current vice-president (student life) Katie Kidd.
Fotang added that he would create a province-wide coalition to address sexual assault based on recommendations made by the Council of Alberta University Students (CAUS). This body would suggest provincial standards for universities to address sexual violence.
In response to questions about fighting for student affordability, Fotang stated that he plans to increase awareness around student concerns and the need to raise student financial supports through campaigns like the Penguins for Post Secondary Education (PSE) campaign.
"The Penguins for PSE campaign is widening our allyship and trying to get more Albertans to recognize that this issue is pertinent to them," Fotang said.
Finally, when asked about how he would advocate for the Students' Union open education policy, Fotang explained his vision for collaboration between the vice-president (external) and vice-president (academic).
"It would be working in tandem … to create a strategy that we can use to both go to the government and also go beneath that and check out community, nonprofits and local businesses that are also pushing for Open Education Resources (OERs)."
— Paige Miller
VP academic candidate wants to boost Student Representative Associations (SRAs), says year of advocacy should be followed by year of action
Abner Monteiro, a fifth-year kinesiology student and current kinesiology, sport, and recreation councillor, proposed a platform centered around utilizing Student Representative Associations (SRAs), to better improve the student experience.
Becoming an SRA means a student group can make decisions for its members without first going through the University of Alberta Students' Union (UASU), allowing it to more efficiently advocate for those it represents.
"When these organizations do not have support and aid, [students] cannot capitalize on the services their SRA can offer," Monteiro said.
By providing assistance and information to SRAs through initiatives like presentations on grant applications, Monteiro hopes they will be able to offer improved services to students like mental health resources and opportunities for leadership involvement.
One question asked Monteiro what he feels the previous vice-president (academic), David Draper, did well, and what he thinks he could improve on.
"I know, the executive this year got hit with some really unprecedented challenges," he said. "All the representatives did a very good job of increasing awareness for students and setting us up in a way that we can just come in and implement change."
One issue that Monteiro wants to see addressed is online proctoring.
"There's been a lot of awareness around that and now, the next vice-president (academic) has a unique opportunity to come in — not to worry too much about awareness — but worry about execution and making sure that those decisions happen."
— Disha Hazra
Legacy fund questioned for use to average student
The Golden Bears and Pandas Legacy Fund was pressed on how their fee provides value to students who are not participants of varsity athletics.
The fund has been in place since 1991 and consists of a bi-annual fee $4.64. Samantha Chapman, third-year classics and anthropology double major student, represented the fund.
Chapman explained that alongside maintaining an elite-athlete status among other universities, the fee covers the hiring of kinesiology and nutrition students for work experience, student jobs, and funding for the U of A mascots Guba and Patches.
"Guba and Patches are the personality of the U of A and without these symbols, we would lose components of our university's culture," Chapman said. "All of this would dissipate if funding is cut and we would exist without a mascot and without a sense of community."
"Forming connections within the university is such an integral part of university culture."
Chapman was asked why students should vote yes for the fund when they aren't able to access the services it provides due to remote learning. She said a lot of the money from the fund has been saved for future events, and student kinesiologists still had the opportunity to pursue work-experience with teams.
When asked how the fund would be beneficial to international students, Chapman said that alongside offering varsity scholarships and the U of A's mascots funding free food and admission to games have proven beneficial to this demographic of the U of A.
"Guba and Patches are large figures in our communities and when we did talk to international students they talked about how important they were in getting them interested in the U of A and how important that branding is to their community," she said.
"Student nights and varsity events also allow for them to have a place where they can immediately form a connection with those around them."
— Christian Sanchez
U-Pass exemptions to continue if renewed
Due to the pandemic, the U-Pass was not charged this semester but it is usually a one time $150 payment giving students unlimited and universal access through seven municipalities in the Edmonton region.
Representing the U-Pass Alana Krahn, current Students' Union vice-president (operations and finance), shared that while the price of the U-Pass will increase from its usual price, it will remain the same for the next four years without increases. The fee will be $180 per semester which Krahn estimates will save students anywhere from around $112 to $680 per semester.
Krahn characterized the U-Pass as a service students at the U of A "have known, love, and missed."
Krahn was asked how the U-Pass will be adapted whether classes are in-person or remote next year. Krahn said that like this year, there will be an exemption of the fee for students who's classes are completely remote.
"This is something we really want to make sure students understand when they're going to vote," she said. "If fall [semester] is a concern to you in that regard then I would encourage you to seek out more of that information."
— Christian Sanchez
The Gateway plebiscite
A representative of The Gateway's plebiscite was present at the forum. Due to a conflict of interest, The Gateway will not comment on this further.