Institutional
News
Students' Union
UASU raises concerns about students leaving Alberta as protest penguins pop up across the province
The Council for Alberta University Students coordinated placing protest penguins in Edmonton, Calgary, and Lethbridge.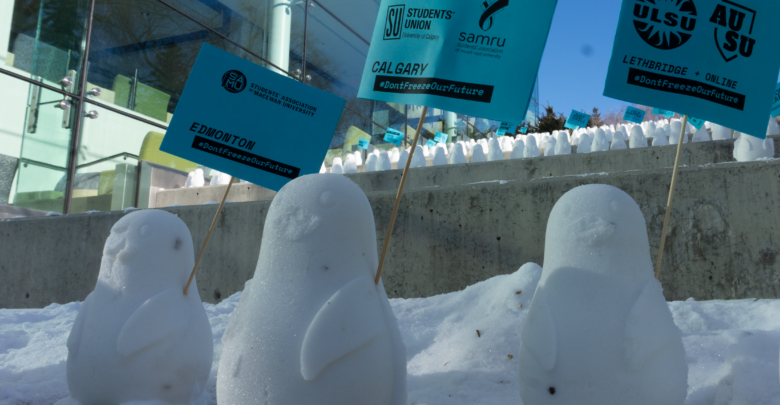 The University of Alberta Students' Union (UASU) released the results of a survey showing that a third of student respondents are planning to leave the province after graduating.
On February 8, the UASU's announcement occurred as the Council for Alberta University Students (CAUS) coordinated protest art across the province. The new batch of protest art penguins were erected a week after the original ones were destroyed at the Alberta Legislature.
CAUS is an advocacy group highlighting Albertan undergraduate student interests to the provincial government, representing the University of Alberta, MacEwan University, the University of Calgary, Mount Royal University, Athabasca University, and the University of Lethbridge. The penguins were set up in Edmonton outside the University of Alberta Students' Union Building and at MacEwan University, in front of the McDougall Centre in Calgary, and in front of local MLA offices in Lethbridge.
The UASU conducted a "brain drain" survey, aimed at getting a better picture of how many students would be leaving the province upon graduating. Brain drain refers to the phenomenon in which highly educated individuals choose to leave their home country or province to work elsewhere.
Rowan Ley, UASU vice-president external and chair of CAUS, announced the results of the survey in a press conference.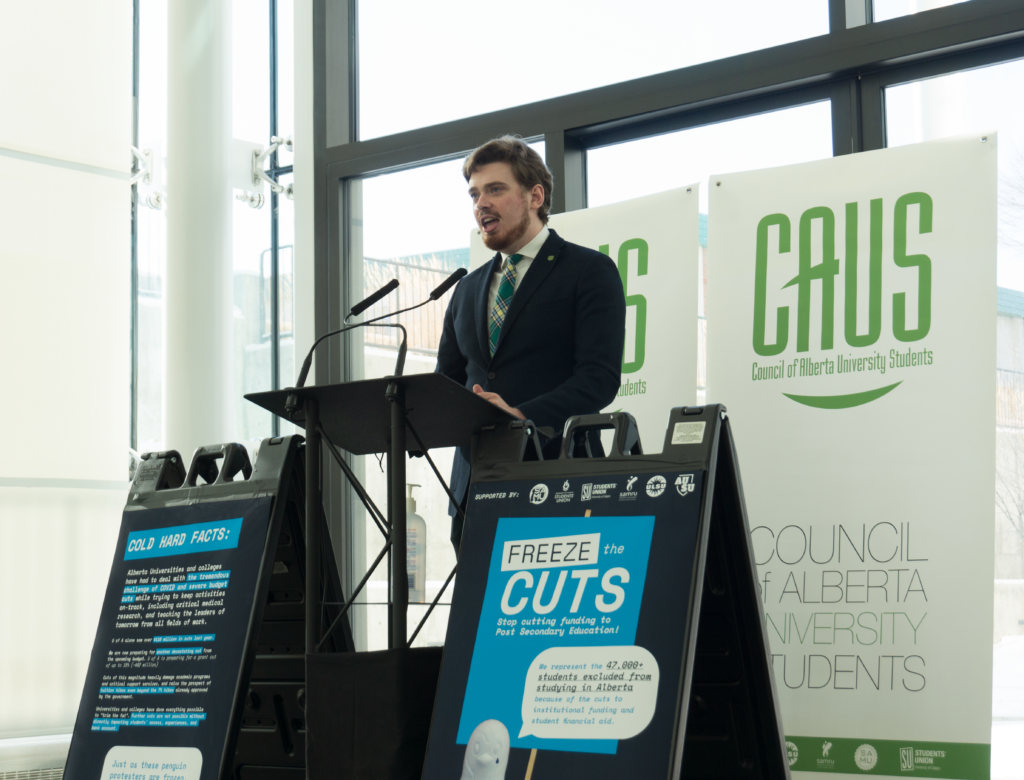 "We found that when they first entered university, 24 per cent of students definitely wanted to leave Alberta after graduating," Ley said. "Today, that number is 33 per cent."
Ley further explained that of the 33 per cent of student survey respondents, 51 per cent are facing food insecurity. The UASU also found that 54 per cent of survey respondents who identified as LGBTQIA+ students planned to leave the province.
"Most importantly, many of [these students] have to support families while paying off Canada's highest student loans," Ley continued. "The average student in Alberta today graduates with 30 per cent more student debt than the average Canadian student. This is on top of Canada's worst student aid system, [Alberta] give[s] out less than half the needs based aid that most Canadian provinces do."
Ley said many of the problems students have cited as reasons for wanting to move away from the province are "irreversible," and that they were unlikely to change their mind.
"If students can't find a high paying job right away in Alberta, they're forced to leave their families support networks and friends and move to another province that they will likely never come back from," Ley said.
Ley said that a potential provincial brain drain affects everyone, not just students.
"If you're a taxpayer, this is going to result in more burden of supporting our province's public service falling on your shoulders," Ley said. "If you're a parent, this means that your children are going to move thousands of miles away, and you will only see them a couple times a year on holidays."
Speaking on behalf of the UASU and CAUS, Ley asked the provincial government to freeze the planned budget cuts to post-secondary education. The UASU says the U of A is preparing for an up to 15 per cent cut — translating to approximately $82 million.
"If [the provincial government] doesn't do this, then we are only going to accelerate the problem of brain drain in our province," Ley said. "We are going to take our fiscal deficit and turn it into a demographic and talent deficit, that will last for generations."
Ley explained that the population growth in Alberta necessitates the funding of 47,000 new post-secondary seats in the next five years. Each protest penguin represents 200 Albertan students who will have to make the choice to leave the province in the next five years, if the provincial budget cuts go through as planned.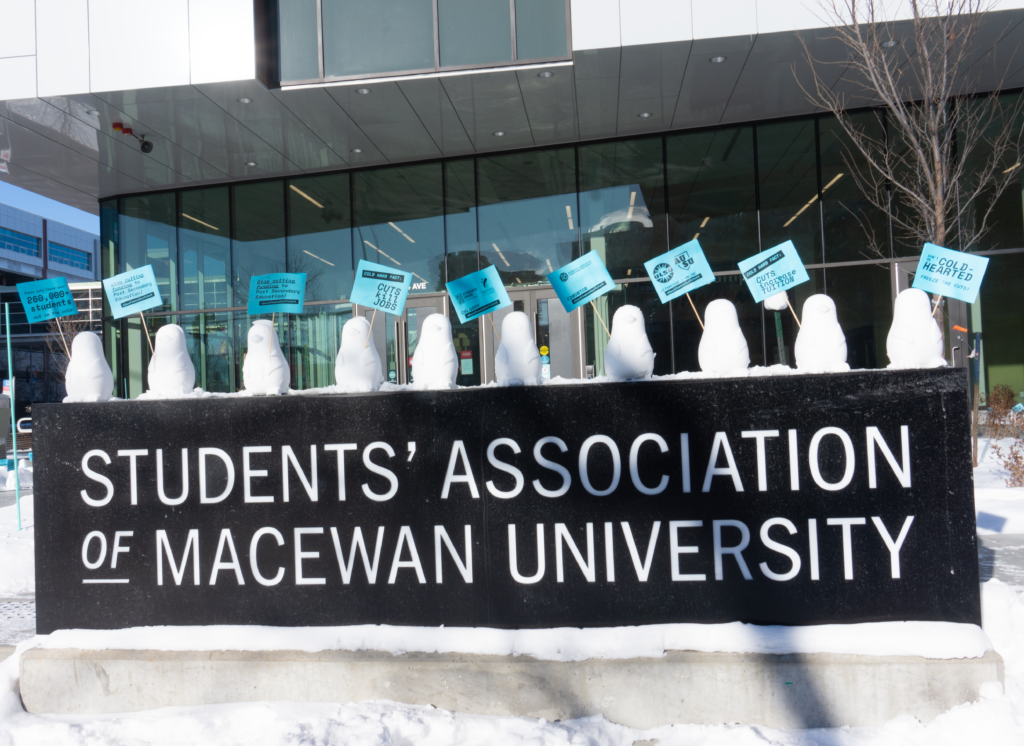 The coordinated action brought together Albertan universities as they protested the upcoming scheduled cuts. Executive council members of the Students' Association of MacEwan University (SAMU) came to support Ley during his announcement.
Sean Waddingham, president of the SAMU, said MacEwan University was "hit unusually hard" by the first provincial budget cuts.
"In the first year of cuts in 2019, we were tied for the highest Campus Alberta grant cut in the province… despite being in the top three or four most efficient institutions when considering cost per full load equivalent," Waddingham said. "So MacEwan, a remarkably efficient institution, had the largest cut of all institutions at eight per cent."
"That eight per cent cut in the first year… was mind blowing, considering that the justification seems to be efficiency, or red tape reduction, or administrative bloat reduction, or something like that," Waddingham continued. "[MacEwan's efficiency] kind of makes that seem less true."
Waddingham said he loved the work that CAUS was undertaking this year.
"I think none of us could do this alone… we're all in it together," Waddingham said. "We have over 140,000 students with CAUS. That's how we get things done – bonding together, using that collective voice."
When asked about the future of the protest penguins, Ley smiled and laughed.
"You'd have to ask the penguins, but I would strongly suspect that they will be back."