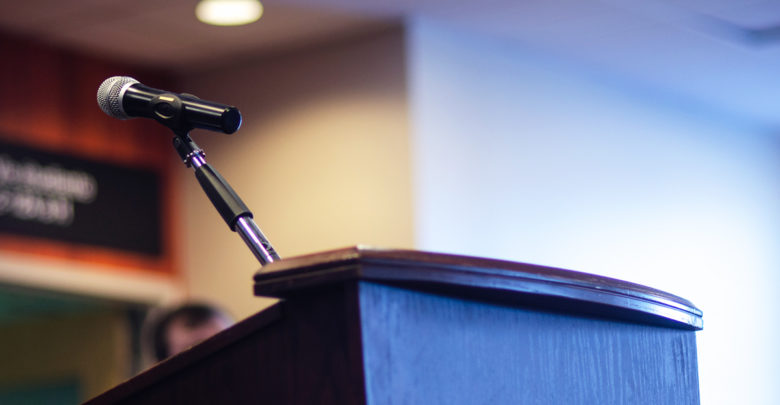 The sixth forum of the University of Alberta's Students' Union 2021 elections was dedicated to the needs of Campus Saint-Jean students.
Candidates answered questions on February 26 about funding and advocating on behalf of Campus Saint-Jean, the lack of student advisors, as well as addressed issues with their French translations, both in their platforms and in the overall Students' Union.
Here is the TL;DR version of the Campus Saint-Jean (CSJ) forum
President: supporting the Sauvons Saint-Jean campaign
vice-president (student life): poor platform translations and promises
vice-president (academic): getting more student advisors for CSJ students
Vice-president (operations and finance): providing funding to CSJ
Vice-president (external): promises to work with Francophone stakeholders
Board of Governors: if compromise is doing enough advocacy for students
Overall concern: lack of French materials (recap in the last section)
"I have never said such a thing:" presidential candidate questioned about his priority towards CSJ and also his support for them
Rowan Ley, fifth-year history student and current vice-president (external), was asked about his involvement in the "Sauvons Saint-Jean" campaign, a campaign started in May to fight against the budget cuts Campus Saint-Jean (CSJ) experienced.
Ley explained that aftering meeting with the Association Canadienne Française De L'Alberta (ACFA), Alberta's French Canadian Association, it was agreed all the supposed the Students' Union could provide the ACFA was doing already on their own.
"It was a lot better if we focused on working on things from a separate angle rather than helping them run the Sauvons Saint-Jean campaign because that would have been an unnecessary duplication of work," Ley said.
Grace Whiteley expressed her dissatisfaction with what was done in the comments.
"My education and degree is at stake, we're not asking you to duplicate our own advocacy, were asking for support, understanding and the considerably larger influence of UASU," she said.
Attention was also drawn to the stress CSJ students felt over the past summer and how the candidates stood up for these students.
Ley described his involvement in attempting to raise the issue to the provincial government, but to no avail.
"We tried to raise these issues to the provincial government… but… they don't care about this issue and it was like ramming our heads into a brick wall," Ley said.
He also spoke about working with the Canadian Alliance of Students Association (CASA) to create the "groundwork" to federal policy, but that was also delayed.
In addition, Ley said he reached out to media organizations regarding how the provincial government's plan to increase representation of federal civil services was not "compatible with cuts to CSJ."
Natalie Herkendaal, president of the Association des universitaires de la Faculté Saint-Jean (AUFSA), asked Ley about a rumour she heard going around about him.
"We have unfortunately heard rumours that you have stated that CSJ is not a priority for you during your time as vice-president (external)," she said. I would like to give you a chance to publicly address that."
Ley responded that he was unaware of such rumours and is certain he did not say those words.
"I want to say that it is 100 per cent inaccurate… I have never said such a thing," Ley said. "I would certainly hope that using this opportunity to address that makes any folk who have heard that reach out and discuss it."
— Remi Hou
VPSL candidates heavily criticized for platform translations and involvement with AUFSJ
Vice-president (student life) candidates drew attention to the specific projects they hope to accomplish through advocacy for CSJ students.
Talia Dixon, a fourth-year political science and women's and gender studies double major and current Students' Council arts councillor, brought attention to expanding mental health resources to CSJ students.
"While mental health supports are not adequate at all campuses, they are particularly inaccessible at CSJ," Dixon said. "I will work with the Peer Support Center to create a pilot program in which we extend the program's services to CSJ, and by working with the Peer Support Center to ensure these services recruit volunteers that speak French and attend CSJ."
Daniela Carbajal, a third-year psychology student and current Students' Council Augustana councillor, mentioned getting rid of barriers faced by CSJ student groups while event planning.
"I want to advocate for Student Group Services to allow CSJ events to purchase their own alcohol, because right now there's limited brands you can purchase from and those are expensive," Carbajal said. "Because alcohol is a big part of the French community, that inhibits their ability to host events."
Both candidates received criticism for their French translations and platform points regarding CSJ.
"Daniela's translations are laughable and Talia's includes false statements and few references to CSJ priority issues. Can you explain to the CSJ community why, in light of this, we should not vote for 'none of the above.'"
To this, Carbajal responded by claiming she is the singular person working on her campaign and had been using a translating service for her French materials. Later on, in the forum, she said that CSJ students have reached out to help her translate, such as the vice-president (external) of AUFSJ.
"I do want to apologize for that," Daniela said. "I have been working extremely hard to make sure I have adequately served CSJ students," she said in response.
Dixon also apologized that she claimed there was not a gender natural washroom at CSJ and said that she did consult with CSJ representatives when making her platform. She thought that there was advocacy done on the topic, but didn't realize it was a fully completed project.
"I apologize deeply for that mistake, it was completely unintentional and If i am elected, I will work forward to improve that and make sure I am more educated on that," she said.
"Talia, in the future you should consult with the CSJ's student association, the AUFSJ and our president Natalie [Herkendaal]," Chiara Concini said in the comments. "Thank you for your answer though"
Later in the forum, Dixon received criticism for mentioning AUFSJ multiple times in her platform, and audience members criticized her for "neglect[ing] to consult with them" while writing it. The question asked Dixon to "stop using the AUFSJ for votes," and asked her to commit to a monthly or bi-monthly meeting with the AUFSJ.
Dixon replied by acknowledging past mistakes, and describing her plan moving forward.
"It was a failure on my part, and the reason I didn't approach consultation this year was… when I consulted with the AUFSJ last year when I was running it felt very inauthentic because it felt like it was a checkbox," Dixon said. "This year, I consulted with Eric [Einarson] who is a councillor with AUFSJ… upon reflection that was not an appropriate approach and all I can do is say I'm sorry, and I would like to meet bi-monthly, but I understand if I'm not your favourite candidate."
— Areeha Mahal
Insufficient academic advising at Campus Saint-Jean a point of concern for VPA candidate
Abner Monteiro, a fifth-year kinesiology student and current Students' Union kinesiology, sport, and recreation councillor, addressed student's questions regarding inaccessibility to academic advisors on Campus Saint-Jean (CSJ).
Currently, while some CSJ students are required to take courses on North Campus, they do not have access to faculty-specific advisors and are, instead, informed by a single CSJ academic advisor.
"With 1,000 students at CSJ, one advisor is not enough to support all of them" he said. "The fact that students at CSJ have to take classes at other faculties on North Campus but still need to rely on that single faculty advisor to advise them on courses they're not even taking in their faculty is not very fair to them."
When asked if he supported CSJ's request to cross-faculty academic advising, Monterio said he would advocate for adequate academic advising by working with AUFSJ and CSJ to bring students the resources they need.
"I do support finding some way to help them and I don't know how exactly I plan to do that yet, but I will be working with AUSFJ closely to find a solution."
— Disha Hazra
VPX hopes to build relationships with Francophone stakeholders
During his opening statements, vice-president (external) candidate Christian Fotang, a third-year biological sciences student and current Students' Council science councillor, referred to past Premier Ralph Klein, who is often remembered for his deep budget cuts during the mid-1990s, when talking about the lack of provincial funding CSJ receives.
"Campus Saint-Jean is unique — it's the best kept secret in the west and it needs to be valued and celebrated instead of decismated," Fotang said. "I wish I could take credit for those words, but those were the words of Ralph Klein. Even the biggest fiscal hawk recognized the value of CSJ."
Fotang also described the advocacy already done by CSJ students, such as the Sauvons Saint-Jean campaign, and said while he will listen to their advocacy, he also promised to work with the AUFSJ and Association canadienne-française de l'Alberta (ACFA).
When all candidates were asked what actions they would take against CSJ funding cuts that don't rely on CSJ's own advocacy, Fotang said he would work to build relationships with Francophone stakeholder groups in Alberta such as the Conseil De Développement Economique de L'Alberta (CDÉA), which focuses on Francophone economic development in Alberta.
"I will admit my relationship with a lot of stakeholders in the Francophone community is minimal, but it is something in this role I will work to build," he said.
He said he would work with organizations such as CDÉA to highlight the value of French language learning to the provincial government. He also said he would work with the Canadian Alliance of Student Associations (CASA) to speed up the implementation of federal polices on the official language program.
Fotang also touched on wanting to listen to CSJ's strong advocacy again.
"I would still want to learn from the French communities in Alberta," he said.
— Khadra Ahmed
Building bridges: VP OpsFi Candidates discuss how to improve communications and facilities in Campus Saint-Jean
During the CSJ forum, the vice-president (operation and finance) candidates were faced with questions regarding funding for the campus and how to make services available in French.
In her opening statements, Emily Kimani, a fourth-year immunology and infection student and a current Students' Council science councillor, spoke about how students at CSJ feel as an afterthought, due to the lack of communication and accessibility they have to the services offered by the SU, and promised to look for external funding to provide menstrual product dispensers in various buildings.
Similarly, Julia Villoso, a second-year psychology and anthropology student and current Students' Council arts councillor, emphasized the separation between Students' Union and CSJ has become even larger as classed shifted online.
"Even before the pandemic CSJ students have already been feeling a sense of disconnection with the SU," Villoso said. "Paying membership fees and not seeing or accessing genuine and tangible services… I want CSJ students to feel like these services are open and welcome for them to use. "
In terms of addressing poor communications and accessibility between the Students' Union and CSJ, Villoso said she would focus on the UASU cares in order to facilitate the access of CSJ students to services through the SU.
On the other hand, Kimani, will ensure that the bylaws of the university, student handbooks, and the services section on the SU website are translated to french.
"Students should not have any barrier to accessing our services, and they deserve a quality service," Kimani.
Kimani and Villoso both said they would support AUFSJ's all-gender bathroom project and both candidates said they would once again advocate to the government and the university for funding for this project. Villoso also brought up external funding through donations and fundraising again.
When asked how they would allocate funds to CSJ, both candidates mainly focused on advocating to both the university and the province.
"Unfortunately the funding is ultimately determined by the government and the university, so I plan on using channels of advocacy," Kimiani said. "Advocacy would be the best avenue for this."
"I agree that most of the funds for CSJ is related to the government and the university," Villoso said. "I would make it a priority to advocate for CSJ… in terms of my platform, I would also like to push for donations and fundraising. I really want to make sure CSJ gets that support form external resources."
— Christian Sanchez
Is compromise enough? BoG rep is questioned again about advocacy for students
Dave Konrad, a third-year environmental and conservation sciences student and is the current Board of Governors (BoG), was once again, questioned about his position in supporting students.
A question was raised about his controversial decisions/votes during academic restructuring and what his work has been with students.
"I spoke on the need for the board to develop trust between them and stakeholders by voting for GFC's recommendation," Konrad said. "I do also believe that it was my advocacy alongside other student stakeholders that led the board to compromise between what they wanted and with GFC's recommendation."
Along with that, a question from the audience was raised in regards to his claim, earlier this week, of creating a compromise between the students and the board even if it meant the students' needs were not being met during academic restructuring.
"I think a compromise would be better for everyone than a complete disregard for internal stakeholders and that complete disregard would have been demonstrated in having no Dean's Council," Konrad explained.
During the forum, Konrad made promises to the students of Campus Saint-Jean that after getting to know CSJ and AUFSJ this year, he is now prepared to create stronger actions and bringing their concerns, such as lack of French-speaking medical staff, to the higher-ups that can do something about it.
"Going forward I will be vigilant about communicating your value and upholding your importance relative to colleges in conversations with the general faculties council, the provost, and the board."
— Amanda Dang
CSJ students call out Students' Union for lack of translations
Alongside candidates getting called out for poor french translations, a common theme throughout the forum, was the Students' Union's lack of French resources for CSJ students.
Candidates were asked if they would continue the dedication to French translations so often seen during elections, as well as how they would support the Students' Council's translation committee which is responsible for translating the Students' Union's bylaws and political policy into french.
As chair of Student's Council bylaw committee, Fotang said that he worked under the leadership of CSJ councillor Eric Einarson and arts councillor Ana Oliveira to establish the the translation committee, but regrets not doing more.
"My biggest regret was not following up with that to see what more was done, but I didn't want to micromanage," he said.
He then pointed out that Students' Council gets the most work done in the summer, so he would ensure that a goal is set this summer to get materials translated.
Carbajal apologized again for her poor translations and then highlighted the Students' Union's gap in French materials as an opportunty to get more CSJ students involved.
"I really believe this is a powerful way to involve CSJ students in SU's everyday functioning and advocacy by creating student jobs," she said. "A lot of people suggest hiring a translator outside of the university, but I think this is a great way to create student jobs for CSJ students within the SU."
Ley was asked specifically how he could support existing translation resources like the Students' Union's translation committee.
"How can you claim to support translation efforts when the French version of your campaign looks like it was never read over by an actual French speaker," the question asked.
Ley said he was "disappointed" that is how his website came off, claiming that he had fluent French speakers look over his website.
Ley said the Students' Union needs a larger budget to support the translation committee to make sure that is enough funding to support hiring either CSJ students, a professional language auditor, or translator.
"That financial support has just not been there in the past and that needs to be increased this year," Ley said.
"Francophones once again are told that the budget can't allow for services and materials to be accessible in their language," Ahdithya Visweswaran said in the comments.
Later in the comments, audience member Jason Day pointed out that asking CSJ students to translate is unfair.
"I think it shows a lot of ignorance to focus on making CSJ students translate when translating accurately requires specific knowledge in ethics, processes, and techniques," they said. "You can't just ask any French speaker to translate. [The] focus should be on French speakers both part of CSJ and other campuses that have actually studied and performed translation."
— Khadra Ahmed, Areeha Mahal
The Gateway plebiscite
A representative of The Gateway's plebiscite was present at the forum. Due to a conflict of interest, The Gateway will not comment on this further.