Campus Life
Institutional
News
Online campaign "Sauvons Saint-Jean" mobilizes to fight budget cuts against Campus Saint-Jean
"Sauvons Saint-Jean" is asking community members to write letters to the Premier and Minister of Advanced Education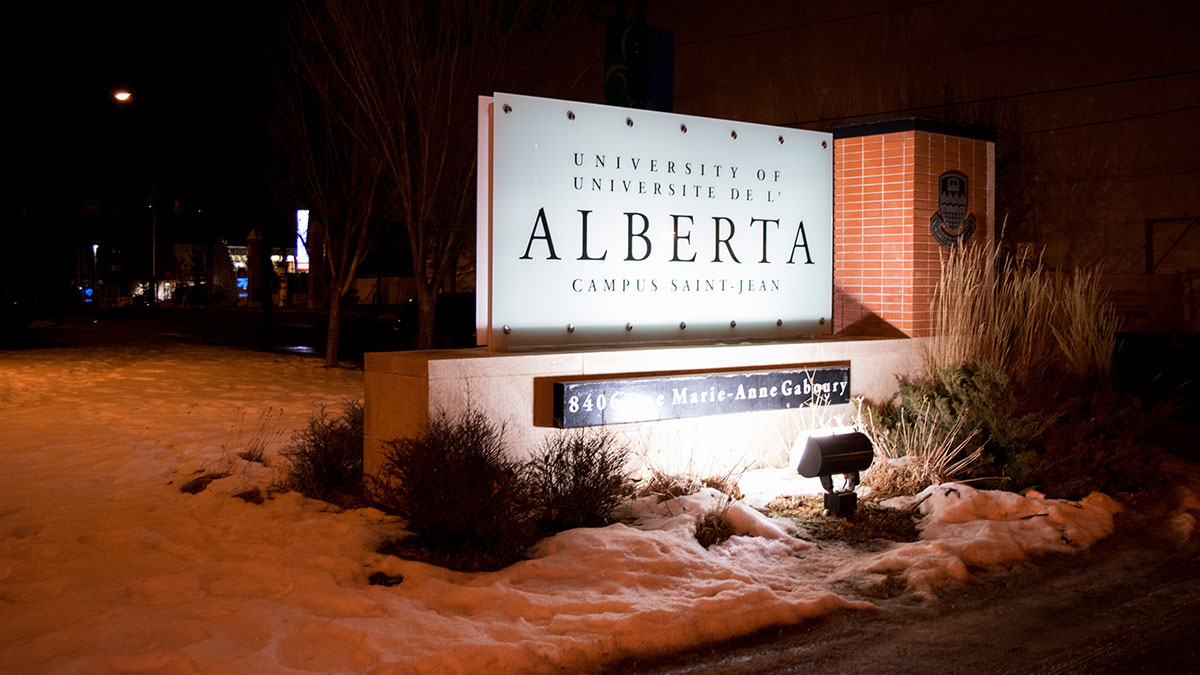 The online campaign "Sauvons Saint-Jean" is calling on the community to fight against significant budget cuts facing the only French post-secondary institution in Western Canada.
On May 13, the "Sauvons Saint-Jean" campaign launched online, calling for community mobilization against budget cuts currently facing Campus Saint-Jean, the University of Alberta's French-language campus. The campaign was started by the Association Canadienne Française De L'Alberta (ACFA), Alberta's French Canadian Association.
According to the campaign, a 13.3 per cent budget decrease since December 2019 alongside the inability to access reserve funds may force Campus Saint-Jean (CSJ) to decrease their course delivery by 44 per cent. This translates to the termination of 108 of the 409 courses currently offered by the campus.
Through "Savouns Saint-Jean," the AFCA is asking community members to write to both Premier Jason Kenney and Minister of Advanced Education Demetrios Nicolaides, to raise awareness online, and to attend virtual town halls to offer their thoughts on the situation.
For Shelia Risbud, the president of ACFA, the "Sauvons Saint-Jean," campaign is a response to seeing a lack of action from the provincial government.
"We've been in conversation with the government of Alberta since before Christmas and we have signaled the fact that the [budget] cuts… would affect the campus disproportionately," she said.
"We're not seeing the government respond to our suggestions and solutions, so we thought it was time to make sure that other people who care about the campus and care about French language education were informed."
Campus Saint-Jean underfunded for years, dean says
To create this campaign, ACFA worked closely with Pierre-Yves Mocquais, the dean of CSJ who provided the numbers for the campaign. Though the "Sauvons Saint-Jean" campaign is focusing on current budget cuts, Mocquais emphasized that CSJ is no stranger to underfunding.
"For about 15 years, Campus Saint-Jean has been underfunded," he said. "Not because of the university, but because of government decisions… We've managed by scraping the bottom of drawers, by reducing expenses… by functioning in a very lean manner."
By joining courses and other strategies, Mocquais said that Campus Saint-Jean has already gotten rid of 70 courses for the upcoming year. Still, with current budget cuts on top of the provincial government prohibiting post-secondary institutions to use reserve funding, Mocquais believes that even CSJ's long-time tenacity won't be enough to mitigate the budget cuts.
"We've managed to make it by saving, but when you have the sort of cuts the government has imposed on the university… and we're not allowed to use reserve funds, basically we're stuck."
Besides decreasing offered courses, CSJ has lost various contractual positions, is unable to replace retiring professors, and undergone temporary lay-offs. For Mocquais, these lay-offs aren't enough to save CSJ money.
"The problem is we get to the point where unless we eliminate entire services or entire programs, we can't really go any further," Mocquais said
In terms of "Sauvons Saint-Jean", Mocquais is hoping to not only to gain access to CSJ's reserve funds, but also for an overall reconsideration of its current funding model.
"The funding of Campus Saint-Jean needs to be looked at again," he said. "This arrangement, that dates back to the 1970's, is no longer workable… In order to function properly, Campus Saint-Jean needs $2-2.5 million dollars a year more."
Campus Saint-Jean considered pillar of Francophone culture in Western Canada for Sauvons Saint-Jean campaign
For Risbud, "Sauvons Saint-Jean" is about more than just the campus — it's about preserving French culture in Alberta.
"This is bigger than the institution, it's everything [CSJ] represents for our community in Alberta," she said.
The current COVID-19 pandemic is a reminder for Risbud that CSJ's nursing program produces french-speaking nurses that are currently needed in healthcare. Citing a shortage of French-immersion teachers, Risbud believes budget cuts to CSJ may perpetuate this issue.
"Campus Saint-Jean plays an important role in forming the next generation of teachers, so cuts to Campus Saint-Jean will have ripple effects on teaching French across the province."
"I think the ripple effects of cuts to Saint-Jean will be felt across all sectors."
For Natalie Herkendaal, a fourth-year physics and chemistry student and president of the Campus Saint-Jean faculty association AUFSJ, proper funding is necessary for students to truly recieve a French post-secondary education.
"It is part of our mission to allow students the opportunity to study and live in French," they said. "This is simply impossible when we must take core classes at the North Campus. Our goal is to allow students to complete their degrees, start to finish, at CSJ."
In Herkendaal's view, the necessity of CSJ to Canada's Francophone community is only amplified by the fact that it is the only French post-secondary institution outside Winnipeg.
"It is important to mobilize against these budget cuts because if we do not, we risk losing many of the already seldom opportunities for post-secondary education in Western Canada," Herkendaal said. "We are the only francophone campus west of Manitoba's Université Sainte-Boniface. As such, the reduced course offering affects not only Albertans, but also every francophone on this side of the country."
For Herkendaal, supporting "Sauvons Saint-Jean" means fighting for not only the campus, but also for the transformative experiences it affords students.
"The francophone community has given me so many opportunities for personal growth," they said. "It is our time to give back to our community and ensure that future generations of young francophones and francophiles are afforded the same life-changing experiences."