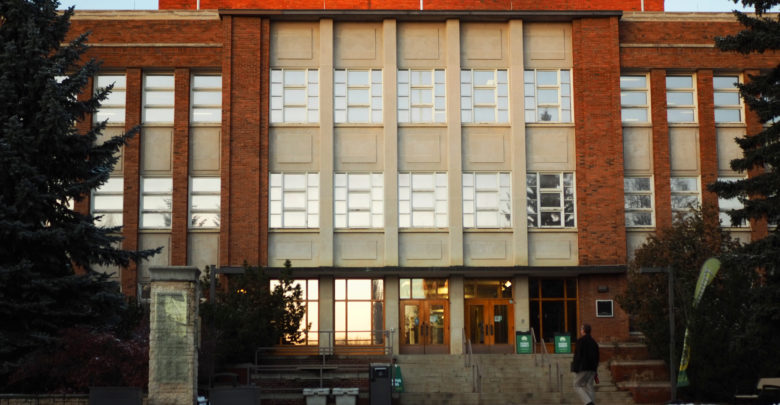 No faculty or department is likely to go untouched by the U of A Tomorrow initiative. Billed as a "transformation," the initiative will fundamentally change our campus through an intense process of academic and administrative restructuring. 
However, this change is not one which will enhance our educational institutions. Instead, U of A Tomorrow will likely transform our school from a place of higher learning to a de-personalized corporation, where the experiences of students, support staff, and professors are discounted by the university administration.
Given how the U of A Tomorrow consultation process is already disregarding the feedback of campus stakeholders, this sadly shouldn't come as a surprise.
For context, this intense process of restructuring started last year after the Alberta government made significant cuts to post-secondary education. Facing a financial crisis, the university undertook restructuring to find cost-savings and efficiencies in the total of $120 million. To find these savings, the university separated the restructuring process into two parts: academic restructuring, which will change the university's academic structures, and Service Excellence Transformation (SET), which will change our administrative structures.
To guide these processes, the university took many steps. First, they formed the Academic Restructuring Working Group (ARWG) and the Service Excellence Steering Committee (SESC) to lead the recommendation process. Additionally, they hired the Nous Group, an international management consulting company which advised other Australian and British universities through similar restructuring transformations. Finally, to ensure that the campus community had a chance to assess proposed changes, administration promised a genuine consultation process, comprising of town halls and faculty roundtable discussions.
From this process, U of A Tomorrow has already made serious progress on restructuring. Earlier this week, the University's Board of Governors approved SESC's proposals for administrative restructuring models, which will begin implementation in November.
On academic restructuring, the ARWG released an interim report last month which details three possible scenarios for restructuring the university. While the ARWG claims to be open to all three proposals, the report heavily favours Scenario B, which would see most faculties amalgamated into three new divisions and gain the largest cost-savings for the university — $43 million to be exact.
The report, however, asserts their preference for this scenario goes beyond cost-savings; in their evaluation rubric, the report attributes a series of vague buzzwords to Scenario B, describing it as highly "strategic," "collaborative," "bold," "student-focused," and "EDI-focused," alongside a series of others.
What these buzzwords mean or what specific metrics the ARWG used to evaluate each one is anyone's best guess, as the report never specifies this. Neither have explanations, and the full set of metrics and data driving these decisions have not been presented to General Faculties Council or the Board of Governors. Yet, when we look beyond these buzzwords and analyze these proposals, it becomes clear that these changes, both academic and administrative, will substantively damage the existing structures at the University of Alberta, leaving both students and professors behind.
No place better exemplifies this than the University of Sydney, which underwent a similar restructuring process. In fact, they even used the same management constituency firm — Nous Group. When asked about their experiences, U of S staff share that restructuring irrevocably damaged the academic quality of their institutions and worsened student and staff experiences. Overall, the process led to job losses, the deskilling of support staff, the centralization of student support services, increased class sizes, and a less diverse array of courses to choose from.
For students specifically, the reality at U of S demonstrates how badly we will be affected by these restructuring processes. With less academic support staff, professors will become even more overworked and have less time for one-on-one engagement. The centralization of student support services means that, instead of personalized assistance on issues like course advising and graduation, students will go through generalized support centres where workers will rarely engage with students directly. The process promises to transform our campus culture from one of higher learning, to one where students are treated as cogs in a machine.
This impact becomes most apparent when examining metrics on student experience at the U of S. For years, metrics measuring student experience at the U of S has been decreasing. Despite being one of the largest universities in Australia, the university currently ranks 40th out of 41 universities on the national Student Experience Survey.
Unfortunately, according to the Nous Group's report on academic restructuring, metrics on student experience aren't "particularly compelling" when considering restructuring at the University of Alberta. The rationale given for this exclusion is that these metrics can be conflated with other metrics, such as curricular redesign. However, for some unknown reason, the same logic isn't applied to academic rankings, which are included in the Nous Group's report in the form of QS Rankings and THE World University Ranking.
Of course, these rankings are similarly at risk of conflation with other associated changes. Yet, that doesn't appear to be an issue for the Nous Group. As such, I'd imagine it's not metrics on student experience that aren't compelling — it is student experience itself which administration appears to not consider an authentic factor in the restructuring process.
Another important result of the U of S restructuring process was the undermining of participatory and democratic structures at the university. Instead of collaborating together with staff and students, the U of S administration became an institution that dismissed their concerns.
Sadly, at the University of Alberta, the U of A Tomorrow consultation process is already undermining the values of deliberation and democratic engagement on our campus.
While the university promised that community consultation would lead to meaningful feedback, the consultation process demonstrates otherwise. Instead of seeking feedback, U of A Tomorrow town halls seek to sell audience members on proposed plans. Valuable time is spent on long powerpoint presentations which simply repeat talking points and leftover time is spent on limited forms of Q&A. I say "limited" because, in virtual town halls with Thoughtexchange, questions are restricted in character length and presenters choose which questions to answer. David Kahane and Lynette Shultz, public engagement scholars on campus, have even described this as a "shame engagement process."
Beyond town halls, the University of Alberta has shown disdain for their own democratic institutions, namely General Faculties Council (GFC). Composed of elected students and staff on campus, GFC is the legislative body on campus which deals with academic matters and student affairs. Overall, the institution is meant to ensure meaningful, democratic deliberation over academic and student issues. However, when GFC requested that they discuss and vote on administrative restructuring proposals, the University's Board of Governors (BoG) rejected it. BoG specifically cited time concerns in rejecting this request, claiming it was urgent to approve the proposed administrative model.
Time constraints are, of course, a realistic concern. However, someone should remind BoG that meaningful deliberation and participation processes take time. The cost of an extra discussion with GFC surely isn't as high as the cost of disregarding the university's own democratic and participatory structures.
Now, to be fair to administration, this disastrous process isn't entirely their fault. A substantial amount of blame belongs to the Albertan government which is actively harming post-secondary education with budget cuts and the implementation of horrific funding models. The university will have no choice but to find savings.
However, what the university administration is responsible for is creating and implementing a process which undermines the founding values of post-secondary education. The purpose of advanced education is to foster an learning environment which places students, professors, and research at the forefront.
By attempting to hide harsh realities behind vague buzzwords and by disregarding democratic processes, the University has shown they've lost sight of what is most important to post-secondary education — the students and staff that administration is supposed to serve. The responsibility for this lies with the U of A Tomorrow initiative alone.
It isn't too late for the university to improve the restructuring process. Some recommendations include adding clear metrics related to student experience to the restructuring process, changing the format of town halls, and including staff union representatives on restructuring committees.
If improvements aren't pursued, students and staff should look to collective advocacy to demonstrate their dissatisfaction with these processes. The campus can take inspiration from advocacy efforts undertaken at the University of Sydney, where unions and students have conducted socially-distanced rallies and public "teach-ins" to demonstrate their discontent with austerity policies.
Regardless of the method, if the constitution of U of A Tomorrow remains the same, the initiative should be rejected for failing to uphold the values of post-secondary education. If this process is the U of A's future, then we should truly pray tomorrow never comes.