The Getaway 2017
Literal V̷̛̯̠̑̋̑͒͂̊̄̈́̊̃̾͑̎̕Ǫ̸̧̨͔͖͈̘̃̊́̎̒̏̄̾̊̂̄̿̃̕̚ͅI̶̛͎̣͇̥͓̔́̓̈͌̍̀̊́̃͝Ḑ̷̼̹͎̫̮̂̂͆̈̃́̈̕̕͜ replaces HUB Mall bookstore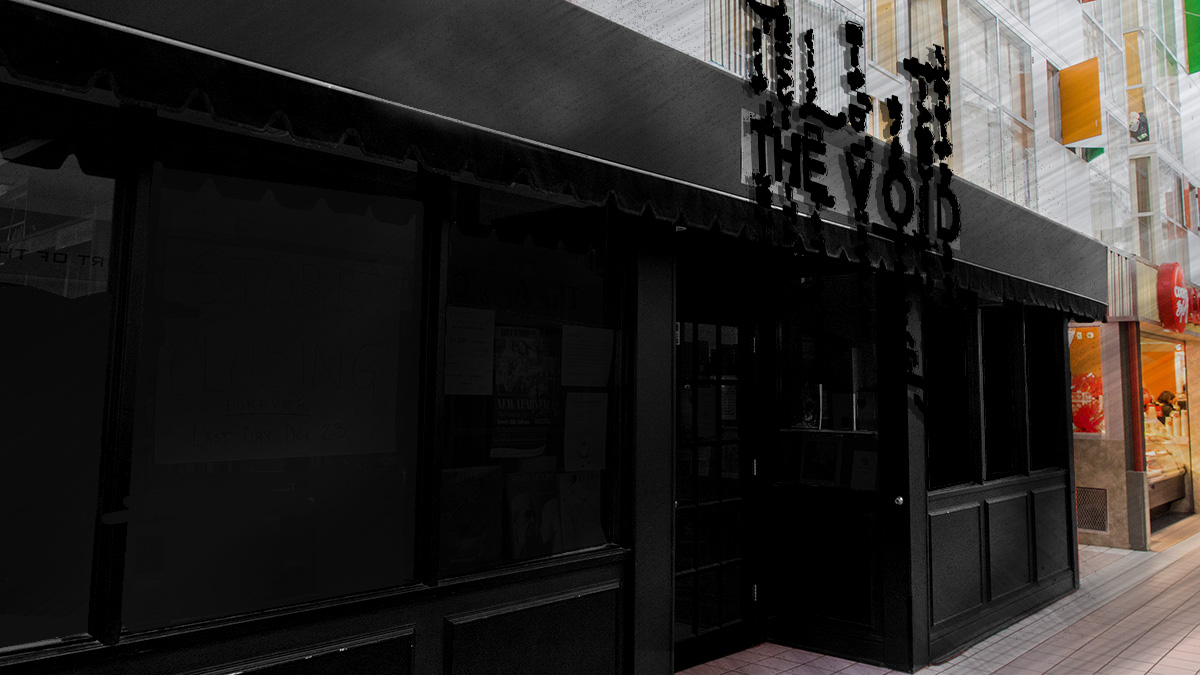 A recent addition to HUB mall has students and faculty alike buzzing over its purpose, or lack thereof.
A seemingly-bottomless V̸̼̯̀̋̍̃́̿͗̐͐͋͗̕͠Ó̷̙̳̜͖̎͊̌̅̇̅̐̂Ĩ̶̧̙͖̩̼͒̏̀͊̌́̚͠D̷̨͔̪̬̦̩̰̰̒̈́̐̒̆̚͠ has taken the space of the shuttered HUB Bookstore that closed sometime (IDK, fuck doing research). While nobody is sure what the V̸̼̯̀̋̍̃́̿͗̐͐͋͗̕͠Ó̷̙̳̜͖̎͊̌̅̇̅̐̂Ĩ̶̧̙͖̩̼͒̏̀͊̌́̚͠D̷̨͔̪̬̦̩̰̰̒̈́̐̒̆̚͠'s purpose is, it has become quite the conversation piece across campus.
"I like it," said Shawn Johnson, a first-year engineering student. "It's great because literature and books are of lesser importance than literally empty space."
Others were not as optimistic about the use of the store space to hold pure nothingness.
"Yeah, a space literally devoid of all matter is cool and all, but we could really use the space for another Subway or Edo Japan," said Jojo Mcbobo, a third-year business student.
Nobody is quite sure of the V̸̼̯̀̋̍̃́̿͗̐͐͋͗̕͠Ó̷̙̳̜͖̎͊̌̅̇̅̐̂Ĩ̶̧̙͖̩̼͒̏̀͊̌́̚͠D̷̨͔̪̬̦̩̰̰̒̈́̐̒̆̚͠'s purpose, or where it goes, or when it appeared in HUB Mall, or what the point of anything is even, but investigations into these questions have proved unsuccessful. U of A staff are still waiting to hear back from a team assembled to look into the V̸̼̯̀̋̍̃́̿͗̐͐͋͗̕͠Ó̷̙̳̜͖̎͊̌̅̇̅̐̂Ĩ̶̧̙͖̩̼͒̏̀͊̌́̚͠D̷̨͔̪̬̦̩̰̰̒̈́̐̒̆̚͠, who vanished into the incomprehensible blackness a week ago.
While some students wonder "where does the V̸̼̯̀̋̍̃́̿͗̐͐͋͗̕͠Ó̷̙̳̜͖̎͊̌̅̇̅̐̂Ĩ̶̧̙͖̩̼͒̏̀͊̌́̚͠D̷̨͔̪̬̦̩̰̰̒̈́̐̒̆̚͠ go?" or "does nothingness truly exist?" others are questioning if the U of A really needs another V̸̼̯̀̋̍̃́̿͗̐͐͋͗̕͠Ó̷̙̳̜͖̎͊̌̅̇̅̐̂Ĩ̶̧̙͖̩̼͒̏̀͊̌́̚͠D̷̨͔̪̬̦̩̰̰̒̈́̐̒̆̚͠ after all.
"I don't get it," said Samantha Bigalow, a fifth-year English major. "What's the purpose of installing a V̸̼̯̀̋̍̃́̿͗̐͐͋͗̕͠Ó̷̙̳̜͖̎͊̌̅̇̅̐̂Ĩ̶̧̙͖̩̼͒̏̀͊̌́̚͠D̷̨͔̪̬̦̩̰̰̒̈́̐̒̆̚͠ in HUB Mall when there is already an empty, desolate void inside of all of us?"