News
Residences
FOI Request reveals student criticism of Lister's proposed meal plan gathered by U of A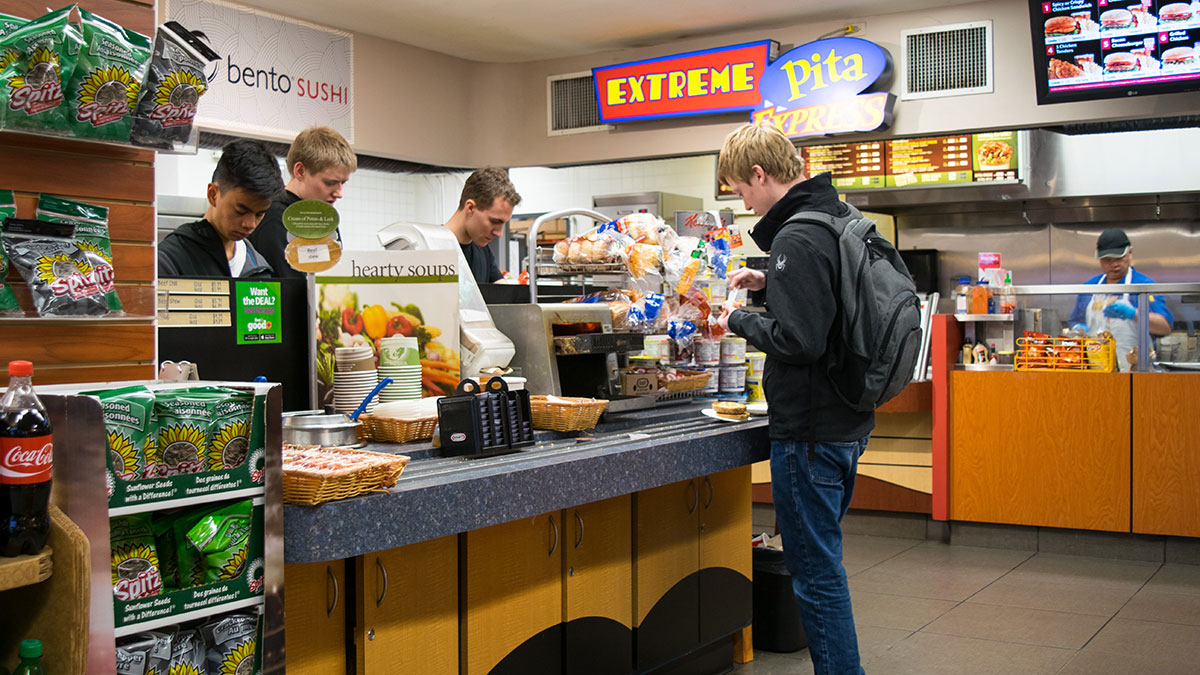 The Lister meal plan has been on a long and winding road, and it's unclear where it'll end up. Every year, more than 1,800 students call Lister home and use a meal plan. The majority of these residents are first-years following President David Turpin's guarantee of providing each of them a bed in residence.
Residents pay a lump sum at the beginning of the year for their meal plan; that payment goes onto their ONEcard, which can then be used at the Lister cafeteria or any food vendor on campus managed by Aramark. This is called a "declining balance" plan. Any funds that aren't used by the end of the year stay in a student's account for next year's use.
This year's declining meal plan, for example, is available in two price tiers: $3,783 and $4,554. According to the Students' Union, three-quarters of students use the first, less-expensive tier.
In the Fall semester, Facilities and Operations (the university body that governs residence meal plans) proposed to reform next year's meal plan to a $4,650 all-you-can-eat model with $300 that could be used outside the Lister cafeteria. It also launched an online feedback forum to gather what students think of the proposal. The proposal, however, was voted down at the committee level, with those who voted against citing a lack of student consultation. All feedback given in the form below was given while this plan was being proposed.
A second proposal with two tiers was put forward in a "special," unscheduled committee meeting before the Board of Governors meeting in December. The second model cost $4,650 (for seven days a week) or $4,285 (for five days a week) with $400 or $300, respectively, that could be spent outside the Lister cafeteria. This proposal passed at the committee level but failed the next week at the Board of Governors. Board members critiqued the plan's lack of flexibility and, just as committee members had said the month before, said more student consultation was needed.
To find out what students have told the university in its online feedback form, The Gateway made a Freedom of Information request for the form's responses. Here are what students said about the all-you-can-eat meal plan in October and November.
Note: There are three pages of feedback; each corresponds to a different question asked on the form. The survey in the time period we requested had 173 responses. Blank fields and responses that just say "no" have been omitted.
Please-provide-any-additional-feedback-you-have-about-the-plan.

The Gateway sat down with Andrew Sharman, the university's Vice-President (Facilities and Operations) and Dolores March, Director of Hospitality Services to gather context around the form. Sharman has presented the meal plan proposal to multiple governance committees and to the Board of Governors. March, who works with Dining Services, has worked on the meal plan alongside Sharman.
The Gateway: What were the overall goals with asking students for their opinions on the meal plan?
Dolores March: The overall goal when we started presentations in September was to collect that feedback from students that couldn't attend in-person consultations. So we created it to provide us feedback on what they like and didn't like.
What, in your opinion, was the most useful information that came from the feedback collection?
Andrew Sharman: One of the concerns, from both the feedback we got and from the survey that (the Students' Union) did, was cost. Cost is always an issue. We are a more expensive province. We know by looking at all our competitors across Canada that the nearest competitor, Carleton University, is charging this fiscal year $4,900, so already 250 more than our last proposal. Because we receive no funding from government or from the university — we're a standalone operation — Facilities and Operations has to pay for itself.
The comments in the form were quite negative. How do you react to this kind of response?
March: Absolutely in the raw data there was a lot of negative comments. What we did with the raw data was identify themes. We compared our feedback with that from the Students' Union's survey, and we came up with like three or four or five themes. If you look at raw data, you don't have the context as to why (students) are not happy. So we drilled down to find that price was one of the top concerns. Flexibility was another one; that dictated the changes we made as we moved forward in the program.
---
Read more: Students' Union's survey finds nine in 10 Listerites want to keep declining balance meal plan
---
Was there anything you found that students liked?
Sharman: To be honest when I look at any survey I'm more interested in the data from comments … There were some negatives but there were also some real positives — if there was better quality and better range (in the meal plan), if the opening hours were more flexible. Those things, absolutely, and that's the key thing. As a result of that, we've gone back to a two-tiered proposal that does address the weekend commuters without having data. Wilfred Laurier University does have a weekend (meal plan) route because they have a lot of commuters. We don't know (how many weekend commuters we have), so that's something we can learn from and gather information on going forward.
Students have expressed frustration that their criticisms of past meal plan proposals haven't been taken into account. How do you justify this?
Sharman: I think one of the things we've got to do better at is (communicating) what we've changed. I don't think people are aware. So from all the feedback, time (was a big issue). Students have classes at 8 a.m., so 7:30 a.m. isn't early enough to open the cafeteria. So we moved the opening time to 7 a.m. The two-tiered meal plan, that was another one. The flexibility — having a full hot meal outlet in CAB. So we have done those but I don't think we've done a good enough job communicating those changes since the first town halls.
March: The big thing that came up was the price. We initially started at $4,900 but dropped that down to $4,650. And then there were issues around the flexibility. So we decided it was either mandatory or not mandatory. But then there was some feedback around some people liked the mandatory. So the last price that was actually submitted to the board included flex dollars. And it was a lot less than the initial start.
Two meal plan proposals have been voted down in university governance this academic year, and both times this occurred because some committee or board members felt that student feedback wasn't taken into account. Do you have any comments on this?
Sharman: We have to be clear that the Board of Governors is only asked to approve the financials and not the plan. The plan is an operational decision. But because of concerns we had it changed. The first one I think was a concern from the chair … There were two members that said they'd vote in favour if we can come back and clarify there's a guarantee of a hot meal in CAB … At the end of the day, we'll consult, we'll engage, we'll try and do the best, but I have to make a decision to support both the operation and the financial sustainability.
So is the next proposal is going to be similar?
Sharman: If you look across the country and across North America the new standard is an (all-you-can-eat meal) program, so that's where we're striving to get to. It's how we get there and ensuring we address as many concerns as we can (that's important). And that we work hand-in-glove with students, particularly those that are experiencing it at the moment.
When can a new proposal be expected?
Sharman: We're working at it, there's a lot of work ongoing. We're just waiting on university governance to tell us when. We should have given certainty by now to the cohort looking to come to the university in 2017, we haven't. But this buys us a bit more time to make this into a polished product. I hope it will be within the next end of February.