News
Turpin installed as 13th president: Announces new space for indigenous students, vision for University of Alberta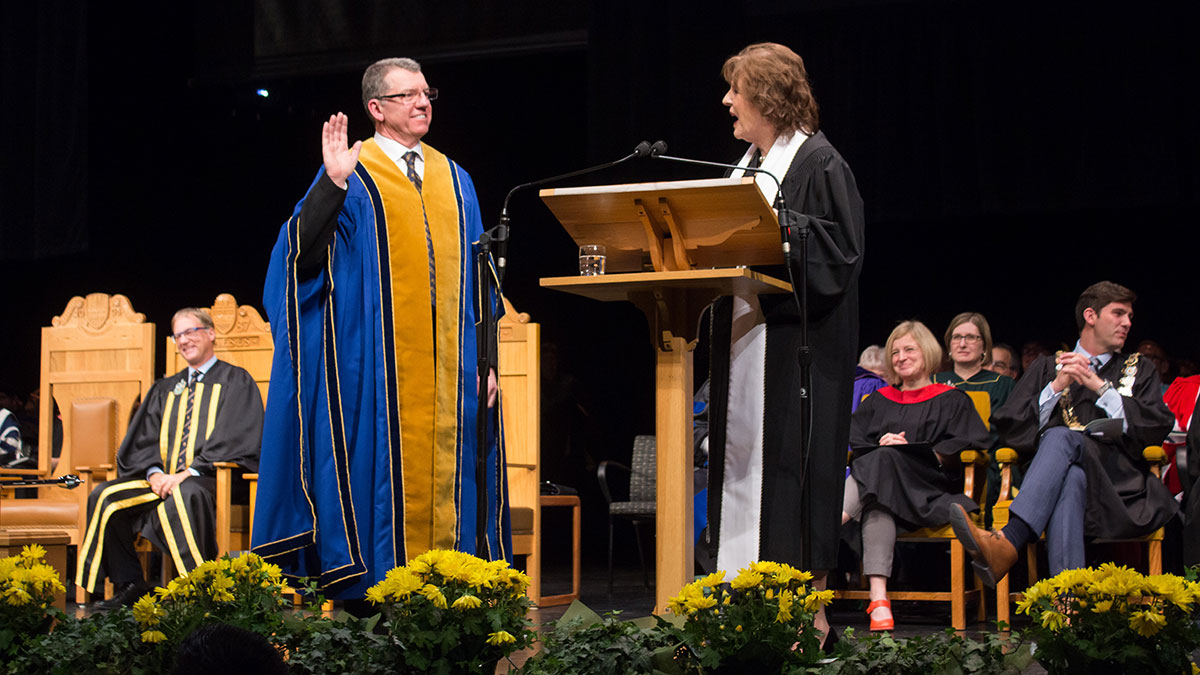 David Turpin was officially installed as the University of Alberts's 13th president and vice-chancellor at the Northern Alberta Jubilee Auditorium on Monday, Nov. 16.
"I accept this responsibility with humility, and with enormous appreciation for this university and its traditions," he said.
Soon after his installment, Turpin announced the guarantee of a place in residence for every first-year student, starting next fall. Because of their higher level of engagement, students living on campus tend to feel more positive about their university experience, participate more in extra-curricular activities and perform better in class, Turpin noted. This is part of a process to bring students more opportunities to engage, he said.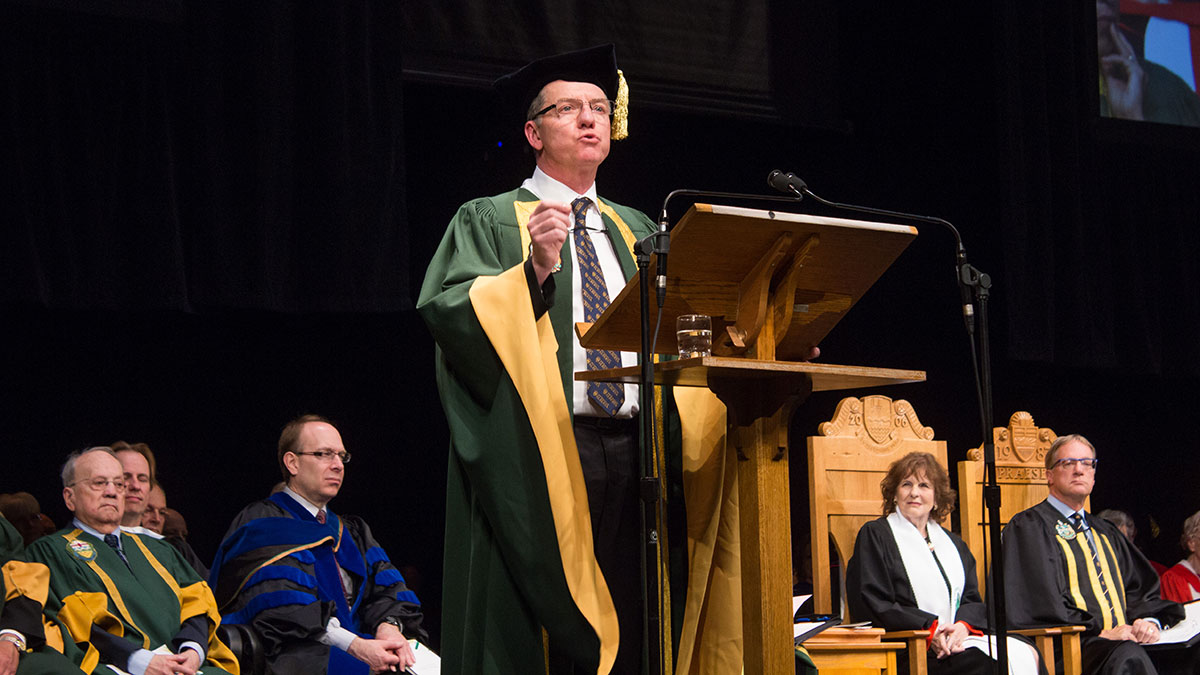 Turpin also announced the university's intention to build the Maskwa House of Learning, a campus space for Indigenous students that will be located behind the Education buildings. The university has submitted the proposal to government, and Turpin is looking forward to the teamwork that will bring the vision into reality, he said.
"To answer the legacy of residential schools with substantial acts of reconciliation," Turpin said.
"It'll be a tangible demonstration of our commitment to reaching out to First Nations, Inuit and Metis students from across the province and across the country."
The Maskwa House of Learning will be a $30 million project and will be space for Indigenous students to find a home on campus and for all students to learn, honour and celebrate their shared history.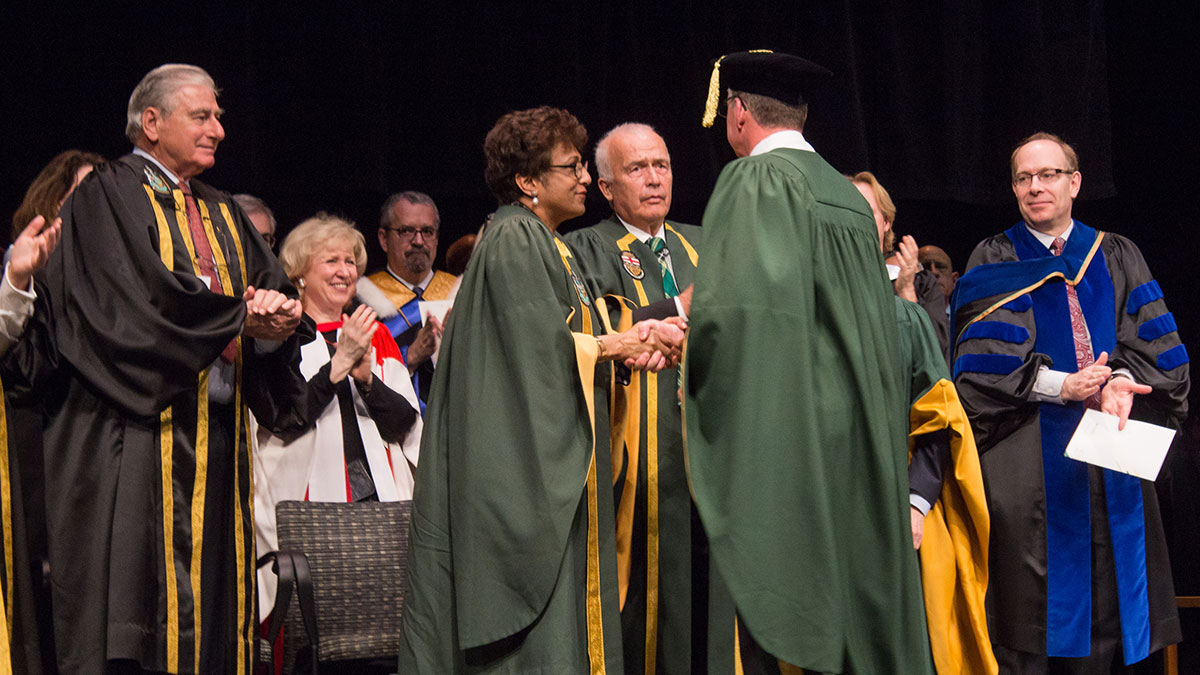 Turpin's installment address also retold his personal history, family history — he describes himself as seventh generation "prairie stock," his experience in living across Canada — including his cabin in the woods of the west coast's Discovery Islands. He went over how the U of A will help make "a better Canada," including working towards economic diversification, developing evidence-based policy to social justice, providing research in sustainable development in the oil and gas industry, and working with the university's national and international partners, and advancing global peace.
Robed representatives from 33 of post-secondary institutions arrived from across Canada to welcome Turpin in his new role, along with members of provincial, municipal and university governance. The procession of speeches were musically divided by an Aboriginal honour song by Adrian LaChance and a performance by the University of Alberta Symphonic Wind Ensemble, University of Alberta Madrigal Singers, Concert Choir and Opera Workshop.
U of A Students' Union President Navneet Khinda and Graduate Students' Association President Colin More delivered Turpin's first welcome speech, followed up by a video-welcome by Prime Minister Justin Trudeau.
Premier Rachel Notley followed with a speech referencing her affection U of A as an alumnus, and calling the institution a testament to Alberta innovation. Minister of Advanced Education Lori Sigurdson, Notley and the Alberta NDP government are both looking forward to working with Turpin and the university, she said.
Turpin later thanked Premier Notley in his installment address for the new government's quick enactment of Bill C3 and the "(investment) in Alberta's post-secondary sector and (reaffirmation of) its commitment to education and research."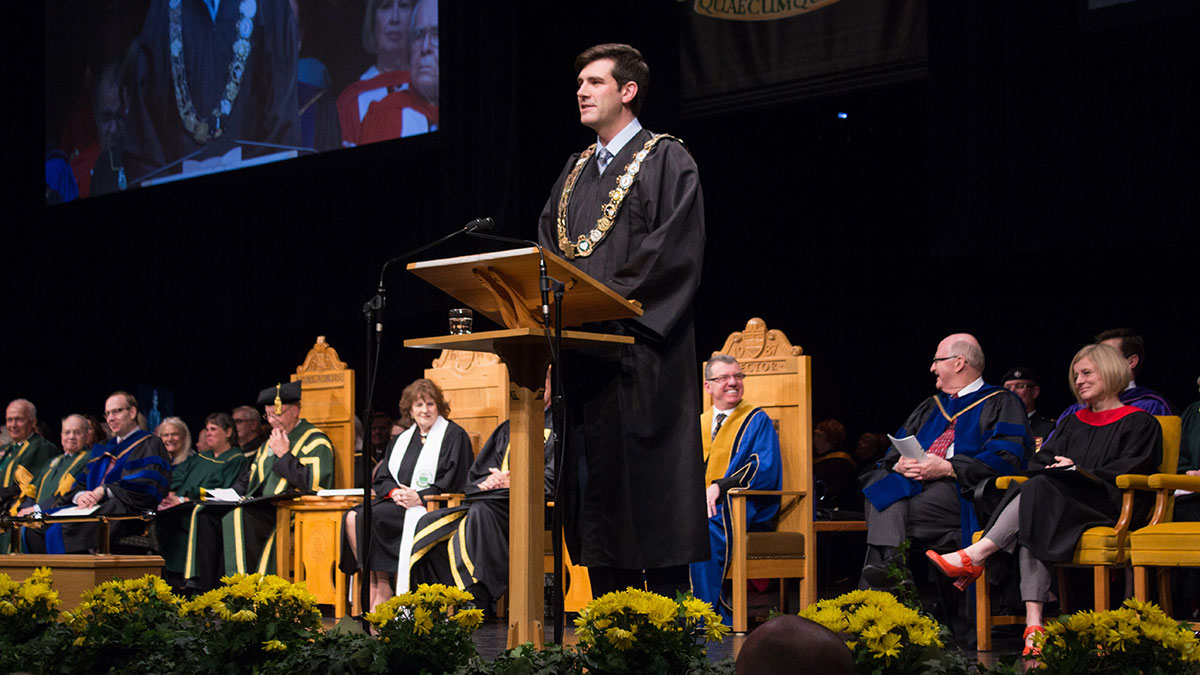 Edmonton Mayor Don Iveson's termed Turpin a "steward" of one of the most important economic, social and environmental drivers in Edmonton. But Iveson also reframed the job title of U of A president, with a little bit of humor.
"Dr. Turpin is will be officially, as of today, essentially the mayor of the fourth largest municipality in the Edmonton metropolitan region," Iveson joked. "Which means if you don't like the snow removal on campus, call him. And we've still got to work out a revenue-sharing deal."