Institutional
News
Q&A with Minister of Advanced Education Rajan Sawhney
The Gateway sat down with recently sworn-in Minister Sawhney to talk about her plans for post-secondary education.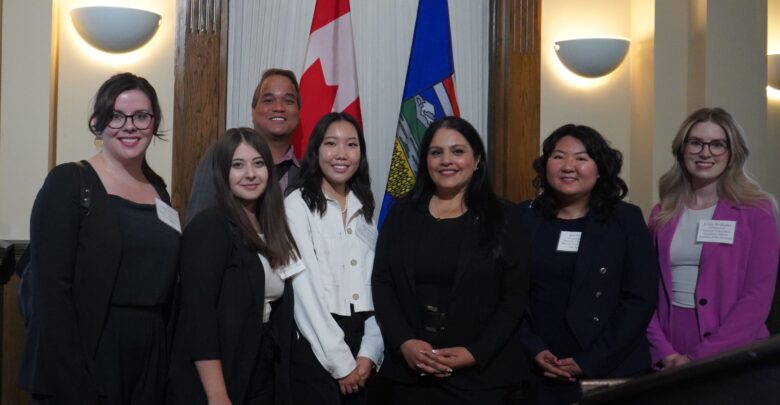 Following the United Conservative Party's (UCP) re-election to government on May 30, new cabinet ministers were appointed.
Rajan Sawhney, who was elected as Member of the Legislative Assembly (MLA) for Calgary-North West, was sworn-in as Minister of Advanced Education on June 9.
The Gateway sat down with Minister Sawhney to discuss her plans and goals for post-secondary education in Alberta.
Responses have been edited for brevity and clarity.
The Gateway: What is your vision for the future of post-secondary education in Alberta?
Rajan Sawhney: We have a very severe labour shortage here in Alberta. In the country, we have a number of young people who are wanting to go to a post-secondary institution (PSI) for higher learning. So it's really important to understand what the future economy is going to look like and what kind of conditions we need to have in place, for students particularly, given the affordability crisis.
Ultimately, the vision is to build a very responsive, sustainable system for students so that they can find a place in PSIs to learn what they need to learn for the careers of both today and for the future economy.
That is essentially the vision — to make sure we have enough seats and that we have a sustainable system in place.
What makes you the best qualified person to be the Minister of Advanced Education?
Sawhney: I'm a mother of four and I have a daughter who has already graduated from university. I have a daughter going into university in the next year or two. I also have a love of academia. I did my undergraduate degree at the University of Calgary, then I did my Master's of Business Administration there. Hopefully, I'll do my PhD one day.
I think I'm amply qualified for this role because as a mother, I want to have a sustainable, responsive system in place not just for my own children, but for everybody's children. As somebody who loves academia and has significant industry experience, I also know that our institutions need to reflect the realities of where the labour market shortages are. I'm an economist so I deal with numbers, patterns, and forecasting. I feel like those abilities are going to help me understand where we are right now and where we need to go.
What are your top priorities coming into the role?
Sawhney: Number one, as it relates to PSIs, is to make sure that we're funding high demand areas. That we are increasing the number of seats for medical schools and aviation programs. These are really important fundamental tasks that need to be undertaken.
I'm a daughter of immigrants as well. I know that my father had a really tough time getting credentialed as a teacher and he just had to give up on his dream. So this is something that's very meaningful to me, to make sure that people who are new to this country have the ability to get their credentials assessed quickly to work in the area of their discipline. That is something that's very meaningful to me, and it's something I will be focusing on as well.
In light of tuition increases and student protests against these increases, there have been calls for more funding for post-secondary institutions' operating expenses from the government. What are your thoughts on the matter?
Sawhney: We know affordability is top of mind for students. That's reality. I've engaged with international students as well and everybody has the same concerns, and housing is an issue just nationally. If we can tackle housing issues, that will address some of the elements of the difficulties that students are facing.
I know that we have done some work on the affordability file by doubling the grace period for the Alberta student loan repayment to 12 months from six months, that should definitely help. We've increased the Repayment Assistance Program threshold to $40,000. We've capped tuition to two per cent starting in the 2024 academic year. All of these measures — and there are more as well — were undertaken in recognition of the fact that students are having a difficult time. 
I'm going to keep a very close eye on what's happening on the housing file. I also plan to do significant engagement with students.
There is going to be another significant investment in mental health support — that was in my mandate letter. There are many students, many organizations that were worried about sexual assault on campus and things like that, and support has been provided to help in that regard. I know Minister Nicolaides put the measures in place. I have additional measures in my mandate letter that indicate that I need to do more — particularly on the mental health file.
What are your thoughts on the current performance-based funding model and what do you envision for its future?
Sawhney: The reality is, Albertans expect the government to be very responsible stewards of their hard-earned tax dollars. The whole basis behind performance-based funding is: are we getting a good rate of return on our investment? I don't think that's cold, unfair, or unreasonable.
I think sometimes when people are critical of it, they're critical for all the wrong reasons. They think it means that it's only looking at certain metrics. And if you're not aligned to those metrics, exactly, then you might lose funding. That's not what it's all about. It's actually asking the question: are we doing what's right? Are we doing what's right for our students? Are we doing what's right for our taxpayer dollars?
Do you have plans or ideas for increasing support for international students?
Sawhney: The reality is that the mandate for supporting international students resides with the federal government. But, the other aspect of reality is that many of these students live in Alberta.
We have a lot of social and community support funded through the provincial government that is available to everybody. But, sometimes international students feel shy or nervous about accessing support. So I think we have to eliminate that stigma.
Provincially, we don't really have much that we can do for international students, other than maybe provide additional support. But I think we need to get them connected to existing support first.
There have been recent investments toward targeted enrolment expansion. How do you plan to approach future investments?
Sawhney: Last year, we announced $171 million over three years to create 10,000 spaces. This year, we announced an additional $111 million to create another 3000 new spaces. This really is the largest targeted expansion in Alberta's history.
We have spoken to students and other stakeholders and new seats are going to be funded based on the greatest demand. We have this significant labour shortage, and significant areas and disciplines that require more graduates.That's what is going to drive our future approach on how we're going to expand enrollment and create new spaces.
What do the next six months look like for you?
Sawhney: In the fall, I will be visiting all PSIs in the province and talking to students, administration, faculty, and local newspapers on campus. I have great respect for the work that Minister Nicolaides has done and I'm going to build on that. Things change, and I just want to make sure I understand what the major issues and opportunities are.
We have [the legislative] session beginning at the end of October, there may be some items I might be bringing forward depending on what I've heard and some of the items in my mandate letter.
As I'm navigating through these next six months, there are very important elements in my mandate letter like mental health support, auto credentialing, talking about skilled trades and professions — all of this work will be ongoing. There will be policy work and stakeholder engagement, because ultimately, I have to fulfill each and every bullet in my mandate letter.