Institutional
News
Students' Union
BREAKING: Alberta government announces new affordability measures for post-secondary
It was announced that domestic tuition increases will be capped at two per cent, effective 2024-25 and after.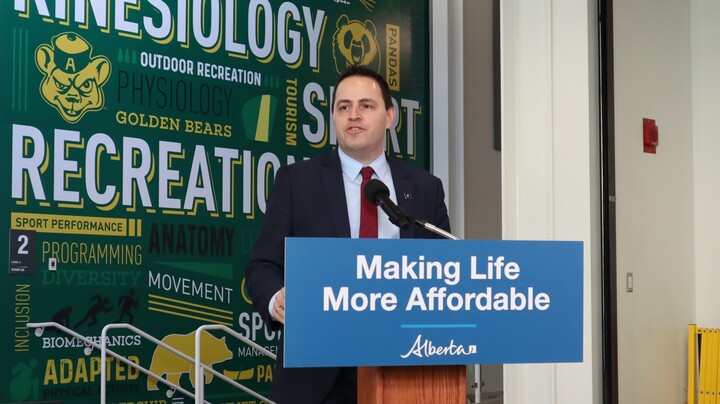 On February 16 at the University of Alberta, Minister of Advanced Education Demetrios Nicolaides announced new efforts from the Government of Alberta in making post-secondary education more affordable.
"Alberta students are indeed facing increased cost of living, rising interest rates, and other costs are impacting our students' abilities to get a job and contribute to Alberta's economy," Nicolaides said.
"Alberta's government remains committed to ensuring that our post-secondary system remains accessible and affordable for all students."
Five supports for post-secondary students were announced. First, domestic tuition increases will be capped at two per cent, effective 2024-25 and after. This cap will not affect the proposed tuition increases at the U of A for 2023-24.
"One of the things that I've heard consistently from all of you for the past three and a half years, is the importance of predictably when it comes to tuition policy," Nicolaides said. "Adjusting the cap to a flat two per cent will provide students with precisely that."
When asked why the tuition cap is not applied to the 2023-24 academic year, Nicolaides replied that many universities have already passed their budgets for the next year.
"They have to get their budgets approved, they go through the tuition consultation process, and a lot of that is already completed," he said.
"We thought it was appropriate to have that applied for the 2024-25 academic year to give everyone some clear line of sight, and help everybody have the appropriate time that they need to make budget decisions for that window."
Second, the current student loan interest-free grace period will be doubled from six to 12 months, effective July 1, 2023. It will also apply to borrowers who have completed their studies on or after December 1, 2022.
"Approximately 57,000 post-secondary students graduate every year, and those students will be the primary beneficiaries of this extended grace period," Nicolaides said.
Additional measures include reducing the interest rate on student loans to the prime rate, which is the lowest commercial rate offered on loans. This will go into effect July 1, 2023.
There will also be an increase in the threshold for the Repayment Assistance Plan, which helps low-income students pay back their student loans, from $25,000 to $40,000. This will also go into effect July 1, 2023.
The Alberta Student Grant will also see an increase of $225, meaning eligible students will receive up to a total of $475 per month for the 2022-23 loan year.
"In the midst of an inflationary crisis, we are taking action to ensure Alberta's post-secondary system remains accessible and affordable for years to come," Nicolaides said.
"We're also concerned about quality of education," UASU president says
Christian Fotang, University of Alberta Students' Union (UASU) vice-president (external), said that these changes are welcomed, however more measures need to be taken towards affordability.
"We welcome the fact that the two per cent flat cap is going to come to the 2024-25 school year. After three years of seven per cent increases, there's that worry of, why didn't this happen sooner?" Fotang said.
"Nonetheless we still welcome it, something is better than nothing. But we hope that we can still work with the government to see more measures being brought in."
Abner Monterio, UASU president, said that with the tuition cap there's a concern about the future quality of education, as the U of A's provincial grant was cut by $220 million in the past four years.
"While we're concerned about affordability, we're also concerned about quality of education," Monteiro said. "If we're going to cap tuition, there needs to be a way to make sure that our education quality is not going to decrease."
"That comes with making sure that the government is providing appropriate funding to the institution."