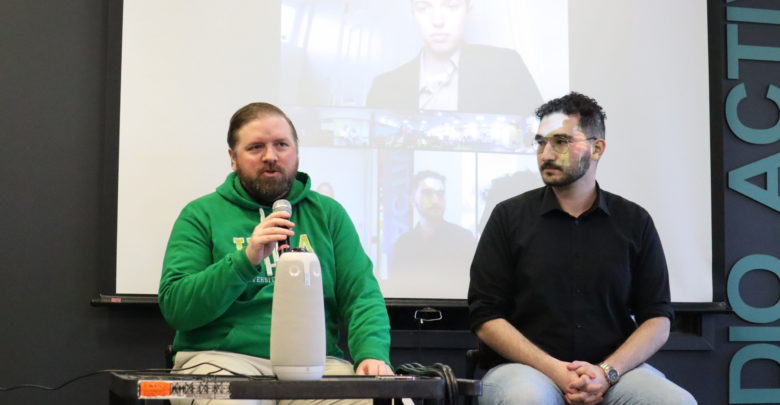 The candidates for vice-president (operations and finance) (VPOF), Fateh Arslan and Levi Flaman, have completely opposing platforms for managing the Student Union's (SU) budget of over $13 million.
While Arslan plans to spend a lot of money on projects that cannot feasibly be completed during his term, Flaman is entirely focused on saving. In doing so, he has forgotten the operational duties of the VPOF to improve student life.
At the Campus Saint Jean (CSJ) forum, Arslan focused on maintaining and supporting the "unique vibe" of CSJ, while Flaman presented a three-point plan that intends to save students money across all three campuses.
A big issue for the SU this year was financial transparency, particularly after Break the Record, which had an estimated cost of $145,000. Despite its importance, neither candidate addressed this issue. Instead, they talked about how much or how little they would be spending if elected.
In relation to the SU budget, the Association des Universitaires de la Faculté Saint-Jean (AUFSJ) asked the candidates about the lack of student services at CSJ, despite students paying the same fees as North Campus students. Arslan discussed his plan to open a restaurant similar to Dewey's or Room At The Top (RATT) on CSJ that represents Francophone student culture.
This project sounds like a good idea, but is unlikely to become a reality in the foreseeable future, and certainly not within the upcoming SU term. It would take too long, and would cost too much money. In his answer, Flaman said Arslan's plans weren't feasible, as the Augustana Students' Association (ASA) tried to do something similar on their campus and were unable to do so.
Time and time again, candidates fall into the trap of coming to CSJ and making promises that they will not be able to keep.
In contrast, Flaman presented a loose idea of working with existing spaces in CSJ to provide more access to student experiences and North Campus services like Infolink. He offered solutions like AUFSJ receiving capital funding to start projects, creating operational plans to keep projects going, or the SU entering in a partnership to help shoulder some of the costs of offering these services.
While I think this plan is more attainable than Arslan's, Flaman did not give any specific details.
Flaman did, however, give specific references in his answers to his extensive experience with the SU as the 2018-19 Board of Governor Representative and a business councillor. Arslan also served as a business councillor this past year, but was less concerned with finances, primarily focusing on his unrealistic plan to open a restaurant.
I am not extremely impressed with the performance of either candidate at this forum, as they both struggled in different ways. While Arslan sometimes lacked specific answers to questions, he had obviously considered CSJ in his platform. Flaman was a better public speaker with little to no focus on the specific needs of CSJ.
When asked about continuing the expansion of Campus Food Bank (CFB) services like the grocery bus and free breakfast program to CSJ, Flaman dismissed the feasibility due to SU's lack of funding.
"That's going to cost money, and that's money that we don't really have right now," he said.
Arslan at least recognized the importance of these services, but did not give any specific indication of how he plans to work with the CFB.
"The CFB, obviously has been one of the biggest bottlenecks last year, [so] making sure the grocery bus is still still available for CSJ next year hopefully will be one of the services that we're working on," Arslan said.
Neither candidate convincingly indicated their intentions to promote this essential campus service, particularly as food insecurity and student demand for CFB services are quickly increasing.
Arslan's platform is similar to the current VPOF who ran unopposed last year, Julia Villoso. My primary concern with his platform is that, like Villoso, he will have difficulties following through on these big promises, like building a Dewey's equivalent at CSJ.
During the forum, Flaman accurately pointed to the difficulty of accomplishing these kinds of goals within the term due to limitations with both "time and money." However, I do not find Flaman's approach convincing either, particularly considering the extreme underfunding that the students of CSJ are suffering from. Flaman over-emphasized savings, which seemed to come at the expense of enthusiasm and fresh ideas.
Although Flaman wants to save more money for students, will this benefit us? He wants to decrease the spending of the SU, but doesn't say whether students' fees will decrease alongside it. So how do we know we won't be paying the same amount, but for less services?
Flaman's platform is concise and feasible, but, there is a lack of passion for improving the student experience. Despite his unrealistic ideas at the CSJ forum, Arslan's strength lies in his undeniable focus on making student life better. That being said, both candidates need to address the issue of transparency regarding the SU finances in future forums.
---
Every year, The Gateway publishes hundreds of articles like the one you just read that are free for everyone to access. But The Gateway needs your support to continue publishing its award-winning journalism. Please consider donating today, even a small amount can help the University of Alberta's only newspaper continue serving the campus community. Thank you.