News
Students' Union
SU Elections 2023 Q&A: Vice-President (Operations and Finance)
There are two candidates in the 2023 Students' Union vice-president (operations and finance) race — Fateh Arslan, and Levi Flaman.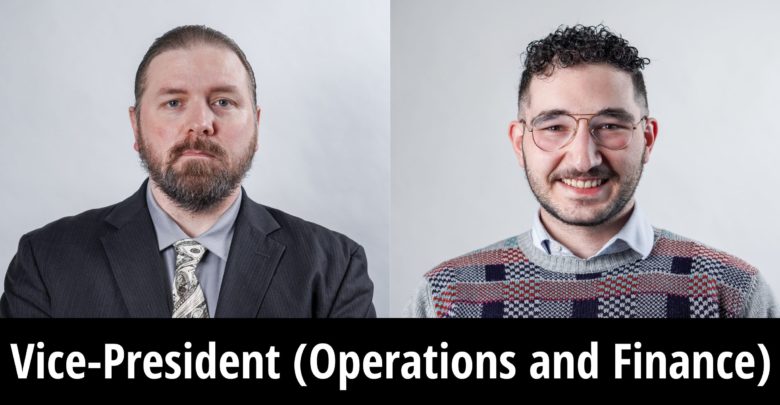 The vice-president (operations and finance) oversees the Students' Union budget of over $13 million. They are responsible for the operation and strategy of Students' Union businesses, including Dewey's, Room At The Top, Daily Grind, and SUBPrint. They also oversee the operation of the Students' Unions Building (SUB).
There are two candidates for the role of vice-president (operations and finance):
Fateh Arslan, a fourth-year commerce student, and current business councillor on Students' Council.
Levi Flaman, a fourth-year commerce student, and current business councillor on Students' Council.
The following interviews have been edited for brevity and clarity:
Why have you decided to run for vice-president (operations and finance)?
Fateh Arslan: One thing that really made me run is talking to Julia Villoso who is currently in the position, and trying to figure out what projects the Students' Union is doing right now and how I can build on it. One thing is building more on the UASU Perks system, and trying to get more engagement from students.
Levi Flaman: I've decided to run to achieve three main objectives. First, to approach other students' unions similar to ours with the intent of forming a group purchasing organization or a group purchasing arrangement. Second, I want to reduce our reliance on student revenue and try to diversify our revenue streams to get a lot of non-student revenue. Third, I want to pursue more student discount opportunities, whether that be on campus, off-campus, somewhere in the community, or even elsewhere in the country.
What would you say are three main takeaways from your platform?
Arslan: The first one is social sustainability, and hopefully using this idea to build engagement from students. The second one is economic sustainability, and using UASU Perks as a platform to alleviate some of the economic stresses on students. The last one is environmental sustainability, because everyone knows right now that one of the biggest student concerns is the environment and climate change. I hope I can help improve the Students' Union Building and make it more sustainable.  
Flaman: In regards to the group purchasing arrangement, we can increase our purchasing power and negotiate better rates for goods and services that we buy, saving students money and increasing value for the money that they pay as members. By diversifying our revenue and getting more non-student revenue, we're also increasing value for students' money by decreasing the reliance on the money that students pay. Then, by getting more student discounts both on and off-campus, we're saving students money for things they might ordinarily buy to help them out while they're students here.
In light of affordability and cost of living concerns, some students are worried about excessive spending from the SU in the past year, for things like the Break the Record Dodgeball game. Why should students trust you with a budget of over $13 million?
Arslan: One thing I learned during my past years in business is how to budget, how to keep track of the budget. The biggest thing for Break the Record was that it was supposed to be $10,000 spent from the Students' Union, but that didn't work out. Budgeting is a very key component of my life and communicating this to students using systems like Perks would definitely be on top of my list.
Flaman: One of the biggest complaints about Break the Record, is that the execs were bringing us reports that said "hey this is a cool, fun thing to do" without mentioning any of the money. We didn't find out how much it cost until after and that in and of itself is a problem. I want to do what they didn't do and provide more regular updates on not just the fun stuff but the money stuff as well. As a member of the Sustainability and Capital Fund Committee this year, I was one of the more stingy members in regards to adjudicating applications, where some of the other members were a little more frivolous with money. That's something that I would want to continue in my role as vice-president (operations and finance), doing a lot more cost benefit analysis. If spending X on something is going to get us Y back in return.
How do you plan on achieving the operational Aboriginal Relations and Reconciliation Committee recommendations, which if followed, will contribute to reconciliation efforts by the Students' Union?
Arslan: As an international student, I'm definitely one of the people who has benefitted from the unlawfully stolen land, which is Treaty 6. One thing that I want to work on is working with the Indigenous Students' Union (ISU), consulting them, continuing the Residential School memorial and hopefully build on relations with the ISU and others in the community, as well as working on the Indigenous Leadership Program.
Flaman: A big part of the platform is trying to extend the amount of resources that we have — resources that can be put towards various services that we offer. And by getting more resources, we can put that extra income that we're getting towards achieving those operational goals. We've already received a lot of feedback from the Aboriginal Relations and Reconciliation Committee but we also have a plethora of other resources around campus such as First Peoples' House and vice-provost Florence Glanfield, that we can use to make sure we're moving in the right direction on those recommendations.
How would you make sure that the funds from the Sustainability and Capital Fund are spent responsibly, and contribute to sustainability on campus?
Arslan: The Sustainability and Capital Fund (SCF) is one of the main points of my platform and especially the Green Fund Application. Back to the engagement, having this platform to communicate all the Green Fund applications and what you can get out of it will hopefully get us more projects from students, more ideas from students to make it work for the students.
Flaman: As I previously mentioned, this year I've been a member of the Sustainability and Capital Fund Committee. One of the problems that we've had with that committee is meeting quorum this year. We've had plenty of applications come in but we haven't been meeting and we haven't been able to make decisions on them. That's one thing that we're talking about — we're currently reorganizing the size of council and the structure of committees to maybe adjust quorum a little bit, and ensure that we can meet and we can make decisions, so that when applications come in we're giving them the attention that they deserve.
---
Every year, The Gateway publishes hundreds of articles like the one you just read that are free for everyone to access. But The Gateway needs your support to continue publishing its award-winning journalism. Please consider donating today, even a small amount can help the University of Alberta's only newspaper continue serving the campus community. Thank you.