Institutional
News
BoG approves proposed tuition increases, despite student outcries
Although the March 24 Board of Governors meeting was met with protestors, all proposed tuition increases for 2023-24 were passed.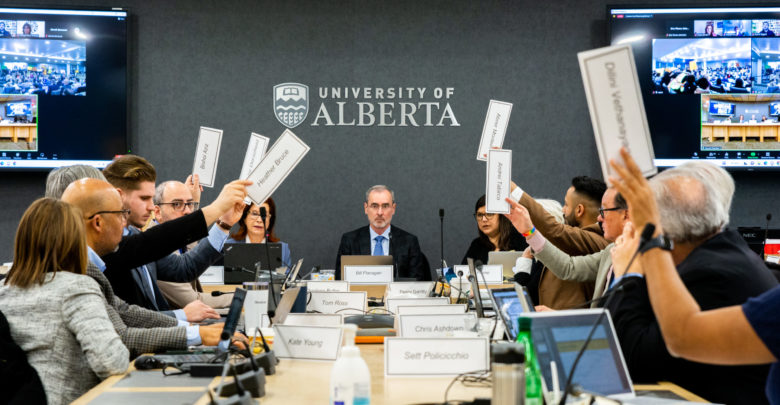 On March 24, University of Alberta students sat in at the Board of Governors (BoG) meeting in Council Chambers, silently protesting the proposed domestic and international tuition increases for 2023-24.
The proposed tuition increase for domestic and international tuition was 5.5 per cent, with a 6.5 per cent increase for new international students entering in fall 2024. Although there were student protests both inside and outside of the meeting, BoG approved all proposed tuition increases for 2023-24.
U of A president says the upcoming budget year will be "a very, very challenging year at the U of A"
Before BoG met, members were given a petition in opposition of the proposed tuition increases which had 2,200 signatures, and an open letter signed by 1,975 students.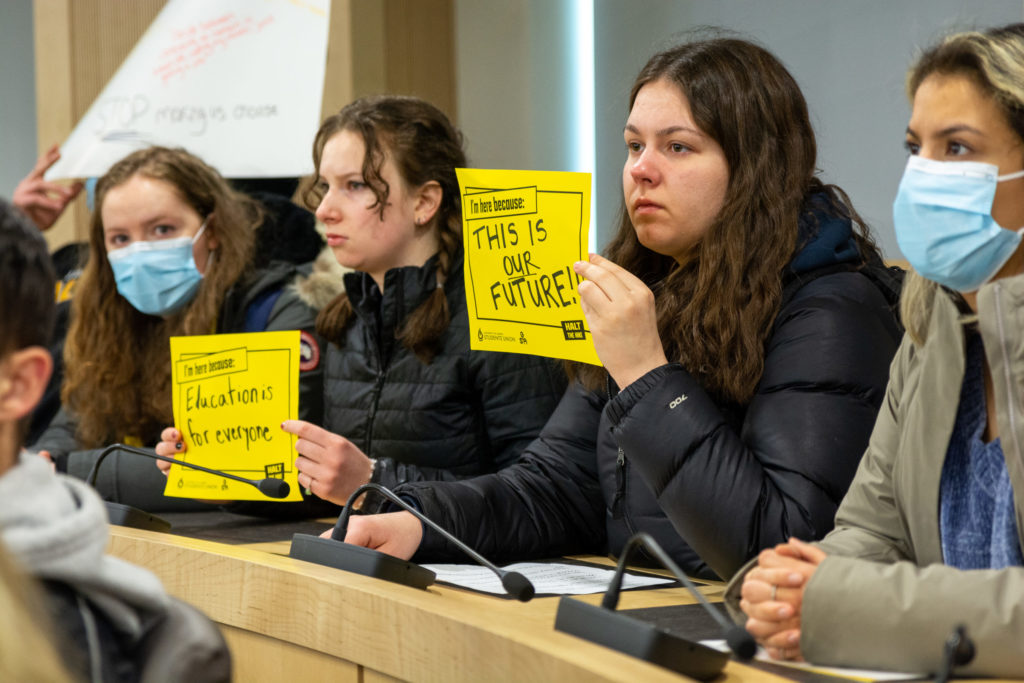 In the meeting, U of A President Bill Flanagan made an opening statement before the tuition proposal discussion began.
"The [provincial] budget was tabled on February 28 — it did not contain good news for the U of A. Although we received the same amount of money that we did last year, we are facing inflation," Flanagan said.
"The university has sustained $222 million in cuts over the last three years, so what this means is … a very, very challenging year at the U of A."
Todd Gilchrist, vice-president (university services and finance), presented the U of A's 2023-24 Consolidated Budget.
"As everybody is aware, the university has undergone significant changes in the past three years or so. Through this transformation, our goals have remained the same: to achieve financial sustainability," Gilchrist said.
"100 per cent of tuition dollars are spent to support the university's mission of teaching through program delivery."
Gilchrist added that this budget includes a $17.7 million year-to-year increase in funding for students scholarships and bursaries. The operating budget also has a deficit of $1.9 million "that is due primarily to the salary and benefits increases, and the inflationary pressures."
Verna Yiu, provost and vice-president (academic), brought up the university's tuition proposal consultations that were done. "This year, we worked together with the president of the [U of A Students' Union (UASU)] and the [Graduate Students' Association (GSA)] president, to extend and enrich our traditional consultation process."
"But I want to reinforce the notion that the university cannot maintain its current program quality. Tuition is a critically important revenue source for the university to deliver on admission, and we take seriously how to balance tuition and student financial supports," Yiu said.
Yiu discussed how the tuition proposals were chosen based on Consumer Price Index (CPI), and are aligned with other operating universities. The University of Calgary, the University of Lethbridge, and the University of Athabasca approved domestic tuition increases of 5.5 per cent.
She continued that for international students, those admitted prior to 2020 and the creation of the cohort program will receive the same 5.5 per cent increase, and a 6.5 per cent increase is proposed for new international students entering in fall 2024.
"We acknowledge the impact of rising tuition, as well as the rising costs of living. We know that there are students who are struggling to make ends meet," Yiu said. "We hope that we can continue to collaborate with our student leaders on that awareness building."
BoG then discussed what will happen if the proposed tuition increases are not approved.
"In that case, the U of A would lose $12.7 million dollars in anticipated revenue for fiscal year 2023-24, and an additional $3.3 million in 2024-25," Gilchrist said. He added that this loss of revenue would create a deficit in the consolidated budget of $4.2 million in the fiscal year of 2024, and a deficit of $3.3 million in the following year.
"We would have a very short period of time to figure out where we would find $22 million in the coming year. The only place that we really have to take that funding suddenly would be a reduction in administrative staff."
Gilchrist went on to say that although the U of A has government permission to spend 15 per cent of its carry-forward funds, they can only be used for one-time expenses, and cannot be used to decrease tuition increases.
"Tuition revenue is different. It covers ongoing operating costs of the university, and cannot be replaced with long-time funds."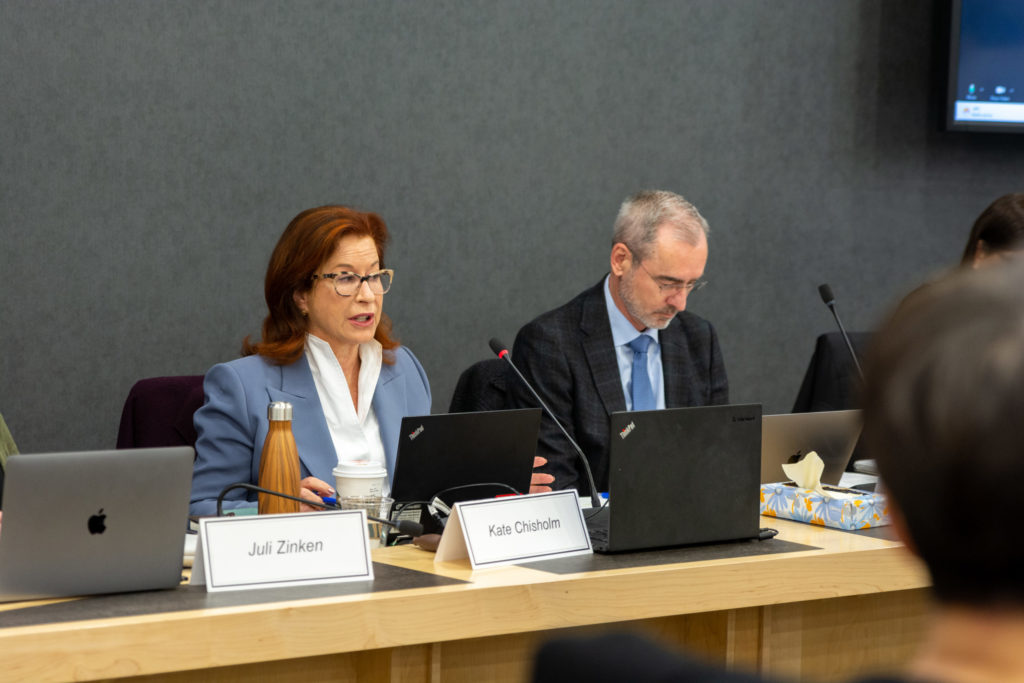 "Students are not the solution to this university's budget deficit," GFC councillor and student says
On March 20, General Faculties Council (GFC) — the highest academic governing body at the U of A — passed a motion that "GFC recommends that the BoG reject the tuition hikes in light of increased financial pressures on students."
The motion was made by Haruun Ali, an arts councillor on GFC.
In a statement sent to The Gateway, Ali said that he "made the choice to present this motion to GFC because this isn't just a student issue. This is a campus wide issue … it just isn't fair anymore and it's not in the best interest of our university."
Ali also emphasized the importance of GFC passing this motion against the proposed tuition increases.
"It means that [one of] the largest governing [bodies] on campus also agrees that the governors should vote down the proposal, in light of increased financial pressures on students."
At the BoG meeting, Ali introduced the motion, saying that student leaders "are working incredibly hard to mobilize against President Flanagan and senior administration's exorbitant tuition proposal."
"In spite of having a meeting so early in the morning, hundreds of students have shown up here today to loudly tell this body that they don't want their tuition jacked up."
Ali added that this motion is also supported by campus stakeholders such as the UASU, GSA, the Association of Academic Staff of the University of Alberta (AASUA), and the Non-Academic Staff Association (NASA).
"I hope you look around the room and understand our frustrations. I hope you can understand and see the pain and suffering that students are facing right now. Students are not the solution to this university's budget deficit."
All proposed tuition increases approved by BoG
The first tuition proposal motion presented was for BoG to approve the 5.5 per cent domestic tuition increase proposal. Before the vote, members were able to make questions or comments.
UASU President Abner Monteiro commented on the struggles students face due to cost of living and education, and asked board members to look at the protestors in the room.
"I want all of the board members to look around this room — in front of you, behind you, beside you. Everyone of these stories has a human life behind it. A life that is affected, and is standing in front of you today to show you that they can't take it anymore," Monteiro said.
"These are people who don't know if they'll be able to cover the extra cost of tuition, [who] question if they have to skip their next meal … I stand proudly and firmly beside my peers, and we'll be voting against these increases because our students are in the best interest of this university."
Five members opposed the motion to approve the 5.5 per cent domestic tuition increase proposal: acting GSA President Bisoi Aziz, UASU BoG Representative Alex Dorschied, Monteiro, NASA representative Andre Tibirca, and BoG medicine and dentistry faculty representative Dr. Dilini Vethanayagam.
The second motion was for BoG to approve the proposed 5.5 per cent tuition increase, for international students admitted prior to fall 2020. Six members opposed the motion: Aziz, BoG education faculty representative Heather Bruce, Dorscheid, Monteiro, Tibirca, and Dr. Vethanayagam. The motion passed.
The third and final motion was for BoG to approve the proposed 6.5 per cent increase for new international students entering in fall 2024. Five members opposed the motion: Aziz, Dorscheid, Monteiro, Tibirca, and Dr. Vethanayagam. The motion passed.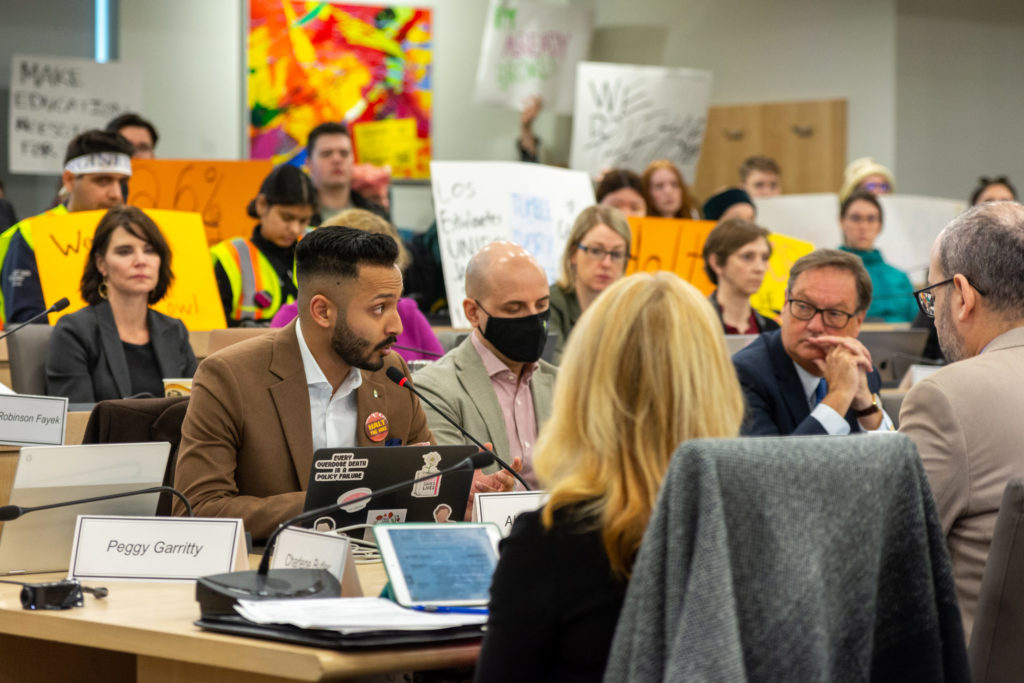 Protesters outside say that provincial cuts should not be put backs of students, discuss potential student strike
At the same time as the BoG meeting, a protest continued outside, featuring chants, speakers, and an open mic. Telisa Courtney, an organizer with Halt the Hike, one of the groups organizing the protest, described how their organization came to be.
"We started off as a group of some really pissed off graduate students that were fed up with the tuition hikes and we just kind of started organizing and it grew into this big thing."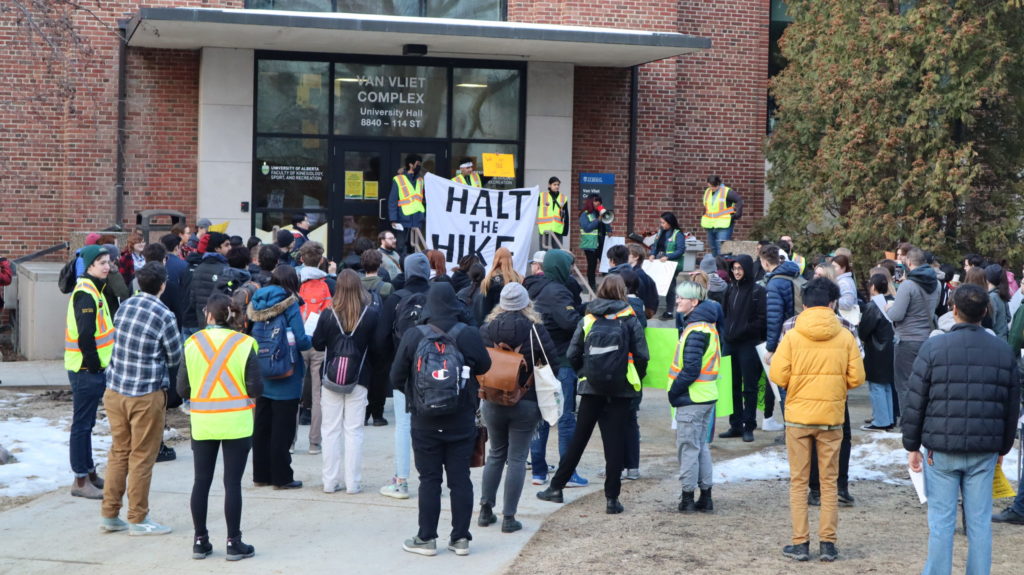 Joannie Fogue, vice-president (student life) explained that the UASU and the GSA have also collaborated in organizing the protest to "strongly oppose a fourth round of proposed tuition increases."
"We are not here alone in this fight, we're here standing together, united in our goal to make education more accessible and more affordable for everyone."
David Eggen, a member of the legislative assembly of Alberta for the New Democratic Party (NDP) and shadow critic for advanced education, said that his party has been fighting to make education affordable across the province.
"Let's not forget the reason tuition is going up so much is because the UCP has taken billions of dollars out of advanced education," Eggen said.
"I just want to say how proud I am of what you're doing here today and know that there's thousands and thousands that are looking [to] you for leadership."
Chase Clark, a third year medical student and organizer with Socialist Fight Back, said that the Board of Governors has "a vested interest" in increasing tuition.
He emphasized that students are shouldering the costs of provincial cuts and called on the Students' Union to start exploring the avenue of a student strike.
"We're showing that we will not be the piggy banks that the Board of Governors breaks open each time the UCP pulls back their funding."
Alexander Dowsey, a fourth year ancient medieval history student, described how the students, faculty, and staff have been united over the last four years despite academic restructuring and budget cuts.
Dowsey said he hopes the spring election will be an opportunity for change.
"I want to say the spring is coming and with it comes an opportunity to have your voice heard at the ballot box. It's gonna be a very warm spring that will melt many an icy heart."
"Four years is too much of this nonsense," a second year PhD student said at the open mic.
"If these Board of Governors vote to increase our tuition again — and don't you doubt for a second that they will vote to raise it again if they get the chance next academic term — we must strike."
Jessica Andreas, vice-president (communications) with the Augustana Students' Association said that these increases affect the future of young Albertans.
"We are the future doctors, lawyers, teachers of this province and by [raising] our tuition they are saying no to our future."
"We are going to be going on strike if they do not listen to us because we cannot stand idly by and let them push us around."
Kristine Smitka from AASUA said that academic teaching staff are in support of students.
"Essentially what this provincial government has been doing is offloading their responsibility to fund post-secondary education onto the backs of students — and this is unacceptable."
This puts students and the U of A as a world-class institution at risk, she said.
"I can see the impact of these tuition increases on my students firsthand." She described seeing an increase in the number of students having to work in order to pay tuition.
Smitka said that budget cuts have affected teaching staff too, as they have faced increased administrative workloads and less job security. "Students have been forced to pay more all the while the instructors they rely on are not being treated with dignity and respect."
Quinn Benders, the president of NASA, also expressed solidarity with students.
"We really believe that the interests of the staff and the students are intertwined," Benders said. "It's the same reckless neoliberal policies that are ruining our institution and affecting so many of us."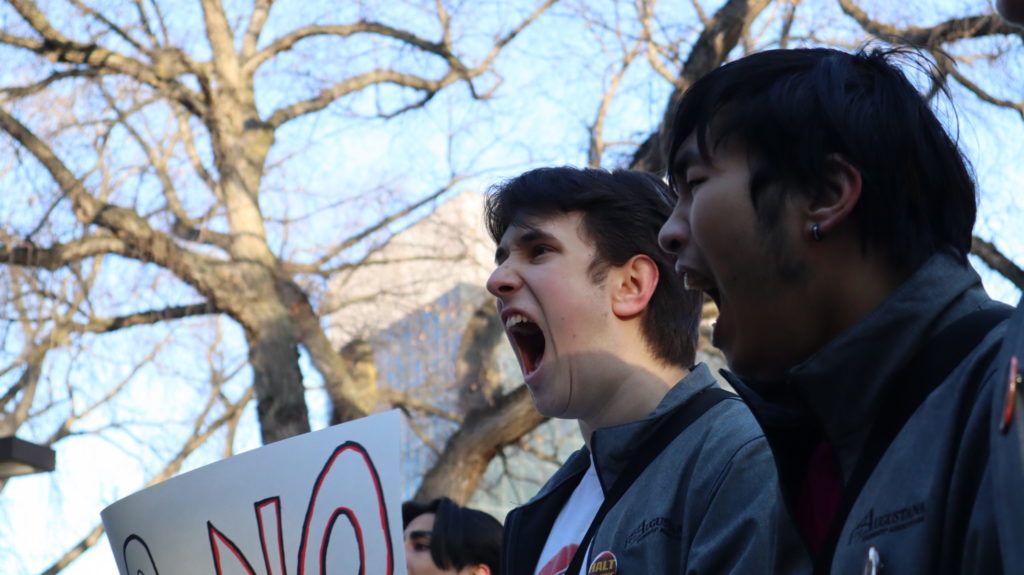 Tristan Turner, the office coordinator at the Alberta Public Interest Research Group told the crowd about his experience with struggling to pay back student debt. He remembered how when he was a student, he struggled to choose between taking on more student debt and working a minimum wage job while in school.
"This is not a choice we will accept making anymore. After years of massive tuition increases, and cuts to services, students today are paying even more than I did," Turner said.
"This is all while the quality of our education has been attacked by short-sighted budget cuts from an institution and Board of Governors that gets their marching orders from this disgusting provincial government."
Angad Singh, a student who spoke at the open mic, raised that the provincial government has had a surplus budget for two years in a row.
"The Government of Alberta wanted to spend $20 billion giving the money to polluters to clean up their pollution. How many programs could that fund? How many people's tuition could be paid with $20 billion?"
"This is ridiculous. They have the money they just don't want to spend it."
"We are going to continue to push the university," UASU president says
After BoG approved the proposed tuition increases, The Gateway asked Monteiro about his initial reaction.
"I'm extremely proud of the way that the U of A campus and students have been able to mobilize, and that we've gotten so much support from campus stakeholders," Monteiro said.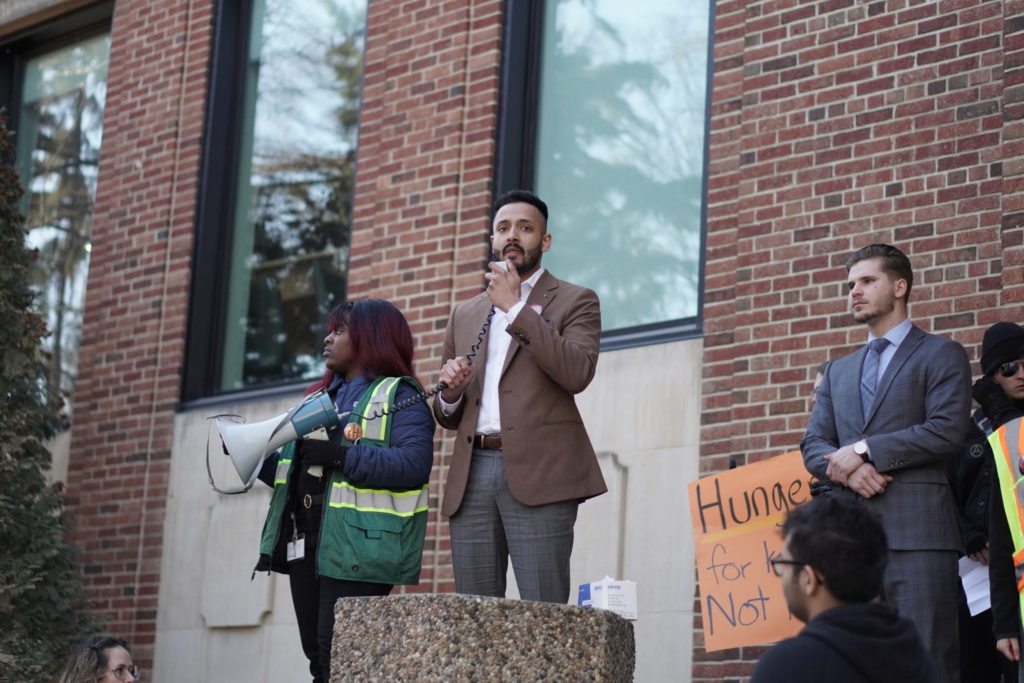 "It was extremely disappointing and disheartening to see the Board of Governors vote in favour of these increases … we are going to continue to push the university on what more can be done, because now they know that students are not silent."
Monteiro said that the next step is preparing for the Get Out The Vote Campaign, and he noted that the tuition increases are a result of $222 million in cuts to the university from the provincial government since 2019.
"Students … need to know that they can get out and vote — they have an ability to change that," he said.
CORRECTION: This article was updated March 25 at 10:59 p.m. to reflect that David Eggen is a member of the legislative assembly of Alberta. The Gateway regrets this error.
---
Every year, The Gateway publishes hundreds of articles like the one you just read that are free for everyone to access. But The Gateway needs your support to continue publishing its award-winning journalism. Please consider donating today, even a small amount can help the University of Alberta's only newspaper continue serving the campus community. Thank you.