Institutional
News
Kule Scholars host forum on the state of Alberta post-secondary
Professors from the University of Alberta raised issues about conflicts of interest in the Board of Governors and called for more transparency in appointments.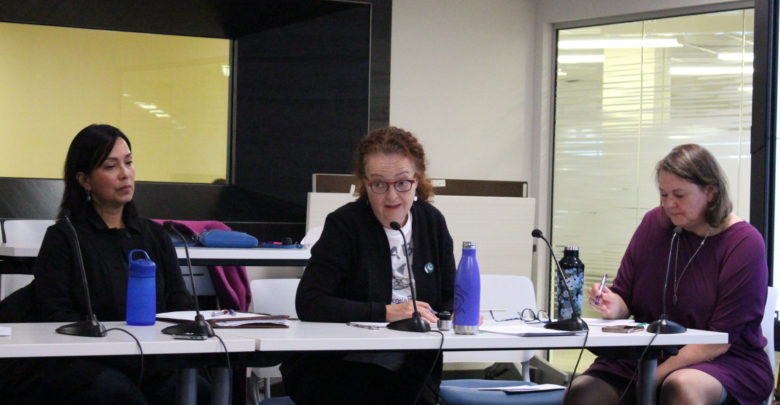 On October 20, voices from across the Alberta post-secondary sector spoke about the current state of post-secondary governance in Alberta at a public forum.
Sourayan Mookerjea, a climate resilience fellow at the Kule Institute for advanced study at the University of Alberta, hosted the forum. The event was organized as a chance for the community to discuss and respond to a report from by the Parkland Institute on the "corporatization of education."
Topics discussed at the forum varied from potential amendments to the Post-Secondary Learning Act, to potential ways of preserving the bicameral governance system at universities. Professors from various Alberta universities and a former Students' Union councillor were in attendance. Representatives from the U of A Students' Union were invited but "declined," Mookerjea said.
The first speaker was Fiona Nicoll, a Kule Scholar and professor in the department of political science. Nicoll said the reason she came to the U of A was to do gambling research but explained she was concerned about academic restructuring coming from Australia, a country that underwent a similar process in recent years.
"Things are really shifting fast at the University of Alberta … we are being told that there is core work that needs to happen to become a university for tomorrow."
Nicoll said she is worried rather than becoming a university for tomorrow — which is the title for the U of A's strategic transition — the university is becoming "like yesterday's universities in Australia."
The U of A used the same management consulting firm as the University of Sydney when planning the academic restructuring process.
Lynette Shultz, a professor from the U of A's educational policy studies department, spoke further on the Parkland report and the way the U of A Board of Governors (BoG) has moved towards a more corporate model.
"One of the things in the report that I might challenge … is the notion of the outsiders that have invaded the inside of our institution."
She explained that the shift towards a more corporate model has been a nearly decade-long process. She recalled Gwyn Morgan, a founder of EnCana energy company and a business commentator, coming to the university and saying that "if universities were in business, they'd be out of business."
Shultz said that this was the beginning of a new period of "managerial fantasies," which involved expansion of human resources (HR) and a shift from academic decisions becoming managerial ones. She said that this created a perceived barrier between faculty and management.
"There was a sense of insiderness and outsiderness so people could take a management role and be on the inside."
Board chair and president "handmaidens of destruction" for university governance, says professor
Carolyn Sale, an associate professor in the department of English and film studies, spoke on the state of bicameral governance at U of A based on the past couple General Faculties Council (GFC) meetings.
Sale spoke on a recent GFC meeting where it was decided by Bill Flanagan, U of A president, that the selection process for the college deans — a new position brought in by academic restructuring — could bypass GFC and go straight to BoG. She said the bicameral system of governance at the U of A is "being very aggressively undermined."
"One of the problems is that the overwhelming majority of the university community has no idea what is going on."
Sale spoke about the legacy this could potentially have for the university long-term.
"The university was founded in 1906, and shouldn't be allowed to founder in the 2020s, because of a government fundamentally [unfriendly] to the interests of the university, and a board chair and president willing to serve as the handmaidens of destruction."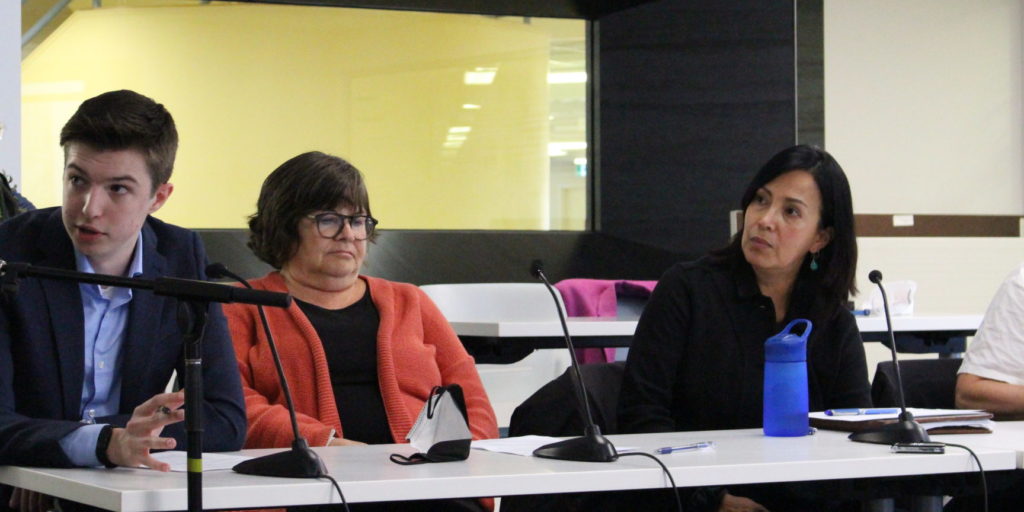 Chris Beasley, a former Students' Union councillor who now works for the Council of Alberta University Students (CAUS), recalled his first term on Students' Council where he was first exposed to BoG. Beasley said that there was an impression given that students were unequipped to make governance decisions for the university. This was based on a presumption of "inadequacy of students to do the work of being a governor," he said.
"There is a degree of supremacy of knowledge, and that there's a hierarchy of what knowledge is most valuable for boards."
Beasley pointed out there appears to be an underrepresentation of students on boards, adding that "students are best able to represent student interests, and that student interests deserve to be at the very least adequately represented on these institutions."
Board of Governors has a conflict of interest when it comes to fossil fuels, panelists say
The report found that the UCP has appointed at least 42 people to post-secondary boards who have connections to the oil and gas sector — this is nearly 28 per cent. Eight of the 21 board chairs are also affiliated with the industry, including the U of A's chair who is a current senior vice-president at Capitol Power.
Laurie Adkin, a U of A professor in the department of political science, was one of the lead authors of the report.
Adkin called for greater transparency in the appointment process for boards and cited another Parkland report she worked on that found the fossil fuel industry disproportionately impacts research in Albertan universities.
"Not a single board of governors of a post-secondary education institution in this province today would support a divestment from fossil fuels campaign — no matter what students may think, or what faculty may want. And I think that we should pay attention to what that tells us," she said. "What kind of representation do we actually have?"
"We have to think about what really is conflict of interest. And the way it's defined now for the Board of Governors is really ineffective."
Shultz also spoke on climate, asserting that the climate crisis is not being sufficiently addressed at the U of A, and is being hampered.
"What is going on at the University of Alberta to limit that [progress] — it's one of those things that keeps me up at night."
Isabel Altamirano-Jimenez, a professor in the department of political science at the U of A, said that beyond being "inherently a conflict of interest," ties to oil and gas speak to larger conversations about the colonial history of universities.
"I think a depiction of the value of education only in terms of what can produce wealth … reinforces settler colonial notions of extraction," she said. "This type of evaluation sacrifices communities, for corporate interests, and subordinates local priorities to global oil, gas, and mining industries."
CORRECTION: This article was updated at 4:53 p.m. to reflect that Chris Beasley spoke in his capacity as a former member of student governance and undergraduate student. A previous version of the article described Beasley as a representative from CAUS. The Gateway regrets this error.