Institutional
News
BoG Chair Kate Chisholm opens up to Council about divestment and alternative revenue
The board chair was an open book for student councillors to ask questions about any topic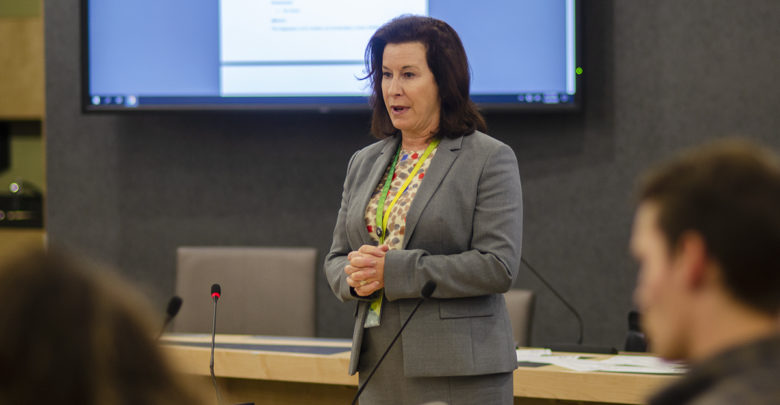 From divesting from oil to the University of Alberta seeking alternative revenue streams, the Board of Governors chair, Kate Chisholm, was questioned by Students' Council.
At their January 28 meeting, Board of Governors chair Kate Chisholm introduced herself to councillors and entertained questions about the board from them. In what was to be only a 15 minute presentation, council suspended its standing orders to allow for approximately 52 minutes of questioning.
Topics discussed included the U of A's position on divestment from petrochemicals, addressing student feelings of neglect, Indigenous representation on the Board of Governors, and others.
Kate Chisholm is a U of A alumna, who completed her bachelor of laws degree in 1988. While at the university as a student, she was part of Student Legal Services and the Grad Council. She went on complete an MBA at Queen's University. Since then, Chisholm has sat on a number of boards and is a member of the Alberta Securities Commission. She currently works for Capital Power as senior vice-president, chief legal and sustainability officer.
During her opening remarks, Chisholm told council her business background is "probably" why the United Conservative Party (UCP) chose her to be appointed as chair of the Board of Governors "so suddenly" earlier this year.
Chisholm replaced previous chair Michael Phair after four-and-a-half years of chairing the board, despite being re-appointed last February for another three-year term.
She assured council that she is not someone who is closely affiliated with the UCP.
"I am not a bagman for the UCP," Chisholm said. "They may have known — although they didn't tell me when they appointed me — there are a number of important business considerations that will have to be made at the U of A this year."
"There isn't any sector that isn't affected… by this budget," she said. "When you come to the U of A, take this very lightly, that the size of the provincial grant is going to diminish over time and the university is going to have to figure out how to raise revenue from alternative sources to replace that revenue. That is going to take a whole bunch of different considerations, and business considerations are one of those types."
She added that any business-centred measure she would propose would only be done to help the institution and not impact student accessibility or impede student experience.
Chisholm told council that the government has not given the U of A "any specific marching orders yet," but that "times are tough."
"The U of A Board of Governors is trying as hard as it can to make sure that at the end of the day, we can not only keep the U of A boat upright but do it in a way that balances the best interests of students, the best long-term interests of the university," she added.
After her remarks, she entertained questions about any topic from council.
To divest or not to divest? For Chisholm, divestment is a no
Arts councillor Talia Dixon asked Chisholm if divestment from oil and gas sectors is a priority for the U of A. She said that other post-secondaries around the country, including UBC, have either begun or at least are having conversations about divestment.
"What work, if any, is the Board of Governors doing into looking towards if we can sustainably divest from oil?," Dixon asked.
"The Board of Governors is not looking at that," Chisholm promptly responded.
Chisholm added that one reason why divestment hasn't come up the board is because current U of A research is exploring taking greenhouse gas emissions out of oil and gas production.
"The university is working really really hard on climate change," she said. "But, I think there are a lot of scientists and engineers that would disagree with the proposition that the best way to attack climate change is by getting off oil."
"That is certainly my personal opinion as well," Chisholm added.
Arts councillor Juan Vargas Alba asked about divestment again. In response to this question, Chisholm said that "no one" has presented divestment to the board as of this point.
"I am an ardent believer of climate change," she said. "So please don't suggest that you care more about the environment than I do because it is just boldly false."
"I believe we need to have all of our scientists and all of our engineers to be working as hard as they can on every possible solution to climate change, rather than knocking some of them out [by divesting] before we know which ones will work faster and better."
Councillors ask board to address feelings of student neglect
In another question, councillor Dixon asked Chisholm why the board continues to make decisions which, in her view, continue to harm students.
"A lot of students feel completely neglected and ignored by the Board of Governors, no matter if we are protesting, shouting, writing letters, or having our two representatives ask questions," Dixon said as she prefaced her question. "I have talked with so many students and so many councillors about this, and I know that this is like a common — if not the only — feeling about the board."
"For me personally, it is kind of disappointing because when I look at all of you I see people who are old enough to be my parents and I want to be caring for me. But a lot of the time these actions don't reflect that at all."
"I've been told a lot by the Board of Governors, and I think we all have [as councillors], that you care about our input. I wish that, that would be enough to assure me that the right thing would be done."
Many councillors echoed support for Dixon's question in a parliamentary fashion by banging on their desks.
Chisholm responded by apologizing for having a board that makes Dixon feel neglected.
"I am sorry that you feel neglected, but I can assure you every member of the Board of Governors would be very disappointed to hear what you just said," Chisholm said. "We do our best to protect students and the learning experience at the U of A."
"However, I think that probably there is context that the Board of Governors has to consider that is not being considered by the students," she said. "For example, that is budget… There are a lot of impeding things that we have to balance, and students are very very important to us. But there are other competing interests as well."
Indigenous representative for BoG? Let me get back to you on that
Open studies councillor Charles Blondin asked Chisholm about the status of installing an Indigenous representative on the Board of Governors. This was put forward as a goal by past boards.
"I don't know the answer to that question, but I will certainly get back to you," she pledged.
Deferred maintenance to be deferred, again
Dixon also asked Chisholm about what the status of deferred maintenance at the U of A would look like after Budget 2019. Deferred maintenance is when infrastructure components are scheduled to be repaired within a particular time but aren't, resulting in costlier future repairs.
The UCP budget reduced the infrastructure maintenance program funding for all post-secondaries in the province to zero. The U of A's share of that grant amounted to around $35 million.
Chisholm said some projects have been cancelled by the university and others which could not be are ongoing.
"That is going to defer our deferred maintenance repairs a little bit," she said.
University seeking alternative revenue
Alba asked the board chair about what the university is doing to "fight" for government funding from the province.
Chisholm assured Vargas Alba that the board is in "constant" communication with the provincial government regarding funding. At no point in her response did she say what those communications entailed.
She then added that the U of A has an office of advancement which is in charge of seeking both private donors and external corporation support for the U of A.
"So [the office of advancement] is fighting everyday for non-government dollars," Chisholm said.
Additionally, Chisholm said that the university is currently speaking with the federal government to change the structure of many federal grants. Currently, some provincial grants are matched by contributions from the federal government. This means if grants from the province decrease, the federal contribution will follow suit. Chisholm said the university is hoping to "divorce the two."
Chisholm mentioned that the board has created an ad-hoc committee exploring alternative revenue sources outside of what she mentioned.
In conclusion to her response to Vargas Alba's question, Chisholm said the board is doing everything it can right now.
"We are doing, I think, everything we can," she said.