Campus Life
News
Research
U of A professor researches the interaction between Muslim seniors and healthcare
Jordana Salma hopes her research will aid in implementing programs that make health-care resources more equitable for vulnerable community members.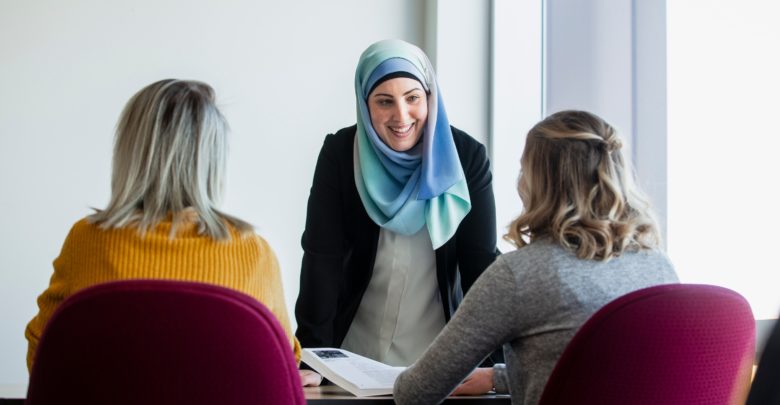 A University of Alberta professor is working directly with the Arabic-speaking Muslim community to discuss and implement changes in the healthcare system that make resources more accessible and culturally-sensitive. 
Jordana Salma, an assistant professor in the faculty of nursing, is working with an interdisciplinary team to collect feedback from marginalized community members — especially seniors and women. She hopes her research will aid in the implementation of programs that make healthcare resources more equitable and accessible to vulnerable community members.
Salma's research has guided the development of pilot programs where seniors engage in exercises guided by a fitness instructor and a photo voice project documenting the experiences of Muslim women facing social isolation.
"[I am] focusing on healthy aging in diverse populations including immigrants, refugees, racialized communities, and minoritized communities, and I take a feminist, post-colonial lens to my work," Salma stated. "[I have to be] sensitive to the unique histories and sometimes injustices that different communities might have experienced and how that impacts how these communities interact with the healthcare system."
From previous studies, Salma identified social isolation in older populations and a lack of culturally-sensitive health-care practices as barriers to accessing equitable resources.
"I wanted to go back to the community and see how we can engage these communities in healthy living and do that in ways that are sensitive to diversity because I'm also from a diverse background," Salma said. "I have lived in the Middle East, I speak Arabic, and I'm from the Muslim community. If you're from a community, you are more aware of some of the challenges in that community."
Salma emphasized the active role community members play in directing the research and developing solutions to their concerns, often with a deeper understanding of these issues. 
"One of the [outcomes that] is more tangible is you have community empowerment," she said. "You can, as a researcher, become a tool for the community for them to meet their goals, and often the community is better at solving their own problems than we are in academia."
An important aspect of conducting her research effectively was gaining the acceptance of groups which Salma believes, through literature reviews, have been subject to discrimination in academia.
"Community engagement becomes key in any research that works with communities that might have experienced inequities over their histories; engagement through building trust and reciprocity is key," Salma said. "Trust would mean the community trusting you have their best interest in mind and you will represent them well."
Salma is encouraged to see the positive impacts of her current pilot programs and hopes to further her work with a focus on Islamophobia's influence on female mobility within their neighbourhoods.
"Some of the benefits of our work are tangible in the sense you implement a new program, but some of it is just people being able to voice their concerns, talk to each other, and to problem-solve together by having more of those safe spaces."