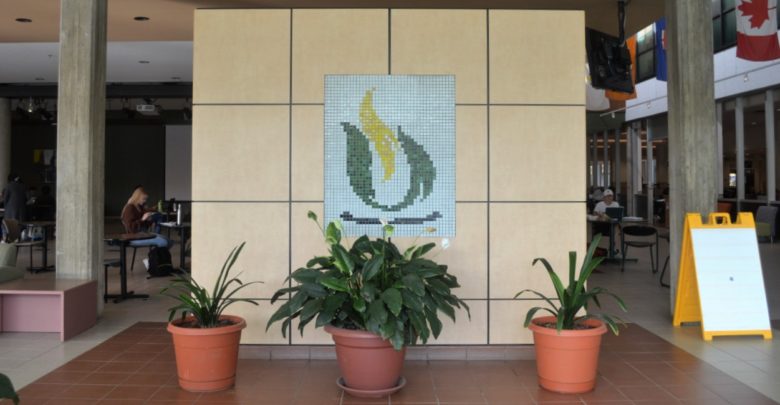 President
The next Students' Union president is Rowan Ley.
Ley, a fifth-year history student and current vice-president (external), won in the first round of voting. In his acceptance speech, he acknowledged the limitations of an uncontested race.
"I want to say thank you to the voters who supported me," he said. "I am very conscious that you did not have as many options in the selection as you deserve, but that just makes me more determined to work harder for you to make sure you don't regret it."
He added that one of his goals has been to "go big or go home."
"There may be some big wins this year," he said. "There may be some losses but I can promise you all that either way it will be a wild ride and adventure."
While Ley joked that the first thing he would do is clean out the office of his predecessor, Joel Agarwal, he said that he is excited to start meeting with the people he "need[s] to build relationships with."
"I believe that the job of presidents is fundamentally about … connections," Ley said.
One message Ley had for students was of hope for the year to come.
"I know that it has been an absolutely brutal year, and that most of you are feeling miserable and stressed out and exhausted," he said. "I am too. But I want you to know that … the light at the end of the tunnel is getting closer."
"I'm looking forward to being back on campus with every one of you to enjoy the amenities and the life that university has to offer together and make it even better than it was when we found it."
— Rachel Narvey
Vice-president (academic)
Abner Monteiro, a fifth-year kinesiology student and current Students' Union kinesiology, sport, and recreation councillor, will become the next vice-president (academic).
"At the beginning of this year I never would have thought I would [be] running for vice-president (academic) but my passion to help my peers and make our education better has drawn me to this role and I'm excited to fight alongside all of you," Monteiro said in his acceptance speech.
Despite the last two weeks of campaigning being a "whirlwind" for Monteiro's team, he wanted to thank those who supported him.
"[Thank you] to David Draper for always being there to answer all of my VPA-related questions over this past year and to [president] Joel Agarwal for seeing something in me and encouraging me to take on this role," Monteiro explained.
In his new role, Monteiro said he hopes to continue pursuing issues surrounding online learning, establishing resources for Student Representative Associations (SRAs) and promoting student advocacy through the General Faculties Council (GFC).
"I've been constantly learning and reflecting on what students want to see out of the candidates and this whole journey has made me more confident in my ability to help students and show them just how badly we need creative communication and accountability in the Student's Union," Monteiro said.
— Disha Hazra
Vice-president (external)
The next vice-president of the Students' Union is Christian Fotang, a third-year biological sciences student and current Students' Council science councillor.
In his acceptance speech, Fotang highlighted his plan to listen to students.
"I will work everyday to the best of my abilities to ensure your voices are represented throughout this community and throughout all levels of government," he said.
In an interview with The Gateway Fotang said his first steps as vice-president (external) will be getting to know the other members of the executive and set priorities as a team, and strengthening connections between North campus, Augustuana, and Campus Saint-Jean.
Reflecting on the virtual campaign period, Fotang touched on the importance of connecting with students.
"I really miss the one-on-ones with students [of in-person campaigning] – being there and seeing people in person, having that face-to-face connection," he said.
Fotang emphasized a message of hope to the university community.
"I understand how it's easy to be disheartened right now, but have hope," he said. "Together we can get out of this, through creating a movement of students that can show this government that we're angry, and [also] working with the government where we can to get things done."
— Paige Miller
Vice-president (operations and finance)
Emily Kimani fourth-year immunology and infection student and current Students' Council science councillor, will be the next Studnets' Union vice-president (operations and finance).
Kimani won by a small margin against her competitor, only 93 votes separated both contestants in the second round of voting.
"I feel amazing and I am so humble and thankful to all the students who voted and supported me," Kimani said
Despite the difficulties found along the way Kamani remains positive she will build and strengthen new and existing relationships.
"The first thing I am gonna do when I take office is start building relationships," Kimani said "Because community building, relationship building is what is gonna make this term successful."
As Kimani's opponent, Julia Villoso, a second-year psychology and anthropology student and current arts councillor in the Students' Council, but believes she "ran a great campaign."
"I can't lie and say that I'm not a little disappointed, but honestly I'm only in my second-year of university, it is a little too early for me and it obviously wasn't my time," Villoso said.
She believes she needs more experience in student governance for next time. Even though she lost, it was by 93, which she says is "not a very big difference."
For Villoso, the most challenging part of campaigning online was engaging with students. While in the past candidates could go in-person and use posters, none of that was used which she felt was difficult.
Villoso does not plan on stepping back from student governance, she plans to pursue it more. She planned to keep engaging in the SU whether she won or lost.
"I plan on running for council again and GFC and maybe for OASIS too, I'm not sure yet, but that's what I have in mind," Villoso said.
— Christian Sanchez and Remi Hou
Vice-president (student life)
Talia Dixon, a fourth-year political science and women's and gender studies double major and current Students' Council arts councillor, will be the next vice-president (student life).
"I would like to thank Daniela, who ran a very inspiring campaign," Dixon said in her acceptance speech. "One that drew a lot of attention to issues on our campus that we often ignore, particularly issues of Augustana."
As she enters the role of vice-president (student life), Dixon plans to begin by focussing on events.
"I do know event planning takes a long time, so I do have a big focus on working towards making sure Aboriginal Awareness Week is hosted, as well as improving our mental health supports on campus," Dixon said. "I think those are my two big concerns to start with, and making more supports for [sexual assault] survivors as well."
Daniela Carbajal, a third-year psychology student and current Students' Council Augustana councillor, said she doesn't feel bad about the election results.
"I am one of the first students from Augustana to run," Carbajal said. "I ran the campaign on my own, and it's my first year in council as well, so I'm not too sad because I'm happy with the results of the work I put in."
When talking about the future, Carbajal mentioned being offered a position in an upcoming City of Edmonton anti-racism education advisory committee, as well as plans of running again.
"I do plan on running again next year," Carbajal said.
— Areeha Mahal
Board of Governors
Dave Konrad has been re-elected as Board of Governors representative.
Konrad, a third-year environmental and conservation sciences student, said he will continue to work on the promises he has made throughout his campaign from Indigenous representation, tuition advocacy to meeting with Augustana Students Association – which he plans to do next week.
"Personally, [I'm] going to Steven Dew, and just working through the tangibles and what I can do to help these programs get off the ground," he said.
With a lighter course load, Konrad is excited to begin this term. Konrad says being re-elected has shown him that he has grown since his last election.
"It has matured me and it's made me more cynical to some extent but I remain hopeful," he said.
Konrad's message to U of A students is he wants to resolve the barriers between the student body and the elected representatives. He invited students to connect with representatives to simply talk about the issues that they have.
"I think miscommunication is one of the largest obstacles we face as elected representatives," Konrad said. "Let's take steps to start resolving those instead of just holding them up"
Konrad also sent his thanks to his volunteers for all their work for his campaign.
— Amanda Dang
U-Pass referendum
With 86 per cent of votes, the U-Pass passed.
U-Pass representative Katie Kidd said it was a happy experience to have the U of A community send a strong message about how much students value the U-Pass and accessible transit.
"It has its ups and downs, but we took advantage of every avenue present to us through social media and made a lot of Tik Toks," said Kidd on online campaigning.
The next step for the U-Pass is for the vote to pass at all schools and then for the contract to be signed.
Kidd concluded by thanking her team at the Students' Union and thanking the U of A community for making sure they have a way to get home.
— Doha Hameid
Golden Bears and Pandas Legacy Fund referendum
With 64 per cent of votes, the Golden Bears and Pandas Legacy fund passed.
Cameo Hanlon, a Golden Bears and Legacy Fund representative, said it will be fantastic to go back to the university with resources in place for the student body.
Hanlon said that the campaign had an element of mystery due to its online nature.
"It was interesting to not be able to get a good feel on how the student population was feeling because you couldn't see anyone," she said.
She said the next step would be opening the 2021-2022 applications for events and initiatives, and concluded by thanking her team for a successful campaign and the U of A community for voting.
— Doha Hameid
The Gateway Plebiscite
With 42 per cent of the vote, The Gateway plebiscite did not pass.