Institutional
News
Advanced education minister fields questions from concerned students at Alberta 2030 town hall
Students questioned advanced education minister Demetrios Nicolaides about the lack of emergency pandemic funding, and expressed their concerns for performance-based funding models and tuition deregulation at a January 7 town hall.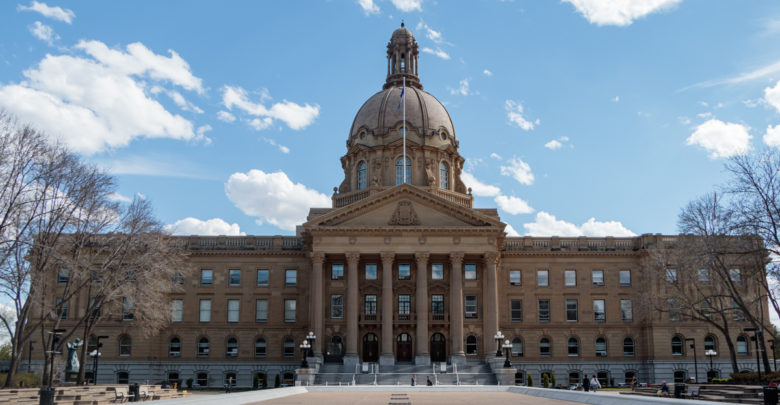 Students raised concerns about the Alberta government's approach to post-secondary education funding at a recent town hall. 
The minister of advanced education Demetrios Nicolaides described his Alberta 2030 plan, a 10-year plan with six outlined goals to enhance internationalization, access and student experience, commercialization and skills for jobs, financial stability, and governance. After a brief presentation, the event offered a question and answer format. Throughout the event, students expressed their concerns about issues related to university affordability and performance-based funding.
Nicolaides shared the vision of Alberta 2030 at the January 7 townhall, describing the future of the post-secondary system as one that equips Albertans with "skills, knowledge, and competencies" for success.
"[Alberta's world-class post-secondary system] will be highly responsive to labour market needs," Nicolaides said. "Through innovative programming and excellence in research, [it will] contribute to the betterment of an innovative and prosperous Alberta."
Though the Alberta 2030 plan is still in development, Nicolaides began the town hall by emphasizing student work integrated learning opportunities as a core feature of the plan.
"The evidence behind work integrated learning is crystal clear," he said. "Students that have the opportunity to participate in work integrated learning have faster transitions to work, earn higher incomes after graduation and generally have faster transitions to work and higher career success."
Tuition deregulation still up in the air for Alberta 2030
Harnoor Kochar, a U of A political science student, questioned Nicolaides about the possibility of deregulating tuition in the future. Currently, an institution cannot increase tuition more than 7 per cent per year.
During the town hall, Nicolaides had said he had some "challenges and concerns" with the deregulation of tuition, but didn't confirm whether it was off the table.
"I'm wondering whether you could confirm whether your government is looking at [tuition deregulation] through the 2030 panel," Kochar asked. "Are you considering it and if not will you commit to not deregulating tuition?"
"I would turn that back to you," Nicolaides said. "What type of tuition policy should the 2030 strategy contain, what should tuition look like, should it be deregulated, should there be a cap on it, what should that be, how should it be structured?"
Mateusz, a U of C undergraduate student, responded directly to the minister.
"I think I speak for a super majority of students across the province and in this town hall when I say the answer to whether you should deregulate tuition or cut more funding for post-secondary education in Alberta is a resounding no," he said.
He went on to ask Nicolaides to explain what he saw as a disconnect between the economic austerity described by the minister and affordances made for corporations in Alberta.
"Why do you and your government think it's appropriate to cut public funding for universities by tens of millions of dollars, forcing universities to significantly increase tuition at a time when more students than ever are literally going hungry and unable to find work," he asked.
"[This is] all while … slashing corporate taxes for foreign owned billion dollar corporations, many of whom have sent their tax savings to out of province shareholders and laid off even more Alberta workers."
"Unfortunately the Government of Alberta is in a very challenging financial situation," Nicolaides said. "That comes back to the development of Alberta 2030 because, yes we can overcome these immediate challenges, but it's also important that we do so with a renewed vision for the future."
Government's potential performance-based funding model among top student concerns
Many students questioned the government's possible future addition of performance-based funding to the Alberta 2030 plan after the funding model's implementation was delayed in response to COVID-19.
Arnold Gihozo, an Augustana computing science student asked a question about performance based funding, citing his worry about the impact it could have on Augustana's rural based community.
"It's no secret that small campuses such as Augustana are underfunded as we speak," Gihozo said. "How are you planning to support the community driven mission of these campuses as well as diversity within post secondary education?"
"I think your question speaks to maintaining access in rural and remote communities," Nicolaides responded. "I think we need to look at potential changes to governance models that can allow our institutions to operate more efficiently. We need to look at digital and remote learning models to help reach more learners."
Nicolaides cited micro-credentials — mini-qualifications demonstrating knowledge of skills — as possible avenues for improving access.
Kochar also expressed concern about the impact of performance based funding on her faculty.
"As an arts student, I'm extremely concerned about the imposition of a performance based funding for post-secondary institutions," she said.
Kochar described the performance-based funding criteria as punitive towards the faculty of arts. Specifically Kochar mentioned work integrated learning opportunities which she argued are typically more readily available within science and the applied sciences.
Nicolaides acknowledged the discrepancy between funding for arts-based internships.
"To your point [the internships we are funding through mitacs] are research-based and tend to slant towards particular professions and occupations," he said. "However that being said, under our goal of skills for jobs [one of the objectives is] to give every student the opportunity to participate in a work integrated learning."
Questions about lack of post-secondary funding
Cole Baker, a MacEwan business student, commented during the town hall about a point of contention they noticed when seeking answers about post-secondary funding.
"When I approach my institution regarding affordability, I am told that it is out of their hands, that the government has cut funds and they had to reallocate funds, and that is why tuition is going up," they said.
"When I ask my government why tuition is going up, I'm told that the government doesn't control how an institution spends their money and I'm frustrated and tired of being stuck in a loop of tag, where it seems like everyone is not it, and the bill is being left for Alberta students."
Rowan Ley, vice-president (external), remarked earlier in the event that while decisions around tuition are mostly made by the board of governors (BoG) of individual institutions, the government must take responsibility for issues of affordability and funding.
"Affordable education is a social good and so the buck does ultimately stop with the government," he said. "Our [tuition] costs … are slightly above the Canadian average but we do have the least needs-based and non-repayable student aid of any province."
"Do we plan in the Alberta 2030 review on improving the student aid system in Alberta, particularly regarding access for economically marginalized students?"
Nicolaides tossed the question back to the town hall attendees.
"I'm a big fan of upfront grants," he said. "I think that there's perhaps more that can be done there but would be interested to get the thoughts and perspectives of the group; if we were to make changes to student aid, what should that look like and what should the priorities be?"
Frank Finley, the president of the University of Calgary Students' Union, posed a question about an absence of emergency funding for students in the wake of the economic scarcity created by the pandemic.
"My conversations with you have not yielded any response on this file," he said. "I'm curious as to why we have not done anything to economically support students during the pandemic but have instead continued to cut, causing tuition to be raised."
Finley pointed to other provinces like British Columbia, where $5 million in emergency funding has been made available to students.
Nicolaides cited the annual $5 million his government has put towards supporting paid research-based internships for students for the next three years.
"We know that these targeted initiatives are necessary to support our students and help ensure that they have opportunities for the future," Nicolaides said. "Of course that's one piece of the puzzle … we're looking at things from a ten-year perspective."