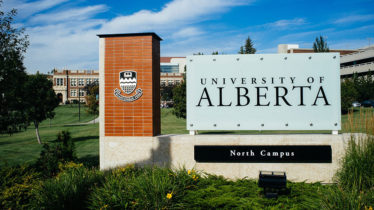 The University of Alberta has introduced new restrictions on campus activities to prevent COVID-19 spread, based on new provincial guidelines.
In an email sent to students and staff at approximately 6:50 p.m. on November 12, the U of A said it would be implementing new restrictions to bring itself in-line with provincial directives by suspending indoor group fitness and team sports, all theatre activities involving singing and dancing, further reducing the number of people using in-person work areas, and implementing a 15-person limit on all outdoor and indoor social campus gatherings.
The new restrictions will be in place between November 13 to 27, 2020.
The university clarified in its email that social gatherings do not include university courses.
"This afternoon the premier announced a number of new COVID-19 health restrictions, including some that apply specifically to Edmonton and surrounding areas," the U of A said in their email to students and staff.
"These restrictions will impact a number of activities that had been previously planned to take place at the U of A."
Fitness centres currently open at the U of A will remain open only for individual training.
The suspension of indoor group fitness and team sports will apply to all fitness and dance classes, club sports, curling leagues, and intramural sport activities until at least November 27. Rentals for team sports activities will also be suspended at all U of A facilities.
The U of A said, based on direction from the provincial government, Varsity Athletics will be able to continue as planned. Additionally, gymnastics and tennis will be allowed to proceed.
All in-person courses at the U of A currently underway that include singing, dancing, or theatre performance will be suspended. All impacted students and instructors will be contacted directly before their classes resume next week, following the conclusion of reading week. Remote teaching plans will be activated by instructors for any affected students.
The U of A said it would be continuing to work to reduce the number of employees working in-person at one time, wherever possible. This provision does not apply to individuals in positions that can only be achieved through in-person activity, such as grounds and maintenance. University staff are to check with their supervisor to see if they are to make a temporary shift to remote work.
To date, the U of A has had one confirmed outbreak of COVID-19 in one of its residences. Additionally, university administrators publicly revealed the university had its first case of community transmission back in March. The university has not disclosed further case numbers since.
Provincial government announces new measures to "curb the rapid growth of COVID-19" cases
Earlier on November 12, Alberta Premier Jason Kenney and Chief Medical Officer of Health Dr. Deena Hinshaw announced further restrictions to help "curb" COVID-19 case numbers.
As of publication, Alberta has 8,305 active cases of COVID-19, with hospitalizations and intensive care unit admissions at their highest point since the pandemic began.
"We must take action at this critical point to contain the rapid growth of COVID-19 in our province," Kenney said. "Through our actions, we can support the health-care system, keep schools open, protect vulnerable Albertans and keep the economy operating throughout the province. This is our chance. If Albertans respond to these and other public health guidelines now, we won't need more restrictive measures in the future."
Starting November 13, all restaurants, bars, lounges and pubs in regions under enhanced status — including Edmonton and surrounding areas, Calgary and surrounding areas, Grande Prairie, Fort McMurray, Red Deer, and Lethbridge — must cease liquor sales by 10 p.m. and close by 11 p.m. The restriction will remain in place until November 27.
Additional restrictions included employers implementing remote work plans to reduce the number of in-person workers at one time in office settings and suspending all in-person group fitness classes and team sport activities.
"We must reduce the spread of COVID-19," Hinshaw added. "In addition to these measures, I am asking all Albertans to look at our lives and reduce our social and close contact interactions wherever we can."
"If we can connect virtually or through other means, we need to make that change. By working together, we can protect each other, reduce the spread and protect our health system."