Elections 2020
News
SU Elections 2020 Q&A: Undergraduate Board of Governors Representative
Two candidates are vying for your vote to become Board of Governors representative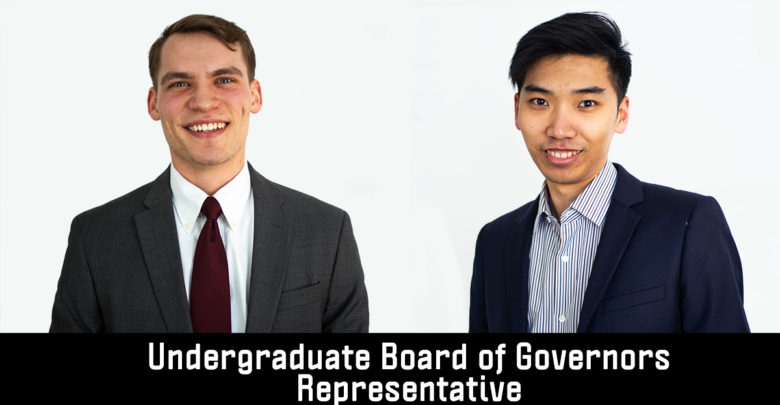 The Board of Governors is the highest decision-making body at the University of Alberta when it comes to financial decisions like domestic and international tuition, residence rent increases, and meal plan rates. Out of the 20 voting members on the board, two of them are undergraduate student representatives: the Students' Union president and the Undergraduate Board of Governors Representative.
This year there are two candidates running for this position: Albert Hu, third-year medical student in the Doctor of Medicine (MD) undergraduate professional program, and Dave Konrad, second-year bachelor of environmental and conservation sciences student majoring in human dimensions of environmental management and ALES councillor on Students' Council.
Follow the links to watch their candidate's pitch: Albert Hu, Dave Konrad.
The following interview has been condensed and simplified for clarity.
---
In one minute, can you tell us why you are running for Board of Governors representative?
Albert Hu: I've always been interested in institutional policies. Last year, I worked with Michael Phair, the chair of our board in the community, and I learned a lot about policy-making for institutions. I have some fresh ideas, more academic ideas about how we can better run the policies of the U of A. I will focus on stronger academic support, stronger risk management of our policies, and better spending and investment strategies for the endowment fund.
Dave Konrad: I am running for the board because I see we have lots of issues. We have this situation in which, like absolutely, we're dealing with higher tuition, and we're dealing with separation between students and governance, right? So, I want to fix the relationship between the students and well the board specifically, right? I believe right now we have the stigma as students towards governance, and the governance isn't fully aware of its students need — this is a long-standing issue. We are always looking at how to fix this. So why I am running? I am running to fix that relationship through better face-to-face engagement with the two groups, through education to students about the Board and who they are, so that people can work better together in relationship with each other.
Can you concisely explain your platform?
Hu: We've been facing financial challenges at the university level, but I want to make policies that ensure the academic aspect of university life is not impacted. I want our overall academic reputation and ranking to continue to improve despite these financial challenges. To do that, I think the endowment fund needs an update on its spending and growth policies. I think the endowment fund is a solution to some of our financial difficulties. Finally, I think risk management is a major task and responsibility of the board. We have many, many university programs that have very good risk management policies, but we don't really have a good risk management review process to mitigate some risk. So I want to include more policies to ensure various programs involving students can minimize risk before it happens with a special focus on violence and abuse against students.
Konrad: I would say right now there are five points. The first would be, I want to negotiate reduce tuition increases, through working with people at the Students' Union and through developing personal relationships with board members as well.
Secondly, I would like to increase board transparency. In this case that would be continuing Rowan Ley's livestreaming initiative, but then also creating a social media campaign in which I can educate students on who the board is, and what they're doing that matters to the students. So that will be through Facebook, Instagram, Twitter, et cetera, possibly Students' Union TV, if I can get the funding framed right to the board.
Thirdly, would be increasing, or, improving relationships between Board members and students, and that would be as I said before through increasing face-time with the two through faculty association events and Students' Union events. I think also framing, framing the Boards decisions better as well. When we think of something like investment, can I publicise investment and shift the Board's opinion on investment to create…, in a more ethical direction, from where they are right now. Because I believe that is also a part of, effecting students and how they see the Board, right? What are the choices that these high-level executives are making?
Fourthly, would be consultation. I hope to consistently consult faculty associations, at least monthly, including Campus Saint Jean and Augustana, educating them. Consulting with people at least monthly, probably within the context of the Council of Faculty Associations senior board meeting, but if that doesn't work then I will group faculty associations and have meetings with groups as well to do that, and lastly would be transition. Just ensuring that there is adequate transition documentation for the next Board of Governors so that they can really step into that role.
The Board of Governors is responsible for the university's fiscal decisions including domestic and international tuition, residence rent, and meal plans. How will you make sure student's voices are heard on these issues?
Hu: I think the student representative on the Board of Governors has two major responsibilities: one is my responsibility to the university as a whole, and two is to represent the students at this level. I already mentioned some of the financial challenges in previous questions. I think fundamentally, student's tuition only makes a very small portion of the whole cost of running the university. If you look at the running costs as the cost to educate these students, the amount we pay is a very small portion. It does not make sense to ask students to pay more to fix problems at a much bigger scale. Like I mentioned, I think the endowment fund is a solution and better growth and spending strategies will help in this regard.
Konrad: When choices come up in the Board in the larger setting, I will stand with the Students' Union president, in solidarity. We will be united voices on that front, I will be working closely with that person regularly. In terms of international and domestic tuition, right now, there will always be more education, right? There will always be more coming down the pipe in terms of budgetary choices and things like that. Working with the Students' Union department of advocacy and research to look at exactly what are the numbers on different financial situations for students at the university level, out by the administration level. Where is the money and can we reshuffle it? Can we keep pushing this around? Instead of settling on that student tuition is just a solution — because when a group has that kind of mindset, it can become a lot easier when there is no opposition to that. So simply being that opposition, I think, is part of it. But the advocacy, and then also working with the vice-president (external) and the Students' Union president to advocate alongside the board. They are not all just evil people, right? And even that is an oversimplification, but working with all of those people to get a predictable budget, a predictable tuition situation, predictable university budget, not just provincial budget for the university so that we know what's coming, so that we can anticipate more than just having to wait for the end of February.
If elected, how will you meaningfully consult with students at all campuses on issues that are brought to the Board of Governors?
Hu: The University of Alberta has many campuses and some of them are quite a far away. Even just within the medical school of which I am a student in, we have many, many campuses. In fact some of our students take electives all across the country. I think it only makes sense to leverage the technology and outlets like social media as the solution to gathering student thoughts and voices like this.
Konrad: Honestly, I think one of the most exciting things for me, because I love people — I just love connecting with people. As I said before I really want to hear from kind of that overhead view of in terms of student governance of what's happening, what's new. Also connecting with Campus Saint Jean and Augustana, at least monthly. In terms of consultation we think of physical in-person consultation, but I do also want to push for simple conference calling. Conference calling or video calling. If I choose to allocate the time, I would like to make it out to Campus Saint Jean and Augustana a few times, just to meet people face-to-face. Because I think that's so valuable.
Many councillors on Students' Council have said they feel like the board doesn't effectively deal with student concerns. How will you ensure that student interests are discussed on the board?
Hu: I mentioned that the board's primary responsibility is to the university as a whole, and the university has many stakeholders and students are one of them. The job of the board unfortunately is at another level at policy-making, and sometimes they can be quite academic. Some of the board decisions may not have an effect on students until years later. I understand some of the student concerns are more immediate and they are often better managed by university administration instead of a board at policy level. Sometimes even if the board wants to help students with a policy, they are limited by the types of policies they can make. However, I think that is primarily my job to bring the student's interests to the board and I have about three years of past experience serving on nonprofit and for-profit boards. I think I know the right way and process to bring students' voices and issues to the board level. I will also work with students to differentiate things the board can and cannot help with, and direct them to my colleagues or work with administration to resolve these issues.
Konrad: I will not invalidate that concern, because I think that is absolutely true, to some measure. But (with) all of these things, we have to be careful of making dogmatic statements or over-generalizing things. To some measure I think that happens, but to some measure I think we also fail to understand sometimes, and that's why I am so excited to step into this space to get a more holistic perspective. And that's not to say that I want to sell out, I don't want to hurt students in any way, but I want to learn more and understand better. So how will I respond to that? I will work to create evidence-based cases to present to the board. I will collaborate with as many people as I can to learn as much as I can, to advocate as well as I can for students. Right, that looks like consulting with all the vice-presidents, that looks like consulting with faculty associations.
If there is a motion before the Board of Governors that you believe is against student interest, how would you persuade other members of the board to vote against it?
Hu: I will persuade the board by showing how this policy negatively impacts the university community as a whole. Like I said, students are only a portion of the university community, but the primary goal of the university is to educate students. If a policy is against student interest, it most likely hinders the development of the university as a whole. I will argue at the level of the university's development, and I will argue around the reputation of the university and our long-term development goals.
Konrad: One of the biggest things I think we see in politics is framing… so I think how we go about framing issues and solutions in this context is incredibly important. Things I would do, as I just mentioned, would be having those one-on-one relationships — obviously that would have to be groundwork done before that vote goes forward, or something like that — but when something comes up, absolutely jumping on consultation with one-on-ones. I want to really find data-driven solutions to board advocacy. There is no ambiguity here. I don't want to villanize people that way. I don't want to be angry and argumentative, but I do want to be, you know, confident, calm, and diplomatic.
Joke: The board has said you have the opportunity to name the newly renovated Dent-Pharm building, what would you name it?
Hu: I really like that building, it's very pretty. We have no medical building. In fact, the medical science building is taken over by pharmacy. Why don't we call it the medicine building? I would love that building as the medical faculty's home.
Konrad: Probably just the Dentistry-Pharmacy Building, I am sorry! Or, like, maybe if there was like a key fund or something, it'd be like the Konrad Dentistry-Pharmacy Building, you know?