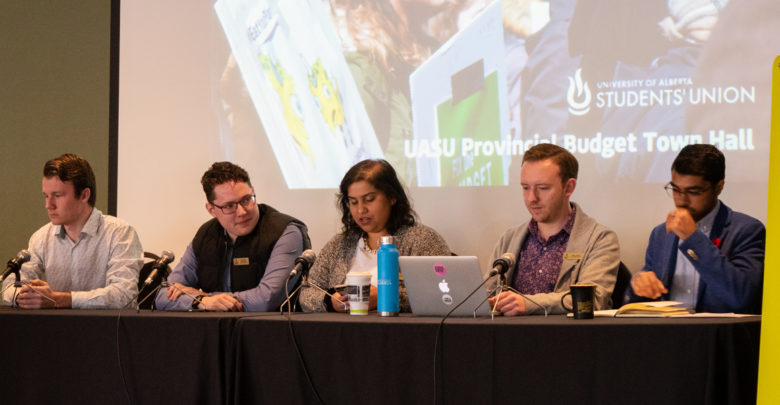 It didn't take long to figure out that the new provincial budget is catastrophic for post-secondary education: drastic, year-over-year cuts to base funding, 7 per cent tuition increases, student loan rate increases, and threats of a "performance-based" funding model to come in the near future. So why did Students' Union executives remain so quiet when the budget was tabled?
At a town hall event held two weeks after the budget tabling, SU executives gave a brief presentation at SUB Stage about the potential impacts of the budget, followed by an opportunity for questions or comments. They also made an announcement that the SU would be hosting a protest action the following Monday, simultaneously with the Students' Association of MacEwan University (SAMU).
The tone of the event was strange: executives claimed the hall was to figure out what students were interested in doing to fight the cuts, but they already had an event planned, and were frequently defensive when criticized by students.
Coming two weeks after the budget was tabled, the town hall was too little, too late. It wasn't hard to predict that cuts to post-secondary were coming, but the SU was asleep at the wheel. There was no action plan aside from a few lukewarm press releases, and for days students were left wondering if their representatives were going to do anything at all. A consultative town hall-style event such as this one should have been held following the release of the MacKinnon Report, when it was clear that cuts to post-secondary were imminent. Planning should have started then for a rapid response, not much later.
It appears the SU has not learnt anything from its own mistakes: a similar campaign was undertaken two years ago to deliver postcards and stories to the Board of Directors to oppose international student tuition increases and residence rate increases. It didn't work then, and it won't work now.
Despite being a union first and foremost, the SU has forgotten how to organize. The overbearing corporate culture of the SU has transformed it into a business first and a student organization second, which has weakened our ability to fight back against university and government cuts. With only two votes on the Board of Governors and a poorly organized minority on General Faculties Council, the only real power the SU has is the ability organize students to disrupt university activities with protests, sit-ins, and strikes.
Even then, those protests can come across as ineffectual — representatives our very own SU met with the Minister of Advanced Education, Demetrios Nicolaides, right before the postsecondary protest, which just undercut the protest's whole point: to pressure the government into coming to us, the students, to resolve the issue. A smiling photo-op with the Minister looks like business as usual at a time when we need to show that students are in crisis due to the government's actions. Our demand should be public and clear, and representatives should only agree to meet with the minister again when he is truly ready to address our concerns.
Post-secondary has become a soft target for governments looking to save money because they can count on weak SUs being unable to organize and fight back. Even when the NDP was in power, the most student-friendly government Alberta has had in decades, the best our SU was able to achieve was a disappointing return to tuition increases at the rate of inflation.
The SU has become so anemic that the vice-president (external) has now been tasked with fundraising, a response to fear of potential voluntary membership legislation and the organization's obsessive drive to renovate SUB. Those resources and energy could be better spent reengaging students so that they feel like they're truly a part of the SU and understand the value of it, rather than just accepting that many students would be likely to opt-out of membership today if given the opportunity. Additionally, an SU reliant on corporate sponsorship is unlikely to take controversial political positions, further limiting the ability to act in the best interests of students.
The SU needs to learn how to organize, and fast, because we've already lost valuable time. We would be joining a growing movement across Canada; just two weeks ago, students from Ryerson and York University went on strike. The SU should work closely with our allies on campus in Non-Academic Staff Association (NASA), Association of Academic Staff (AASUA), and the Graduate Students Association (GSA) along with potential allies in the labour movement like the Alberta Union of Provincial Employees (AUPE) and the Alberta Federation of Labour (AFL).
Students can't fight these cuts alone. Coordinated, ongoing mass resistance is our only course of action. Students aren't going to volunteer to join the cause because the budget is "spooky;" they'll join if the SU takes their concerns seriously and brings them together to get involved at a deeper level than the occasional march.