Institutional
News
Students' Union
Joint rally protests Alberta Budget 2019 post-secondary cuts and changes
The Minister of Advanced Education said he is open to all stakeholders and willing to hear their issues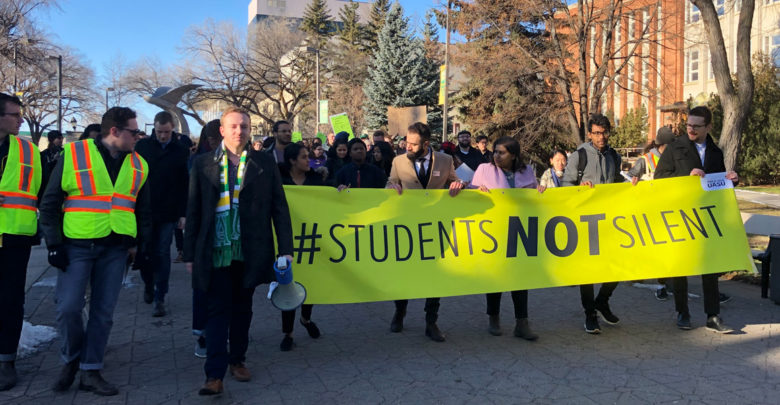 A joint rally between the Student Association of MacEwan University and the University of Alberta Students' Union brought over 500 people to protest the provincial budget.
The rally was held to protest the United Conservative Party's first provincial budget, which is making significant changes to advanced education in the province for both student affordability and institutional funding. Marches began at MacEwan University and in front of the administration building at the U of A, then met in front of the Legislature. More than 500 students, staff, and community members participated.
The U of A rally was supported by the Students' Union, Graduate Students' Association (GSA), Association of Academic Staff, and Non-Academic Staff Association. The four groups published a joint statement saying they are "deeply concerned" about the budget.
In front of the administration building, Students' Union vice-president (external) Adam Brown said the budget is "detrimental" to students and that it will have "immense" impacts.
"That is why it is so important we are out today and showing this government that we will not be silent," he said. "We will not back down."
In an interview as they marched from the U of A to the legislature, Students' Union president Akanksha Bhatnagar and GSA president Fahed Elian said they both were pleased by the turnout and want to see actionable change from the minister.
"We can't stay silent," Elian said. "All these decisions will impact students on campus and we got to have our voices heard."
"Every voice matters," he added. "I believe the numbers we have today show how much students do not approve of this budget… hear our voices Minister [Demetrios Nicolaides]."
"Show us through your actions that you are listening [minister]," Bhatnagar said. "Don't show us just through your words."
Once at the legislature, members from the Alberta Union of Provincial Employees, the Health Sciences Association of Alberta, United Nurses of Alberta, and other organizations participated in the demonstration.
The Students' Union collected over 350 stories of how the budget would impact students. They collected dozens more letters in front of the legislature building during the rally. All letters were presented to the Minister of Advanced Education Demetrios Nicolaides.
Brown said that as he read some of the letters submitted by students he was heartbroken. He said there were stories from single-parents or low-income students who will not be able to stay in university due to the rise in tuition.
"That is why we come out today," Brown said. "We must voice the impact this budget will have on us students and staff."
In her remarks at the legislature, Bhatnagar said this budget is a "direct attack" on students.
"I am here to convince our government that if they think this budget invests in Albertans they will have to think again," she said. "Right now, I feel so left behind. I feel so forgotten about. I feel like I am screaming at a wall or a building but no one is listening."
"This is me, and this is us, asking to be listened to," she added.
Bhatnagar said this rally marks only the first step in a plan the Students' Union has to respond to the provincial budget. No additional details or specifics were given.
In a statement, Nicolaides said he always has an open door policy with stakeholders and will continue to do so. 
"Freedom of expression and peaceful protest are central tenets of the academic experience," he said. "That is why we have asked our institutions to implement the University of Chicago Statement on Free Expression, so that our students and faculty have the highest protections."
Nicolaides met with student leadership from the U of A, Grant MacEwan and Mount Royal prior to the demonstration. They were also introduced in the legislature once proceedings occurred.
Katie Downey, a biology student at the U of A, said she attended the rally to protest the cuts to her education and to future Alberta post-secondary students.
"I am here to fight back against budget cuts," she said. "We already pay thousands of dollars more than we should in tuition. They are just increasing it and taking advantage of students."