Campus Life
Institutional
News
2019 Budget Town Hall reveals U of A to face $87 million net decrease in revenue
The budget town hall also discussed the effects of the new budget model and addressed the UCP's calculation of the U of A's alleged surplus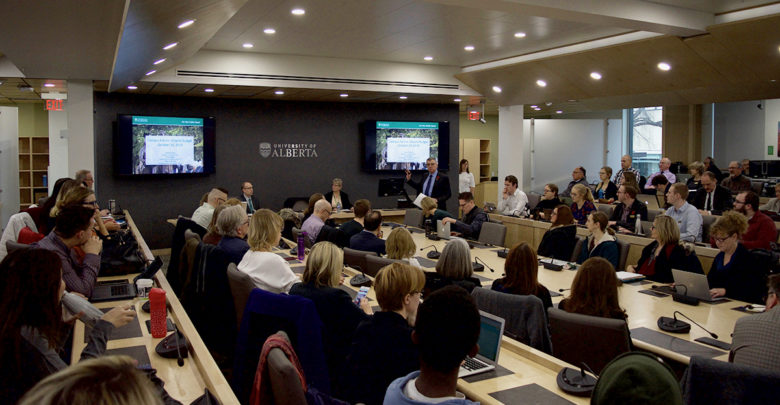 The University of Alberta president revealed at a budget town hall that the institution will face a combined $87 million net decrease in revenue under changes set by the provincial budget.
The U of A hosted the Budget 2019 Town Hall on October 30 in order to show the community what it knows about the recently unveiled provincial budget, what still remains unknown, and how the university is gearing up to respond to the changes in a "thoughtful," not "reflexive" manner. During the event, Turpin and other university officials presented and then responded to questions from audience members. Over 110 students, faculty, and community members attended the event.
According to Turpin, the $87 million net decrease in revenue under Budget 2019 has the institution exploring options to generate alternative revenue, increasing tuition, increasing enrolment numbers, redeveloping curricula, losing some staff members, and looking for administrative efficiencies.
Turpin added that enrolment growth is predicated to be strong because a "tsunami" of students are progressing through high school currently and international student demand is growing year over year.
With the changes proposed by Budget 2019 in the next four years, the U of A will lose around $2,000 per full-time student in funding from current funding levels.
"That gives us some sort of sense as to how the institution might respond," Turpin said.
In calculations and projections presented at the town hall, the U of A assumed tuition would be raised to the highest end of the cap proposed by Bill 21 — seven per cent per year — for the next three years.
When questioned about using the highest figures set by the cap after the forum, Turpin responded by saying this gives the U of A a "planning horizon."
"It is just a rough calculation," Turpin said. "It sort of gives us a planning horizon."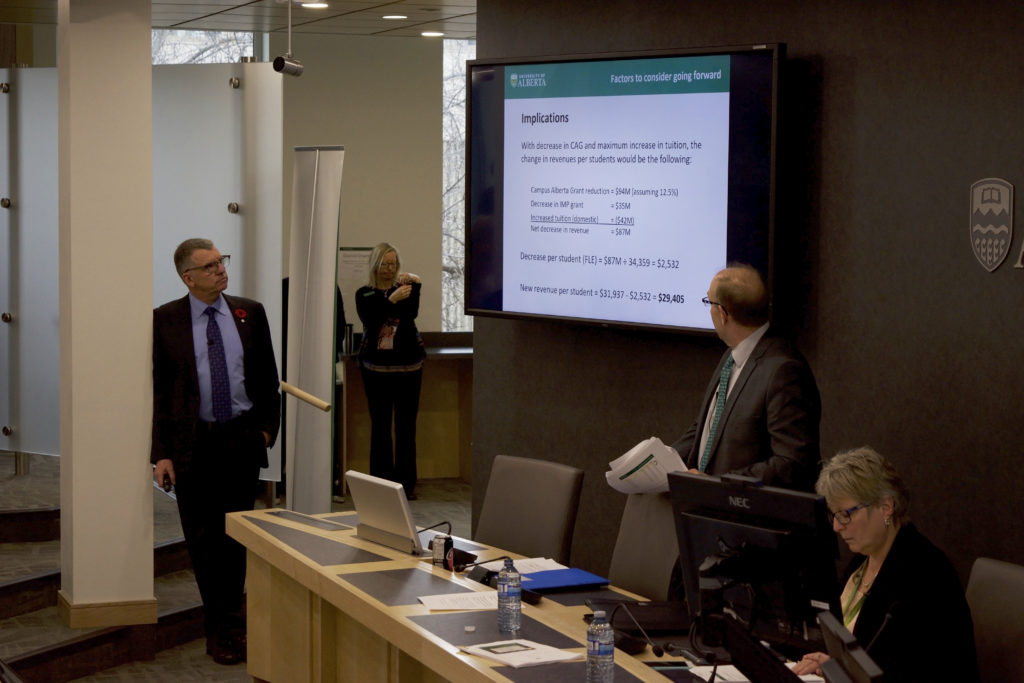 Turpin also said the U of A is assuming the reduction in infrastructure and maintenance funding, from $35 million to zero dollars, that the university received is permanent and will not be grandfathered back over time.
According to the Ministry of Advanced Education, the $35 million reduction in funding to address capital repairs and deferred maintenance is only a one-time reduction and some funding will be re-allocated in Budget 2020-21.
With the tuition raised to the maximum level set by the cap, the U of A is projecting it will generate $42 million. By assuming no money for infrastructure and maintenance, Turpin said the U of A will have to find money within its own operating budget to meet the needs of ageing buildings and routine repairs.
Turpin said the Board of Governors, the highest decision-making body at the university, will be reviewing all information and making decisions on how much tuition will be raised and what enrolment at the institution will look like in the near future.
U of A responds to UCP cuts determined by average surplus
During the event, Turpin spent time addressing how the budget calculated cuts to the Campus Alberta Grant (CAG) system. The United Conservative Party cut the CAG overall by five per cent, but distributed this effect differently for each specific institution. They used the average consolidated surplus over a five-year period to calculate an institution's "fiscal capability."
Turpin said during the event that this accounting needs to be re-examined, as the U of A's surplus is not a simple figure to examine or base cuts off of, due to a number of factors including regulations surrounding endowments and a lack of provincially set accounting rules.
"[This average] includes a number of things, [like] the growth of our endowments," Turpin said. "If I spent that I would be put in jail. I can't."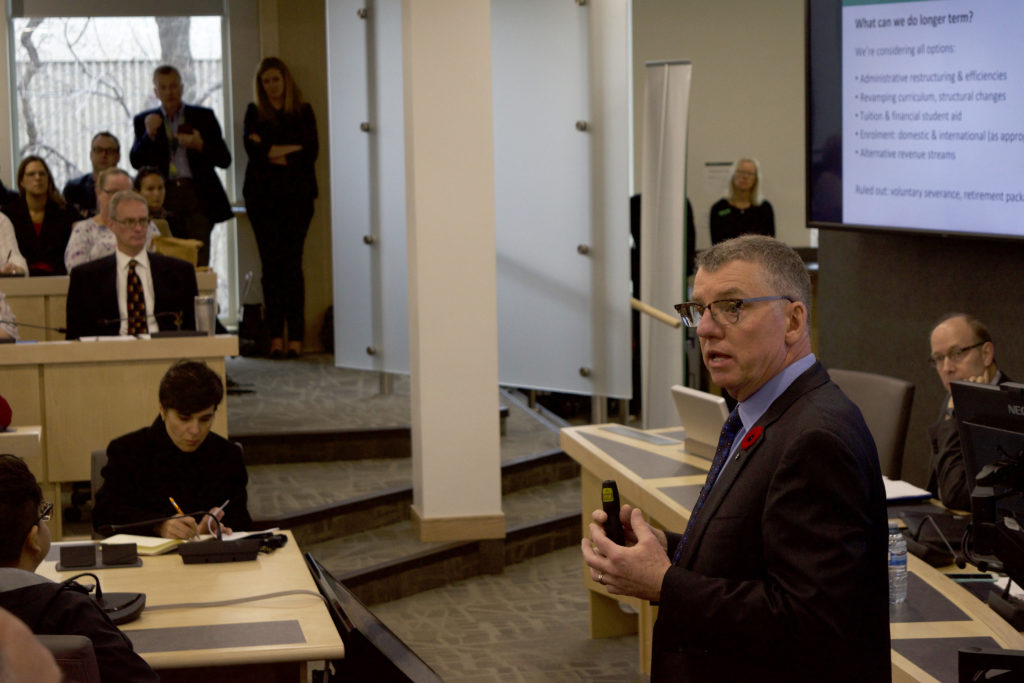 The U of A's average annual surplus of approximately $90 million includes endowment growth, employee future benefits, pensions, ancillary services, contributions to research projects, and investments in capital.
"That [all] counts as a surplus," Turpin said. "We can't spend that… it's not cash in anyone's pocket."
Gitta Kulczycki, vice-president (finance and administration), said that the UCP's calculated average surplus with consideration for restricted and expended amounts actually translates to an operating surplus at effectively zero dollars for the U of A.
UCP surplus calculations not as sound as advertised, says SU VP external
Adam Brown, Students' Union vice-president (external), said in an interview he was not overly surprised by what was presented in the budget presentation by the university.
"I was pleased to see the crowd size and that the majority of questions asked at the forum was by students," he said.
For Brown, showing how the government arrived at the $90 million surplus for the U of A was "incredibly" valuable.
"I think that pokes some holes in the government argument," he said. "That may not be the best performance based indicator for future funding."
When asked about the university's assumption of no infrastructure or maintenance money being re-allocated to the institution in the next budget after its reduction to zero, Brown said he agrees.
"Until we see it in a piece of writing or passed in legislation, you can't assume," he said. "Everyone is just saying things at this point."
In terms of any increases to tuition, Brown said he hopes Turpin follows through with saying increased student financial aid and that students remain part of the conversation for those decisions.
"I just hope the university continues to keep us at the table, included in as many of the conversations going forward," he said.
New budget model being phased in at same time as cuts "unfortunate" challenge for deans, says U of A provost
During the budget town hall, U of A provost Steve Dew said it is "unfortunate" in some ways the university's new budget model will be phased in at the same time as cuts to government funding occur.
"It is unfortunate in some ways that these two are coming together in that it becomes difficult to understand what the impact of one might be in the presence of the other," Dew said. "It doubles the challenge that many of us will have in working through all the pieces."
Dew added that there is no perfect time to roll out a new budget model that determines how finances will be apportioned to individual faculties. However, he said that now is a good time to implement changes that will force faculties to consider their spending closely.
"There is no better time to re-examine every single cent we are spending that we are spending, and making sure it is going towards helping us move forward our key mission," he said.