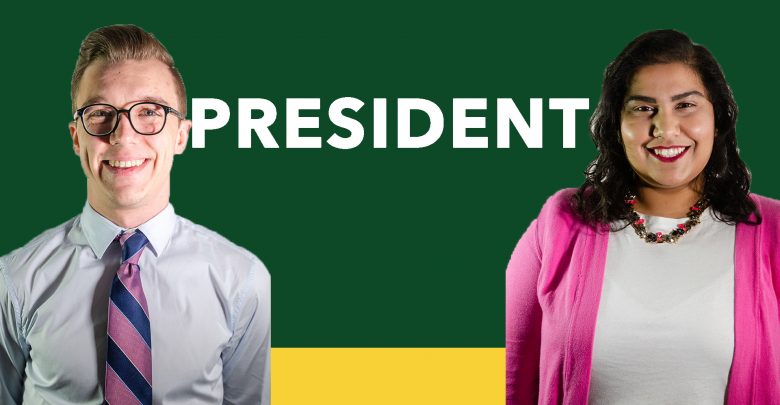 The president is the chief representative of the Students' Union and the 30,000 undergraduate students attending the University of Alberta. They oversee the rest of the Students' Union executives, the organization's operations, and sit on a number of university governance bodies including the Board of Governors and General Faculties Council.
This year, two candidates are hoping to get the top job, both of them current Students' Union vice-presidents. Akanksha Bhatnagar is a fourth-year political science and sociology double major and the current vice-president (academic), and Andre Bourgeois is a sixth-year sociology student and the current vice-president (student-life).
The following interviews have been condensed and simplified for clarity.
---
In one minute, can you tell us why you are running for Students' Union president?
Akanksha Bhatnagar: I'm running for president because I believe students need authentic representation at every level of student governance, and that's just not the case right now. It's important we have a president that represents all students on our campus.
We also have a unique opportunity right now to frame our conversations to the government a lot differently in a year where our provincial and federal governments could be changing. Overall, my experience in student governance has taught me how to navigate our university's political waters and hold our governments and administrators more accountable, which will allow me to be a president that's not afraid to speak my mind.
Andre Bourgeois: I decided to run for president because I have been involved with the Students' Union for quite a while now, ever since my first year, and I've been involved in increasing levels of responsibility and leadership. Each time I have been presented with an opportunity or the capacity to improve these student experience, I really try to find ways to mobilize the students around me and include students in creating meaningful real change.
I think this year as vice-president (student life), we were really successful at getting the university to move on things they don't usually do, like HUB Mall safety and security, and I want to translate that success into the presidency to continue creating that kind of change for students.
Can you concisely explain your platform?
Bhatnagar: This year my platform is centred around continued advocacy for an affordable education, creating a way for every student to explore leadership, and ensuring that our time on campus sets us up for success after we graduate.
As vice-president (academic), I pushed our university to look at more ways to adopt open educational resources by chairing the Open Education Resource Advocacy Group. I want our government to create a sustainable funding model for open educational resources.
Affordable education is typically a long-term project, but in the short term what I want to do is create more Students' Union needs-based awards. Right now we give away $100,000 in awards to students who are the most involved, and the problem with that is students who need these scholarships the most don't really have access to them.
The other aspect is student leadership. A lot of students come to campus to get a great degree and head off. I notice a lot of people don't get involved until later in their degree and I think it's important we connect students to the Students' Union earlier on in their degree so they have more time to develop as student leaders.
And lastly, work-integrated learning is something I care very passionately about because I know how scary it can be to try and find a job once you graduate.
Bourgeois: The things that excite me most about the platform are completing the Student Charter of Rights, continuing to advocate for mental health services on campus, as well as sexual violence risk response and prevention. More broadly, improving the transparency and efficiency and accountability of the Students' Union.
But it's important that none of these projects or ideas get accomplished by one person. I am not so naive to think any of the three ideas or four points I bring to the table will massively disrupt the framework of the university, and that's why I made my platform with the values and principles of teamwork and collaboration. Bringing more students to the table to actually affect that kind of real enduring change that will continue on after I'm gone for generations to come.
Both candidates for president this year are current Students' Union vice-presidents, what distinguishes you from the other candidate?
Bhatnagar: I think the number one thing that distinguishes me from other candidate is that I'm a really authentic leader. I've spent a lot of time on campus getting to know what our campus looks like, but I've also faced a lot of adversity on campus. I can really speak for students, and I think it's important a president reflects what our campus looks like, and that's not really been the case with executives in the past.
I think a president needs to be someone who understands how to navigate tough political waters. We need a president who understands how to navigate these spaces, and isn't going to be taking the time to understand how to be a strong political leader.
My experience, by chairing the Council of Faculty Association boards and leading a team of 14 faculty association presidents to accomplish their goals this year has been not only influential, but also something i know I'll be able to do as president.
Bourgeois: Because Akanksha and I have worked on the same executive team this year, we worked on a lot of the same projects together, a lot of the goals and initiatives and advocacy asks we have will be roughly on the same track.
So I think the number one thing that distinguishes me from Akanksha is the breadth and depth of the experience I have with the Students' Union. I've been involved at every year of my university working with students from each and every faculty, every year of their program and I've been presented with more responsibility and increased leadership experiences and I think that leadership experience and that system-wide experience with the Students' Union is really what sets me apart.
Recently, several other student unions in other universities are at the epicentre of controversy involving corruption and financial mismanagement. How will you prevent that from happening here?
Bhatnagar: I think it's really unfortunate other Students' Unions across the country are doing that because they're tainting the name of Students' Unions nationally. So I think what [the U of A's] Students' Union does that negates that from happening is just having a team that is very transparent. All of our minutes, all of our finances, all of our materials are posted online.
But I think students have unparalleled access to the Students' Union if they ever need any support. If they ever need someone to listen to, not only was I that person as vice-president academic, but I want to continue to be that person as president.
I would argue we're one of the top Students' Unions in this country and I think that's because we have such strong long-term staff who've stayed with the Students' Union executives. We just have an organization that won't stand for these things to happen and I never can see the University of Alberta Students' Union ever being involved in a scandal as such.
Bourgeois: The problems that are happening at other Students' Union are multifaceted and you can't paint any one issue with a broad brush.
But I think, specifically, what we can do to prevent corruption and increase accountability at the Students' Union is to publish an annual report outlining what things the Students' Union has done with the student fees, how many students have benefited from those things, and not being afraid to acknowledge when the Students' Union has made a mistake. I think when we identify our mistakes in some sort of annual easy to read and digestible format, students will both appreciate and understand the value the Students' Union brings to them.
What should the Students' Union's priorities be during an election year?
Bhatnagar: During an election year, we have a really unique opportunity to frame conversations around what really matters to students. I think a lot of these projects are going to be lead by both the Council of Alberta University Students and the Canadian Alliance of Student Associations.
But the top things I would say are probably how we interact with deferred maintenance on our campus. Right now there isn't really a funding model for that. The student spaces levy was an example of one solution, but I think we're going to have to look at other solutions going forward.
I think it's important we push our university to actually truly tell us what predictability around international student tuition looks like. I think Bill 19 was a huge success, but there's a lot of little tidbits we still have to iron out.
I think the last sort of ask I would love to see is mental health resources funding. We all understand mental health is an issue on this campus. But we need to take more of a cultural lens at the way our mental health funding looks like because right now I do not have a way to talk to anyone on campus about my experiences and I know a lot of other students are in the same boat.
Bourgeois: So I think a lot of people are worried about the election season and rightfully so, with things happening south of the border or eastern Canada. I think there are a few major things we can focus on this year to drive home as election priorities.
First, I think affordability of education is key, whether that be pursuing upfront grants or regulating international students tuition. I think pursuing greater work-integrated learning opportunities is also really important.
And the third one is just blatantly mental health. Mental health was cut this year, like on-campus supports for clinical mental health care were cut, and that has to be an issue moving forward in the election. We should absolutely push against that and ensure we don't lose our on-campus supports, whatever the outcome of the election may be.
If elected president, how would you connect with your 7,700 international student constituents and how would you advocate on their behalf?
Bhatnagar: If elected, something I did this year was work really hard to figure out ways we can still represent international student issues regardless of there not being an International Students' Association. I did that by really working closely with University of Alberta International.
I think, going forward, it's not my job to be speaking on behalf of international students if I don't know what they actually need, so I think it's important we're connecting with the leaders on campus.
I think we have to recreate the International Students' Association because that was a failed project of our executive this year, and I think there needs to be a lot more conversations around what it is they wanted.
Bourgeois: I think something we did this year that worked really well to connect to international students is working with University of Alberta International because they have a council and a committed of very highly engaged and active international students. Working with them to hear what is affecting them, how we can better meet their needs, I was surprised about a lot of the things we heard.
Another way is the Students' Union can be more active in creating questions in our surveys and in all of the outreach we do to students, specifically targeting some of it to identify and find out what issues specifically affect international students and how we can work to address them.
Joke question: Thanos threatens to snap away the Students' Union. What would you do to stop him?
Bhatnagar: My super power is just getting people to care about something, and I think if I can do that, and the vice-presidents can figure out some other thing, we're just going to have to stop this from happening. But I think if he were to destroy this Students' Union, I would just make another one, because I think representation is too important to just get rid of it.
Bourgeois: I think we would get the executives to dress up as The Incredibles again. Mobilize together, get our squad, find the guy that was dressed up as The Flash on Halloween, and just have some big campus Avengers thing.