News
Campus Saint-Jean's concerns front and centre at forum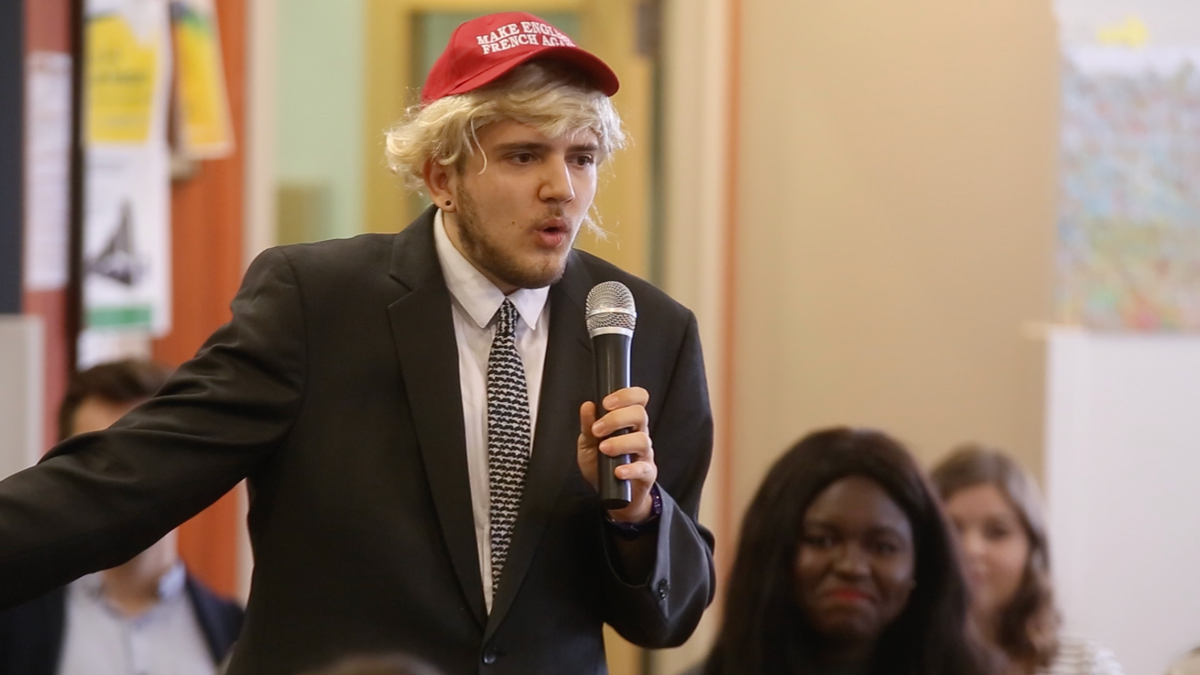 Buzzword limbo
At the all-candidates forum at Campus Saint-Jean (CSJ), the three presidential candidates were pushed to provide more than just buzzwords when it came to issues at the Francophone campus.
During the question and answer period, former vice-president (student life) candidate Jordan Simao asked Ilya Ushakov, Reed Larsen, and Shane Scott about the lack of a full-time security guard at CSJ, and what the candidates would do on their first day in office to deal with it. Simao pushed for harder answers by telling the candidates to not just say, "I'm going to work with (Association des Universitaires de la Faculté Saint-Jean)."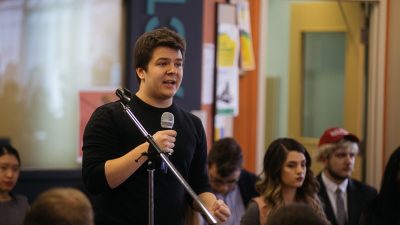 Ushakov was the first to reply, who said he would work with University of Alberta Protective Services (UAPS) to implement a security strategy. He also said that it currently takes UAPS 10 to 15 minutes to get from North Campus to CSJ, and calling the police would be faster.
"This has been an issue that we've been talking about for years, but no implementation strategy has happened," Ushakov said.
Scott compared CSJ's problem to security concerns in the Fine Arts Building and said he'd organize a town hall that would put public pressure on the university.
"We do need to do something along the same lines for Campus Saint-Jean to make sure people are aware that it's a real issue, and that its actually putting students at risk at this campus," he said.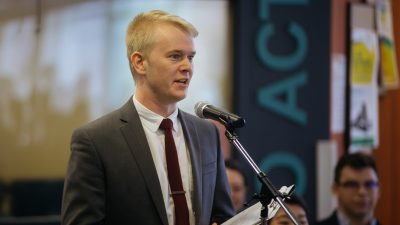 Larsen agreed with Scott's approach of putting public pressure on the university but said the solution would require money, which could be pushed for at the Board of Governors level.
"This is going to be something where if you want better response times… you're going to need to get the university to invest more heavily in UAPS," Larsen said.
Another question came from former undergraduate Board of Governors representative candidate Armand Birk, who asked how the presidential candidates would engage with student groups, as they tend to stop hearing from them after the election period. Birk also challenged the candidates to "not use the word consultation" and to not say "working together" in their answers.
Scott said he has worked with student groups during his time as vice-president (academic) and that he can "not just say it, but mean it." Larsen complimented the "extremely passionate advocates" at CSJ and said he'd continue to support their efforts when they lobby Advanced Education Minister Marlin Schmidt. Ushakov reiterated his desire to create a CSJ political policy for the Students' Union, but admitted it would require "consultation."
– Nathan Fung
Joke candidate makes debut
Rocking his "Make English French again" hat, joke candidate Donald Straump made his debut at today's forum and said he'd "make English French again. He noted that the SU lacked French documents and, in general, appearances at CSJ. He concluded that CSJ needs a Dewey's and a Room at the Top.
The one serious candidate for the positon, Emma Ripka, focused on educating students about the yearly $45 dollar fee they pay to the SU and said students needed to benefit from it. She also mentioned creating promotion material for CSJ and a translation committee to improve communication between campuses.
When the candidates were asked how they would ensure a scholarship for international French students, Ripka said there was a proposed scholarship that was included in the AUFSJ's faculty association fee proposal. The proposal was voted down in Students' Council, but she said she'd be willing to help the AUFSJ try again next year.
"The fee did not pass because of a lack of consultation and a lack of clear goals as to what this fee would be used for," Ripka said. "If AUFSJ wants an international granting system then we need to work together and make it clear in their proposal to Council."
"I know we tried to have two $1,200 scholarships and they were knocked down and that's sad," Straump said. "I would work with the VP (academic) to have a better transition."
– Khadra Ahmed
International intentions
Candidates Esther Thieba and Adam Brown responded to questions, which were often concerning safety, completely in French.
In her opening remarks Thieba, vice-president (social) of the Undergraduate Psychology Association, emphasized her connection to CSJ as a Francophone student. She said she hopes French students will be better represented in both student and university governance.
"I want to bring equal opportunity to students at CSJ," Thieba said. "Everyone, no matter their campus, should have a quality experience."
The current president of AUFSJ and candidate Adam Brown said CSJ students face unique issues compared to students on North Campus. He said in the past, the SU would limit activity to just consultation with the AUFSJ. He wants this to no longer be the norm.
"CSJ has been neglected by the university and government," Brown said. "We (CSJ students) have been left out of the conversations. I want to change this."
In his opening statement, current education councillor Jimmy Thibaudeau emphasized his plan for government advocacy work. He said he would consult with AUFSJ and students to ensure that their priorities would be brought before government.
"I will bring those (student)-specific (concerns) in to get those grants that we need to fulfill the projects at the forefront of student interests," Thibaudeau said.
Candidates were asked what strategies they would use when addressing CSJ specific concerns in the upcoming 2019 provincial election.
Brown said he would ensure to keep conversations open with the government about the Francophone community's concerns regardless of which party was in power. He said his connections to politicians like Marlin Schmidt, the Minister of Advanced Education, would be invaluable.
Thieba said Francophone education is important to Alberta. She said that in Ontario, university staff are required to be bilingual; she hopes to advocate for the same requirements to be applied in Alberta.
To achieve better advocacy work, Thibaudeau said he would include CSJ students in strategy meetings and committed to holding office hours at CSJ once a month.
– Adam Lachacz
Academic needs lacking at CSJ
A question from the audience to the vice-president (academic) asked how the candidates planned on improving the quality of professors at CSJ, and added that they provided a lower quality of education at North Campus.
Student governance officer and candidate Akanksha Bhatnagar said that there is not enough French granting available to hire more professors and that she would push to see more granting is available for CSJ.
Candidate and AUFSJ councillor Cristiana Pop, who answered in French, had a similar message, and specified that there is not enough money to keep the best professors on campus and that more attention and funding is needed from the government and the university.
"I will ensure that the government will not continue to ignore us," Pop said.
The other candidate, third-year science student Tiffany Bruce, said she would work to get CSJ science students the opportunity to work with professors at North Campus to give them hands-on experience and the improved quality of teaching.
A similar question from the audience asked what candidates would do to ensure that the education at CSJ is equivalent to that of North Campus. While Pop said that for her it came down to advocating to faculties to bring their attention to the classes offered at CSJ, Bruce said that she would advocate to General Faculties Council and associated hiring departments to hire better professors.
"(Hiring departments) are given the means and there's really no excuse to be a lower quality education program here," Bruce said.
Bhatnagar said that on the committees the vice-president (academic) sits on, syllabuses are created a revised and that she would ensure that during those meeting CSJ syllabuses would be examined and she would talk to those at the meetings. Additionally, she suggested supplementing information in classes through course packs available in French.
Bruce was also concerned about difficulties with transfer credits and said she wanted to work with the vice-president (external) to improve transferability. Akanksha said that she would advocate for that to be addressed at GFC's Academic Planning Committee.
"The VPA is an asset that is very underutilized for students," Bhatnagar said, "At the end of the day you're paying $7 to have a salary to work for you, so if there is an issue, come to the VPA and next year I'll be available."
– Olivia deBourcier
Student life at Saint-Jean
A recurring theme at the forum was the lack of student events held at Campus Saint-Jean as well as lack of communication between campuses. Candidates Andre Bourgeois, Michelle Kim and Stephen Raitz promised to address the disproportionate number of student events held at north campus.
In his platform, Bourgeois said he'd increase the number of Francophone First events that according to him, haven't been held since 2016.
Kim said a lack of communication between campuses leaves CSJ students in the dark about North campus events. She proposed a coordinated Students' Union newsletter, as well as hosting one SU event at CSJ.
Raitz said that through Student Group Services a more holistic approach to promoting events around all campuses could be taken by providing spaces for student groups to meet.
From the audience, candidates were asked what specific events they would bring to CSJ and how they would encourage north campus students to attend. Kim wanted to bring a variety of cultural events and food to CSJ. In regard to the issue of attendance, she focused on barriers.
"There are fundamental barriers that limit students from being involved on campus, whether it is financial issues or mental health stress," she said
Bourgeois felt it was not his place to decide the events held at CSJ, and that he'd rely on peer to peer interactions and effective marketing to promote events.
"As a person who does not attend CSJ or a part of Francophone culture, it's not my place to come here and tell you what kind of event I'll bring to you," Bourgeois said.
Raitz said he'd build up existing events and reach out to francophone events outside campus.
"This is where the French culture is centered, so building events to be larger here would be important," he said
– Khadra Ahmed
BoG rep hopefuls bogged down with questions
How the BoG rep hopefuls say they will vamp up advocacy
Student priorities and communication with the student body were the main points discussed by the two candidates for the undergraduate Board of Governors representative.
Candidate and current open studies councillor Levi Flaman said Campus Saint-Jean is not receiving the appropriate amount of funds from the university, and that he would pursue the issue at the board level. He also said he'd look into whether Aramark's contract with the university should be renewed.
The other candidate for the position, first-year psychology and international student Yiming Chen repeated her opening remarks at the last forum, stating that she wants to advocate for lower international student tuition.
A question from the audience asked how the candidates would make themselves accessible to students and how would they provide a direct link to the board. Flaman brought up his social media presence and promised that he will keep his social media open to questions and concerns and that he is willing to speak with students in person.
"Something I'd like to bring next year is something the SU execs started last year which is office hours," Flaman said. "But the problem with that is often they have to go to the SU admin offices. To me, that's akin to going up to the ivory tower."
Chen said that she hopes to hold more events and improve marketing to educate students on what the Board of Governors does.
"For this position, most students don't know what they do and what the organization really is," Chen said. "I think the problem here is that the community needs some advertising in this position and they need to hold more events what they are. They need to get more involved in the student's lives."
– Olivia deBourcier