News
SU Elections Q&A: Vice-President (External)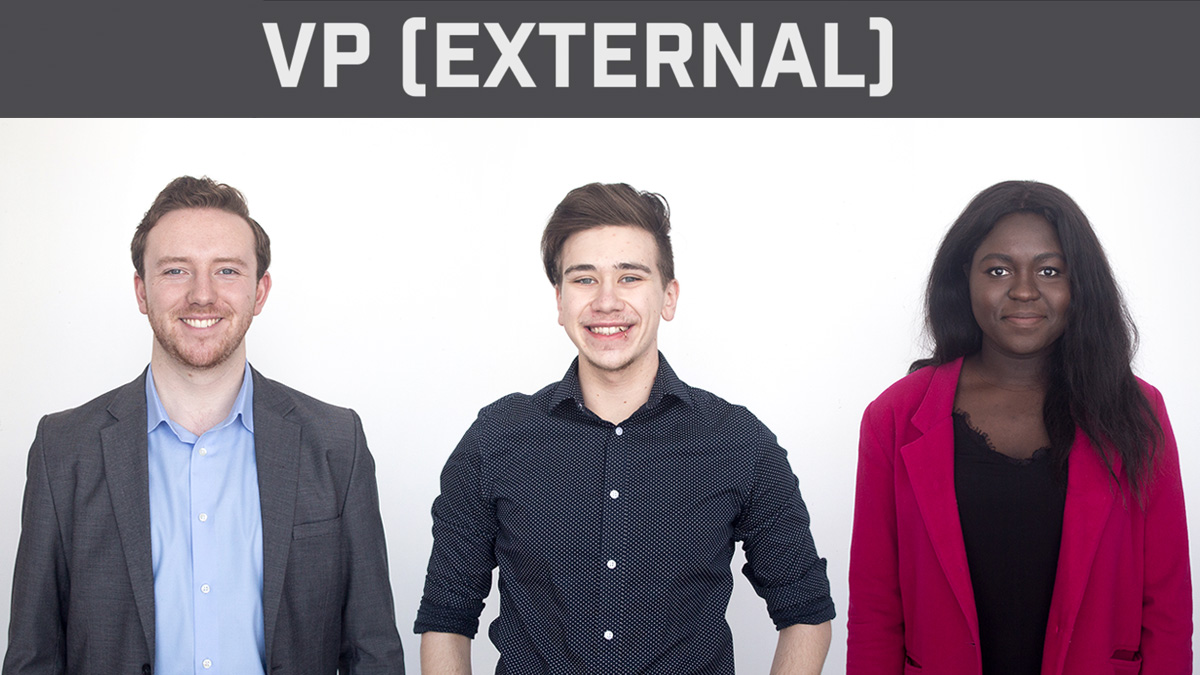 The vice-president (external) is responsible for lobbying government on behalf of University of Alberta students. This means teaming up with provincial and federal student advocacy bodies to draft policies. It also means many meetings with city, provincial, and federal government members to talk about issues like the tuition freeze, mental health funding, and international students' tuition.
The following interviews have been condensed and simplified for clarity. Full recordings can be heard here:
Why are you running?
Adam Brown: The biggest reason that I'm running is that I bring a really interesting perspective to the role. I bring a lot of passion, ideas, and experience. I've been involved in both student governance and politics for the last two and a half years. And so through that involvement I've been able to see how students interact with government and how those lines of communication could be used a little better how they could be tweaked but overall how can we approach government in a very constructive way that could benefit students. I'm a student of both North Campus and Campus St. Jean so I bring a perspective that the university is bigger than just one campus and I think all students need to be represented by the Student's Union.
Jimmy Thibaudeau: It comes down to a personal story from my mom in 1994, who wanted to be an elementary school teacher. That was about two years after the government stopped regulating tuition and it started to skyrocket. We never really came from a lot of money and my mom could not afford to go. To me it is so unfortunate that somebody who would have been a marvelous schoolteacher, and would have helped impact hundreds of lives, was prevented from doing that because university was just not as accessible as it should have been. I want to fight to make sure that those stories stop happening so that people can get access to university.
Esther Thieba: I'm running because I feel that I have the experience, knowledge, connections, and emotion needed for this position. Starting at the University of Alberta, my experience was really a lot of discontent and anger because I felt like my voice wasn't being heard. I felt really left out of what was going and when I was looking around me I saw that other people were having those same emotions. So that's when I started taking steps to become more involved. I was a resident assistant, a mentor, and slowly I became an executive on a departmental association. And this year, from all I have heard, I have the confidence to actually run for this.
Can you briefly explain your platform?
Brown: I think the Student's Union needs to be very proactive and constructive in the process of cannabis legalization and monitoring how that's going to be done on campus. One way or another it's going to be here so we need to be making sure that we're in a position to cooperatively work with administration to make sure that campus culture is maintained and everything is safe for students. I think the SU needs to be rolling out an awareness campaign to educate students about some of the misconceptions around cannabis and also what's legal.
Another point is tuition and how I plan on approaching government. We need to be making sure that the government is releasing a three-year funding framework so that students know how much they will be paying for the next three years. I think we also need to be really pushing freezes on international student tuition and the fees that they're paying. I think it's absolutely ridiculous that they're being used as a cash cow by the university.
Another point that I am really interested in is looking at deferred maintenance. The bill for maintenance keeps going higher and higher and nothing is being done about it. We need to be approaching all parties and especially government to see what can be done about this.
Thibaudeau: My platform is really focused on increasing the investment into post-secondary education.  We have seen program cuts and impacts on the quality of education. All you have to do is walk through the university to see the amount of deferred maintenance on campus. We need the government to kind of take us seriously. We need more investment coming in and then we need to be able to take care of our students both inside of school, with better granting options and better financial aid options, and outside of school so students do not need to worry about getting a job after.
Thieba: For tuition, my main goal is the tuition freeze. I believe that if the tuition freeze was to end, we have to extend it and push for a freeze of international students' fees. Regarding mental health funding, right now we're not funded on a per capita basis, which is what we need in order to better service our students.
Equal opportunity is providing the same employment and opportunities to all three campuses like Campus Saint-Jean, Augustana. The student STEP program is being moved towards a year-round program, which I feel is a better service to students because now students work year-round to cover the cost of their education, and just living cost. We need to make sure we have more opportunities for students on that platform and just help them have access to resources that they need.
And also engagement, that is by bringing debates and information regarding the parties that are running for this election so people know what they're voting for. Also establishing those connections with those candidates in order to make the next government even more student friendly.
This year the Alberta Government delayed the post-secondary tuition review which was supposed to be released last fall. If the tuition review continues to get delayed next year,  how will you approach the Ministry of Advanced Education?
Brown: It's a huge problem and it's frustrating that they're using students and they keep pushing this deadline further back. I already have a working relationship with Minister Schmidt, I've done some advocacy to him before so I think what I would do is approach the government and just be more assertive in that this is unacceptable. I think we need to be working with our partners in the Council of Alberta University Students for a unified presence in saying enough is enough, we've been waiting on this far too long.
Thibaudeau: As the tuition review continues to get extended, we need to be making sure that we are involved in the talks during every stage of the process to make sure the student voice is getting heard and that they understand the ramifications moving forward. Marlin Schmidt has always stated that he is delaying this because he wants to make sure that they are going to have a program that is going to work. I completely, 100 per cent, agree with that.  We do not want to rush this and have another tuition review five or 10 years down the line because the system that was come up with was broken. At this point, the only thing that we really can do is be in on the talks and continue to understand exactly what is going on and prepare the students for whatever is going to be the result of this tuition review.
Thieba: We need to make sure that we are aware of what's going on and how to adjust for future generations of students coming to the University of Alberta. I believe that if I were to approach the minister, I would come with him on the basis that we're students, we have all these concerns here, and it is not fair to put us in the spot of being uncertain of what is going to happen. The tuition freeze is just a way of stalling the changes that are to come, and in order to prepare better, we really need to know what is going on, what funding we're going to have access to, in order to better prepare and adjust based on all these concerns.
This year, the Alberta government extended the tuition freeze and provided backfill funding to make up for the university's budget shortfall. If elected, would you push for the tuition freeze to be continued the next year?
Brown: If the funding framework and tuition review don't come out. I think we need to be continuing on a tuition freeze until we have a better idea of what is this framework going to look like. But that's a huge concern because we need this framework to come out soon so we can stop the tuition freezes and get on to a much more consistent regulation of tuition.
Thibaudeau: The tuition freeze has completely helped the affordability of the university and that increases accessibility phenomenally. The issue that we are having is that there is just not enough backfill funding. Even the funding they are providing right now is not enough to subsidize the cost. We're still facing budget cuts and program cuts.  We're seeing that at every single level. We have to face the reality that the university needs to find its money somewhere. My theory is that it should not fall on the burden of students in order to make sure that the university can continue to run. I think that the government needs to shoulder that cost and we need to look at more backfill funding before we really move into any other scenario.
Thieba: I'll push for the tuition freeze to be extended. I don't believe it's our preferred state because it's just stalling for changes that are supposed to come. I think we need to push for more stability, more regulation regarding tuition. Also, the mandatory non-instructional fees, we need more control on that and what it's being used towards and what those things are being utilized for. All these things together need to be addressed, but I feel like the freeze for right now is the only position we can have in order to protect our students and not let tuition increase in ways that are really unpredictable.
Unlike domestic students' tuition, international students do not have a tuition freeze and their tuition rises with academic inflation. If elected, how would you represent international students?
Brown: I want to work really closely with the International Students' Association to make sure the SU isn't saying something that isn't reflected in the needs of international students. I think there does need to be freezes on the amount of money they're paying. I think it's absolutely ridiculous how much more they're paying but the fact that it just keeps going up when domestic students are frozen. I think that represents a huge inequality.
Thibaudeau: For international students, I would be advocating to freeze international tuition first of all and then hopefully working toward reducing it in the future, as well as also increasing the amount of aid we provide them in the university. A lot of the grants, bursaries, scholarships, and financial aid options are not available to them as international students. Restructuring the granting system to include international students in a lot of these competitions and allowing them the opportunity to find other avenues of financial aid is the first step that we need to take.
Thieba: The first thing I would do for them is push for a tuition freeze because I don't think it's fair to have those increases whenever. I think it's a response to the rising costs of education in general, that's why international tuition fees keep increasing that way but I don't think it's fair.
I know students personally who started university based on a four-year plan that they're going to spend x dollars, and now they're in their third or second year and don't know how to prepare for the future. And I feel like that's not fair. I think we need on a provincial level more control over tuition of international students.
Studying other models of what's been going on in other provinces, I know some of them have a capped increase based on the tuition of local students. We just need to consult all the different stakeholders and really determine a consensus on a provincial level that will better contribute to how that increase of international student fees will go in the future.
In the United Conservative Party's policy draft, the party listed that eliminating mandatory SU fees might be on the table. What do you think of this and how will you advocate for students when it comes to the official opposition?
Brown: I think it's very concerning and the SU has to be very proactive in how we engage with the party on this. I don't think we should be waiting for an election to be called to start this dialogue it needs to start now because there's a lot of misconceptions around the province and maybe in the UCP itself in the role the SU plays, around the supports that it gives, and around the value of the fees that students pay to the SU.
Thibaudeau: First of all, SU fees, there's a reason why they are mandatory. It is very important that they are mandatory because it helps us to have a very strong SU. The University of Alberta's SU is one of the strongest in the country. For the official opposition, I think that it is important to just continue to work on what the current vice-president (external) is doing with the Council of Alberta University Students and continuing to work with (the UCP) to change some of their policies and to understand the students' needs. Regardless of who ends up in power, whether it is the official opposition currently, a different party, or the current government, that their platform is going to run on students' needs.
Thieba: I do not believe that policy is the right way to go because having those fees gives students ownership in the university in general. We have a say in what goes on, we have a say in the operations and where we want our tuition and the quality of education we want to receive. And stuff like for example with health care, and all those other plans that are increased and are supported by the fees paid to the Students' Union will be lost if we have that policy that students can opt-out.
JOKE: If you could talk to any Canadian politician, alive or dead, who would you speak to and what would you say?
Brown: That's a very tough question because there are a lot of fantastic Canadian politicians alive and dead that I would love to chat with. I would say that the most important one would be Peter Lougheed. I think he brought a very balanced mindset when he was premier that put Alberta on a great path. I think that I would have loved to chat with him.
Thibaudeau: There are so many different options. I would talk to Stephen Harper. I want to know if he actually has a sense of humour.  I would bring him my best joke after extraneous research and see if I can finally make him laugh once in his life.
Thieba: I think I would talk to Justin Trudeau. He seems to be more flexible and understanding of issues that are going on in Canada and the world. I would just sit with him and learn from his experience and just his political journey, and get his insight on what's going to go on in the future, what's going to happen. Also, talk about what is his perspective is on how student's issues have evolved and how he foresees them to evolve in the future.