News
SU Elections Q&A: Vice-President (Academic)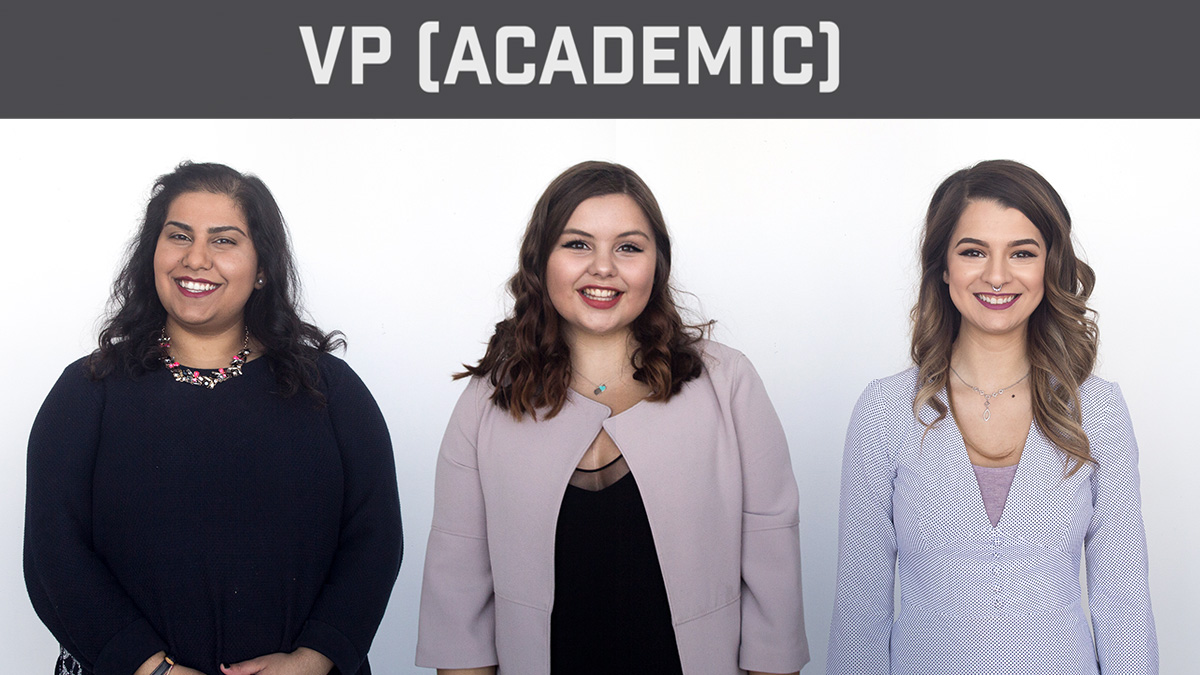 The vice-president (academic) is responsible for student advocacy around academics  in the university, including governance, program changes, and academic requirements. This means they sit on the General Faculties Council, the highest decision-making body at the U of A for academic issues, as well as several of the council's subcommittees. The VP academic also oversees faculty and departmental associations, and sits on various academic committees and working groups. 
The following interviews have been condensed and simplified for clarity. Full recordings can be listened to here:
Why are you running?
Akanksha Bhatnagar: Over this past year, I have worked closely with the Students' Union executives and the present vice-president (academic). I have worked closely with all levels of student governance and I have a very strong and nuanced understanding of the way university and student governance interact.
Students need a vice president academic that will ensure that all students concerns are at the forefront. I have always told myself that I am here to do what is right and not what is easy and the Students' Union has given me the chance to do just that. I feel confident that because of my knowledge, passion, and proven dedication that I am able to jump right in to the job of vice-president (academic) and represent students' academic issues.
Tiffany Bruce: To represent students because I've had experiences with the SU that I think could be improved upon and to really give students a voice rather than having political science kids make all decisions for us. That's mainly why I'm running. I'd really like to give students a voice, and I think I have a lot of ideas and I've communicated with enough students to really hear what our university community could benefit from.
Cristiana Pop: I'm first and foremost running because I'm passionate about advocacy. I currently serve on my faculty association and I assist the VP academic there with her work and I found that to be a very rewarding experience. I also think students are the heart of this institution and I really like what the Student's Union puts their interests first and it's something that no doubt in my mind that I can do that. I also do want to learn more about the makeup of campus so that I know how to better serve people of diverse backgrounds. I am a first generation immigrant myself, I came here at a young age. But I know I can take into account different points of view and really serve students as well that way.
Can you briefly explain your platform?
Bhatnagar: So, my entire platform outlines my top ten priorities if elected, however, I'll just touch on three here. The first is creating a student census which will be a short yet detailed questionnaire to collect data that the Students Union doesn't currently collect. This information will make it possible for the university to provide students with specialized services.
The second will be to improve academic advising. With the university proposing budget cuts we need a strong vice-president (academic) who will ensure that academic advisors are not being replaced by online program trackers, and students deserve to receive more specialized services.
And the third will be to ensure advocating for affordable academic materials. So currently, the university estimates that academic materials should cost around $1,750 per year and that's simply just not affordable. If elected, I want to work closely with professors and the university to look into using more open educational resources coursepacks and allowing students to use older versions of textbooks.
Bruce: My platform involves increasing student access to careers, supporting students' mental health, and increasing opportunities for student success mainly by making the syllabi and assessment criteria available for all students.
Pop: My platform has five points. The first one has to do with supporting student leaders in their advocacy and specifically faculty associations. I want to increase awareness of the number of resources available to faculty associations.
The second thing has to do with open educational resources. There is currently a granting program that just rolled out.,I think that it's a more tangible way to figure out how to make post-secondary education more affordable.
The third thing has to do with mental health accommodation. I know how there are quite a few things that the university could be doing differently in that aspect. One thing is that with student accessibility for some people with diagnosed mental health issues they could get more support but a lot of them don't know that. I want to make students are more aware of their mental health and be able to prevent their mental state worsening over the course of their academic career.
I also want to encourage interdisciplinary Indigenous content. I really think that with the unique barriers that Indigenous students face they could really use more awareness across faculties of what their particular circumstances look like so that's something that I push for.
The last thing has to do with demographic collection. It's something that I know the SU has been advocating for and the university hasn't always been super open to it. But from what I've seen at the Students' Union level that kind of research is beneficial. I want to push for that to be implemented at a larger scale across the university.
This year, three faculty associations are looking to implement membership fees for the first time. If elected, how would you support faculty associations and do you think faculty association membership fees are the right way to do it?
Bhatnagar: All the faculty associations which are proposing the faculty association membership fees are essentially doing that because faculty associations are able to advocate to a very niche community. The Students' Union is a very broad organization so we're very lucky that we have faculty associations for all 14 faculties on our campus. And they are able to provide students with very specialized services. Being the vice-president (academic), you get the awesome opportunity to work very closely with faculty associations through the Council of Faculty Associations, the boards and their working groups. And this past year, having worked closely with them as a student governance officer I can only see myself as a vice-president (academic) continuing to build those relationships and making sure that their advocacy is strong.
Bruce: I think adding fees is definitely a cause for more discussion. We will definitely need a lot more discussions around that and probably referendums held. I support faculty associations, and if that's what the students in those faculties felt is right, then I would support that, but with a referendum and input from the students. But it might not be the same for all faculties asking for a fee.
Pop: My faculty is one of the ones that has tried to implement a fee this year so I observed that process and how we made that decision to present to council that we wanted a fee. I know that a very important thing with that is consultation and that is usually where faculty associations struggle. What I would like to do is support them in that consultation and potentially figure out ways to support them in finding effective ways to do consultation. We really need to know if the students are ok with the fee and that can be extremely hard from what I've seen. I support faculty associations. I think that they can do some amazing things for students if they have the proper means to thrive and I want to support them in that. But going back to that thing about putting students interests first, I think that other potential funding sources should be examined first before we take money away from the students.
This year, the Students' Union ran several campaigns to improve diversity in student governance, including the UASU Got This poster campaign and STRIDE. What do you think of these initiatives and would you continue them if elected?
Bhatnagar: I'm a member of STRIDE this year and it has been very influential in me running in this election and it has definitely prepared me. You know, as a woman of color, I often felt that I wasn't prepared to run and campaigns like the USAU Got This! Campaign and STRIDE have given me the opportunity to delve into my strengths and my weakness and be able to work on them. I definitely would continue to work on STRIDE — I do want to expand it into looking more at LGBTQ+ communities and also looking at the international community — however, I think that initiatives such as the USAU Got This! Campaign and STRIDE talk about so much that we are able to do but also show us how much there is left to do when including women and diverse forces into our governance.
Bruce: I think I would definitely continue them to increase diversity. This is possibly the most women we've ever had running in the SU elections. I think they've definitely worked to improve diversity in the elections based on the number of people running this term. I think that diversity is a big thing that our elections were lacking before so we're on the right track for improving that.
Pop: I was actually personally part of STRIDE. I thought it was an amazing program and we learned some really useful things. I definitely think we're already seeing the results that STRIDE has had. I'd like to diversify STRIDE even more, I want to reach a broader spectrum of students, and I want there to be more awareness surrounding it. I've seen the process of STRIDE and I've also seen the process of GovWeek which had some problems this year but I think me having seen that and me having been there during it has taught me what the issues are and how I could go about avoiding those problems that occurred.
This year marked the second annual GovWeek event. What is your opinion on GovWeek and if elected, would you run the event next year? If so, would you change anything about it?
Bhatnagar: I am supportive of the overall mandate of GovWeek which is to inform students on how governance works, what opportunities are available, and to help to inspire them to run in elections, and of course to get students excited about student governance. Every person talks about engagement and GovWeek seems to be the only opportunity for students to do that. I don't believe that we can take away GovWeek without providing an ample solution and if elected, I will definitely take a look at the execution of both GovWeek and how we can better use the GovWeek advisory group.
Bruce: I think that GovWeek is a great opportunity to introduce students into student government. I think it wasn't as well advertised as it could have been. I would prefer to continue UASU Got This and the STRIDE program to bring students into student governance. I think GovWeek is good, I just don't think we had the student turn out that we hoped for.
Pop: I was involved in GovWeek both years. I really think that the resources that are offered through GovWeek are valuable, I think there are students out there who are interested in those resources. However, I know GovWeek has had some problems. There are several reasons for that but I am aware of them so if I were to run something like GovWeek again I would have that in mind already and it hopefully wouldn't be a problem because I would know to avoid it.
In terms of whether I would run it again, I think that governance information has to be communicated to students. But I might change the structure of it, like I would maybe do something like that a type of conference but I would only make it a few days instead of a week-long thing.
JOKE: if you were to become a dean of a fictional faculty of your choosing, what would you pick?
Bhatnagar: Okay, well I'm a huge fan of Harry Potter and the entire series. A lot of my social media is Akanksha Potter. If I was the dean I would definitely be the badass woman Dumbledore. I would definitely be the dean of the witchcraft and wizardry thing. I think if I had to pick a specific department to work with I would definitely pick dark arts. I think it's fun and people always see it as a really negative connotation, but you know, practicing the dark arts and magic is actually something that really strong people can do. So, I would definitely be the dean of a magic school.
Bruce: I would choose the faculty of lifestyle, encompassing physical and mental wellness.
Pop: I am a huge fan of dogs. I have a chihuahua, she's the sweetest thing. I love dog therapy, I think it's great. So what I'd want to do is I'd want to have a faculty that trains people as dog trainers. It would be like a faculty of puppies. There would be dogs everywhere and whenever people needed to destress a little but they would come to that faculty and play with the puppies.