News
Students' Union
SU Elections 2023: Presidential Debate Recap Part I
The two presidential candidates debated on issues of affordability, student housing, campus safety, and advocacy.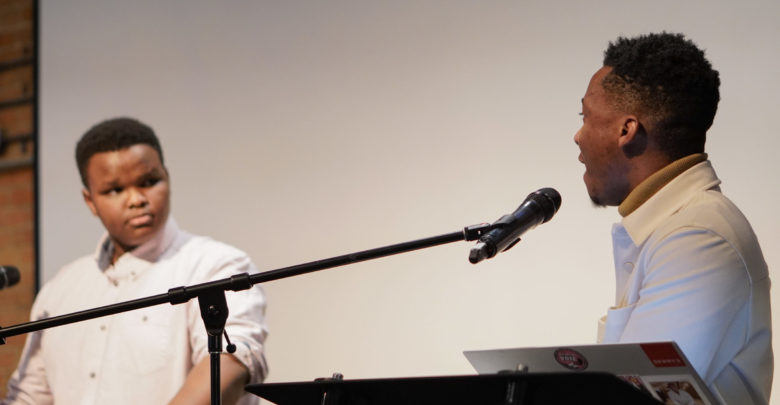 On March 3, a presidential debate for the University of Alberta's Students' Union (UASU) elections was held at Dewey's.
In previous years, a presidential radio debate was held, and the in-person format was a new addition to the Students' Union elections. There are two presidential candidates running this year: Haruun Ali, former Students' Union arts councillor, and Christian Fotang, current vice-president (external).
The debate was hosted by Matin Koohkan, UASU chief-returning officer (CRO) and addressed issues including affordability, student housing, campus safety, and accessibility. The end of the forum was dedicated to questions from the audience, and The Gateway — which can be found in part two of this article here.
Candidates discussed tuition, Campus Food Bank, and advocacy for affordability
"Our union has not failed you. The establishment that runs our union has failed you," Ali said during his opening statement. He touched on his reasons for running, including wanting to empower new student voices.
"The bureaucracy and inefficiency that plagues our governance has prohibited new student voices from joining. Rather than empowering new student voices, we see the same voices year, after year, after year … I provide that fresh voice, and a unique perspective on governance."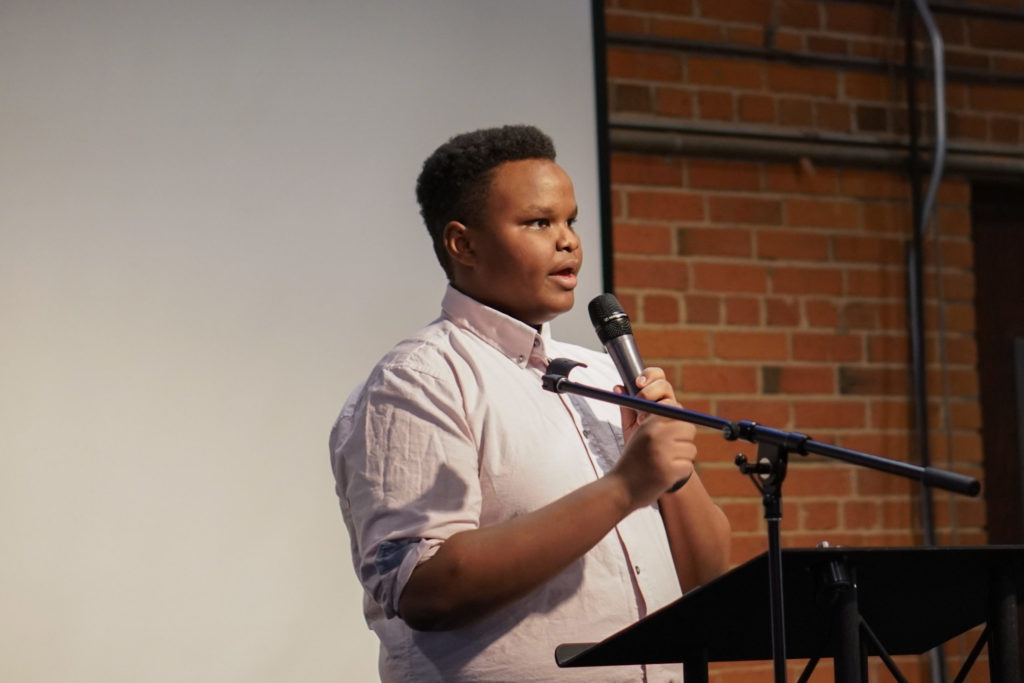 In Fotang's opening statement, he said that he decided to run after seeing "the negative impacts that tuition increases had on a close friend." He added that although he has seen the UASU make achievements as vice-president (external), "things are disconnected and many feel left out."
"I recognize that the system is not working for many, and I want to bring my attention back to our campus community, and ensure that no one feels left out."
The first question of the debate asked the candidates why they think they deserve to be president of the UASU, and why they would do a better job than their opponent.
Fotang touched on affordability measures he has worked on as vice-president (external), including "the elimination of interest on federal student loans, more work hours for international students, and more [funding] for the Canada Summer Jobs program." He added that he plans to apply his experience as vice-president (external) to his presidency.
Ali replied that as a political science student who lives in residence, he can provide "a voice that can capture all of campus."
"I think people have lost faith in the establishment," he said. "We just need something different, and that's why I'm promoting that we're a union, not a business."
Each of the candidates were then asked about exceptional tuition increases. Fotang said that the UASU should be more open regarding "where [the SU's] power starts and ends and being upfront about what we can actually achieve." He added that while pursuing decreased tuition, the SU would continue to mobilize students, while working to provide students with discounts elsewhere.
Ali then said that the organization of protests after bills had been passed, were a waste of time. Ali stated that his proposed advocacy office would "empower students to take a stand … [while] the Students' Union is there to support them."
When asked about food insecurity for students and increased food bank use, Fotang said that while students face higher costs of living, the Campus Food Bank (CFB) is not a long-term solution to food insecurity. Fotang also said that the CFB needed support from the university, as "it can't be coming from students … it should be coming from those who have the decision and the leverage to do so."
Ali responded that on campus, he aimed to remove the CFB's rent fees and improve investment in the CFB, but "long-term systemic solutions were needed."
The candidates were then asked about the lack of consultation with international students over the six per cent tuition increases in the upcoming academic year.
Ali later said that in working with tuition affordability, he wanted to bring the discussions away from the Academic Planning Committee (APC) and rather place those proposals with the General Faculties Council (GFC). Moving the discussion of tuition proposals to the GFC would allow students more of a say, said Ali, as the GFC gives students a 33 per cent control over discussions.
Fotang said that consulting with international students and the International Students' Association (ISA) has been a priority for his term and he plans on continuing that work if elected as president.
-Amanda Sparks
Candidate calls food in Lister Hall "abysmal" and "disgusting," in discussion on student housing
In the second segment on affordability for student housing, the candidates were questioned on affordable housing for students.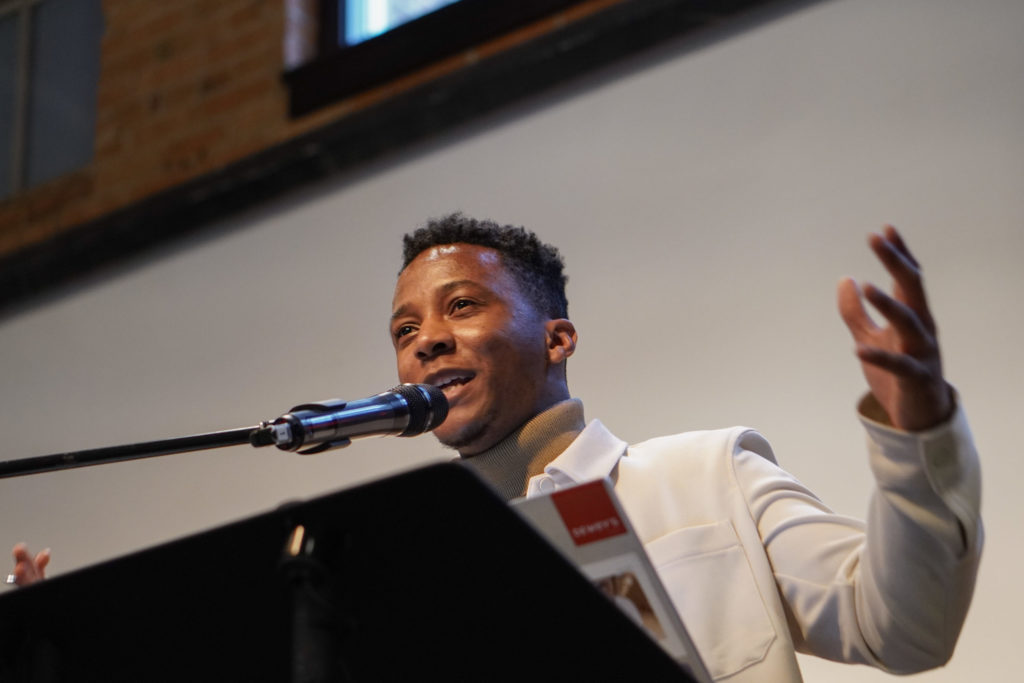 Fotang said he is familiar with the statistics on the lack of housing security. He sits on the Student Housing Stability Working Group where he has advocated for medium-term housing in Edmonton. He also raised the issue of the "not in my backyard" mentality for housing around campus.
"It's very strong in our university community as people are wanting to keep the cost of their houses high so they can sell it and retire. But we're trying to find affordable housing for students."
Another question was given about the attempts to guarantee the hygiene of food services in Lister.
"I live in Lister. I eat in the Lister dining hall almost everyday, said Ali. "It's abysmal. It's disgusting. I've seen brownies that are harder than ice pucks."
He added that what students want is quality food especially considering that they're spending "upwards of $6,000 on the meal plan."
"What we need here is lived experience," said Ali. He suggested that the UASU should introduce a set of minimum residence standards and that by establishing these standards, resident services can begin to establish "what's bad, what's good, and what's great."
"Assessments have been done," said Fotang, "to see what the residency experience is like, so now it's just a matter of taking that feedback and implementing a strategy for improving residences on campus."
-Amanda Sparks
Third segment questioned candidates on public transit, gender-neutral washrooms, and policing on campus
The third segment of the debate focused on the topic of campus safety. Candidates were asked what their stance will be on transit safety, as "severity of crimes at the light rail transit (LRT) stations have increased by 60 per cent."
Ali spoke on the importance of community-based safety programs such as SafeWalk. He plans on increasing funding for SafeWalk to make it available to more students, and advocating to the City of Edmonton and Government of Alberta for long-term investments in safe consumption sites, and housing.
"There is a real fear amongst the student population on taking public transit. Addressing that is a big priority of mine," Ali said. "Long-term solutions are necessary for us to curb social disorder in our transit stations."
Fotang touched on advocacy efforts that he has worked on during his time as vice-president (external), including advocating for transit safety to city council during Budget 2023-26 deliberations. He added that the Edmonton Transit System (ETS) routes will be a priority if elected.
"You shouldn't be having to wait half-an-hour to an hour for your next bus to come, alone, late at night in the dark, to get back home," he said. "Working with the city and ETS to improve the frequency of routes can address that issue, and that is going to continue being a priority of mine as president."
Ali responded to Fotang's statement, saying that both he and Fotang have spoken to external media about transit safety, and both have successfully advocated to city council.
"However, I don't see this in your platform, and I think students deserve to know why," Ali said to Fotang.
"Part of why I didn't put it in my platform is because I'm not trying to come in and say that I'm doing something new, for things that I already recognize as a priority," Fotang replied. "You've just said it here — you've already gotten success. What are you trying to achieve that's new?"
Fotang continued, saying that supports and funding have already been provided, "so now it's just a matter of tracking if things are working."
"You talk about the broken trust that we have between the Students' Union and students, and I think part of that is just putting a platform that's just a make-a-wish list."
The two candidates were asked how they plan to advocate for gender-neutral washrooms in UASU businesses and change-rooms.
Fotang replied that although there has been progress from the UASU to the university on gender-neutral washrooms across campus, the UASU needs to "address the disparities and barriers that exist" in its own businesses.
He added that he plans to get funding for the creation of an all-gender wheelchair accessible washroom in Dewey's on the main level.
Ali replied that "the Students' Union has a pretty bad record" when it comes to having gender-neutral washrooms in its businesses, and he plans on advocating for the issue. Ali also agreed with Fotang that installing an all-gender accessible washroom in Dewey's is "crucially important."
Ali and Fotang were then questioned on how they plan to make sure that every students' opinion is taken into consideration when it comes to policing and security — including non-uniformed officers — in the university, and transit stations.
Ali said that as UASU president, his job would be to advocate for all students, and a solution to students feeling unsafe on campus is "investing in community-based safety programs."
In order to make sure that students' voices are heard, Fotang said that he has been working on this issue as chair of the policy committee, which has been hearing from people affected by transit safety.
He added that he has been having conversations with the ISA about how transit safety affects them, and the Indigenous Students' Union (ISU), "who have concerns about more police presence on campus."
-Lily Polenchuk
Advocacy segment questioned candidates on ARRC recommendations, sexual violence supports, and affordability
The final segment of the debate, government advocacy, began with the two candidates being questioned on if they know of some of the concerns affecting Indigenous students, and how they plan to address these concerns if elected.
Fotang said that the first step is making sure that the university delivers on its promise of building the Maskwa House of Learning. He added that because of the enrolment expansion program at the U of A, there is a need for more resources for Indigenous students.
He also touched on wanting to "work with the registrar's office, the First People's House, the ISU, and other Indigenous student leaders on campus, to have a way that we can recognize Indigenous students — not only on the months that matter, but throughout the entire year."
Ali agreed with Fotang, and said that he wants to continue to advocate for the Maskwa House of Learning. He plans to continue working with the Aboriginal Relations and Reconciliation Committee (ARRC) and the Students' Union Building (SUB) planning committee, to rename rooms and display territorial acknowledgements in SUB.
"It's about building a campus community where everyone feels safe, where everyone feels like they belong. That is my long-term goal: a campus community where you can be who you are, without fear of repercussion."
The two candidates were then asked whether or not their campaign was a part of the four campaigns that reached out to the ISU for consultation. Ali replied that his campaign didn't because "they heard from other student leaders that they weren't able to get through to the ISU," so he directly consulted with Indigenous students.
Fotang replied that he had conversations with former ISU vice-president (consultation and engagement) Shannon Cornelson, but was unable to set-up a meeting with current ISU president Malijha Moyan.
Ali and Fotang were then asked if they are aware of some of the ARRC recommendations, and how they plan on implementing some on campus. Fotang said that he plans to continue working on recognizing Indigenous students and their successes, and that in his current role, he's been able to work on more funding supports from different levels of government for Indigenous students.
"As the chair of CASA, I made sure to ensure that our national Indigenous advocacy committee was adequately funded," Fotang said.
Ali replied that the ARRC recommendations were considered as his platform was being built, and he thinks the UASU needs to "empower people to be able to do advocacy."
The next question touched on how the U of A Sexual Violence Management Audit doesn't commit to making resources in French, having them available at Campus Saint-Jean, and doesn't provide support to Augustana students. The two candidates were asked how they plan to advocate for these issues, and if they guarantee something will be done in their term.
Ali said that advocacy would be done by working with CSJ and advocating with them, and he wants to "make sure that we're working with survivors to ensure that our sexual-violence policies as a university make sense."
Fotang said that he's been involved in working on a pre-budget submission for the university, that would ask for more funding for Augustana campus and CSJ. "A lot of the reasons why we don't see these services being delivered is the budget cuts by our university," he said.
The final question in this segment asked how the two candidates plan to approach affordable education differently than the past four years, and how they plan to guarantee additional success.
Ali mentioned that tuition discussions need to be shifted away from APC to GFC, where there are more students involved. He added that he wants to "work with the registrar and provost to speed up the process of obtaining need-based grants."
Fotang said that shifting this responsibility from APC to GFC, must be done through the Board of Governors. He added that he wants to have an annual meeting of members, so that students can come together, and be educated on what the UASU does, "and hear from them on how they would like to be supported."
"We have to improve other aspects of our organization so that students have a good feeling about the Students' Union, so that when we call on them to come out and protest, and take direct-action, they have trust in us."
-Lily Polenchuk
CORRECTION: This article was updated March 6 at 2:40 p.m. to include that Christian Fotang is the chair of CASA. A previous version of this article said he was the chair of CAUS. The Gateway regrets this error.
---
Every year, The Gateway publishes hundreds of articles like the one you just read that are free for everyone to access. But The Gateway needs your support to continue publishing its award-winning journalism. Please consider donating today, even a small amount can help the University of Alberta's only newspaper continue serving the campus community. Thank you.