News
Students' Union
SU Elections 2023: Presidential Debate Recap Part II
In the second half of the presidential debate, a long line of audience members formed to ask questions to the two candidates.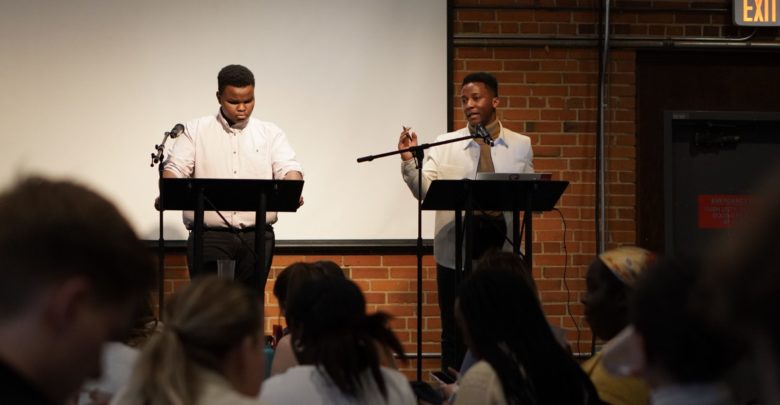 On March 3, a presidential debate for the University of Alberta's Students' Union (UASU) elections was held at Dewey's.
Presidential candidates Haruun Ali, former Students' Union arts councillor, and Christian Fotang, current vice-president (external), spent the second half of the debate answering questions from the audience and The Gateway.
This is part two of this article, part one can be found here.
"What's in the best interest of students is obviously what's in the best interest of campus," says Ali in audience question period
The candidates then began receiving questions from the audience, including one from vice-president (academic) candidate Rowan Morris. Morris asked Ali whether pushing to empower students to do advocacy would put the all labour to advocate onto marginalized groups.
"We cannot absolutely pass everything down," said Ali. "But a lot of things that we do, as the Students' Union, can be done in support and in conjunction with other student leaders."
Current UASU President Abner Monteiro then questioned the candidates how they plan to balance the demands of students with acting in the best interests of the university, as they are required to do at the Board of Governors meetings.
Ali replied that students are one of the university's biggest sources of revenue and the most involved group on campus. Because of this, students should be the university's "most important priority."
"What's in the best interest of students is obviously what's in the best interest of campus."
Fotang responded that in order to stay true to their slogan, the university needs to design their system in a way that supports students.
"The university often likes to throw the term around, 'for the public good,'" Fotang said. "And if they're going to stay true to that statement, they need to recognize that for the public good is creating incentives, creating programs, designing their budget, in a way that supports and addresses the needs of students."
"Too often on this campus and too often when it comes to tuition discussions, students are treated as a client or customer of the university — that's not the way it should be. We're an equal partner or stakeholder when it comes to the way we design this university."
The candidates were then questioned on how they plan to encourage more gender minority representation in next year's elections by Jillian Kidd, vice-president (academic) candidate Rowan Morris' campaign manager.
"What we need to do is fix the overall system and culture that exists within governance right now," Fotang said. He said this system does not encourage women executives to speak up while they are there.
"I've heard those concerns, when they bring things to council, they've had to work twice as hard to get the attention of council," continued Fotang. "So more needs to be done to shift the culture, and actually make it a welcoming space, to empower women in governance to actually say their piece."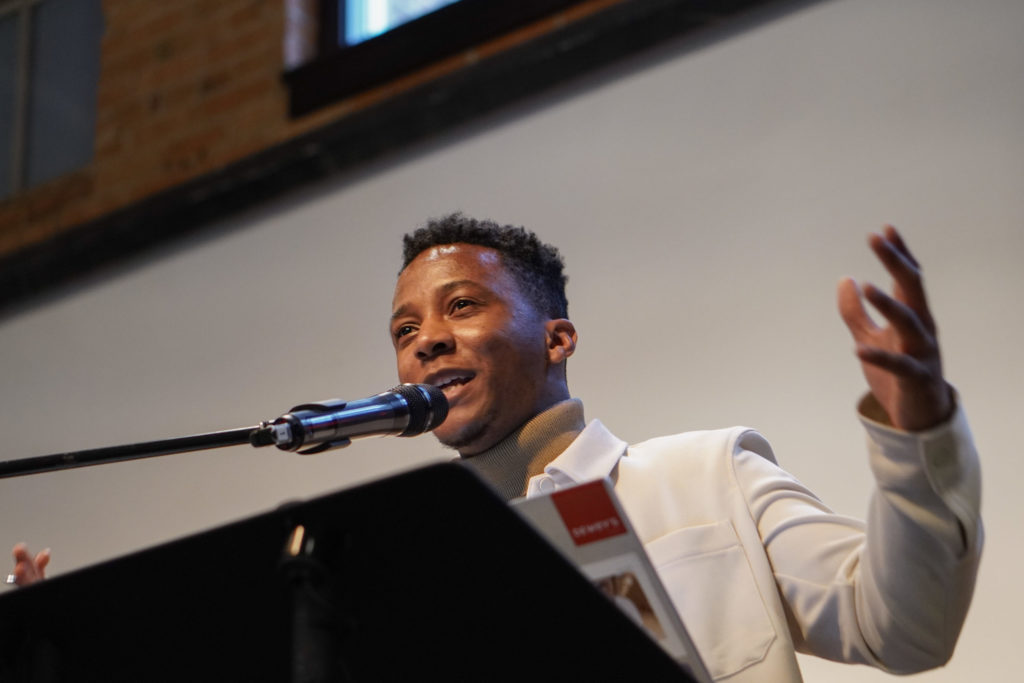 "Some of the things we can do tangibly, though, is provide education, provide support, especially support for our current student leaders," said Ali. "One of the things we absolutely want to continue is STRIDE campaign school."
"We need to have more diverse voices at the helm," said Ali. "Because that's what campus is now. Campus is an ever-evolving place."
Another audience member asked the candidates how they planned to divest from big five banks that invest in fossil fuel expansion, such as RBC, which the UASU and the university have close relationships with — in order to make campus a greener place.
"It's not as easy as it looks achieving that in one year," said Fotang. He said he came across this same issue as chair of Canadian Alliance of Student Associations (CASA), but they realized they had few other options so they opted to look for smaller tangible steps such as investing in green portfolios.
"In terms of how that looks for the Students' Union I'll have to admit with you right now, I don't know, but I'd love to sit down and work with student groups," he said.
Ali said he does support divestment and that he would work with the executive team, "to look into divestment, to look into moving our money somewhere else, because we can't be supporting that."
The candidates were then asked about the lack of funding in their campaigns for Indigenous students, and if they had any plans to financially support Indigenous students in their presidency.
"Specific funding for Indigenous students, supporting for them, is absolutely crucially important," said Ali. "And that's something [the ISU] would've told me if I had reached out and met with them."
Fotang then said that people need financial support, and he planned to not just promote the existing financial services, but to also see where the UASU is lacking for support, and expand and create more funding opportunities.
Another audience member asked Ali how he planned to work with the government if the UCP was re-elected, given his affiliations with the NDP, while remaining impartial.
Ali responded that he planned to forgo all associations with the NDP during his term if elected and he planned to be uninvolved with any partisan work.
"My goal as a student leader … is to represent 35,000 views. Those views may not agree with me, may not support my political views, however, my role as president is to support them."
-Amanda Sparks
The Gateway asked candidates about arts building maintenance, fiscal transparency, and different supports
The final portion of the forum allowed The Gateway to ask both candidates questions. The questions were sent in by staff, volunteers, and readers, and read by Emily Williams, the Editor-in-Chief of The Gateway.
The first question asked how the candidates would advocate for students in the faculty of arts, who are facing difficulties accessing administrative resources, and are suffering from the lack of basic building maintenance due to budget cuts.
Ali responded that as an arts student, he understands the concerns, and that the UASU needs to work with the Organization for Arts Students and Interdisciplinary Studies (OASIS) and art students to advocate for these issues.
Fotang said that to start addressing these issues, the current government's views on the arts need to change, which will require working with other organizations across the province.
He added that the UASU needs to work with BoG and the university's vice-president (facilities and operations), so that when the university is submitting its capital infrastructure proposal, a new home for the humanities is accounted for and that "arts supports are the first thing on the budget."
The two candidates were asked about the Sustainability and Capital Fund (SCF). "Particularly considering the low number of applications, and the struggles the committee has had meeting consistently — what would you do to address this, and promote meaningful sustainability projects on campus?"
Fotang addressed that "there were a lot of issues this year that cannot repeat next year, especially considering how much of students' money that is." He said that seats on the SCF committee need to be filled before the new term starts, and that SCF needs to be better promoted.
Ali said that when he was chair of the nominating committee, they were successful in filling seats for the SCF committee. He agreed with Fotang that the UASU needs to make the process of applying for the grant easier.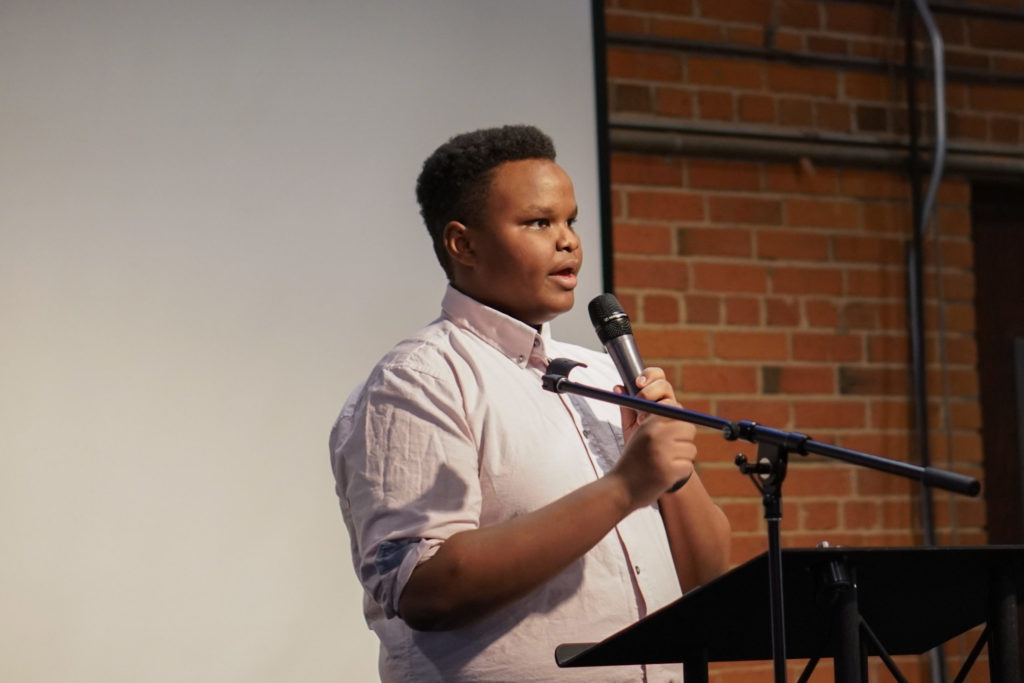 Ali and Fotang were then asked about how they plan to increase accessibility and transparency regarding UASU spending, particularly in light of the fact that audited financial statements for the 2021-22 year are not yet available on the Students' Union website.
Ali mentioned that following Break the Record, the finance committee and councillors "lobbied for the executive team to make changes."
"Students should be able to see where we're spending money, and how much money we're spending," Ali said. "We need to rebuild our trust with students, especially after Break the Record."
Fotang said that one of his goals is to update the UASU website so that it's easy to navigate, so that the UASU can engage better with students, and students can better access information.
He expanded on his goal of having an annual meeting of members, and said that it could be "a future opportunity for the vice-president (operations and finance) to present where we are in our budget," and engage students in conversations about the UASU budget.
The next question asked how the two candidates plan on making mental health supports more accessible. "How will you advocate for students who may not be able to access traditional, in-person therapy?"
Fotang mentioned that he plans to create more dedicated spaces for virtual therapy on campus, and that anything created "has to work for all students."
Ali agreed with Fotang that "accessibility is crucially important," and that because these services are volunteer-run, "it makes it harder for students to be able to access support."
"We need to stop relying on the labour of student volunteers to do the work, and we need to make sure that we are paying people appropriately for their efforts."
The next question was directed toward Ali, asking why he plans to advocate for mandatory Indigenous courses, rather than mandatory Indigenous content — which current vice-president (academic) Gurleen Kaur, and Florence Glanfield, vice-provost (Indigenous programming & research), have advocated for.
Ali replied that he's had conversations with Indigenous students about this issue, and gave an example of how he's seen international students that aren't aware of Indigenous student issues on campus.
"That lack of knowledge can be gapped with mandatory Indigenous study courses … this is going to help our society long-term."
The role of student leaders is "not to assert what we're going to do — it is to follow the lead of Indigenous students and elders," he added.
Fotang added to the conversation, and said that mandatory Indigenous course content is a more flexible option for faculties, and that it provides the opportunity for land-based learning.
The final question asked how candidates would try to meaningfully increase engagement in governance in light of a high number of vacancies and resignations this year in Students' Council.
Fotang said that there is an information sharing disconnect between the executive team and councillors, which needs to be worked on. He added that creating a council action plan could help address the issue.
"What I believe we can do immediately is fix the culture. Make council an approachable space, make it a welcoming space, and empower voices … so that it's not just the same people speaking all the time."
Ali said that he expected Students' Council and the UASU "to be a union, not a business."
"The infighting, the bureaucracy, the combativeness of some folks in Students' Union, made it hard to pass simple motions," he said. "We have reputational damage that has been instilled by executive team after executive team."
He added that the solution is to reflect and see how the Students' Union can do better, and look to students for their opinions. "You are invested in this union, but the question is, is this union invested in you?"
-Lily Polenchuk
---
Every year, The Gateway publishes hundreds of articles like the one you just read that are free for everyone to access. But The Gateway needs your support to continue publishing its award-winning journalism. Please consider donating today, even a small amount can help the University of Alberta's only newspaper continue serving the campus community. Thank you.