Campus Life
News
City Budget 2023-26: Additional funding passed for climate and transit initiatives
Students impacted by changes in transit, climate, and safety policies in new budget for the City of Edmonton.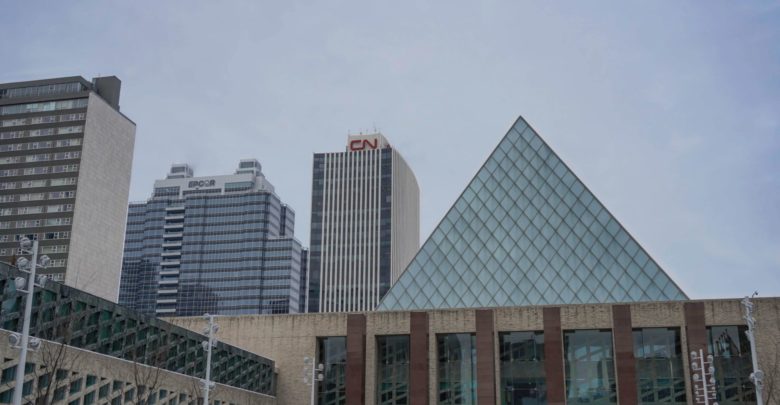 In 2022, the City of Edmonton's proposed budget and its deliberations prominently featured climate and transit issues — which have been recurring priorities for student advocates, and Edmontonians. 
Edmonton released its proposed budget for 2023-26, which was developed by City of Edmonton administration, in October and November 2022. It consists of four financial plans: the capital budget, operating budget, carbon budget, and utility budget.
Once passed, these financial plans decide how the city can spend its revenue for the next four years. The capital, operating, and carbon budgets impact how much money is allocated towards transit and climate change.
The capital budget funds the physical infrastructure of the city, such as Edmonton's light-rail transit (LRT) system. The proposed capital budget was $7.75 billion, and after deliberations, city council approved a new capital budget of $7.9 billion.
The operating budget funds city programs, services, and goods that Edmontonians use, such as transit and roads. This budget had a proposed expenditure of $3.2 billion in 2023 with an increase to $3.5 billion in 2026, including an annual tax increase of 3.9 per cent.
A slightly higher operating budget was approved during deliberations; the 2023 budget increased to $3.3 billion. Council also approved a nearly 5 per cent tax increase for 2023-25, and a slightly smaller increase in 2026.
Alongside the operating budget, the city's first carbon budget was developed. The carbon budget was created to guide city councillors during budget deliberations, when making decisions regarding climate change.
The carbon budget outlines the city's community emissions carbon target for 2023-26, which is 49.1 million tonnes of emissions. However, the city is set to exceed the set target by approximately four million tonnes.
"It is very important that young people get involved" in city budget, Mayor Sohi says
In a city council budget meeting on December 2, City Manager Andre Corbould said he "didn't sense that we had the normalization of people coming to talk about climate change," in response to comments about a lack of funded climate projects in the proposed budget.
"Most of the people that came to talk about climate change — I really appreciated their comments — but they were clearly … climate action folks," Corbould said. "What I think we need to do is hear a million Edmontonians talk about climate change, and we're just not there yet."
When asked about his thoughts on Corbould's comment, City of Edmonton Mayor Amarjeet Sohi said that there is a "very strong mandate from Edmontonians to take bold action on climate change."
"Edmontonians are deeply committed to doing their part in building a climate resilient city. What we need to do as a municipality is create the necessary infrastructure for them to do so," Sohi said.
Sohi added that it is important for young people to pay attention and get involved in matters such as the city budget.
"It is very important that young people get involved, because it is about their future. It's about what kind of city they want to live in," Sohi said. "If the voices of young people are missing, their perspective will not be coming to our discussions, or informing our decisions."
The University of Alberta is located in Ward papastew, which is represented by Councillor Michael Janz. At the time of budget deliberations, Janz said councillors were frustrated that the proposed budget didn't recommend more funding towards climate issues.
"The fact that administration brought back a budget that did not have that in there is incredibly frustrating for me, and my colleagues have articulated that as well," Janz said.
According to Janz, there should be actions taken to reduce emissions in order to address the climate emergency that the city declared in 2019, and stay on track with the carbon target set for 2023-26.
"The two biggest sources of emissions are transportation, so our cars, and our buildings," he said. Janz explained that buildings need to be deep energy retrofitted, "so that they're not belching carbon, heat, and pollution into the atmosphere."
Janz added that his two key priorities were better transit, and more accessibility for active transportation, such as bike lanes, saying that "those are both transportation and climate priorities.
Councillor Andrew Knack said that the LRT system is key to increasing ridership in the city, so that Edmontonians can choose to take the LRT rather than their car.
"Having a proper LRT system that allows you to get to almost any major post-secondary institution in our city, I think, is the best way you're going to get people to become long-term transit users," Knack said.
In order to improve transit for post-secondary students, Knack thinks that having one streamlined system, investing in On Demand Transit, and increasing the frequency of conventional buses "will make it easier for post-secondary students to attend."
Regarding the proposed operating budget and its recommendations for transit, Knack said that the proposed budget "[did] not greatly align" with councillors and the platforms they ran on.
"We need immediate actions to improve the safety of public transit," UASU vice-president external says
In terms of transit safety for students, Councillor Erin Rutherford said that investments have been made in a transit safety plan.
"We need to continue making progress that will have an impact on students, and [allow] them to be comfortable on transit," Rutherford said.
Christian Fotang, Students' Union (UASU) vice-president (external), said that 73 per cent of U of A students take public transit to campus, according to a recent UASU survey.
"Many students have expressed concern with incidents of explicit sexual harassment; witnessing violence; routes, commute length, and transit frequency; feeling unsafe around unhoused people, garbage, and drug paraphernalia in transit stations," Fotang said in a statement provided to The Gateway.
"That is why [the UASU's] priority has been advocating for city council to make short and long-term investments needed to address this issue … we need immediate actions to improve the safety of public transit, and we need a budget that reflects this issue as a priority."
New motions passed for climate, regional transit plan derailed
During deliberations, council introduced and passed motions towards climate action projects, including $53 million toward creating deep energy retrofits for city facilities — which will allow buildings to release less emissions — and $11.2 million toward buying emission-neutral city vehicles.
Council also approved adding $100 million to the budget for a city-wide bike plan, which will implement more bike lanes and multi-use paths.
"This is a great step for affordability, sustainability, and safety for our whole city," Janz said in a statement provided to The Gateway. "It only costs 0.1 per cent of next year's tax increase, but has the potential to save everyone money … this is a small investment now, but a big step towards meeting our climate goals."
Other projects, however, did not make it into the final budget. Knack sits on the Edmonton Metropolitan Transit Services Commission (EMTSC) as a council representative, and his motion for the budget to annually fund EMTSC $13 million was not passed.
If it had passed, the funding would have gone towards a regional public transit plan connecting Edmonton, Fort Saskatchewan, Spruce Grove, Stony Plain, St. Albert, Leduc, Beaumont, and Devon. In a statement provided to The Gateway, Knack said he is "concerned about the long-term impact to Edmontonians and those living in the region."
"After spending close to a decade working on the creation of a regional transit system, we will continue to have a scattered approach to providing transit across the region."