News
Students' Union
Notes from Council: Lister Residence's food hygiene and council restructuring discussed
"We need to be able to ensure that we, as a students' council, are an efficient group," UASU president says.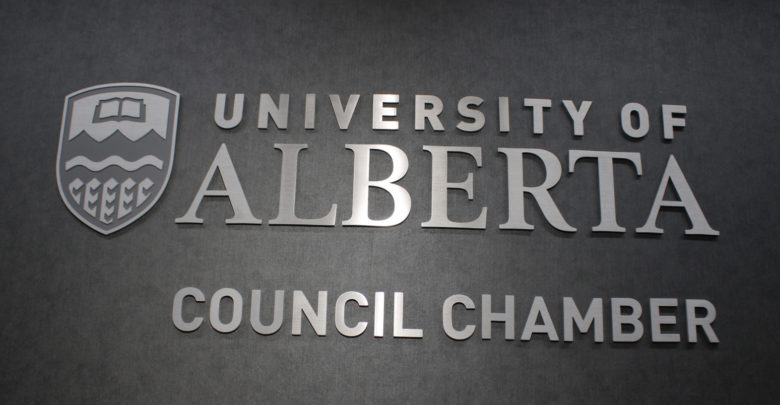 "Notes from Council" is The Gateway's ongoing series of recaps of noteworthy items from Students' Council meetings.
---
At the February 21 Students' Council meeting, the University of Alberta's Students' Union (UASU) discussed Lister Residence's food hygiene, council governance restructuring, artificial intelligence (AI), and the proposed syllabus bank. The budget principles for 2023-34 were also approved.
After a complaint over Lister Residence's food hygiene was submitted, the residence's food services have been subjected to an inspection and are to take action, said UASU Vice-President (Student Life) Joannie Fogue.
"This is definitely something that we've been seeing as an issue that's come across this portfolio for the past few years. Right at the beginning of my term, this was an issue," Fogue said.
Lister had a health inspector come in and initiate an action plan for the residence, after Alberta Health Services was alerted to the issue. New staff in Lister will now receive training to be able to report food safety issues they may see.
According to Fogue, a master cleaning schedule to ensure a daily cleaning schedule, as well as attempts to increase the cleaning schedule currently in place, will be added. Additionally, a third party has been invited to inspect pest control measures in Lister and formulate a report in order to guide further action.
Council restructuring will improve efficiency, UASU president says
Council passed the first step towards student governance restructuring, which seeks to reduce the number of seats in council. UASU President Abner Monteiro said that the restructuring will aid the council's efficiency.
"I truly believe that we need to be able to ensure that we, as a Students' Council, are an efficient group — a group that knows exactly where their responsibilities lie and are able to effectively manage that work in a way that doesn't fatigue people, that doesn't overwork them, which is why this work is extremely necessary."
The reduction of seats would guarantee each faculty at least one seat. The new number of seats would be determined by dividing the number of students in a faculty by the total number of undergraduate students at the university, multiplied by 10, and rounded up.
This change gives council between 17 and 25 seats — rather than the current 35, 13 of which remain vacant.
"If you have to fight to get into that position, you're more likely to fight while you're in that position" business councillor, Levi Flaman said on the reduction of seats.
Flaman discussed other potential benefits of the restructuring, and subsequent seat reduction for council.
"It would give more opportunity for those who wish to share those perspectives without feeling like they might be inconveniencing others. The student senate could still be coming in the next few years, but the seat reduction is the one thing [the UASU] wants to get out the door right away," he said.
Budget principles for upcoming year to include discount programs, Indigenous projects, and artwork for SUB
The 2023-24 budget principles were also passed. Council Speaker Christian Zukowski described the principles as "what [the UASU] hold the finance committee to when they draft the actual budget."
The budget principles allocate 20 per cent of the Sustainability and Capital Fund's Green Fund Grant to Indigenous projects, as well as dedicating money to artwork in the Student's Union Building (SUB), namely those from Indigenous peoples and students.
The budget principles also work to designate money towards finding student discount programs. This allocation aims to alleviate some of Alberta's higher costs of living's impact on students. They also allocate funds towards mental health services for students and the development of student groups.
The budget principles aim to keep the UASU's operating cost increase below the Alberta consumer price index (CPI). The CPI measures the yearly rate of inflation's impact on consumer goods prices, such as household goods.
Additionally, the budget includes that the Students' Council not spend more than its revenue annually — unless for a multi-year project that can later account for these deficits.
Syllabus bank in the works and AI's role in academia under review
Monteiro elaborated on his promise to create a centralized syllabus bank. Monteiro said that one of the biggest challenges the syllabus bank faces currently, is the possibility that it would be voluntary. If the professors are voluntarily submitting their syllabi, the system may not have access to the syllabi for courses that professors are unwilling to submit for.
Council also discussed the role of artificial intelligence (AI), like ChatGPT, in assignments. "We can't go away from artificial intelligence," said UASU Vice-President (Academic) Gurleen Kaur, "since we [use] so many softwares [that] are artificial intelligence."
The UASU has already a task force to investigate the use of AI, specifically into "what the different options are and how we can communicate to students … how to make use of it and what things will be [considered] an offence," said Kaur.
---
Every year, The Gateway publishes hundreds of articles like the one you just read that are free for everyone to access. But The Gateway needs your support to continue publishing its award-winning journalism. Please consider donating today, even a small amount can help the University of Alberta's only newspaper continue serving the campus community. Thank you.