News
Students' Union
SU Elections 2023 Q&A: Vice-President (External)
There is one candidate in the 2023 Students' Union vice-president (external) race — Chris Beasley.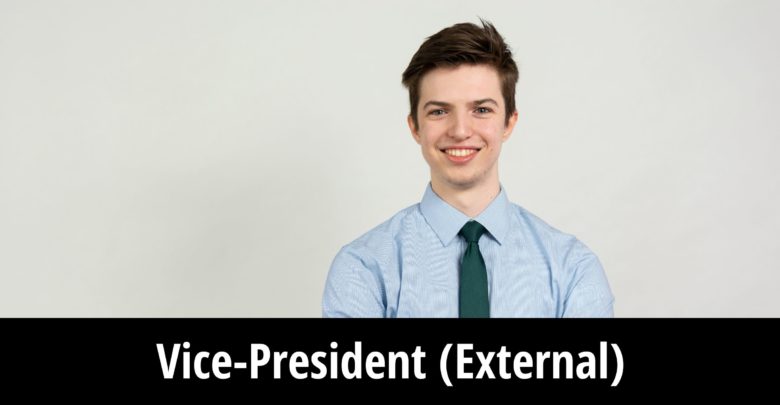 The Students' Union vice-president (external) represents the undergraduate student body at the University of Alberta through external advocacy. They work with all levels of government on issues that impact students, such as tuition increases. The vice-president (external) also works closely with post-secondary lobby groups, such as the Council of Alberta University Students (CAUS) and the Canadian Alliance of Student Associations (CASA).
There is one candidate in the 2023 Students' Union vice-president (external) race:
Chris Beasley, a sixth-year political science student, and former Students' Union arts councillor.
The following interviews have been edited for brevity and clarity.
Why have you decided to run for vice-president (external)?
Chris Beasley: I think this is important for all candidates to answer. I've seen enough stuff go down during my time at university when it comes to affordability, and the struggles that students have gone through. When I was president of the Organization for Arts Students and Interdisciplinary Studies (OASIS), my faculty was in danger of being merged simply because of the cuts we received from the provincial government. I've spent the last year working for the Council of Alberta University Students (CAUS) as well, as a communications coordinator. I've built snow penguins, I've protested, I've had friends drop out due to tuition increases. I want to fight for better.
What would you say are three main takeaways from your platform?
Beasley: The first one is always going to be affordability. I think that's the one that matters most to students right now when their wallets and bank accounts are hurting. The first pillar I'm going to have is just on affordability. That comes to tuition, but that also recognizes that affordability is holistic. Getting access to cheaper costs of living and other things, is also wrapped up in affordability. Sexual violence prevention and mental health are two of my other pillars, and the final one is going to be advocacy for international students.
With proposed tuition increases and past budget cuts to the university, students have expressed a need for direct action. How do you hope to address this?
Beasley: This is one of the main reasons why I want to be running. I think that we have been hurt so dearly, $222 million in cuts at the U of A alone, as well as many more dollars cut across the entire province. We need to be getting out in front of cameras, and we need to be doing our best to take direct action. When we do direct action, and when we get bodies of students there, we lend credibility to our messaging that I think is incredibly important. This is a tactic that I've already been doing when I launched the province-wide Get Out The Vote campaign, but I also planned some of the protests that the Students' Union has run. I want to do more direct action.
The vice-president (external) is responsible for advocating on behalf of all the students to advocacy groups, lobby groups, and the government, which can be intimidating. Why should students trust you to advocate on their behalf?
Beasley: I've spent the last nine months working for one of these lobby groups. I've been the communications coordinator for CAUS, and that makes me one of their only two paid staff. As part of that, I spent all of Calgary Stampede running around with the chair, vice-chair, and executive director, meeting with these politicians and in many cases introducing these politicians to these student leaders. I knew them already from my time as a page at the Alberta Legislature with the U of A page program. I've also been in one-on-one conversations advocating for students with the Dean of Arts. I sat on the Academic Planning Committee where I was the only student representative along with the Graduate Students' Association (GSA) president, the Students' Union president, and another GSA representative. This is not new to me.
As vice-president (external), after you encounter your role, there will be a Get Out The Vote campaign. How do you plan on increasing student participation in the upcoming election?
Beasley: That campaign is being run by CAUS and it was thought up, pitched, designed, and is now in the process of being executed by one of their two paid staff — that would be me. I'm running it for 13 universities right now, there may be more pending — I believe one other just joined. The U of A is one of the schools that I'm currently helping guide along. I'm running the back-end for the campaign and for the contract. I wrote the manuals handed out to schools on how to run a political campaign. I'm so excited to do it. 
---
Every year, The Gateway publishes hundreds of articles like the one you just read that are free for everyone to access. But The Gateway needs your support to continue publishing its award-winning journalism. Please consider donating today, even a small amount can help the University of Alberta's only newspaper continue serving the campus community. Thank you.