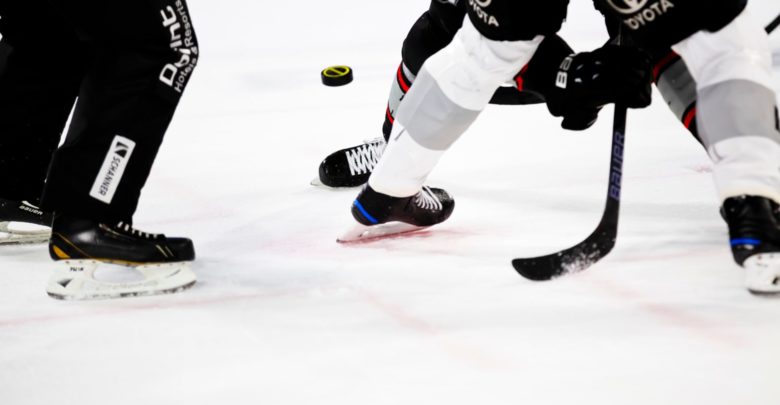 The ice hockey many Canadians know and love today can be sourced from the "ricket" game created by the Mi'kmaq peoples of Nova Scotia. The sport has since been popularized, but the Indigenous roots have not always been appreciated or remembered. Now, hundreds of years after being commercialized by European settlers, the designs and voices of Canadian Indigenous artists are finally being spotlighted in the national hockey world.
Eager hockey lovers took their excitement to social media immediately after Canada's 3-2 overtime win against Czechia during the 2023 World Junior Ice Hockey Championship gold medal game. Following these celebrations, fans also gave praise to the commissioned Indigenous art featured in the games from the beginning.
Four Indigenous artists from Atlantic Canada were chosen to hand-paint a total of 200 hockey sticks: Lorne Julien, Emma Hassencahl-Perley, Robin Jipjaweg Paul, and Nathalie Sappier. These specially designed sticks were gifted to the most valuable players (MVPs) after each game.
Acknowledging the Indigenous origins of hockey through art is a step in the right direction to amplifying Indigenous visibility. These hockey stick designs are a great example, illustrating the Indigenous communities who came up with the game we know and enjoy today. With growing praise and appreciation for their meanings, these new designs should be seen more often.
Beyond congratulating players, the intricacies of each artist's designs hold deeper meanings. For instance, every stick features an eagle.
"To receive an eagle feather, in First Nations cultures across Canada, is a high honour. It symbolizes a high accomplishment," said Hassencahl-Perley, a Wolastoqey artist.
Julien, a Mi'kmaq artist, illustrated an orange heart in the center of the eagle on his sticks.
"I also wanted to show the orange heart as well, and honour all the residential school survivors and the children that didn't make it," he explained.
The painful legacies of the countless unmarked graves at former residential school sites is a solemn truth that Canadians must face. It is necessary to provide visibility into our colonial histories, especially through Indigenous art, to encourage meaningful reconciliation.
Sharing Indigenous art in popular culture, such as through hockey sticks or jerseys, amplifies the knowledge, philosophies, and stories of communities that have been silenced by colonialism.
Concurrently, those inequities of power are still felt by Indigenous peoples in Canada today. These creative outlets, while showcasing beautiful designs, have the power to steward healing expressions of community.
The therapeutic potential of the arts and storytelling has been linked to improving Indigenous health and wellness. For Indigenous artists like U of A alumni Tara Kappo, seeing the Sweetgrass Bear on campus prompts special reflections — to her, "it's like you're seeing yourself."
The importance of Indigenous visibility and well-being was also emphasized in the launch of the Braiding Past, Present, and Future: University of Alberta's Indigenous Strategic Plan.
"We are making ourselves visible in a place that was not built for us … This is in honour of all the work of the trailblazers that led the way for us to be here, to see ourselves achieve our dreams through a university education" said Florence Glanfield, U of A vice-provost (Indigenous programming and research).
Although the sport of hockey comes from Indigenous roots, the contemporary game doesn't often honour those histories. These Indigenous designs are amplifying the roots of hockey in a meaningful way, while hopefully making room for young Indigenous hockey players to join the sport.
More locally, Edmonton hockey fans have celebrated increased Indigenous representation in recent years. Local Cree artist Jason Carter hand-painted over 150 hockey sticks featuring a bear, which were gifted to the MVPs during the 2022 World Juniors. He explained the symbolism of the bear as being one of strength, protection and fortitude, which is important to Indigenous peoples in Alberta.
Similarly, U of A's connection to the bear goes beyond our cheeky mascot Guba. The Alberta Bear standing proudly outside of the Physical Activity and Wellness Centre (PAW) is "a natural and mythical symbol of strength, respect, and vision" to members of the campus community.
The lands we live on represent greater Indigenous histories and we can remember that through showcasing art instalments in our campus community, or while cheering our favourite hockey teams.
The debut of Edmonton Oiler's Turtle Island logo collection on the November 28 Indigenous Celebration Night had many Edmontonians supporting a logo switch. Or, at the very least, incorporating these jerseys more frequently in games. The jersey artist, Lance Cardinal of Bigstone Cree Nation, explained that the turtle encompassing the Oilers logo is symbolic of what Indigenous Canadians call Turtle Island, the lands of North America upon which all NHL teams compete.
The importance of representing Indigenous designs in hockey is a meaningful step towards reconciliation and celebrating Indigenous histories. An internationally renowned tournament like the World Juniors commissioning talented Indigenous artists to create these designs sends a powerful message to professional hockey as a colonized sport.
Indigenous designs tell meaningful stories that should be amplified and tied into regular hockey games. Whether through sticks, jerseys, or more Indigenous inclusion in sports, the communities who created the game deserve more representation.