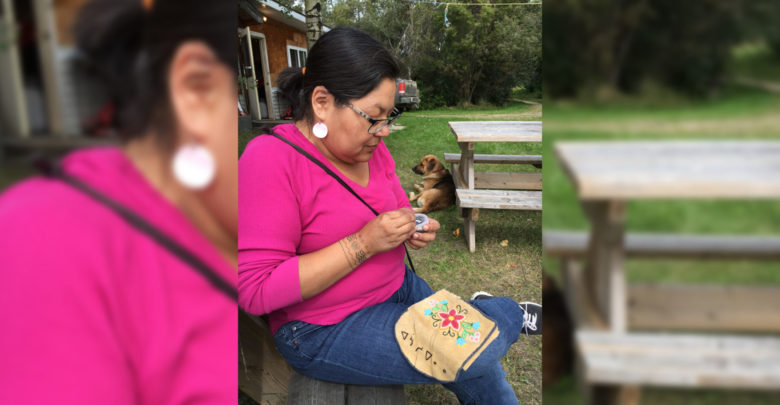 By binding together beadwork, accessibility, and community, Indigenous alumni and artist Tara Kappo hopes that her art can inspire sharing of knowledge.
Kappo is from the sakâwiyiniwak of Sturgeon Lake Cree Nation in Treaty 8 territory, but has been studying at the University of Alberta for the past 20 years. She graduated in the 2021 Fall semester with a Master of Arts in the faculty of Native studies, and her beadwork is also featured on the t-shirt launched for the Braiding Past, Present, and Future: University of Alberta Indigenous Strategic Plan.
The piece featured on the t-shirt is titled "kiskinohawmatok," which Kappo explains is a word related to education.
"This [word] is one that I learned from my mom that has this element of the idea of sharing together — sharing your gifts," Kappo said.
She also adds that the name on the piece is ᐊᐢᑭ ᑲᐱᒧᑕᑕᐟ, her name in nêhiyawêwin, or Cree. Choosing not to anglicize or translate her name was intentional, as syllabics was the "form that [her name] was given to [her]." Syllabics is a family of writing systems used in Indigenous languages in Canada.
"kiskinohawmatok" is a piece that currently resides in the President's Office, though Kappo recalls it was originally in the Provost Office. This piece is also part of a three-part commission request that Kappo received from the university in 2017. The other parts of the commission include a piece done for David Turpin, former president of the U of A, and section of a collaborative beadwork staff between Canadian universities that was symbolic of a Truth and Reconciliation Initiative.
Conveyed in "kiskinohawmatok" is Kappo's hope that Indigenous knowledge isn't something that's just presented in places like the faculty of Native studies, but becoming centralized at the U of A, represented by the flowers, sweetgrass, and medicine in the piece.
"My hope and dream for the university is a space where we share knowledge, where there's a lot of mutually respectful relationships that flourish," Kappo said. "There's also in the backdrop, this idea of the universe, this universality … [where] we all share this space."
She highlighted the centre of the piece as something particularly of note — the U of A crest, which she says evokes thoughts about treaty, and our place within that relationship.
"Inside of the logo contains grass, mountains, and water," Kappo said. "These are also evoked in our understanding of treaty, that the treaty agreement shall last as long as the grass grows, the sun shines, the river flows — this is all part of those relationships that are embedded in that work as it came together."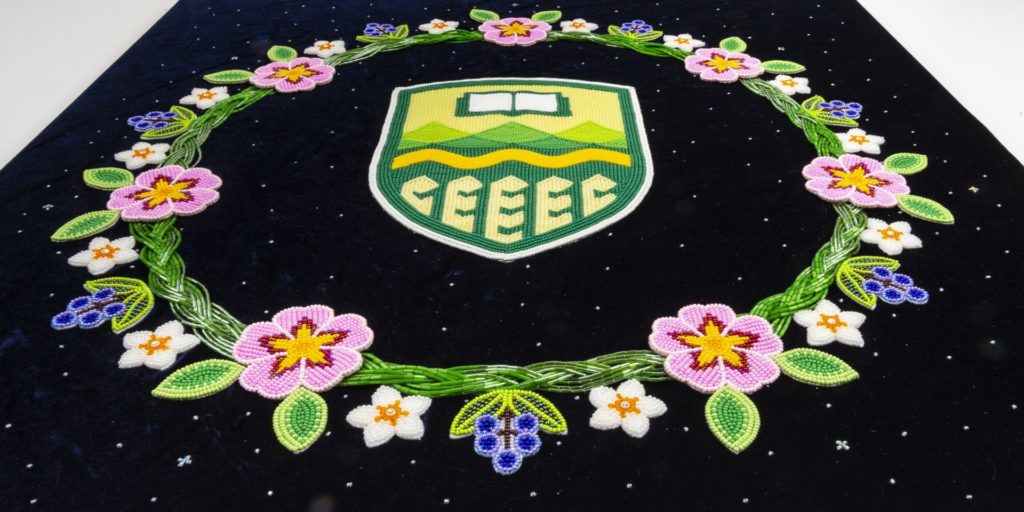 Kappo also noted that it's important to her that her work gave back to the community. This is something that the t-shirt with her beadwork does by donating all proceeds back to First Nations, Inuit, and Métis students in need. She added that her work being selected made her feel "honoured," laughing that she didn't even realize it was her work until her t-shirt had been delivered and she tried it on.
Having Indigenous art like hers being highlighted in such a visible way was significant to Kappo because she "was feeling homesick" when she moved from her reserve and community to Edmonton for university in 1995. This feeling was amplified when she noticed she may have been the only Indigenous person in her classes.
"I remember having moments in some of [my] classes where I would be … the only visibly Indigenous person, and as far as I knew … I would have been the only one," she said. "It felt very isolating."
"It was an invisibility and there was always that constant feeling of not belonging there."
Kappo explained that because the Indigenous population on campus was and is still small, highlighting Indigenous art helped create visibility and so much more.
"Having us visible in these ways and with things that are expressing very deep, important beliefs, philosophies, knowledges … not just tucked off into the corner somewhere … helps foster a deeper sense of connection and belonging."
Art like Kappo's is being highlighted on campus, but she also spoke at length about her love for the Sweetgrass Bear in Main Quad, the tipi in front of Pembina Hall, the Red River cart, and how these pieces highlight Indigenous students' belonging on campus.
"It's like you're seeing yourself."
Beading is something that Kappo describes as "intimate." In Cree thinking, beading is a meditative and cooperative process together with the beads and not something entirely in the artist's control. However, Kappo understands that this understanding and her intentions aren't always picked up by viewers.
"I don't worry about how people take it or not take it, but I really appreciate when I see evidence of … people who are appreciat[ive, even if] sometimes they can't articulate it," Kappo explained. "I think sometimes even … if something's pretty — that's enough."
"It doesn't need to be more than that, deeper than that; that is already profound. That's already an enhancement of our lives."
Although she'd like to return to her education to pursue a PhD sometime, Kappo says that's somewhere down the line. Right now, she's enjoying her life in rural Alberta close to her reserve, with the time to continue projects that had been previously on hold and trying to get her Master's thesis published.