Campus Life
Institutional
News
U of A launches new Indigenous Strategic Plan
The new Braiding Past, Present, and Future: University of Alberta Indigenous Strategic Plan outlines steps for the university to take to achieve the institution's commitment to reconciliation.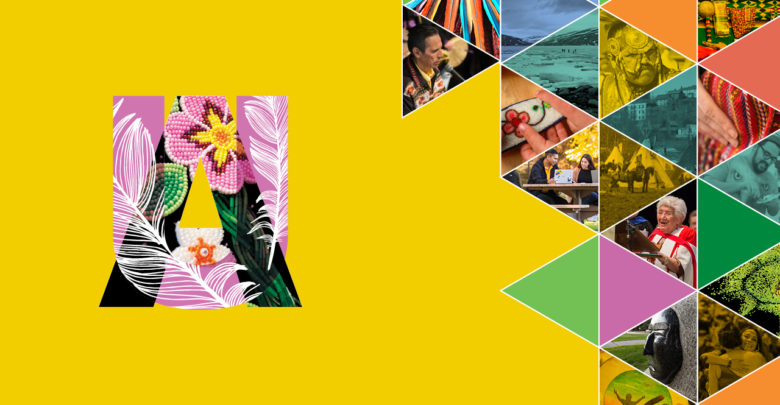 On June 24, the University of Alberta launched the Braiding Past, Present, and Future: University of Alberta Indigenous Strategic Plan.
Delivered in person on the U of A's Main Quad and livestreamed to a virtual audience, the new Indigenous Strategic Plan outlines ways for the university to carry out institutional commitments to the Truth and Reconciliation Commission (TRC) Calls to Action and Indigenous initiatives.
The event was emceed by Trevor Phillips, manager of Indigenous recruitment at the U of A's Office of the Registrar, and Sean Lessard, an associate professor in the faculty of education.
Lessard and Phillips welcomed guests in the crowd, and Phillips delivered a land acknowledgement to begin the celebration. He acknowledged that the U of A situates itself not only on Treaty 6 territory, but also Treaty 7 and Treaty 8.
"We have First Nations, Métis, and Inuit people who come to our school and our campuses to learn, to train, to prepare themselves to contribute to their communities and their nations," he said.
After the land acknowledgement, Lessard gave introductory comments to begin the rest of the launch and celebration.
"[I] just want to pause for a moment and think what [Braiding Past, Present, and Future] actually might mean — the purpose of gathering together and thinking of that intergenerational piece of going backwards and forwards in time," Lessard said.
"I'm thinking about the stories that I hear of many students who are here that they are some of the only First Nations, Métis, or Inuit students in the entire campus, and now I can come across here and I can come to all kinds of different places and connect, reconnect, and recharge myself. It's becoming a sustaining place — it's shifting; it's beautiful work."
To celebrate the Indigenous Strategic Plan launch, musicians from different nations performed with Indigenous powwow dancers, some of whom were U of A alumni. A prayer was also conducted by Elder Francis Whiskeyjack. Later during the celebration, an Inuit drummer and singer performed a song about intergenerational trauma and a fiddle player ended the celebration.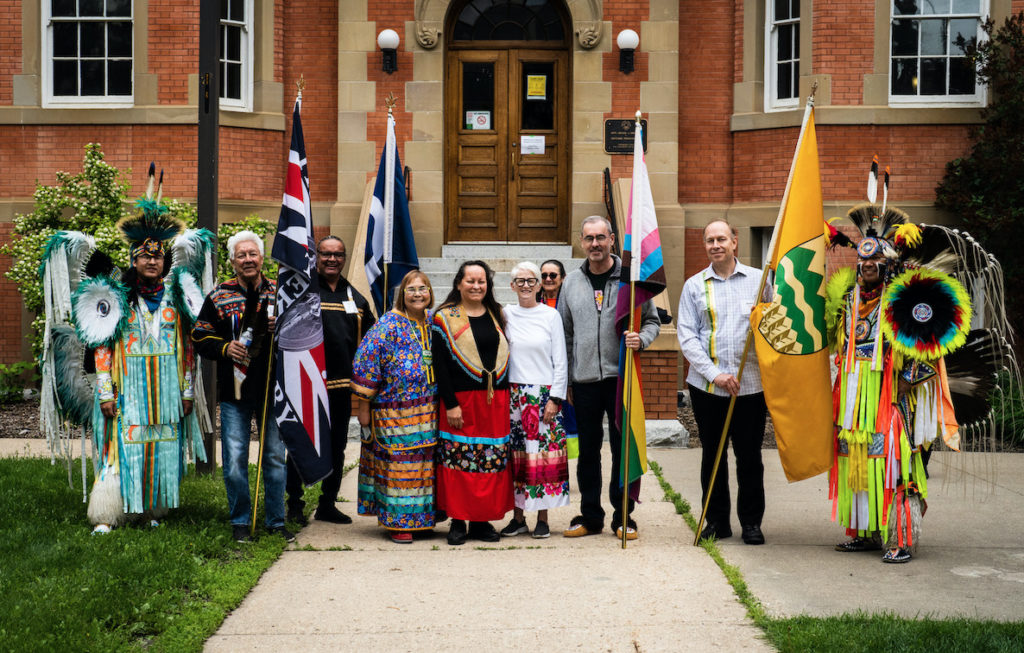 Florence Glanfield reflects on visibility of Indigenous students and meaning of Braiding Past, Present, and Future
Florence Glanfield, U of A vice-provost (Indigenous programming and research), delivered remarks about the strategic plan as well as a story about her personal experiences at the U of A when she was a student.
"Today is so darn special," Glanfield said. "I want you to know that 46 years ago, I arrived at the U of A as a 17-year-old to study in the faculty of science. It was the only university for a little Métis girl from northeastern Alberta at the time … and I told some older human, that I was Native. And the first thing that came out of their mouth was, 'I didn't think you people could do mathematics.'"
"For 46 years, I've carried that story and only later on, I could start to push back against that story. I want you to know that Native people can do mathematics, but we can do medicine. We can do science. We can do engineering. We can do literature. We can do education — we can do any of it!"
In telling that story, Glanfield reminded the crowd of the exclusion of Indigenous students and community members that the university built itself on.
"We are making ourselves visible in a place that was not built for us. The institution itself did not imagine Native people getting PhDs, Masters, Bachelors — degrees across the disciplines. And we're doing it now."
Glanfield also highlighted the work that had been done on the new Indigenous Strategic Plan by Indigenous community members.
"This is in honour of all of the work of the trailblazers that led the way for us to be here, to see ourselves achieve our dreams through a university education," she said.
In introducing the strategic plan, Glanfield also noted that the new plan stems from the TRC Calls to Action, and that the entire community is responsible for their place in truth and reconciliation.
"I want to acknowledge that at the heart of the plan are the sweetgrass teachings, which teach us about our responsibility," Glanfield said. "It's why the plan is called 'Braiding Past, Present, and Future.'"
"The sweetgrass teachings teach us to honour those that walk the path before us, support one another in the present, and be mindful that everything we do shapes those to come. Braiding past, present, and future is in the moment. The past can't be relegated to history books and put on a shelf. We are living and walking the past, the present, and we are living and walking future."
ISU and IGSA address next steps for university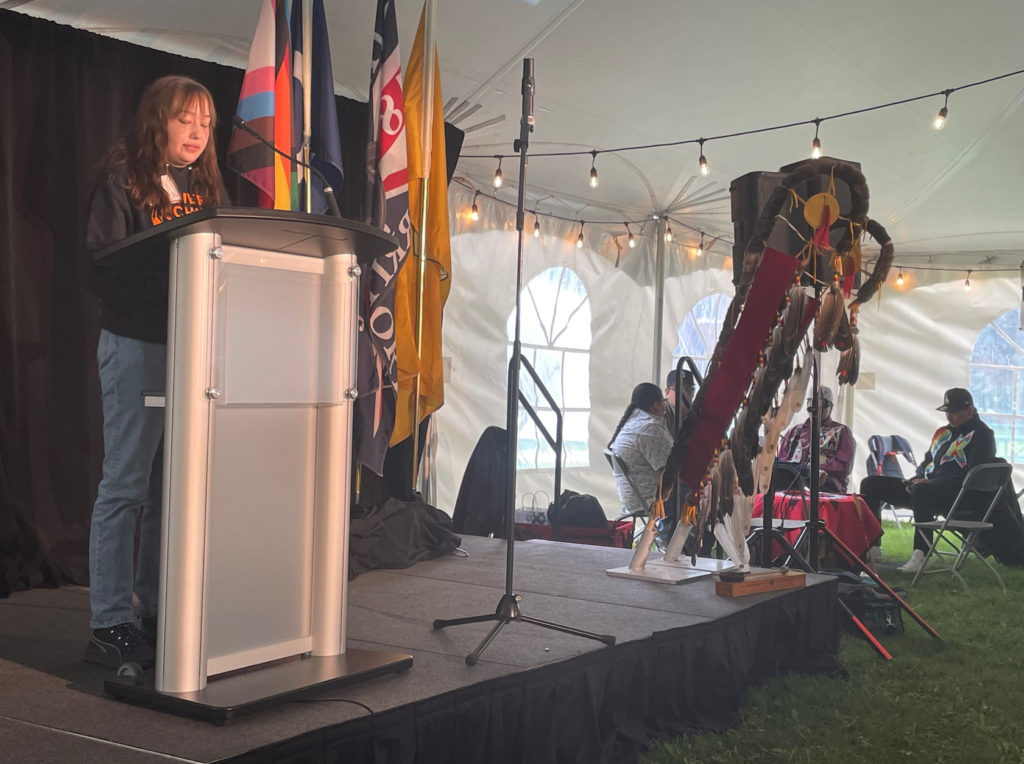 Malijha Moyan, president of the Indigenous Students' Union (ISU), first introduced herself in Cree. She introduced the mission of the ISU and thanked those involved with the creation and launch of the strategic plan.
"On behalf of the ISU, I would like to thank those who created and pushed for this strategic plan to be implemented as it will benefit the experiences that Indigenous students have at the U of A," Moyan said.
Moyan added that the strategic plan aligns with the goals of the Aboriginal Relations and Reconciliation Committee (ARRC) of the U of A's Students' Union (UASU). ARRC prepared recommendations for the UASU similar to the TRC Calls to Action.
One of the recommendations that ARRC gave was to increase advocacy for mandatory Native studies course content for all faculties.
"I believe education is one of the key elements to stopping racism towards Indigenous peoples in Canada," she said. "Many heinous acts of racism have come from people with a lot of power, such as doctors and lawyers, so it is essential to understand our history. Through education, Canadians can start to understand the true history of Indigenous peoples, and perhaps think twice before making a judgement about us."
"The U of A has a responsibility to make that happen by providing education on Indigenous peoples to all students. Many students at the U of A will one day be great leaders in society. I envision those leaders to be advocates for Indigenous peoples' rights and self-determination."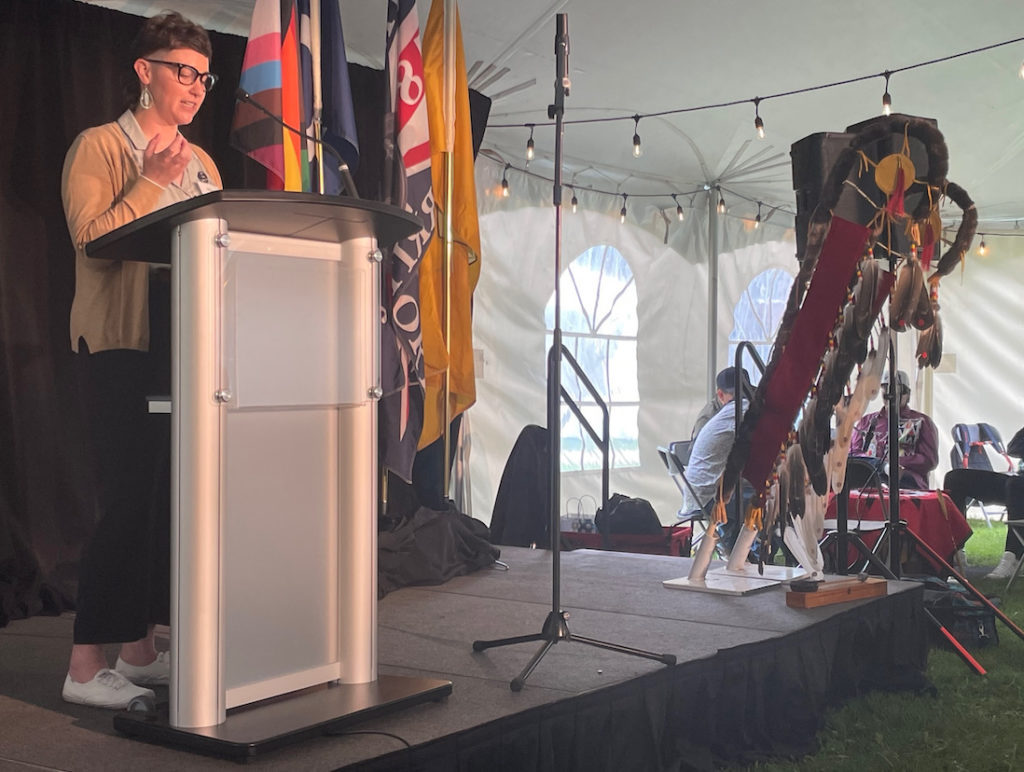 Jillian Ames, president of the Indigenous Graduate Students' Association (IGSA), also extended thanks to those who were involved with the strategic plan. She also took a moment to remember the contributions of Jennifer Ward, and acknowledged the effects of residential schools.
"This document reflects these complex histories and relationships and puts us all on track for a better future," she said. "Indigenous knowledges, perspectives, and voices will be centred in all areas of academic life."
Part of the strategic plan is also responsibility on the institution to act on the goals it outlines. Ames also echoed Glanfield's earlier comments, stating that every Canadian has a responsibility to move towards reconciliation.
"Reconciliation and decolonization are not end goals, but processes that every Canadian has a duty to take ownership of. Indigenous peoples have seen too many reports, plans, and promises that have gone unfulfilled. It starts with the leadership of institutions like ours through the Indigenous Strategic Plan."
She added that the IGSA acknowledged that the strategic plan "ultimately … is about hope," and Indigenous people becoming visible.
Elder Heather Poitras on experiences in education and gifted quilt to the U of A
Heather Poitras, an Indigenous elder, delivered a story about her journey in education, relationships with family, and grief and loss.
Poitras was a student at the U of A, where she didn't feel she belonged at the time.
"I came here, I was young, and I was a single parent," Poitras said. "Back in those days, the strong influence of Christianity [meant] I didn't fit in. I wasn't accepted; I struggled."
Despite this hardship, Poitras still pursued her education. Later, before the TRC Calls to Action, Poitras was invited to go to Ottawa as a national community leader and share their experiences. She recalled that many of those within the sharing circle were survivors of residential schools, and felt "[her] story was nothing like theirs."
Instead, she spoke about her personal experiences with relationships and the hurt that still lingers. Poitras said that her daughter helped her heal.
As part of the launch, Poitras made a quilt, but she said she didn't realize "the big picture … and the honour [she has] to be part of it" until she was done.
Poitras recalled how when she was frustrated in the quilting process, her daughter's encouragement helped her overcome those troubles.
"I said, 'I just can't get it to line up. I want to present something good. It's a way to present our people,'" Poitras said. "I just needed a little more encouragement. What we need in our learning journey is people to encourage us."
The quilt includes representation of First Nations, Métis, and Inuit communities, the word "learn" in syllabics to represent the U of A, and beadwork of things like the Alberta wild rose. This quilt is something that the university will add to over time.
"I'm grateful to be respected and honoured in this way."
President of U of A delivers closing remarks
Bill Flanagan, president of the U of A, delivered the final remarks of the celebration. For the celebration, Flanagan wore a pair of moccasins gifted at his installation as president. Janet Delorme and Lana Sinclair, U of A staff in the faculty of Native studies, gifted the pair to Flanagan.
Flanagan outlined a brief history of moccasins and why he wore them today, touching on the symbolism of wearing the gifts.
"[Gifting moccasins] is a way to honour someone during an important event, and the gift of the moccasins symbolizes the beginning of a new journey," Flanagan said. "I think that together, as a university, we are also embarking on a new journey today. I wear these moccasins in honour of that journey that the university is undertaking."
Connecting with his upbringing in Alberta, Flanagan acknowledged the colonial history of the province as well as the university, calling the Indigenous Strategic Plan a "significant step for the university" to reconcile its past. This plan provides ways for the U of A to respond to the TRC Calls to Action and holds the institution accountable by providing specific goals and targets.
"[The plan] gives us a very ambitious vision for the meaningful inclusion of Indigenous peoples and Indigenous ways of knowing in all that we do as a university community," Flanagan said.
"The U of A has been the beneficiary of the courageous and visionary leadership of many Indigenous students, faculty, staff, alumni, and partners — past and present, who have worked hard to build partnerships and create programs and services and have pushed the university to do more as we commit ourselves to walk together down the path of truth and reconciliation. These have been the torch-bearers, and the trailblazers — and I want to express my profound gratitude to all of you."