News
Students' Union
Notes from Council: CASA presents priorities for the year, Climate Emergency Unit presented
CASA presented their priorities for this year, and the Climate Emergency Unit gave a presentation.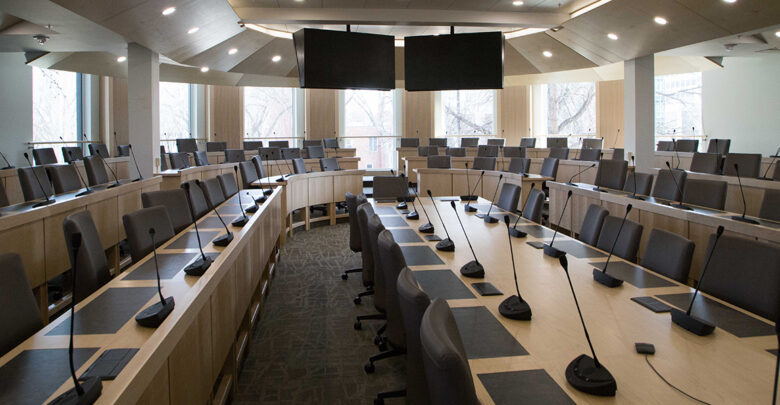 "Notes from Council" is The Gateway's ongoing series of recaps of noteworthy items from Students' Council meetings.
---
During the October 4 Students' Council meeting, a presentation from the Canadian Alliance of Student Associations (CASA) was given to council, along with a presentation on the Climate Emergency Unit.
CASA presents advocacy priorities for this year
CASA is an organization that advocates for student associations across Canada — the University of Alberta Students' Union being one of them.
Wasiimah Joomun, member relations officer for CASA, and Christian Fotang, chair of CASA's Board of Directors, delivered a presentation on their advocacy priorities for the year.
Joomun introduced to council what CASA does and how they represent post-secondary students. This includes policy and research papers, lobby meetings, parliamentary committees, and campaigns.
She emphasized that CASA relies on hearing student voices to do their broader advocacy work.
"I like to say I'm a staff member, I'm not able to do the job if students like yourselves … [are] not around the table to advocate for [themselves]."
Joomun continued by introducing CASA's top four priorities for this year. CASA wants to focus on advocating for student financial aid, student mental health, sustainability and housing, and decolonization.
During question period, Lionel Liu, a kinesiology, sport, and recreation councillor, asked about CASA's plans for international students, and if they include advocating for job opportunities and study permits.
Fotang answered that "CASA [is] going to ask the government to modify conditions for study permits to allow international students to participate in internships that [require] a separate work permit."
Presentation from Climate Emergency Unit, call for province-wide climate campaign
Juan Vagas, a prairie organizer for the Climate Emergency Unit, gave a presentation to council to promote the unit. The unit is working towards finding solutions towards the climate crisis, and according to Vagas this includes a large campaign made up of activists across Alberta.
He started his presentation by reflecting on his time as an arts councillor in 2020, mentioning that in that year there was an "overall change in the way council was speaking on climate."
"It wasn't just that people were starting to realize how vital the climate emergency was each year. It was also that we all had a really clear role in fighting against it," Vagas said.
He spoke on the high turnout of students at climate strikes that school year.
"We saw 10,000 students mobilize in support of climate action through a climate strike. Less than a month later we saw 15,000 people across Edmonton do the same. It was clear that the message was [everywhere]," Vagas said.
However, Vagas also said that the climate message is not being spread enough to our various levels of government, particularly the province.
Vagas recalled how in 2020 "[the climate message] was not being reflected in almost any of [the] electoral bodies. That message is barely heard now, as we're gearing up to [a provincial election]."
"[This campaign is an opportunity] to connect with your constituents and with people across campus … to ensure that we're actually demanding a solution that works for young people, [and creating a] future that we can actually live in," Vagas added.
Leo Huang, an arts councillor, mentioned that while "many climate organizations have promoted the phasing out of oil … phasing out oil [limits] the opportunities of certain students within the campus." He went on to ask Vagas what the Climate Emergency Units' stance is on phasing out oil.
"Alberta needs to rapidly phase out of oil and gas," Vagas replied, "the industry has been a lifeline for [workers] in the last 50, 60 years. That's not going to last forever."