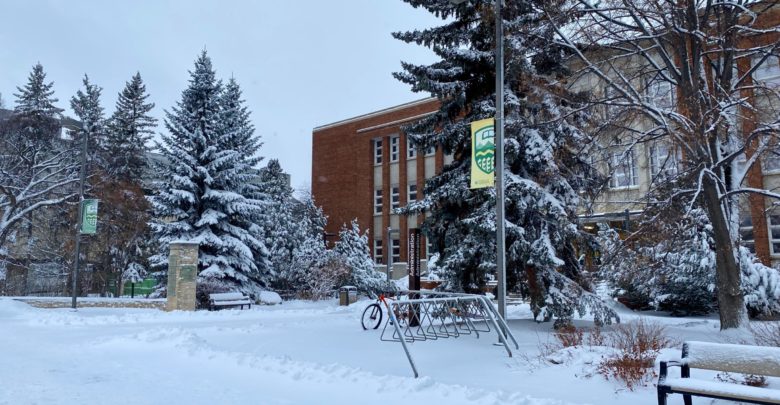 Trigger Warning: This article discusses topics related to mental health and illness that some readers may find upsetting, such as suicide and depression. Resources are available at the end of the article.
---
According to Statistics Canada, the pandemic has resulted in youth aged 15 to 24 having one of the greatest mental health declines with a 20 per cent drop in youth reporting having excellent or very good mental health. Universities across Canada need to be providing support for their students during this time. The University of Alberta recognizes this, yet their resources are often inaccessible or performative — like posting a breathing exercise on Twitter while students still lack key supports.
While the U of A has a page on their website addressing mental health issues, many of the links were recently broken, inhibiting students from actually accessing those resources. It was not until The Gateway reached out about the broken links for this article that the university fixed these links. 
In December while going through a distressing time, I tried to access the Peer Support Centre (PSC) only to find it was only accessible for virtual appointments. This inaccessibility was upsetting — how are students supposed to navigate a crisis if there are no drop-in supports on campus? While in-person appointments have now returned, during this time in December, I felt isolated to say the least. I'm fortunate to have the privilege of access to private help but not all students have access to resources outside of those that the university provides. Students do have coverage through the Students' Union (UASU) health and dental plan but if they want to book with a private psychologist, the plan barely helps cover three sessions in Alberta assuming an average rate of $200 per session; the rate recommended by the Psychologists' Association of Alberta. Students feel the burden of this even more if they opt-out of the health plan and aren't insured. 
Students are bombarded with emails claiming that campus has many mental health supports, regularly citing the PSC, yet the centre is not as accessible as they claim it to be (as exemplified by my experience). In a November issue of the U of A's Student Digest, the PSC sent out a cheery message saying they were providing extra support for students struggling with exams and loneliness. In reality, they were handing out candy jars from a table set up outside of Cameron Library while their offices were closed and counselling remained through virtual appointment only. 
The PSC is run by our UASU. Talia Dixon, vice-president (student life) raised that, despite being a well-used service, the centre is not designed to be a replacement for professional counselling. The PSC budget is "not enough to provide our entire campus with accessible comprehensive mental health supports," Dixon said.
"The government needs to provide more money so the university can strengthen counselling and clinical services."
The UASU also acknowledged flaws in their current supports, as "wait times for on-campus mental health supports are and were too long, even when we were in-person."
Our UASU and our university administration are failing to meet the mental health needs of students. All these factors make the U of A's claims of having plenty of mental health resources, despite their inaccessibility, look performative. 
Kevin Friese, assistant dean of students (health and wellness) on behalf of the university explained that since the university has gone on COVID-19 lockdown "for the most part, mental health services in particular, have been offered to a hybrid model."
He also said the university has worked to maintain a stable wellness program, despite having to work through COVID-19 disturbances and Students' Union Building (SUB) renovations.
When asked about the breathing tweet specifically, Friese said that the university tries to offer a variety of services as they recognize that "one size won't fit all people." They had hoped that the tweet would reach a student who only needs a "check in around just being mindful." 
"Our intention is to try to provide a range of options for students that can range from those little reminders all the way up to the one-to-one support."
The University of Alberta's issues with mental health supports and issues within their student body extend past inaccessibility of resources. In 2016, a U of A student was evicted from a U of A residence for attempting suicide for the second time. According to the letter given to him by an administrator after his second attempt, he had breached the terms of his residence agreement and his actions had "no place in an academic learning environment."
While ideally, suicidal attempts should not have a place in an academic environment, the U of A took a route that stigmatizes mental illness and alienates students rather than taking a route of suicide prevention. After the CBC News reported on the incident three years late, the U of A did apologize for the decision but, at that point, the damage was already done.
This is not a new challenge, nor is it a problem specific to the University of Alberta. Reports of issues with Canadian universities' mental health supports have been prevalent throughout the pandemic. Gaps in Canadian campuses' mental health supports were being raised as early as 2019 with some students reporting an eight-week wait time to see a counsellor at University of British Columbia — a totally inappropriate wait time.
In theory, Canadian universities are doing their utmost to support students and provide mental health resources but in reality, these mental health resources are not accessible for everyone and leave students feeling stranded and alone.
Not all attempts by Canadian universities have been unsuccessful. In response to the pandemic, many universities have switched to online counselling. While this presents an accessibility barrier to students such as myself who are looking for in-person help, the option of virtual sessions has resulted in an increase in counselling sessions. The U of A saw a 10 to 15 per cent increase in sessions since virtual options have become available.
Perhaps the answer is to provide both virtual and in-person counselling, which is seemingly the U of A's long-term plan. However, as these sessions require appointments, it is important that universities keep drop-in options available for students in crisis situations — something the PSC has, but that counselling and clinical services do not.
The U of A needs to be putting more energy into making their mental health resources accessible to all students. Handing out candy jars and sending out emails claiming support while not having any serious resources readily available, give off the vibe that the university does not truly take mental health seriously. At times, the university borders on diminishing mental illness by calling it mere "exam stress."
Until mental health resources are actually accessible, and the university stops tweeting performative "advice" on their social media accounts, while their students are struggling during exam season, the U of A will continue to lose the trust of their students.
If you are dealing with thoughts of suicide you can call the 24-hour Canada-wide crisis service hotline: 1-833-456-4566.