Institutional
News
Clinical Sciences Building suffers multi-story flood, repairs to be completed in fall
The Clinical Sciences Building was closed on July 14 to allow emergency and maintenance teams to assess and address the situation.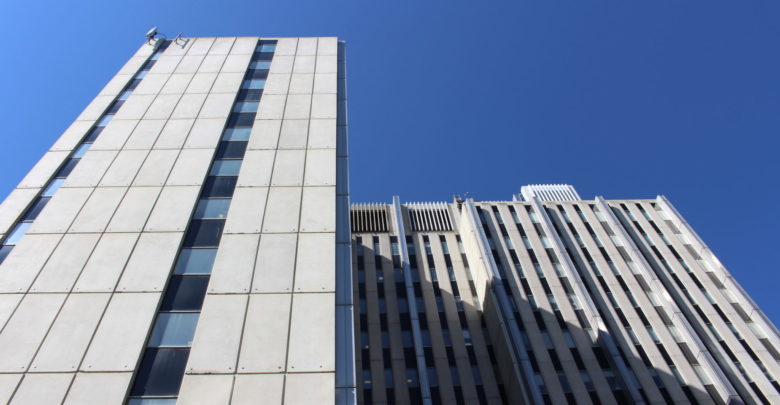 The Clinical Sciences Building at the University of Alberta closed July 14 due to a multi-story flood, caused by a burst water pipe.
The flood was attended to by emergency and maintenance staff and was able to reopen for regular hours the following day, according to a statement from Jennifer Crosby, director of media strategy and strategic communications. The statement also said that the flood affected 25 workstations in floors eight to 12 in the northwest corner of the building.
According to James Allen, associate vice-president (asset management and operations), repairs are underway but 29 staff are still working in alternative spaces. The repairs are expected to be completed and have staff moved back in the next two to three months.
Allen said that floods like this are inevitable in a campus of our size and age.
"Mechanical systems only last so long in these buildings," said Allen. "I think it was wear and tear … [and] it's an eventuality that sooner or later, we're going to have building system failures, whether that flood is caused by a burst pipe or … people stuffing things down toilets."
The reason for the pipe burst was a chilled water coil, according to Allen. When asked if deferred maintenance played a role, Allen said he believes "deferred maintenance did play a role."
"Every post-secondary institution that I'm aware of in Canada [has] deferred maintenance liabilities. And fundamentally those things build up over time — especially when you have an extremely large [physical] footprint like us."
Allen noted that in floods such as these, a priority is checking electrical systems and water don't mix — otherwise safety can become an issue.
In a follow up statement when asked for clarification if that was a threat with this particular flood, Allen said that it was, but the situation was quickly addressed.
"In this case, there was an electronic power bar left [on] the floor that got wet and produced some smoke in the area. It was discovered and addressed in short order," the statement read.
The university is waiting on quotes from general contractors and could not yet provide the total cost of the repair. However, Allen said based on similar events that have happened in the past, the repairs could be between $100,000 and $150,000, depending on market and supply conditions.
Allen also wanted to emphasize that in emergency situations such as these, the community needs to prioritize their personal safety.
"I did encounter some building occupants that were quite adamant that they needed to get to their space, that they needed to get to their office," said Allen. "I know that a lot of our communities are so passionate about what they do. And particularly our researchers, because they're doing some fantastic work that they often forget about their safety and other people's safety."
While closing the building for the day was frustrating for some, Allen said it was a matter of keeping people safe.
"Safety has to be at the top of everyone's mind. And that could potentially help manage or mitigate their frustration with the inconvenience that this may have been causing them or their students."